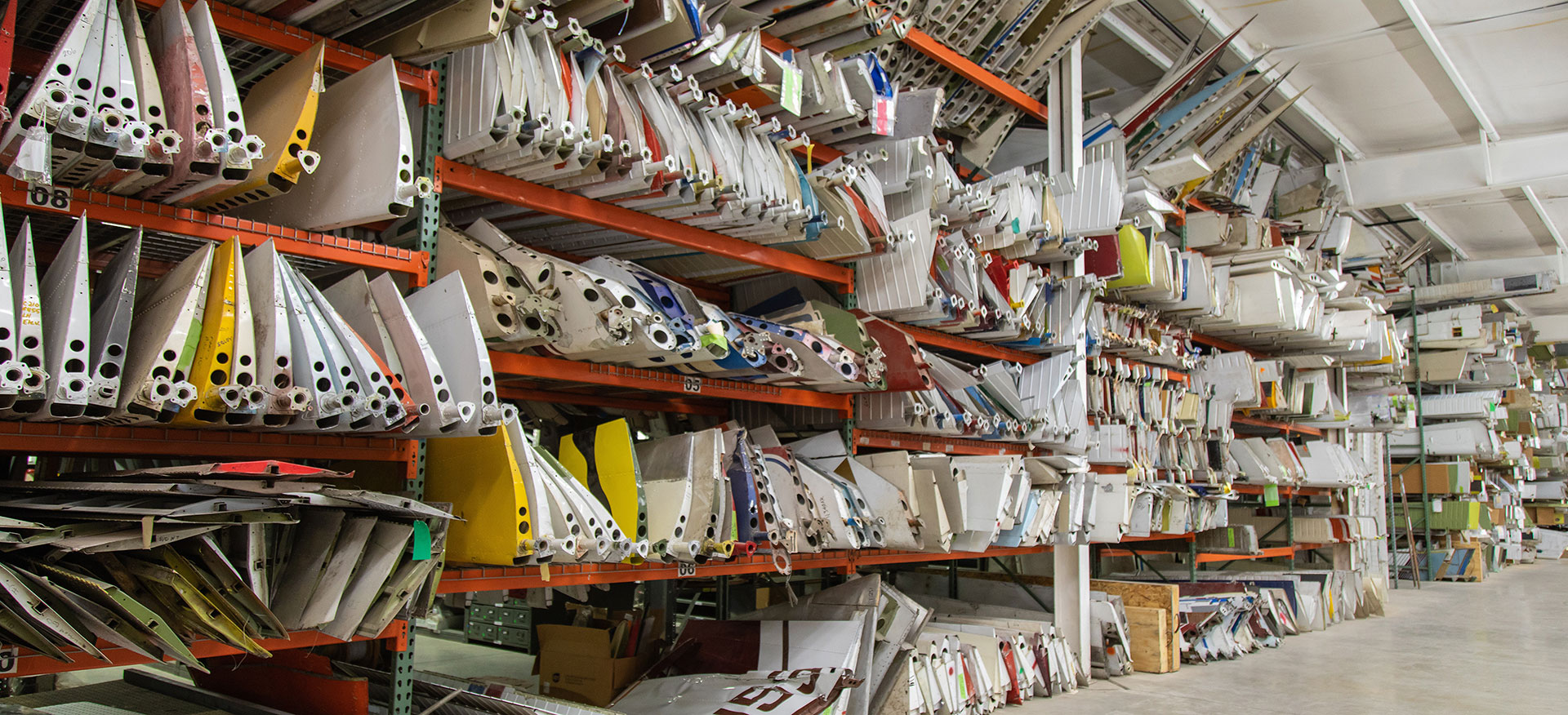 Wing Core and Control Surface Parts List
The Airframe Components warehouse contains 2,000+ wing cores, 6,000+ control surfaces, and numerous other airplane parts. Enter a part number or part description, below, to search the extensive database. If a part comes up, please call or email Airframe Components for condition, price, payment and shipping options.
Contact us at parts@airframecomponents.com, 260-347-0807 or use our online form.
Check out our YouTube Channel for all our aircraft videos.
Part #
Description
Quantity
Condition
#26Felt
Felt Ring
8
NS
0-3790
Cap
4
NS
00-861
Microphone
2
NS
00-947-4354
Bolt
11
NS
000-017000-18
Skin LE RH
1
AR
000-017000-26
Skin-Upper-Extended Tip Assy
1
AR
000-100100-2
JACK PAD-COVER ASSEM
3
NS
000-10186-4
Doubler
1
NS
000-110015-9
Stringer
1
NS
000-110016-1
N. Rib
5
NS
000-110016-2
Rib
6
NS
000-110029-17
Stringer
1
NS
000-110029-18
Stringer
1
NS
000-110085-3
Cover
1
AR
000-110095-3
Tie plate Front Sp Assy
1
NS
000-110106-31
Angle
1
NS
000-110106-32
Doubler
8
NS
000-110112-2
Gusset
1
NS
000-110115-4
Cover
1
AR
000-110115-80
Skin Ay.
1
AR
000-110132-1
Stringer
1
NS
000-110132-2
Stringer
1
NS
000-110137-1
Rib
1
NS
000-110190-1
Angle
1
NS
000-170000-31
Skin Wing Tip
2
NS
000-170000-6
Tip Assy RH
2
OH
000-170000-7
Wing Tip LH
2
AR
000-170000-75
B36TC Wing Tip
1
NS
000-170000-76
B36TC Wing Tip
1
OH
000-170000-8
Wing Tip RH
1
AR
000-170001-1
Wing Tip LH
1
AR
000-170001-2
Wing Tip RH
1
AR
000-170001-42
SKIN-WING TIP ASSEMBLY
1
AR
000-170001-47
WING TIP ASSEMBLY
1
AR
000-170001-47
WING TIP ASSEMBLY
1
AR
000-170001-48
WING TIP ASSEMBLY
1
AR
000-170001-48
Wing Tip RH
1
AR
000-170021-1
Retainer
1
NS
000-361010-1
Bracket
1
NS
000-920012-7
Vent Assy
2
NS
00003020-1
Spring
2
NS
00003028-1
Contact Assy
1
NS
0001-00CC0
Stud, Turn Button
6
NS
0001.1011
Fuse
8
NS
00033061-13
Placard
1
NS
00033061-7
Placard
1
NS
00033061-9
Placard
1
NS
0011724-11
Coupling
2
NS
00196-000
Wheel
1
NS
002-361013-29
Bracket
1
NS
002-381000-1
Fuel Xmtr
1
AR
002-381000-3
Fuel Xmtr
1
AR
002-400000-67
Support
1
NS
002-400001-035
Rib
1
NS
002-410000-23
Cover
1
AR
002-410000-7
Nose Bug Assy
1
NS
002-410001-107
Hinge
1
AR
002-410001-107
Hinge
2
NS
002-410001-109
Hinge
1
NS
002-410001-111
Plate
1
NS
002-410001-99
Bracket
1
NS
002-410017-11
Angle
1
NS
002-410019-25
Bracket
2
NS
002-410020-45
Panel Firewall-Low
1
NS
002-410022-1
Former
1
NS
002-410022-2
Former
1
NS
002-410025-10
Hinge
1
NS
002-410027-10
Stiffener
1
NS
002-410027-23
Door, (plate only)
1
NS
002-410027-31
Retainer
4
NS
002-410030-35
Bracket
1
NS
002-410030-47
Angle
1
NS
002-410030-61
Retainer
1
NS
002-410031-3
Bracket
1
NS
002-410034-5
Fork
1
NS
002-410053-3A
Arm
1
NS
002-410056-3
Support
1
NS
002-410059-10
Former
1
NS
002-410059-5
Frame FS
1
AR
002-410059-9
Former
1
NS
002-410060-29
SKIN
1
NS
002-410061-3
Seal
1
NS
002-410061-5
Seal
1
NS
002-410062-1
Retainer
1
NS
002-410062-3
Retainer
1
NS
002-410062-5
Retainer
1
NS
002-410065-5
Angle
1
NS
002-410065-6
Angle
1
NS
002-410066-14
Bracket
1
NS
002-410066-33
Keel
1
AR
002-410066-38
Keel
1
NS
002-410066-4
Kiel Assy
1
NS
002-410068-7
Support Assy.
1
NS
002-410070-13
Channel
1
NS
002-420038-81
Skin
1
NS
002-430000-101
Cover (Boot) (alt 35-420024-9)
1
NS
002-430000-51
Seal hinge
2
NS
002-430000-69
Retainer
2
NS
002-430000-99
Cover (Boot) (alt 35-420024-7)
1
NS
002-430008-131
Stringer
3
NS
002-430008-225
Drilled Skin
1
NS
002-430008-305
Skin
1
NS
002-430008-31
Reinforcement
3
NS
002-430008-323
Reinforcement
1
NS
002-430008-7225
Undrilled Skin
1
NS
002-430009-101
Stringer
2
NS
002-430009-123
Seal
1
NS
002-430009-202
Stringer
1
NS
002-430009-63
Support, Floor
2
AR
002-430013-27
Bracket
2
NS
002-430020-015
Fwd Web Spar Carry Thru
1
NS
002-430020-19
Channel
1
NS
002-430021-25
Track
1
NS
002-430021-49
Seat Track
1
AR
002-430022-7
Support Assy
3
NS
002-430022-8
Support Assy
3
NS
002-430037-19
Channel
1
NS
002-430037-25
Keel
1
NS
002-430038-107
Doubler
1
NS
002-430038-11
SKIN-LH
1
NS
002-430038-15
Stiffener
2
NS
002-430038-19
SKIN RH
2
NS
002-430038-47
Stiffener
1
NS
002-430038-73
SKIN - CENTER
1
NS
002-430038-76
Skin
1
NS
002-430038-85
Stringer
1
NS
002-430038-89
Stringer (alt 36-400011-11)
1
NS
002-430039-117
Skin
1
NS
002-430039-17
Skin Fwd
1
NS
002-430039-49
Stringer
1
NS
002-430040-177
Skin
1
NS
002-430040-23
Skin
1
NS
002-430045-41
Bracket
1
NS
002-430046-29
Support
1
NS
002-430049-81
Retainer Firewall
1
NS
002-430053-1
Window Assy
1
NS
002-430053-10
Window
1
NS
002-430056-13
Reinforcement
3
NS
002-430056-17
Doubler
1
NS
002-430056-23
Reinforcement
3
NS
002-430060-11
Longeron
1
NS
002-430061-13
Longeron RH RWD
1
NS
002-430061-15
Longeron
1
NS
002-430063-1
Longeron
1
NS
002-430077
Door
1
NS
002-43008-225
Skin
1
NS
002-430080-5
Adapter
1
NS
002-43009-115
Seal Assy
1
NS
002-440000-117
Skin
2
NS
002-440000-63
Fillet
2
AR
002-440010-93
Skin
1
NS
002-440011-109
Skin
1
NS
002-440011-113
Stringer
1
NS
002-440011-43
Skin
1
NS
002-440011-97
Stringer
1
NS
002-440012-109
Skin
1
NS
002-440012-15
Skin
1
NS
002-440012-97
Skin
2
NS
002-440023-81
Angle
2
NS
002-440027-31
Channel
1
NS
002-440033-33
Tail Cone
1
AR
002-440033-35
Tail Cone
1
AR
002-440033-9
Stinger
1
NS
002-920017-19
Line
4
NS
002-920019-1
Float Valve
1
AR
002-920020-1
Gasket
5
NS
0035-406064
Plate
3
NS
00638-
Alternator
1
AR
00980-000
Firewall
1
NS
01-0710820-00
Ring
1
NS
01-0770029-29
Light Assy.
2
AR
01-0770032-00
Strobe Light Assy
2
NS
01-0770034-01
Strobe Light
3
NS
01-0770062-03
Power Supply
1
NS
01-0770082-12
Lamp Assy
1
AR
01-0770110-05
RECOGNITION LIGHT 28V
1
NS
01-0770119-15
Post Light, 28V
1
NS
01-0770509-03
Flasher Assy
1
NS
01-0771125-11
LED Light
2
NS
01-0790044-01
Anti-Collision Light (RED)
1
AR
01-607
Shaft
3
NS
01-701
Drive
4
NS
01002-00
Eye Bolt
2
NS
0105-R2
Servo
1
AR
0107119-15
Lap Belt
1
NS
0108285-3
Bracket
1
NS
0108900-05
Restraint System
1
AR
0109-351
Rheostat
2
NS
010A-16318-008
Hinge
1
NS
010A-22012
Washer
2
NS
010A-23082-11
Tip
3
NS
010A-31038-104
Bracket
1
NS
010A-48261-9
Baffle
3
NS
010A-48261-9
Baffle
1
AR
010A-63125
Filter
2
NS
010A16217-3
Retainer
4
AR
010A31406-75
Stiffener
1
NS
011-00894-08
GSM 85 Mid Torque
1
AR
011-00978-000
Probe OAT
1
NS
011-9679
Fuse 20 amp
4
NS
012-0075
Fuse
4
NS
012-0079
Fuse 15 amp
3
NS
012-0140
Fuse 30 amp
5
NS
012023-015-01
Pump (alt 481-674, 756-889)
1
AR
0123-
Rheostat
2
NS
0132CM
Shim
1
NS
0144-
Switch
1
NS
014543-30
Bushing
2
NS
01462-
Servo for auto pilot
1
AR
01475-35
Bushing
2
NS
014843-18
Bushing
6
NS
015-46
Gear, Rotor Drive
5
NS
01646-
Standby Vacuum Placard
3
NS
0169-0574731-9
Rib - LE flap
28
NS
016A-12472-003
Bolt
3
NS
016A-99009
Fitting
1
NS
017A-16274-1/2
Door
2
AR
0185JM
Seal, Drive
1
NS
019-8014-00
Transformer
1
NS
0191001-3
Cover
1
NS
01981-002
Support
1
NS
01W1297-156
Cap Assy
1
NS
02-0250035-02
Lamp
1
NS
02-0350057-00
Lamp
1
NS
02-0350183-00
Connector Nut Assy
2
NS
02-0350281-03
Head Assy
7
NS
02-0430-00
Gear
2
NS
02-06-1103
Socket
1
NS
02-11027
Guide
5
NS
02-53004-03
Doubler
1
NS
02-6120-16102R1
Pressure Relief Valve
4
NS
020-1220
Cap
3
NS
020-225-0120
Switch
1
NS
020-247
Key
1
NS
02084-002
Pin
1
NS
022-440033-23U
Lens, Clear
1
NS
022-46
Snap Ring
3
NS
02317-
Alternator
1
AR
0232-2810-119-0291
Deflector (alt 414729)
1
NS
023326-
Fan
1
NS
02569-002
Support Assy.
1
NS
02570-002
Fitting, Drag link
2
NS
0258JM
Spring
2
NS
0266-
Nut
1
NS
02872-
Bearing
2
NS
029-00462-0002
Tach Gear
1
NS
03-6010-18
Bearing
1
NS
03-6011-06
Bearing
7
NS
030-0101-02
Ted Connector
1
NS
030-1096-00
Connector
10
NS
0300106-43
Tube
1
NS
0300106-8
Line
1
NS
030036-001
Druck Transducer
1
AR
0302359-0
Pin
5
NS
0310120-4
Angle
1
NS
0310160-
Pylon
2
NS
0310196-12
Spring
2
NS
0310196-14
Spring
1
NS
0310196-15
Spring
2
NS
0310207-15
Cable
1
NS
0310207-23
Cable
1
NS
0310280-
Spring
2
NS
0310297-1
Bearing
3
NS
0310298-1
Bushing
17
NS
0310336-
Spring
1
NS
0310362-5
Screw Assy (for reference only)
3
AR
0310364-
Sprocket
2
NS
0310407-
Tube
8
NS
0310422-1
Guard
4
AR
0311000-11
Skin
1
NS
0311000-3
Angle
1
AR
0311000-30
Stiffener
1
NS
0311000-35
Skin
1
NS
0311000-39
Skin
1
NS
0311076-
Gasket
2
NS
0311147-3
Former
1
NS
0311151-3
Bulkhead
1
NS
0311156-3
Bulkhead
1
NS
0311156-6
Bulkhead
1
NS
031124-6
Shaft (use 0511227-4)
1
AR
0311284-
Spring
1
NS
0311288-1
Channel
1
NS
0311301-5
Angle
1
NS
0311360-4
Fuel Cap (alt C156003-0101)
7
AR
0311360-4
Fuel Cap (alt C156003-0101)
3
NS
0311586-
Bushing
7
NS
0311609-8
Angle
1
NS
0311644-
Clevis
4
NS
0311730-
Spring
15
NS
0311746-
Strip
1
NS
0311779-23
Strap
2
AR
0312000-10
Skin
1
NS
0312000-13
Skin
1
NS
0312140-7
Stiffener
1
NS
0312155-10
Strap
2
NS
0312155-4
Door
1
AR
03162-
Bearing
1
NS
0320210-8
Skin
1
NS
032057-002
Channel
1
NS
032057-003
Channel
1
NS
0321021-1
Bracket
1
NS
0322000-13
Leading Edge Skin
1
AR
0322006-10
Light
2
AR
0322112-
Rib
1
AR
0322526-10
Adaptor Assy. Fuel Drain
5
AR
0322607-
Rib
1
NS
0322718-
Tube
1
NS
0323106-701
Rib
1
NS
0323108-700
Rib
1
NS
0323115-
Rib
2
NS
0325000-
Flap LH/RH C195
2
NS
032667-
Filter
1
NS
0330008-
Fairing
1
NS
03302-70
Spring
2
NS
0331000-5
Skin
4
NS
0331119-
Bracket
1
NS
0332000-3
Skin
1
NS
0332123-
Rib
1
AR
0333127-
Skin, LE
1
NS
0334100-1
Trim Tab Assy
1
NS
0334100-3
Skin
1
NS
0334100-4
Skin
1
NS
0334100-9
Hinge
1
NS
0334109-6
Tube Assy
7
NS
0334128-3
Horn
3
NS
0334200-5
Skin
3
NS
0334200-6
Skin
1
NS
0334213-
Rib
1
NS
0334220-
Doubler
2
NS
033614-02
Housing
1
NS
0337JM
Washer
2
NS
0341116-7
Shim
1
NS
0341143-13
Washer
2
NS
0341JM
Washer-Slick
3
NS
034921-01
O-Ring
6
NS
0350102-7
Gasket
1
NS
0350102-8
Gasket
1
NS
0350157-
Arm
1
NS
0350172-
Baffle
1
NS
0350175-
Baffle
1
NS
0350177-
Baffle
2
NS
0350179-
Baffle
1
NS
0350181-
Baffle
1
NS
0350227-
Baffle
1
NS
0350275-
Shaft
1
NS
0350277-7
T Fitting
1
AR
0352170-
Strip
2
NS
035272-04
Filter Assy
1
NS
035272-04-08
Filter Assy (alt 1730820)
1
NS
0370JM
Bearing
3
NS
0379430C401
Nut Plate
67
NS
038087-
Filter
1
NS
040-0003
Lamp
2
NS
040-0028
Lamp
2
NS
040-0054
Lamp
1
NS
040-8840-25
Crystal
1
NS
0400035-2
Mount
2
NS
0400106-37
Tube
1
NS
0400107-11
Cable
1
NS
0400107-12
Cable
1
NS
0400107-46
Cable
1
NS
0400107-5
Cable
1
NS
0400107-61
Cable
1
NS
0400118-34
Panel
1
NS
0400128-3-532
Panel
1
NS
0400138-2
Bracket
9
NS
0400213-6
Placard
10
NS
0400215-
Shield
1
NS
0400311-88
Tube
1
NS
0402-02-03
Bearing
1
NS
0405003-2
Placard
1
NS
0405058-3
Placard
1
NS
0405059-1
Placard
3
NS
04053-
Switch
1
NS
04055002-
Skin
4
NS
0409007-4
Tube
2
NS
0409009-9
Wire Harness
2
NS
0409013-2
Shim
13
NS
0409016-10
SEGMENT
2
NS
0409016-9
SEGMENT
1
NS
041-343
Fuel Shut Off Decal
1
NS
0410123-2
Channel
3
NS
0410129-1
Bracket
2
AR
0410131-1
Gusset
1
NS
0410132-1
Sill
6
NS
0410138-2
Rib
1
NS
041020-4
Skin
3
NS
0410200-1
Bracket
1
NS
0410218-1
Placard (Plate)
3
NS
0410218-11
Plate Emb
1
NS
0410218-12
Plate Emb
1
NS
0410232-1
Stop
2
NS
0410235-6
Track
8
NS
0411030-5
Ash Tray
1
NS
0411057-3
Bracket
1
NS
0411058-5
Cover
13
NS
0411059-6
Mount
1
NS
0411067-1
Insulator
2
NS
0411071-
Decal
2
NS
0411108-200
Channel
1
NS
0411122-
Sill
3
NS
0411122-1
Bracket
2
NS
0411123-
Skin
1
NS
0411126-0
Skin
5
NS
0411127-4
Skin
5
NS
0411130-4
Skin
6
NS
0411130-50
Skin
2
NS
0411130-8
Skin
2
NS
0411138-1
Bulkhead
1
NS
0411147-
Fillet
1
NS
0411161-
Bulkhead
1
NS
0411173-
Bracket
1
AR
0411173-
Bracket
1
NS
0411203-2
Bulkhead
2
NS
0411208-1
Floor
1
NS
0411208-2
Floor
1
NS
0411209-
Bulkhead
1
NS
0411232-
Guard
1
NS
0411263-5
Bearing
4
NS
0411264-5
Bearing
14
NS
0411265-2
Spring
23
NS
0411275-
Support
2
NS
0411280-3
Floorboard
1
AR
0411280-4
Floorboard
1
AR
0411281-11
Fitting
2
NS
0411281-12
Fitting
2
NS
0411282-1
Channel
2
NS
0411283-1
Bracket
2
NS
0411286-
Stiffener
1
NS
0411291-
Bulkhead
1
NS
0411291-1
Bulkhead
3
NS
0411292-
Skin
1
NS
0411293-4
Shield
1
NS
0411307-
Arm
9
AR
0411345-
Support
1
NS
0411361-
Cover
2
NS
0411369-2
Shaft
2
NS
0411369-2
Shaft
8
AR
0411411-12
Bulkhead
2
NS
0411411-14
Bulkhead
2
NS
0411419-
Cover
3
AR
0411421-2
Guard
4
NS
0411422-
Decal
3
NS
0411457-1
Bracket
1
NS
0411481-
Strip
3
NS
0411506-
Angle
1
NS
0411511-14
Floorboard
1
NS
0411514-
Spacer
1
NS
0411525-2
Brace
1
AR
0411533-
Bracket
1
NS
0411533-1
Bracket
1
AR
0411545-3
Rail, Seat
1
NS
0411546-1
Stiffener
1
NS
0411552-2
Catch
1
NS
0411557-
Handle
1
NS
0411557-
Handle
1
AR
0411559-
Spacer
6
NS
0411563-
Bellcrank
1
NS
0411564-
Link
1
NS
0411564-
Link
2
AR
0411564-3
Link
1
AR
0411565-
Tube
2
NS
0411569-1
Baffle
1
AR
0411573-
Bellcrank
1
NS
0411573-1
Bellcrank (alt 2260122-1)
2
NS
0411575-5
Strap
1
NS
0411575-6
Strap
9
NS
0411575-7
Strap
2
NS
0411576-
Pan
6
NS
0411579-4
Hinge
3
NS
0411579-5
Hinge
1
AR
0411579-9
Hinge
3
AR
0411582-
Striker
5
NS
0411590-1
Latch
1
NS
0411595-
Bracket
1
NS
0411597-
Hinge, LH
2
NS
0411597-1
Hinge, RH
2
NS
0411602-2
Hinge
1
AR
0411623-
Latch-Seat Back
1
NS
0411634-
Stiffener
1
NS
0411675-14
Skin
2
NS
0411686-
Clip
4
NS
0411693-
Stop
1
NS
0411705-1
Channel
1
NS
0411718-
Stiffener
2
NS
0411718-2
Stiffener
2
NS
0411762-
Plate
1
NS
0411762-1
Plate
1
NS
0411860-
Channel
2
NS
0411861-
Channel
2
NS
0411868-
Skin
1
NS
0411868-1
Skin
1
NS
0411868-3
Doubler
1
NS
0411897-3
Cover
2
NS
0411905-2
Angle
1
NS
0411937-5
Cover
1
NS
0411939-1
Bracket
2
NS
0411950-1
Bracket
1
AR
0411950-2
Bracket
1
AR
0411951-10
Bulkhead
1
NS
0411951-9
Bulkhead
1
NS
0411956-10
Door Post
1
NS
0411956-9
Bulkhead
1
NS
0411959-3
Skin
1
NS
0411959-5
Bulkhead
1
NS
0411959-6
Skin
1
NS
0411971-1
Shield
1
AR
0411978-
Spacer/Link
6
NS
0411979-1
Bracket
3
NS
0412007-14
Strap
2
NS
0412010-1
Plate
4
AR
0412020-2
Skin
1
NS
0412020-3
Skin
1
NS
0412020-4
Skin
3
NS
0412020-5
Skin
2
NS
0412020-6
Skin
1
NS
0412020-72
Skin
1
NS
0412020-9
Skin
2
NS
0412026-1
Bulkhead
1
AR
0412026-1
Bulkhead
2
NS
0412026-3
Bulkhead
4
AR
0412027-3
Bulkhead
1
NS
0412027-4
Bulkhead
1
NS
0412028-3
Rib
1
NS
0412029-2
Fairing
9
NS
0412032-1
Fairing
1
NS
0412033-2
Stringer
1
NS
0412033-5
Angle
1
NS
0412033-6
Angle
2
NS
0412039-1
Retainer
1
NS
0412039-6
Retainer
1
NS
0412040-2
Channel
1
NS
0412044-2
Bracket
1
NS
0412057-1
Bracket
1
NS
0412070-5
Shelf
14
NS
0412072-1
Stiffener
3
NS
0412072-2
Stiffener
2
NS
0412119-1
Skin
1
NS
0412121-2
Skin
1
NS
0412173-1
Bulkhead
2
NS
0412173-3
Bulkhead
1
NS
0412173-5
Bulkhead
1
NS
0412174-2
Rib
2
NS
0412177-2
Bulkhead
2
NS
041218-4
Bracket
2
AR
0412509-1
Strip
1
NS
0412509-2
Retainer
1
NS
0412527-1
Horn Assy
2
NS
0412532-1
Bracket
1
NS
0412540-1
Blower Assembly
1
AR
0413004-2
Skin
2
NS
0413004-3
Skin
1
N
0413004-36
Skin
1
NS
0413004-4
Skin
2
NS
0413004-9
Skin
1
NS
0413025-1
Striker
1
AR
0413028-8
Plate
1
NS
0413028-9
Scoop
1
AR
0413036-2
Lock
1
NS
0413146-
Strip
6
NS
0413148-
Pin
1
NS
0413157-
Scoop
2
AR
0413163-43
Seal
3
NS
0413163-47
Seal
1
NS
0413163-58
Seal
5
NS
0413163-7
Seal
1
NS
0413195-3
Plate
1
NS
0413198-
Handle
2
NS
0413198-3
Handle
1
NS
0413198-3
Handle
2
AR
0413204-2
Bracket
1
NS
0413204-3
Bracket
1
NS
0413216-2
Rivets
3
NS
0413216-4
Rivets
1
NS
0413220-
Decal
4
NS
0413233-
Elbow
1
AR
0413233-
Elbow
1
NS
0413235-
Grommet
10
NS
0413238-
Baffle
3
NS
0413247-
Ground Strap
4
NS
0413257-
Cap
3
AR
0413266-2
Placard
3
NS
0413266-4
Placard
1
NS
0413286-
Reinforcement
2
NS
0413304-3
Sleeve Steering Boot
1
NS
0413304-6
Doubler
28
NS
0413307-21
Battery Box Lid
1
AR
0413311-4
Latch - Plate Only
1
AR
0413311-8
Latch Assy
1
NS
0413311-9
Latch Assy
1
NS
0413311-9
Latch Assy
1
AR
0413316-4
Panel
1
AR
0413317-1
Spring
2
NS
0413322-2
Cam
2
NS
0413322-3
Cam
5
NS
0413327-14
Rib
1
NS
0413327-3
Rib
11
NS
0413327-7
Rib
3
NS
0413327-8
Rib
3
NS
0413329-17
Rib
2
NS
0413339-10
Windshield
1
NS
0413345-1
Doubler
1
NS
0413347-1
Washer
3
NS
0413351-1
Doubler
1
NS
0413351-2
Doubler
5
NS
0413351-6
Doubler
2
NS
0413357-1
Latch Door Plate
2
NS
0413362-2
Latch, Window
1
NS
0413362-3
Latch, Window
1
AR
0413362-3
Latch, Window
1
NS
041337-31
Rib
1
NS
0413387-1
Latch
1
NS
0413387-3
Latch
3
AR
0413387-4
Latch
3
AR
0413387-6
Latch Assy
1
NS
0413388-1
Plate
5
AR
0413388-3
Plate
3
AR
0413388-4
Plate
6
AR
0413389-4
Handle
5
AR
0413389-4
Handle
1
NS
0413391-2
Angle
1
NS
0413392-2
Rib
1
NS
0413394-1
Bulkhead
1
NS
0413394-3
Bulkhead
1
NS
0413394-4
Bulkhead
1
NS
0413395-2
Bulkhead
1
NS
0413396-1
Bulkhead
1
NS
0413396-2
Bulkhead
2
NS
0413396-4
Bulkhead
2
N
0413397-2
Bulkhead
2
NS
0413397-3
Bulkhead
3
NS
0413399-1
Step
2
NS
0413399-1
Step
2
AR
0413401-1
Angle
1
NS
0413403-1
Bracket
11
NS
0413406-3
Drawbar
2
AR
0413410-1
Skin
1
NS
0413410-3
Floorboard
1
NS
0413410-7
Floorboard
1
NS
0413417-2
Marker
2
NS
0413423-1
Channel
1
NS
0413423-75
Reinforcement
1
AR
0413425-1
Bracket
1
NS
0413426-3
Hinge Assy (alt 0413426-18)
4
AR
0413426-4
Hinge Assy (alt 0413426-17)
3
AR
0413426-5
Hinge Half
3
AR
0413426-6
Hinge Half
3
AR
0413427-3
Spacer
1
NS
0413428-1
Wedge
2
NS
0413429-1
Pan
4
AR
0413429-3
Pan LH
1
AR
0413429-4
Pan RH
1
AR
0413430-1
Floorboard
10
NS
0413430-8
Reinforcement
1
NS
0413447-2
Clamp
1
NS
0413450-1-294
Cover/Shield
3
AR
0413462-3
Shield
2
NS
0413467-2
Eyebrow
1
NS
0413483-1
Horn
10
AR
0413485-1
Scoop
1
AR
0413497-2
Bulkhead
1
NS
0413511-9
Door
1
NS
0413523-4
Mount
6
NS
0413523-6
Mount
7
NS
0413544-2
Instr Panel, RH
1
AR
0413564-33
Plate
2
AR
0413574-2
Cover
6
NS
0413578-1
Pedal
5
AR
0413584-1
Shield
1
NS
0413589-1
Duct Assy, LH
1
NS
0413589-2
Duct Assy, RH
1
NS
0413599-1
Knob
2
NS
0413613-1-279
Button
3
NS
0413613-1-D66
Nut Brown
5
NS
0414001-2-532
Panel
1
NS
0414012-2
Angle
4
NS
0414014-2
Trim
1
NS
0414015-1
Trim
2
AR
0414018-1
Retainer
16
NS
0414018-3
Trim
7
NS
0414018-4
Retainer
20
NS
0414018-5
Retainer
1
NS
0414040-15
Shaft
1
NS
0414045-1
Bracket
3
AR
0414229-1
Handle
1
NS
0414229-5
Handle
3
NS
0415010-1
Cover
4
NS
0415013-7
Shield
1
NS
0415018-2
Handle
1
AR
0415022-3
Armrest Bk.
1
NS
0415023-1
Escutcheon
1
NS
0415026-1
Plate
2
NS
0415034-1
Pocket LH
1
NS
0415034-2
Pocket RH
1
NS
0417016-1
Spring
8
NS
042-827
Lift Decal
2
NS
042-8860-25
Crystal
1
NS
0420008-
Fairing
1
NS
0420009-1
Fairing
1
NS
0420015-1
Bracket
6
AR
0420015-2
Bracket
5
AR
0420024-1
Bracket
4
AR
0420030-1
Cover, LH STD RNG Aerobat
1
NS
0420030-2
Cover, RH STD RNG Aerobat
1
NS
0420030-3
Cover, LH EXT RNG Aerobat
1
NS
0420030-4
Cover, RH EXT RNG Aerobat
1
NS
0420030-5
Cover, LH STD RNG Aerobat
1
NS
0420030-6
Cover, RH STD RNG Aerobat
1
NS
0420030-7
Cover, LH EXT RNG Aerobat
1
NS
0420030-8
Cover, RH EXT RNG Aerobat
1
NS
0421000-1
Strut
9
AR
0421000-2
Strut
9
AR
0421002-1
Fairing
1
NS
0421002-2
Fairing
3
NS
0421002-2-791
Fairing
1
NS
0421002-2-D70
Fairing
1
AR
0421002-3-D70
Fairing
1
AR
0421002-3-D70
Fairing
1
NS
0421002-4
Fairing
1
AR
04218-5
Doubler
4
NS
042212-
Rib
4
NS
0422122-3
Fuel Tank
1
AR
0422122-4
Fuel Tank
1
AR
0422130-
Strainer
1
NS
0422130-
Strainer
15
AR
0422138-3
Rib
1
NS
0422142-
Rib
1
NS
0422142-
Rib
4
NS
0422148-
Rib
6
AR
042215-2
Angle
1
NS
0422151-
Angle
1
NS
0422153-
Spar Assy LH
1
NS
0422153-1
Spar Assy RH
2
NS
0422153-3
Baffle
1
NS
0422158-
Fitting
4
NS
0422159-
Spacer
4
NS
0422162-1
Bellcrank
1
SV
0422182-
Spacer
1
NS
0422198-
Fitting
1
NS
0422200-3
Rib
1
NS
0422221-
Spar LH
2
NS
0422221-1
Spar RH
1
NS
0422222-
Angle
1
NS
0422229-2
Fitting
6
NS
0422230-2
Skin
6
NS
0422230-3
Skin
4
NS
0422234-
Slide
20
NS
0422266-
Plate
4
NS
0422274-
Plate
5
NS
0422275-1
Rib
6
NS
0422279-1
Reinforcement
1
NS
0422281-
Rib
14
NS
0422282-
Rib
4
NS
0422293-1
Bracket
2
NS
0422293-2
Bracket
2
NS
0422293-3
Bracket
2
NS
0422293-4
Bracket
2
NS
0422320-
Rib
2
AR
0422325-
Rib
2
NS
0422327-6
Rib
1
NS
0422337-
Rib
4
NS
0422338-
Rib
2
NS
0422344-
Eye Bolt, Mooring (tail)
1
AR
0422344-
BOLT EYE
2
NS
0422357-1
Bracket
1
AR
0422401-1
Wing LH C150 Aerobat
1
OH
0422401-215
Wing LH C150 Aerobat
1
OH
0422401-217
Wing LH C150 Ext Range
1
OH
0422401-22
Wing LH C150 Aerobat
1
OH
0422401-23
Wing LH C150 Ext Range
1
OH
0422401-24
Wing RH C150 Ext Range
1
OH
0422401-27
Wing LH C150 Aerobat
1
OH
0422401-29
Wing LH C150 Ext Range
1
OH
0422401-3
Wing LH C150 Ext Range
1
OH
0422401-31
Wing LH C152 Aerobat
1
OH
0422401-33
Wing LH C152 Ext Range
1
OH
0422401-35
Wing LH C152 Aerobat
1
OH
0422401-37
Wing LH C152 Ext Range
1
OH
0422401-41
Wing LH C152 Aerobat
1
OH
0422401-43
Wing LH C152 Ext Range
1
OH
0422401-49
Wing LH C152 Aerobat
1
OH
0422401-51
Wing LH C152 Ext Range
1
OH
0422402-16
Wing RH C150 Ext Range
1
OH
0422402-20
Wing RH C150 Ext Range
1
OH
0422402-22
Wing RH C152 Aerobat
1
OH
0422402-24
Wing RH C152 Ext Range
1
OH
0422402-26
Wing RH C152 Aerobat
1
OH
0422402-28
Wing RH C152 Ext Range
1
OH
0422402-30
Wing RH C152 Aerobat
1
OH
0422402-32
Wing RH C152 Ext Range
1
OH
0422402-4
Wing RH C150 Ext Range
1
OH
0422404-14
Wing RH C150 Aerobat
1
OH
0422404-18
Wing RH C150 Aerobat
1
OH
0422408-1
Plate
1
NS
0422411-1
Angle
3
NS
0422430-7
Bellcrank
2
AR
0422430-8
Bellcrank
2
AR
0422430-807
Bellcrank, Aileron
1
AR
0423005-205
Wing LH C150
1
OH
0423007-1
Shield
7
NS
0423113-0
Spar
1
NS
0423113-1
Spar
4
NS
0423300-3
Tip
1
NS
0423300-4
Tip
2
NS
0423300-5
Tip
1
NS
0423300-5
Tip
1
NS
0423542-1
Ring
2
NS
0423542-4
Bracket
6
NS
0423542-5
Plate
14
NS
0423542-6
Retainer
1
NS
0423564-2
Shield RH
5
NS
0424000-2
Aileron, LH C170
1
NS
0424000-3
Aileron RH C170
1
NS
04241164-1
Skin
4
NS
0425006-38
Wing RH C150
1
OH
0425113-
Hinge
4
NS
0425134-
Pin
1
NS
0426002-29
Skin
1
NS
0426003-13
Fairing
1
NS
0426003-14
Fairing
1
NS
0426005-
Wing LH C150
1
OH
0426005-1
Wing RH C150
1
OH
0426005-100
Wing RH C150 Ext Range
1
OH
0426005-101
Wing LH C152
1
OH
0426005-102
Wing RH C152
1
OH
0426005-103
Wing LH C152 Ext Range
1
OH
0426005-104
Wing RH C152 Ext Range
1
OH
0426005-105
Wing LH C152
1
OH
0426005-106
Wing RH C152
1
OH
0426005-107
Wing LH C152 Ext Range
1
OH
0426005-108
Wing RH C152 Ext Range
1
OH
0426005-113
Wing LH C152
1
OH
0426005-114
Wing RH C152
1
OH
0426005-115
Wing LH C152 Ext Range
1
OH
0426005-116
Wing RH C152 Ext Range
1
OH
0426005-125
Wing LH C152
1
OH
0426005-127
Wing LH C152 Ext Range
1
OH
0426005-16
Wing RH C150
1
OH
0426005-18
Wing RH C150 Ext Range
1
OH
0426005-19
Wing LH C150 Ext Range
1
OH
0426005-200
Wing RH C150
1
OH
0426005-201
Wing LH C150
1
OH
0426005-202
Wing RH C150 Ext Range
1
OH
0426005-203
Wing LH C150 Ext Range
1
OH
0426005-204
Wing RH C150
1
OH
0426005-206
Wing RH C150 Ext Range
1
OH
0426005-207
Wing LH C150 Ext Range
1
OH
0426005-212
Wing RH C150
1
OH
0426005-213
Wing LH C150
1
OH
0426005-214
Wing RH C150 Ext Range
1
OH
0426005-215
Wing LH C150 Ext Range
1
OH
0426005-223
Wing LH C150 Ext Range
1
OH
0426005-225
Wing LH C150
1
OH
0426005-39
Wing LH C150
1
OH
0426005-40
Wing RH C150 Ext Range
1
OH
0426005-41
Wing LH C150 Ext Range
1
OH
0426005-8
Wing RH C150 Ext Range
1
OH
0426005-9
Wing LH C150 Ext Range
1
OH
0426005-91
Wing LH C150
1
OH
0426005-92
Wing LH C150 Ext Range
1
OH
0426005-94
Wing RH C150
1
OH
0426005-96
Wing RH C150 Ext Range
1
OH
0426005-97
Wing LH C150
1
OH
0426005-98
Wing RH C150
1
OH
0426005-99
Wing LH C150 Ext Range
1
OH
0426007-4
Fairing
1
NS
0426015-5
Gasket
2
NS
0426019-23
Fuel Tank
1
AR
0426019-24
Fuel Tank
1
AR
0426019-3
Fuel Tank, LH
1
AR
0426021-25
Fuel Tank
1
AR
0426021-26
Fuel Tank
1
AR
0426021-3
Fuel Tank, LH
1
AR
0426021-4
Fuel Tank, RH
1
AR
04262-00204
Panel
1
NS
0426209-1
Catch
10
NS
0426209-3
Stop
2
NS
0426209-4
Catch
25
AR
04263-007
Spar
1
NS
0426508-204
Fuel Tank
1
AR
0426508-21
Fuel Tank
2
AR
0426508-9
Fuel Tank
1
AR
0426511-18
Cover, RH STD RNG C150
1
NS
0426511-19
Cover, LH STD RNG C150
1
NS
0426511-6
Cover, LH STD RNG C150
1
NS
0426511-7
Cover, RH STD RNG C150
1
NS
0426512-
Strap
2
NS
0426515-3
Plate
2
NS
0426515-4
Plate
9
AR
0426515-5
Plate
2
NS
0426516-1
Cover, LH EXT RNG C150
1
NS
0426516-15
Cover, LH EXT RNG C150
1
NS
0426516-16
Cover, RH EXT RNGC150
1
NS
0426516-2
Cover, RH EXT RNG C150
1
NS
0426517-1
Fuel Sender
1
AR
0426519-1
Fuel Tank
2
AR
0426606-
Strut
8
AR
0426606-1
Strut
8
AR
0426900-
Flap LH
1
AR
0426901-17
Strip
1
NS
0426908-
Spar,LH Flap C150/152
6
NS
0426908-1
Spar,RH Flap C150/152
8
NS
0430004-1-791
Dorsal Faring
2
NS
0430004-10-791
Tip
4
NS
0430004-11-791
Tip
4
AR
0430004-2-791
Tip
1
NS
0430004-2-791
Tip
2
AR
0430004-5-791
Tip
5
AR
0430004-6-791
Tip
4
AR
0430004-6-791
Tip
1
NS
0430004-9-791
Cap
1
AR
0431001-16
Spar
3
NS
0431001-30
Channel
7
NS
0431001-31
Rib
2
NS
0431001-35
Spar
1
NS
0431001-36
Angle
3
NS
0431001-7
Rib
1
AR
0431001-9
Rib
1
AR
04310011-6
Cap Fin
2
AR
0431004-10
Rib
2
NS
0431004-10
Rib
7
AR
0431004-11
Rib
1
NS
0431004-12
Rib
5
AR
0431004-13
Rib
1
AR
0431004-14
Rib
8
NS
0431004-15
Rib
10
NS
0431004-16
Rib
15
NS
0431004-17
Skin
16
NS
0431004-19
Spar
1
NS
0431004-2
Fin C150
1
AR
0431004-20
Reinforcement
1
NS
0431004-21
Channel
1
NS
0431004-22
Channel
1
NS
0431004-23
Rib
5
AR
0431004-25
Rib
6
AR
0431004-25
Rib
8
NS
0431004-26
Rib
4
AR
0431004-26
Rib
14
NS
0431004-27
Rib
15
NS
0431004-3
Rudder C150
1
OH
0431004-30
Spar
1
NS
0431004-34
Rib
12
NS
0431004-35
Rib
11
NS
0431004-36
Rib
9
NS
0431004-37
Rib
13
AR
0431004-37
Rib
13
NS
0431004-38
Skin
3
NS
0431004-39
Vertical Fin C-150 Aerobat
1
NS
0431004-41
Rudder C150
1
OH
0431004-43
Skin
7
NS
0431004-7
Skin
6
NS
0431004-9
Rib
4
NS
0431005-1
Tip
1
AR
0431007-4
Horn
3
NS
0431008-1
Fitting
1
NS
0431009-3
Fitting
6
AR
0431010-7
Hinge Half
1
NS
0431013-2
Tip
1
NS
0431013-3-791
Tip
6
NS
0431015-7
Fairing
5
AR
0431015-8
Fairing
5
AR
0431017-1
Fin Tip
1
NS
0431022-2
Rib
1
NS
0431023-1
Dorsal
1
AR
0431023-1
Dorsal
1
NS
0431024-1-791
Fairing
1
NS
0431032-1
Fin C150
1
AR
0431032-10
Rib
2
NS
0431032-12
Fin
1
OH
0431032-2
Fin C150
1
AR
0431032-23
Fin C152
1
AR
0431032-8
Rib
2
NS
0431115-
Rib
1
NS
0431131-
Rib
5
NS
0431139-
Tip
1
AR
0431148-1
Fitting
6
AR
0432001-10
Rib
12
AR
0432001-11
Rib
3
NS
0432001-12
Rib
12
NS
0432001-16
Skin
1
NS
0432001-20
Bracket
1
NS
0432001-32
Channel
1
NS
0432001-35
Rib
1
NS
0432001-38
Bracket
1
NS
0432001-44
Plate
1
NS
0432001-53
Rib
9
NS
0432001-53
Rib
16
AR
0432001-57
Rib
3
NS
0432001-59
Stabilizer C150 / C152
1
OH
0432001-61
Stabilizer Aerobat
1
OH
0432001-62
Skin Aerobat
1
NS
0432001-63
Plate Aerobat
1
NS
0432001-8
Rib
8
NS
0432003-1
Bushing
2
NS
0432005-1
Fitting
1
AR
0432005-2
Fitting
2
AR
0432006-1
Spar
5
NS
0432011-1
Tube, Elev Tab
3
NS
0432056-5
Arm
1
AR
0432114-
Rib
2
NS
0432116-2
Leading Edge Skin
3
NS
0432126-
Clamp
22
AR
0432138-14
Chain
1
NS
0432155-
Retainer
2
NS
0432162-3
Spacer
6
NS
0432163-3
Tube
4
AR
0432164-1
Bracket
1
AR
0432165-1
Hinge
1
NS
0432174-2
Rib
1
NS
0433000-12
Rudder C120
1
AR
0433007-9
Mount
1
AR
0433010-1
Rudder-SEB94-3
1
OH
0433010-10
Spar
5
NS
0433010-2
Rib
1
NS
0433010-3
Rib
1
NS
0433010-5
Skin
5
NS
0433010-9
Spar
18
NS
0433106-
Rib
1
NS
0434152-
Stiffener
2
NS
0441021-
Spring
1
NS
0441023-2
Wedge
7
AR
0441024-1
Plate
1
AR
0441024-2
Plate
1
NS
0441119-0
Hose
2
NS
0441130-2
Nut
2
NS
0441130-4
Nut
1
AR
0441132-
Clip
1
AR
0441136-1
Plate
1
AR
0441139-1
Shim
2
NS
0441139-4
Plate
1
NS
0441139-5
Shim
1
NS
0441139-6
Shim
7
NS
0441141-0
Plate, Brake Disc Cover
2
NS
0441141-4
Plate, Brake Disc Cover
1
NS
044115-
Wedge (alt 0741022-1)
7
AR
0441155-1
Bracket
1
NS
0441157-1
Shim
5
NS
0441157-3
Shim
2
NS
0441161-1
U Bolt
4
NS
0441167-3
Plate
1
NS
0441176-7
Plate
3
NS
0441176-8
Plate
1
NS
0441183-1
Cover
1
NS
0441184-5
Plate
1
AR
0441201-6
Bracket
1
NS
0441212-5
Gear Leg
5
AR
0441212-6
Gear Leg
2
AR
0441217-214
Fairing
6
NS
0441217-214
Fairing
7
AR
0441217-215
Fairing
4
AR
0441217-215
Fairing
4
NS
0441218-2
Plate
1
AR
0441220-
Stiffener
5
AR
0441220-1
Stiffener
5
AR
0441225-1
Support
1
AR
0441225-2
Support
1
AR
0441227-1-D70
Fairing
2
NS
0441228-1
Fairing Assy LH
1
NS
0442008-
Spring Kit
2
NS
0442108-
Leaf
1
NS
0442129-1
Bushing
2
NS
0442145-1
Placard
2
NS
0442505-
Bracket
4
AR
0443389-1
Lever
1
NS
045-1256
Spring
2
NS
045-1803
Gasket
4
NS
04500-177
Cable Assy
4
AR
0450017-7
Cable
1
AR
0450024-17
Bulkhead
1
NS
0450025-8
Bulkhead
1
NS
045003-7
Bracket
3
NS
0450035-1
Plate
3
NS
0450039-2-294
Spacer
2
NS
0450039-5
Spacer
11
NS
0450040-1
Bulkhead
1
NS
0450043-3
Bulkhead
3
NS
0450050-1
Bulkhead
1
AR
0450050-1
Bulkhead
4
NS
0450050-3
Bulkhead
1
NS
0450066-6
Seal
1
NS
0450066-7
Seal Stiffener, LH
1
AR
0450072-1
Bulkhead
2
NS
0450073-
Spinner
1
AR
0450073-1
Spinner
1
AR
0450076-1
Bulkhead
3
NS
0450080-1
Cover
1
NS
0450080-2
Cover
1
NS
0450111-
Bracket
1
AR
0450122-
Baffle
2
NS
0450137-
Baffle
1
NS
0450139-2-294
Shim
9
NS
0450148-2
Strap
4
NS
0450167-
Baffle
1
NS
0450210-
Support
7
NS
0450266-1
Scoop
1
NS
0450277-1
Fastener
6
NS
0450277-11
Spring
3
NS
0450277-13
Fastener
1
NS
0450277-15
Fastener
3
NS
0450277-2
Fastener
2
NS
0450277-201
Fastener
3
NS
0450277-203
Fastener
3
NS
0450277-215
Fastener
1
NS
0450277-3
Fastener
1
NS
0450277-5
Fastener
6
NS
0450277-7
Fastener
2
NS
0450283-
Extension
1
NS
0450284-
Bracket
1
NS
0450286-
Clip
1
NS
0450290-
Muffler L/H
1
AR
0450290-1
Muffler R/H
1
SV
0450302-1
Baffle
5
NS
0450302-1
Baffle
5
NS
0450302-3
Bracket
1
NS
0450302-4
Baffle
1
NS
0450303-1
Baffle
12
NS
0450303-4
Bracket
12
NS
0450303-5
Bracket
2
NS
0450322-
Baffle
2
NS
0450322-3
Baffle
5
NS
0450338-14
Tube
3
NS
0450338-3
Shroud
2
NS
0450338-67
Pipe
1
NS
0450338-76
Tube
1
NS
0450343-1
Bracket, Throttle
1
NS
0450400-3
Muffler
1
AR
0450408-1
Elbow
3
NS
0450502-1
Baffle
2
NS
0450502-22
Baffle
2
NS
0450502-23
Baffle
3
NS
0450502-27
Baffle
7
NS
0450502-3
Baffle
1
NS
0450502-34
Baffle
1
NS
0450502-35
Baffle
10
NS
0450502-36
Baffle
7
NS
0450502-41
Baffle
7
NS
0450502-5
Baffle
7
NS
0450507-1
Bracket
4
NS
0452002-16
Doubler
3
NS
0452002-21
Doubler
1
NS
0452002-25
Pin
3
NS
0452002-26
Door
1
AR
0452002-26
Door
1
NS
0452002-30
Doubler
3
NS
0452002-33
Skin
2
NS
0452002-39
Hinge
1
NS
0452002-42
Angle
2
NS
0452002-43
Doubler
7
NS
0452002-45
Cap Nose
1
NS
0452002-47
Strip
1
NS
0452002-53
Skin
1
NS
0452003-11
Channel
1
NS
0452003-12
Channel
1
NS
0452003-13
Channel
1
NS
0452003-20
Cover
3
AR
0452003-22
Hinge
3
NS
0452003-26
Doubler
1
NS
0452003-6
Skin
1
NS
0452003-7
Skin
2
NS
0452006-1
Cover
3
NS
0452007-1
Cover
3
NS
0452008-1
Reinforcement
2
NS
0452009-1
Cover
1
NS
0452009-11
Bracket
1
NS
0452014-1
Bulkhead
2
NS
0452015-2
Bracket
1
NS
0452015-7
Plate
1
NS
0452017-15
Seal Assy
1
AR
0452017-6
Seal
2
NS
0452017-7
Seal
1
NS
0452110-
Lever
1
NS
0452112-
Pin
3
NS
0452114-
Hook
7
NS
0452115-
Spring
21
NS
0452222-3
Scoop
1
NS
0452230-2
Nose Cap
1
AR
0452232-7
Bumper
1
NS
0452233-15
Doubler
1
NS
0452233-3
Skin
1
NS
0452233-3
Skin
1
AR
0452233-4
Skin
2
NS
0453001-5
Firewall
1
NS
0453001-5
Firewall
1
AR
0453003-2
Bracket
22
NS
0453003-3
Bracket
23
NS
0453003-4
Mount
5
NS
0453003-7
Bracket
4
NS
0453004-2
Doubler
1
NS
0453013-1
Stiffener
2
NS
0453107-
Angle LH
1
NS
0453107-1
Angle RH
1
NS
0453107-2
Angle RH
1
NS
0453109-
Plate
1
NS
0453114-1
Firewall
1
AR
0453114-5
Firewall
1
NS
0453116-202
Doubler
1
NS
0453116-203
Doubler
1
NS
0453117-1
Elbow
4
NS
0454009-4
Baffle
4
NS
0454009-6
Muffler
1
AR
0454017-1
Shroud
4
NS
0454018-1
Plate
1
NS
0454019-1
Cover
1
NS
0454019-2
Shroud
1
NS
0455000-11
Baffle
2
NS
0455000-15
Baffle
10
AR
0455000-5
Baffle
1
NS
0455001-1
Baffle
6
NS
0455001-12
Baffle
8
NS
0455001-14
Baffle
5
NS
0455001-3
Baffle
3
NS
0455001-5
Baffle
1
NS
0455012-1
Baffle
2
NS
0455012-10
Baffle
4
NS
0455012-11
Baffle
1
NS
0455013-18
Baffle
3
NS
0455013-4
Baffle
1
NS
0455015-2
Baffle
2
NS
0455016-2
Baffle
4
NS
0455021-1
Support
1
NS
0455024-2
Baffle
1
NS
0455024-203
Baffle
4
NS
0456008-5
Support
1
NS
0460126-4
Bracket
1
NS
0460127-2
Wheel
2
AR
0460199-1
Bracket
1
NS
0460203-1
Spring
2
NS
0460218-1
Clamp
1
NS
047-09687-0001
Mount block
5
NS
047-368-036-004
Support
1
NS
047-4219-01
Brace
1
NS
04723007-1
Shield
4
AR
048465-01
Filter
1
AR
05-01700
Seal
2
NS
05-02-103
Boot
3
NS
05-02124
CAMLOC DOOR
2
NS
05-03995
Glare Shield Lights
1
NS
05-7212-K014002
Magnetic Drain Plugs w/Seal
2
NS
050-01877-0000
KIT
1
NS
050-02700-0000
MOD KIT
12
NS
050-03403-000
MOD KIT
1
NS
050-08
Gasket
2
NS
050-1555-02
Accessory Kit
1
NS
0500026-1
Block
1
NS
0500044-24
Angle
1
NS
0500044-25
Angle
1
NS
0500044-32
Angle
1
NS
0500085-1
Placard
8
NS
0500106-229
Line Vac
1
NS
0500118-112
Line
1
NS
0500118-128
Brake Line
1
NS
0500120-2
Bracket
1
NS
0500128-1
Placard
2
NS
0500130-1
Placard
1
NS
0500210-39
Molding
1
NS
0500210-82
Shield
1
NS
0500233-15
Tip
4
AR
0500236-1
Angle
7
NS
0500236-3
Cargo Net
4
NS
0500246-11
Decal
4
NS
0500266-2
Placard
2
NS
0500276-1
Step
10
AR
0500276-2
Step
10
AR
0500315-1
Bracket
1
NS
0501022-1
Holder
1
NS
0501030-1
Adaptor
8
NS
0505007-4
Placard
2
NS
0505009-3
Placard
2
NS
0505012-2
Placard
2
NS
0505027-1
Placard
3
NS
0505043-3
Placard
2
NS
0505061-2
Nameplate
1
NS
0505063-1
Checklist
1
NS
0505094-1
Placard
6
NS
0505094-2
Placard
10
NS
050531001-15
Rib
1
NS
0509021-2
Placard
3
NS
0509035-7
Spar
2
NS
0509038-1
Reinforcement
12
NS
0509038-2
Bracket
7
NS
0509038-3
Reinforcement
7
NS
0509038-4
Bracket
5
NS
0509042-2
Cover
1
NS
0509060-
Filter
2
NS
0509070-8
Baffle
2
AR
051-1116
Bushing
8
NS
0510000-60
Strip
1
NS
0510105-1
Cable
1
NS
0510105-123
Cable Assy
1
NS
0510105-123
CABLE AY
3
NS
0510105-145
Cable
2
NS
0510105-23
Cable
3
NS
0510105-232
Cable Assy.
1
AR
0510105-301
Cable
1
NS
0510105-322
Cable
1
NS
0510105-323
Cable
1
NS
0510105-41
Cable
1
NS
0510105-42
Cable-Elevator
1
NS
0510105-44
Cable
1
NS
0510105-45
Cable
1
NS
0510105-52
Cable
1
NS
0510105-58
Cable
1
NS
0510105-59
Cable
2
NS
0510105-7
Cable
1
NS
0510105-95
Cable
1
NS
0510111-10
Rod
1
AR
0510111-11
Rod
2
AR
0510111-15
Rod
1
NS
0510111-19
Push Rod
1
AR
0510111-9
Rod
2
NS
0510112-
Bracket
1
AR
0510112-1
Bracket
1
AR
0510113-1
Bulkhead
3
NS
0510114-50
Cover
1
NS
0510114-51
Cover
1
NS
0510121-1
Rib
1
AR
0510124-
Bulkhead
3
NS
0510127-1
Wheel
1
NS
0510135-
Support
1
NS
0510135-3
Support
1
NS
0510137-
Spacer
2
NS
0510138-2
Cover
1
NS
0510146-
Stop
1
NS
0510146-3
Stop
1
NS
0510146-9
Stop
1
NS
0510159-
Bellcrank
4
AR
0510161-5
Tube
1
NS
0510192-
Bellcrank
3
AR
0510201-4
Skin
1
NS
0510205-3
Fitting
1
NS
0510205-4
Fitting
1
NS
0511000-11
Stiffener
2
NS
0511000-35
Stringer
8
NS
0511000-38
Stringer
2
NS
0511000-63
Retainer
1
NS
0511007-6
Support
1
AR
0511030-5
Channel
3
NS
0511039-3
Rib
1
NS
0511039-4
Rib
1
NS
0511040-1
Plate
1
AR
0511042-3
Stop
1
AR
0511071-2
Plate
1
NS
0511071-3
Cover
2
AR
0511071-4
Cover
2
AR
0511072-1
Seal
4
AR
0511080-1
Insulator
2
NS
0511100-3
Floorboard
1
NS
0511112-14
Plate
2
NS
0511112-4
Bracket
5
NS
0511114-6
Skin
1
NS
0511119-
Spring
9
NS
0511130-
Shield
1
AR
0511130-1
Shield
5
NS
0511130-2
Shield
16
NS
0511137-10
Cover, Upper RH
3
NS
0511137-16
Cover, Upper RH
3
NS
0511142-5
Lock
4
NS
0511143-5
Skin
1
NS
0511153-
Retainer
1
NS
0511157-14
Shaft
2
AR
0511167-20
Placard
56
NS
0511177-8
Frame
1
NS
0511189-1
Clip
361
NS
051119-
Spring
2
NS
0511191-1
Fuel Selector Plates
2
NS
0511227-7
Shaft
1
AR
0511227-7
Shaft
1
NS
0511232-3
Hook
2
NS
0511232-4
Strap
2
NS
0511237-2
Hinge Half, Upper Fwd RH
2
AR
0511238-2
Hinge Half, Upper Aft RH
1
AR
0511240-11
Rail seat
1
NS
0511240-15
Rail
3
NS
0511240-2
Rail
2
NS
0511240-3
Seat rail
1
NS
0511240-4
Rail
1
NS
0511240-5
Rail
4
NS
0511240-6
Rail
5
NS
0511243-5
Seat Rail
6
NS
0511243-6
Seat Rail
7
NS
0511248-1
Spring
3
NS
0511252-1
Bracket
10
NS
0511256-1
Latch Assy
2
NS
0511256-1
Latch Assy
3
AR
0511256-2
Latch Assy
1
AR
0511258-2
Housing
5
AR
0511260-1
Bolt
1
NS
0511261-3
Spring
4
NS
0511266-2
Bracket
1
AR
0511280-4
Hinge
1
NS
0511281-
Bulkhead
1
AR
0511282-
Bracket
1
AR
0511285-3
Bulkhead
3
NS
0511288-1
Rib
5
NS
0511289-2
Angle
1
NS
0511292-3
Angle
1
AR
0511293-2
Seat Track
1
NS
0511295-3
Skin
1
AR
0511301-18
Bracket
3
AR
0511301-19
Bracket
2
AR
0511312-1
Bracket
1
AR
0511461-1
Reinforcement
4
NS
0511465-2
Bracket
1
NS
0511473-1
Reinforcement
1
NS
0511479-2
Floorboard
1
NS
0511480-13
Floor Board
2
NS
0511482-15
Plate
2
NS
0511495-10
Saddle
2
NS
0511495-4
Angle
1
NS
0511496-1
Bracket
2
NS
0511497-1
Bulkhead Ay
3
NS
0511497-5
Bulkhead
2
NS
0511777-1
Bulkhead
1
NS
0511795-3
Bulkhead
1
NS
0511799-3
Gusset
1
AR
0511803-213
Door, LH
1
AR
0511803-216
Door, LH
1
AR
0511803-59
Door, LH
1
AR
0511803-61
Passenger Door
1
AR
0511803-65
Door, LH
1
AR
0511900-
Doubler
1
NS
0512000-26
Skin
1
NS
0512000-3
Skin
3
NS
0512000-6
Skin
2
NS
0512000-7
Skin
1
NS
0512000-8
Skin
1
NS
0512001-10
Angle
2
NS
0512001-16
Angle
1
NS
0512001-19
Skin
1
NS
0512001-5
Skin
1
NS
0512001-6
Skin
1
NS
0512001-8
Channel
1
NS
0512001-9
Angle
2
NS
0512006-1
Angle
1
NS
0512008-3
Skin, RH
1
NS
0512009-6
Skin, LH
1
NS
0512010-3
Skin
1
NS
0512010-4
Skin
1
NS
0512014-1
Bulkhead
1
NS
0512014-2
Bracket
1
AR
0512015-1
Bulkhead
1
NS
0512015-19
Bulkhead
2
NS
0512015-7
Bulkhead
2
NS
0512015-8
Bulkhead
2
NS
0512016-1
Bulkhead
3
NS
0512016-5
Bulkhead
2
NS
0512016-7
Bulkhead
2
NS
0512020-1
Bulkhead
3
NS
0512021-1
Brace
1
AR
0512021-1
Brace
1
NS
0512021-2
Brace
1
AR
0512021-4
Brace
2
NS
0512023-1
Former
2
NS
0512023-2
Channel
1
NS
0512027-1
Fillet Assy
1
AR
0512028-2
Stiffener
1
NS
0512029-1
Rail
1
NS
0512029-3
Stringer
1
NS
0512029-4
Stringer
1
NS
0512029-6
Rail
1
NS
0512029-8
Rail
2
NS
0512030-5
Skin
2
NS
0512032-4
Retainer
2
AR
0512032-4
Retainer
1
NS
0512037-3
Stringer
1
NS
0512037-4
Stringer
1
NS
0512039-1
Stringer
1
NS
0512039-2
Stringer
1
NS
0512039-3
Stringer
1
NS
0512039-7
Angle
1
NS
0512040-2
Retainer
2
NS
0512041-5
Stringer
1
NS
0512059-1
Stringer
1
AR
0512059-1
Stringer
1
NS
0512100-13
Skin
5
NS
0512100-14
Skin
1
NS
0512100-19
Skin
3
NS
0512100-20
Skin
5
NS
0512100-3
Skin
1
NS
0512107-13
Stiffener
1
NS
0512107-38
Skin
6
NS
0512108-3
Bulkhead
1
AR
0512110-7
Bulkhead
2
NS
0512114-21
Door Post
1
NS
0512121-5
Bulkhead
1
NS
0512123-
Bushing
25
AR
0512124-21
Bulkhead
1
NS
0512124-24
Channel
1
NS
0512124-29
Bulkhead
1
NS
0512124-35
Channel
9
NS
0512124-44
Door Post
1
NS
0512124-47
Door Post
1
NS
0512124-61
Doubler
1
NS
0512124-63
Bulkhead
1
NS
0512124-74
Sill
1
AR
0512126-
Doubler
1
AR
0512129-
Bracket
4
NS
0512146-
Stiffener
3
NS
0512146-1
Plate
1
AR
0512153-3
Fillet
7
NS
0512156-
Rib
1
NS
0512156-1
Bulkhead
2
NS
0512157-11
Bulkhead
1
NS
0512159-3
Bulkhead
6
AR
0512167-10
Spring
1
NS
0512176-2
Retainer (Frame)
1
AR
0512177-1
Channel
1
NS
0512183-1
Reinforcement
1
NS
0512193-2
Support
1
NS
0512195-11
Skin
1
AR
0512195-8
Skin
1
AR
0512195-809
Skin
2
NS
0512196-1
Doubler
1
NS
0513000-22
Skin
1
NS
0513000-3
Strip
2
NS
0513000-57
Angle
1
NS
0513004-3
Lower Panel RH
1
NS
0513006-11
Sheet
1
NS
0513006-112
Angle
1
NS
0513006-113
Angle
2
NS
0513006-13
Bracket/ Doubler
1
NS
0513006-139
Bulkhead
1
NS
0513006-149
Door Post
1
NS
0513006-38
Bracket
1
NS
0513006-40
Bracket
1
AR
0513006-8
Splice
1
NS
0513007-13
Bulkhead
1
NS
0513007-7
Skin
1
NS
0513008-0
Bulkhead
1
NS
0513008-1
Bulkhead
1
NS
0513009-2
Bulkhead
3
NS
0513009-3
Bulkhead
2
NS
0513013-
Shelf
1
NS
0513013-11
Baggage Shelf
2
AR
0513013-12
Skin
1
NS
0513013-8
Skin
1
NS
0513038-7
Angle
1
NS
0513039-1
Element
1
NS
0513048-1
Angle
1
NS
0513052-11
Lighter (alt 207959)
4
NS
0513053-1
Bulkhead
2
NS
0513053-2
Bulkhead (alt 0513053-4)
1
NS
0513053-4
Bulkhead (alt 0513053-2)
3
NS
0513054-4
Bulkhead
2
NS
0513055-2
Channel
3
NS
0513056-3
Grommet
2
NS
0513063-1
Bracket
1
NS
0513070-10
Instrument Panel
1
AR
0513082-2
Bracket
1
NS
0513089-1
Support
2
AR
0513093-16
Cover
1
NS
0513097-7
Skin
1
NS
0513105-5
Bracket
1
NS
0513109-15
Angle
2
NS
0513109-24
Angle
2
NS
0513109-29
Doubler
2
NS
0513109-4
Pan
4
NS
0513109-48
Skin, Firewall
1
NS
0513109-64
Duct
2
NS
0513109-69
Angle
1
NS
0513120-1
Spring
1
NS
0513125-
Gasket
1
NS
0513125-0
Gasket
1
NS
0513132-1
Stringer
1
AR
0513132-2
Stringer
1
AR
0513132-3
Stringer
4
NS
0513132-4
Stringer
2
NS
0513132-4
Stringer
1
NS
0513134-8
Retainer
2
NS
0513137-1
Gusset
4
NS
0513137-2
Gusset
2
NS
0513144-3
Adaptor
1
NS
05131448-
Gauge
1
NS
0513158-8
Door
1
NS
0513173-1
Lock
4
NS
0513230-3
Retainer
1
AR
0513230-4
Retainer
1
AR
0513235-1
Bulkhead
1
AR
0513235-1
Bulkhead
3
NS
0513256-1
Support
1
NS
0513260-4
Wheel Control
1
AR
0513261-16
Wheel Control
1
AR
0513282-10
Bracket
3
NS
0513288-1
Plate
1
NS
0513291-1-B76
Cover EMB
1
NS
0513298-2
Cover
2
AR
0513312-1
Retainer
1
NS
0513314-4
Bulkhead
4
NS
0513321-10
Doubler
9
NS
0513322-1
Angle
2
NS
0513323-1
Support
1
NS
0513325-3
Bulkhead
4
NS
0513325-4
Bulkhead
1
AR
0513325-4
Bulkhead
2
NS
0513327-1
Stiffener
1
NS
0513330-9
Skin
4
NS
0513351-1
Screw Post
7
NS
0513358-1
Support
1
AR
0513359-1
Bracket
1
NS
0513359-2
Bracket
1
NS
0513360-2
Support
1
NS
0513361-1
Rib
1
NS
0513362-4
Skin
3
NS
0513362-6
Skin
7
NS
0513362-9
Skin
1
NS
0513364-1
Angle
10
NS
0513364-2
Angle
7
NS
0513368-2
Panel
2
NS
0513368-205
Console
1
NS
0513368-4
Panel
1
NS
0513371-1
Bracket
1
NS
0513372-1
Fitting
1
AR
0513372-2
Fitting
38
NS
0513372-2
Fitting
1
AR
0513373-2
Bulkhead
1
AR
0513374-5
Bulkhead
1
AR
0513374-5
Bulkhead
1
NS
0513382-15
Knuckle
1
NS
0513411-1
Support
2
NS
0513423-2
Cover
2
NS
0513454-1
Support
1
NS
0513506-1
Bracket
1
AR
0513510-2
Stringer
1
AR
0513511-12
Stringer Assy
1
NS
0513512-9
Cover
1
NS
0513515-4
Angle
1
NS
0513521-4
Skin
1
NS
0513526-1
Step
1
AR
0513526-2
Step
1
AR
0513553-2
Bracket
1
NS
0513558-14
Stop (alt 0513558-9)
1
NS
0513558-9
Stop Kit
2
NS
0513558-9
Stop (alt 0513558-14)
1
NS
0513560-13
Plate
1
NS
0513560-2
Plate
3
NS
0513560-3
Plate Seat
2
NS
0513560-7
Plate Seat
3
NS
0513561-3
Retainer
1
NS
0513614-1
Bulkhead
1
NS
0514017-3
Trim
2
NS
0514022-15
Seat Back
1
NS
0514026-4
Tube Torque
1
NS
0514027-21
Screw-seat adjust
1
NS
0514028-14
Bellcrank
1
NS
0514038-1
Spacer
1
NS
0514043-2
Pawl
1
NS
0514063-5
Sill
1
NS
0514067-3
Retainer
2
NS
0514067-4
Retainer
1
AR
0514364-7
Trim
1
NS
0514367-2
Trim
14
NS
0514367-3
Sill
13
NS
0515005-7
Trim Panel
2
NS
0515010-6
Tray
1
NS
0515012-3-532
Panel Trim
2
NS
0515020-1
Retainer
1
NS
0515024-11
Trim Headliner
1
NS
0515024-12
Trim Headliner
1
NS
0515024-2
Trim
1
NS
0515047-1
Cover
6
NS
0515049-1
Trim
2
NS
0515049-2
Trim
1
NS
0515073-8
Bracket
1
AR
0515089-1
Duct
5
AR
0516008-1
Shaft
1
NS
0517002-1
Striker
1
AR
0517012-1
Latch Assy, LH (use -3)
1
AR
0517012-2
Latch Assy, RH (use -4)
1
AR
0517012-3
Latch, LH
1
AR
0517018-3
Bracket
3
NS
0517019-5
Hinge Half
1
NS
0517021-1
Rod
1
NS
0517021-4
Tube
1
NS
0517021-5
Tube Assy
1
AR
0517021-8
Tube Assy
1
AR
0517028-
Rod
1
NS
05194-2
Fitting
1
NS
0520002-27
Lead edge
1
NS
0520003-1
Stiffener
1
NS
0520005-10
Fairing
4
NS
0520005-12
Fairing
2
NS
0520005-711
Fairing, RH
15
NS
0520006-1
Plate
2
NS
0520007-2
Plate
3
NS
0520008-1
Fairing
1
NS
0520016-1
Fairing
2
AR
0520016-1
Fairing
3
NS
0520016-2
Fairing
1
AR
0520016-2
Fairing
2
NS
0520016-4
Fairing
1
NS
0520018-10
Wing RH C172S
1
OH
0520018-11
Wing LH C172S
1
OH
0520018-12
Wing RH C172S
1
OH
0520018-13
Wing LH C172S
1
OH
0520018-14
Wing RH C172S
1
OH
0520018-9
Wing LH C172S
1
OH
0521101-1
Plate
1
NS
0521101-2
Plate
1
NS
0521103-3
Pitot
1
NS
0522101-1
Plate
3
NS
0522101-1
Plate
6
AR
0522106-
Rib
5
NS
0522109-1
Lens, Clear
1
NS
0522110-1
Doubler
6
AR
0522110-1
Doublers
1
NS
0522114-1
Retainer
2
NS
0522119-6
Bracket
3
NS
0522150-1
Fairing
1
AR
0522150-2
Fairing
2
NS
0522150-3
Fairing
2
NS
0522150-3-D70
Fairing
1
NS
0522150-4-D70
Fairing
1
NS
0522300-4
Spar
1
NS
0522617-13
Cover, LH EXT RNG C172
1
NS
0522617-14
Cover, RH EXT RNG C172
1
NS
0522617-15
Cover, LH EXT RNG C172
1
NS
0522630-1
Bracket
3
NS
0522630-2
Bracket
3
NS
0522630-3
Bracket
1
NS
0522630-4
Bracket
2
NS
0522637-4
Rib
10
AR
0522647-14
Bracket
5
AR
0522647-15
Bracket
5
AR
0522647-9
Bellcrank
3
AR
0522648-2
Rib
4
AR
0522648-3
Rib
5
AR
0523001-20
Actuator
1
AR
0523002-
Wing LH C170A
1
OH
0523002-1
Wing RH C170A
1
OH
0523002-28
Skin
1
NS
0523003-10
Skin LH
1
NS
0523003-11
Skin RH
1
NS
0523003-22
Skin RH
1
NS
0523003-32
Skin
1
NS
0523003-54
Skin
1
NS
0523003-56
Skin LH
1
NS
0523003-57
Skin RH
1
NS
0523003-62
Skin
1
NS
0523003-63
Skin LH
1
NS
0523003-81
Skin
3
NS
0523003-83
Skin
2
NS
0523005-
Wing LH C172
1
OH
0523005-1
Wing RH C172
1
OH
0523005-100
Wing RH C172
1
OH
0523005-13
Wing LH C175
1
OH
0523005-14
Wing RH C175
1
OH
0523005-2
Leading Edge
1
AR
0523005-200
Wing RH C172
1
OH
0523005-201
Wing LH C172
1
OH
0523005-202
Wing RH Ext Range C175
1
OH
0523005-203
Wing LH Ext Range C175
1
OH
0523005-205
Wing LH C172
1
OH
0523005-206
Wing RH Ext Range C172
1
OH
0523005-209
Wing LH Ext Range C172
1
OH
0523005-21
Skin LH
1
NS
0523005-214
Wing RH C172
1
OH
0523005-215
Wing LH C172
1
OH
0523005-216
Wing LH C172
1
OH
0523005-217
Wing LH Ext Range C175
1
OH
0523005-218
Wing RH Ext Range C175
1
OH
0523005-219
Wing LH Ext Range C172
1
OH
0523005-22
Skin
1
NS
0523005-22
Skin
1
NS
0523005-220
Wing RH Ext Range C172
1
OH
0523005-224
Wing RH Ext Range C172
1
OH
0523005-58
Wing LH C172
1
OH
0523005-61
Skin
1
NS
0523005-68
Skin LH
1
NS
0523005-80
Wing LH C172
1
OH
0523005-85
Wing LH Ext Range C172
1
OH
0523005-91
Wing LH C172
1
OH
0523005-92
Wing LH Ext Range C172
1
OH
0523005-96
Wing RH Ext Range C172
1
OH
0523007-24
Skin
1
NS
0523008-10
Shim
5
AR
0523008-3
Latch
9
AR
0523008-4
Latch Assy
10
AR
0523008-4
Latch Assy
3
NS
0523008-7
Latch
20
AR
0523008-9
Shim
5
AR
0523011-1
Wing LH C172
1
OH
0523011-11
Skin
1
NS
0523011-13
Wing LH Ext Range C172
1
OH
0523011-14
Wing RH Ext Range C172
1
OH
0523011-2
Wing RH C172
1
OH
0523011-31
Wing LH C172
1
OH
0523011-32
Wing RH C172
1
OH
0523011-35
Wing LH Ext Range C172
1
OH
0523011-36
Wing RH Ext Range C172
1
OH
0523011-41
Wing LH C172
4
OH
0523011-42
Wing RH C172
4
OH
0523011-43
Wing LH Ext Range C172
1
OH
0523011-44
Wing RH Ext Range C172
1
OH
0523011-49
Wing LH C172
1
OH
0523011-50
Wing RH C172
1
OH
0523011-52
Skin
1
NS
0523011-53
Skin
11
NS
0523011-57
Wing LH C172
1
OH
0523011-58
Wing RH C172
1
OH
0523011-59
Wing LH Ext Range C172
1
OH
0523011-60
Wing RH Ext Range C172
1
OH
0523011-61
Wing LH
1
OH
0523011-62
Wing RH
1
OH
0523011-63
Wing LH
1
OH
0523011-64
Wing RH
1
OH
0523011-65
Wing LH Ext Range C172
1
OH
0523011-66
Wing RH Ext Range C172
1
OH
0523011-67
Wing LH
1
OH
0523011-68
Wing RH
1
OH
0523011-69
Wing RH C172
2
OH
0523011-71
Wing LH Ext Range C172
1
OH
0523019-1
Spacer
1
NS
0523039-1
Plate
6
NS
0523047-2
Fairing
4
AR
0523080-1
Wing LH C172
1
OH
0523080-10
Wing RH C172
1
OH
0523080-11
Wing LH C172
1
OH
0523080-12
Wing RH C172
2
OH
0523080-13
Wing LH C172
1
OH
0523080-15
Wing LH C172RG
1
OH
0523080-2
Wing RH C172
1
OH
0523080-3
Skin
1
NS
0523080-5
Skin
1
NS
0523080-7
Wing LH C172RG
1
OH
0523080-8
Wing RH C172RG
1
OH
0523080-9
Wing LH C172RG
1
OH
0523098-1
Tube
1
AR
0523102-2
Gusset
2
AR
0523102-9
Gusset
1
AR
0523106-12
Bracket
2
AR
0523109-1
Rib
25
NS
0523113-5
Plate, LH
2
AR
0523113-6
Plate, RH
1
AR
0523115-3
Retainer
1
NS
0523119-
Detector
1
NS
0523207-
Spring
2
NS
0523208-1
Rib
1
AR
0523211-
Rib
1
AR
0523211-1
Rib
1
AR
0523222-
Bushing
1
NS
0523222-
Bushing
10
AR
0523225-
Link
1
NS
0523225-
Link
2
AR
0523227-
Spring
1
NS
0523230-3
Rib
10
AR
0523230-4
Angle
1
NS
0523231-19
Reinforcement
1
NS
0523232-7AGW
Rib
1
NS
0523233-3
Strip
2
NS
0523306-
Fitting
2
AR
0523306-
Fitting
1
NS
0523307-
Spacer
12
NS
0523321-3
Angle
1
NS
0523400-58
Rib
7
AR
0523400-58
Rib
8
NS
0523400-59
Doubler
2
NS
0523400-78
Doubler
1
NS
0523400-78
Doubler
3
AR
0523400-79
Doubler
2
AR
0523400-79
Doubler
2
NS
0523400-97
Doubler
5
AR
0523400-97
Doubler
7
NS
0523407-
Bracket
20
AR
0523407-
Bracket
1
NS
0523407-1
Bracket
50
AR
0523407-1
Bracket
1
NS
0523408-
Bracket
50
AR
0523409-1
Channel
2
NS
0523409-2AGW
Channel
3
NS
0523505-1
Bulkhead
1
AR
0523508-5
Rib
1
NS
0523508-8
Rib
1
NS
0523509-4
Rib
15
NS
0523510-19
Rib
1
NS
0523510-21
Doubler
1
NS
0523510-28
Angle
1
NS
0523511-1
Rib
4
NS
0523512-4
Rib
1
NS
0523521-18
Cover, RH STD RNG C172
1
NS
0523521-19
Cover, LH STD RNG C172
1
NS
0523521-24
Cover, RH STD RNG C172
1
NS
0523521-25
Cover, LH STD RNG C172
1
NS
0523521-26
Cover, RH STD RNG C172
1
NS
0523521-27
Cover, LH STD RNG C172
1
NS
0523522-
Strap
2
AR
0523522-1
Strap
2
AR
0523532-
Gasket
3
NS
0523535-
Bellcrank
1
AR
0523536-1
Bushing
6
NS
0523541-43
Stringer
1
NS
0523541-73
Stringer
1
NS
0523559-8
Line
1
NS
0523559-8
Line
1
NS
0523560-1
Stiffener
1
NS
0523564-1
Doubler
1
NS
0523564-2
Doubler
1
NS
0523566-1
Shield LH
8
AR
0523566-2
Shield RH
2
AR
0523566-5
Shield LH w/Strobe
6
AR
0523566-6
Shield RH w/Strobe
1
AR
0523606-12
Strut
4
AR
0523606-13
Strut
4
AR
0523606-14
Strut
4
AR
0523606-15
Strut
8
AR
0523606-17
Strut
5
AR
0523606-18
Strut
5
AR
0523613-1
Ring
7
AR
0523615-1
Ring
1
AR
0523615-2
Ring
1
AR
0523700-
Tip
4
NS
0523702-4
Detector
1
NS
0523800-
Aileron LH C172
1
OH
0523800-1
Aileron RH C172
1
OH
0523800-10
Skin
7
NS
0523800-11
Skin
6
NS
0523800-12
Skin
6
NS
0523800-13
Skin
2
NS
0523800-16
Aileron LH C182
1
OH
0523800-17
Aileron RH C182
1
OH
0523800-18
Aileron RH C-180
1
OH
0523800-19
Aileron LH C152
1
OH
0523800-24
Aileron RH C-182
1
OH
0523800-25
Aileron LH C-182
1
OH
0523800-6
Skin
22
NS
0523800-7
Skin
3
NS
0523800-8
Skin
4
NS
0523807-
Hinge
2
NS
0523808-0
Rib
6
NS
0523808-2
Rib
6
NS
0523809-0
Rib
6
NS
0523809-1
Rib
6
NS
0523809-3
Rib
1
NS
0523810-0
Rib
6
NS
0523811-1
Rib
1
NS
0523812-2
Bracket
2
NS
0523812-3
Bracket
6
NS
0523813-1
Spacer
2
NS
0523813-2
Spacer
1
NS
0523813-2
Spacer
1
NS
0523813-3
Spacer
1
NS
0523813-5
Spacer
2
NS
0523813-6
Fillet
1
NS
0523813-7
Spacer
10
FN
0523813-8
Spacer
1
NS
0523814-4
Bracket
1
NS
0523814-5
Channel
2
NS
0523814-6
Bracket
1
NS
0523814-7
Stringer
1
NS
0523814-8
Channel
1
NS
0523900-1
Flap RH
1
AR
0523901-13
Arm Ay Flap
0
NS
0523901-14
Arm Ay Flap
2
NS
0523901-17
Skin
1
NS
0523901-18
Skin
1
NS
0523901-2
Skin
1
NS
0523901-29
Stiffener, Flap TE
1
NS
0523901-3
Skin
1
NS
0523901-33
Flap LH C182
1
NS
0523901-34
Flap RH C182
1
NS
0523901-35
Flap LH C172
1
OH
0523901-38
Flap, RH C172
2
OH
0523901-835
Flap, LH C172
1
OH
0523901-838
Flap, RH C172
2
OH
0523901-9
Rib
2
NS
0523902-1
Flap, LH C172S
2
OH
0523902-2
Flap, RH C172S
2
OH
0523902-7
Stiffener
10
NS
0523911-
Spar, Flap LH C172
21
NS
0523911-2
Spar, Flap, LH C182
1
NS
0523911-3
Spar, Flap RH C182
2
NS
0523914-
Rib
8
NS
0523914-1
Rib
6
NS
0523918-0
Bracket (use S4628-1484)
10
AR
0523919-
Bushing
17
NS
0523920-
Bearing
1
NS
0523922-
Spacer
1
NS
0525000-
LH C170 B Flap
1
NS
0525000-1
Flap Assy
1
NS
052600-58
Fuel Tank
1
AR
0526000-36
Fuel Tank
3
AR
0526000-37
Fuel Tank
1
AR
0530010-5
Fairing
1
NS
0530010-5
Fairing
5
AR
0530010-6
Fairing
4
NS
0530010-6
Fairing
5
AR
053042-003
Support
2
NS
053042-004
Support
2
NS
053042-005
Support
1
NS
0531001-11
Rib
4
NS
0531001-15
Rib
1
NS
0531001-16
Rib
7
NS
0531001-19
Rib
1
NS
0531001-22
Rib
10
NS
0531001-23
Rib
4
NS
0531001-25
Rib
2
AR
0531001-28
Rib
9
NS
0531001-3
Skin LE
2
NS
0531001-5
Skin
2
NS
0531002-0
Fitting
2
AR
0531002-0
Fitting
1
NS
0531004-3
Tip
1
AR
0531006-101
Rib
1
NS
0531006-105
Rib
3
NS
0531006-106
Skin
2
NS
0531006-108
Rudder C172
1
OH
0531006-110
Vertical Fin C172
1
OH
0531006-114
Vertical Fin C172S
1
OH
0531006-117
Vertical Fin C172
1
OH
0531006-13
Spar
1
NS
0531006-16
Rib
1
NS
0531006-17
Rib
6
NS
0531006-19
Rib
6
NS
0531006-2
Vertical Fin C172
1
OH
0531006-20
Rib
4
NS
0531006-203
Vertical Fin C172
1
OH
0531006-22
Rib
1
NS
0531006-25
Rib
4
NS
0531006-28
Rib
1
NS
0531006-29
Rib
5
NS
0531006-33
Tip
1
NS
0531006-33-791
Tip
3
NS
0531006-4
Rib
6
NS
0531006-49
Hinge
2
NS
0531006-54
Rib
5
NS
0531006-58
Rib
3
NS
0531006-62
Rib
1
NS
0531006-68
Skin
2
NS
0531006-70
Skin
1
NS
0531006-71
Rib
13
NS
0531006-77
Vertical Fin C172
2
OH
0531006-79
Filler
2
NS
0531006-80-791
Tip
3
AR
0531006-81
Rudder C172
1
OH
0531006-82
Rib
2
NS
0531006-9
Spar
1
NS
0531006-95
Rib
1
NS
0531007-3
Cap
2
AR
0531007-3
Cap
3
NS
0531008-1
Horn
4
NS
0531009-1
Cap
2
NS
0531019-3
Rib
3
NS
0531033-1
Cap (alt 28-02)
5
NS
0531033-10
Cap
1
NS
0531033-6
Cap
2
NS
0531033-8
Cap
1
AR
0531033-8
Cap
3
NS
0531105-3
Hinge
1
NS
0531105-5
Bracket
1
NS
0531116-2
Rib
2
NS
0532001-101
Trim Tab RH Elevator C172
1
NS
0532001-13
Rib
6
NS
0532001-15
Rib
4
NS
0532001-20
Bracket
2
NS
0532001-200
Horizontal Stabilizer C175
1
OH
0532001-202
Stabilizer C172
1
OH
0532001-21
Bracket
2
NS
0532001-22
Bracket
1
NS
0532001-24
Skin
1
NS
0532001-25
Skin
1
NS
0532001-30
Torque Tube
1
NS
0532001-31
Torque Tube
2
NS
0532001-32
Rib
4
NS
0532001-33
Rib
5
NS
0532001-34
Rib
5
NS
0532001-35
Adapter
1
AR
0532001-35
Adapter
2
NS
0532001-40
Tip Skin Elevator
3
NS
0532001-41
Tip Skin Elevator
3
NS
0532001-42
Rib
2
NS
0532001-45
Hinge
4
NS
0532001-51
Plate
6
NS
0532001-52
Plate
1
NS
0532001-73
Elevator LH C-172
1
OH
0532001-77
Rib
7
NS
0532001-78
Rib
18
NS
0532001-8
Spar Aft
2
NS
0532001-82
Rib
2
NS
0532001-83
Rib
1
NS
0532001-84
Rib
1
NS
0532001-85
Rib
5
NS
0532001-86
Doubler
3
NS
0532001-87
Doubler
4
NS
0532001-92
Skin
2
NS
0532001-93-791
Tip
2
NS
0532001-95
Rib
2
NS
0532006-1
Bracket (alt 0520006-1)
1
AR
0532105-6
Hinge Assy
2
NS
0532400-59
Doubler
3
AR
0532400-96
Rib
6
AR
0532400-96
Rib
7
NS
0533000-20
Skin LH
19
NS
0533000-21
Skin RH
19
NS
0533000-4
Skin
1
NS
0533009-1-791
Cap
1
NS
0533009-1-791
Tip
1
AR
0533010-1
Shackle
4
AR
0533011-2
Shackle
1
NS
0533150-1
Rudder C172
1
OH
0533150-5
Rudder
1
OH
0533150-7
Rudder
1
OH
0533150-9
Rudder
1
OH
0534100-
LH Elevator Assy
1
NS
0534100-6
LH Tip Assy
1
NS
0534101-
RH Elevator Assy
1
NS
0534101-50
RH Elevator Assy w/o Tab
1
NS
0534101-6
RH Elevator Trim Tab
1
NS
0534101-6
Trim Tab
4
NS
0534101-9
RH Tip Assy
1
NS
0534107-
Bellcrank
4
AR
0534113-
Rib
1
NS
0534122-1
Bellcrank
9
AR
0534124-
Bellcrank
5
AR
0534125-2
Bushing
1
NS
0540211-2
Fastener
1
NS
0541111-2
Shim
2
NS
0541117-4
Housing (alt 9510731)
1
SV
0541119-
Fairing
26
NS
0541121-2
Support
1
AR
0541122-1
Support
1
NS
0541122-1
Support
2
AR
0541122-2
Support
2
AR
0541124-
Axle C177 & 177RG
2
AR
0541124-
Axle
2
NS
0541126-
Spacer
1
NS
0541138-819
Cylinder
1
AR
0541138-820
Cylinder
1
AR
0541138-822
Master Brake Cylinder
2
AR
0541141-1
Bracket
1
NS
0541146-1
Spacer
2
NS
0541148-
Spring
4
NS
0541148-1
Spring
2
NS
0541154-1
Step
1
NS
0541157-1
Shim
4
NS
0541157-2
Shim
2
NS
0541157-3
Shim
2
NS
0541165-1
Plate
2
NS
0541167-1
Spring
1
NS
0541172-1
Spring
1
NS
0541174-1
Plate
1
NS
0541180-1
Doubler
1
NS
0541185-6
Fairing
1
NS
0541191-1
Cover
10
AR
0541191-2
Cover
6
AR
0541195-4
Support
1
AR
0541195-5
Support
3
AR
0541196-1
Support
2
AR
0541196-2
Support
2
AR
0541203-1
Fairing, LH
1
NS
0541203-2
Fairing, RH
2
NS
0541205-2
Scraper
2
NS
0541210-1
Plate
4
NS
0541211-1
Step
7
NS
0541212-2
Bracket
1
NS
0541213-1
Fairing
1
NS
054122-23
Fairing AY LH
2
NS
0541220-1
Plate SI30
1
NS
0541221-2
Scraper
1
AR
0541223-16
Fairing, RH
1
AR
0541224-1
Fairing
1
AR
0542102-1
Pulley
3
NS
0542117-5
Cover
3
NS
0542230-702
Nose Cowl
2
AR
0543001-
Ferrule
2
NS
0543001-
Ferrule
3
AR
0543003-
Axle C172 & c177
1
AR
0543013-1
Fitting
4
AR
0543016-1
Fitting, NLG Lower
1
AR
0543018-1
Cap
4
AR
0543018-497
Bracket
2
AR
0543020-1
Doubler
7
NS
0543023-
Clevis
2
AR
0543023-
Clevis
6
NS
0543026-1
Doubler
17
NS
0543033-1
Block
2
NS
0543034-497
Bracket
1
AR
0543037-1
Spacer
1
NS
0543042-2
Shim
5
NS
0543048-1
Shim
1
NS
0543063-5
Plate
1
NS
0550100-7
Strap
5
NS
0550117-
Baffle
1
NS
0550154-2
Pad
3
NS
0550155-
Bushing
1
NS
0550157-30
Seal
1
NS
0550163-3
Support
1
AR
0550164-7
Baffle
1
NS
0550164-8
Baffle
2
NS
0550165-2
Baffle
1
NS
0550173-2
Bracket
20
NS
0550176-26
Clamp
1
NS
0550176-31
Clamp
1
NS
0550176-37
Shroud
1
AR
0550176-54
Pipe
1
NS
0550177-1
Fitting
1
AR
0550198-1
Stud
2
NS
0550219-3
Stiffener
4
NS
0550228-11
Fillet
1
NS
0550228-24
Plate
2
NS
0550228-28
Spinner
1
AR
0550298-1
Union
3
NS
0550324-12
Spinner (alt 0550324-20)
1
NS
0550340-1
Stabilizer
1
AR
0550341-1
Ring
1
NS
0550349-1
Bracket
1
AR
0550366-1
Door Assy
1
NS
055174-8
Rib
6
AR
0552000-5
Door
1
NS
0552001-22
Support
1
OH
0552001-31
Angle
2
NS
0552001-4
Hood Assy LH
1
OH
0552001-5
Hood Assy RH
1
OH
0552001-55
Skin
1
NS
0552002-3
Skin
17
NS
0552002-51
Nose Cap, Lower
1
AR
0552002-78
Upper Cowling
2
AR
0552002-85
Stiffener
1
NS
0552002-89
Doubler
1
NS
0552003-57
Channel
1
NS
0552003-76
Bracket
2
NS
0552004-2
Bulkhead
2
NS
0552006-9
Cover
2
NS
0552007-2
Cowl
1
AR
0552007-55
Cowl
2
AR
0552010-104
Stiffener
2
NS
0552010-105
Stiffener
1
NS
0552010-108
Channel
1
NS
0552010-18
Doubler
2
NS
0552010-44
Trim
1
NS
0552010-49
Door
2
AR
0552010-49
Door
2
NS
0552010-54
Angle
5
NS
0552010-6
Skin
2
NS
0552010-60
Stiffener
1
NS
0552010-69
Channel
2
NS
0552010-72
Cowl Skin
2
NS
0552010-77
Cowl Skin
1
NS
0552010-86
Stiffener
1
NS
0552011-2
Plate
1
NS
0552014-1
Reinforcement
2
NS
0552017-33
Cap
1
NS
0552017-57
Channel
1
NS
0552019-3
Nose Cap
1
NS
0552019-720
Nose Cap
2
AR
0552019-832
Cap (alt #0552019-33-1)
3
AR
0552109-3
Cover
3
AR
0552109-4
Cover
1
AR
0552110-1
Placard
2
NS
0552110-3
Placard
3
NS
0552112-10
Skin
2
NS
0552112-12
Skin
8
NS
0552112-15
Cowl Skin
1
NS
0552112-26
Cowl
1
NS
0552115-1
Support
4
NS
0552118-1
Plate
1
NS
0552119-7
Bracket
2
NS
0552122-1
Bracket
2
NS
0552139-1
Support
1
NS
0552143-1
Doubler
10
NS
0552146-5
Mount
1
NS
0552150-1
Fairing
1
NS
0552154-1
Baffle
5
AR
0552158-1
Cowl, LH Upper
1
AR
0552158-2
Cowl, RH Upper
1
AR
0552163-13
Pan
1
NS
0552163-14
Pan
2
NS
0552163-8
Assembly
1
NS
0552174-1
Cover
2
NS
0552179-1
Support
1
NS
0552210-1
Lip
3
NS
0552212-1
Cowl
2
AR
0552216-16
Bracket
1
NS
0552220-1
Plate AY
15
NS
0552227-1
Shim
3
NS
055240-21
Door
3
AR
0553003-3
Firewall
1
NS
0553005-1
Bracket
2
NS
0553005-5
Bracket
1
NS
0553007-1
Reinforcement
1
NS
05531006-22
Channel
1
NS
0554001-7
Shroud
1
NS
0555154-2
Baffel
1
NS
0555167-9
Baffle
1
NS
0555174-1
Baffle
4
NS
0555174-3
Baffle
12
NS
0555174-8
Baffle
3
NS
0555174-9
Baffle
9
NS
0555179-1
Baffle
18
NS
0555181-11
Baffle
11
NS
0555188-1
Frame
4
NS
0555188-7
Frame
6
NS
0555189-1
Baffle
4
NS
0555193-4
Baffle
1
NS
0555204-1
Baffle
1
NS
0555207-1
Baffle
1
AR
0555211-9
Baffle
1
NS
0555215-1
Baffle
1
AR
0555218-1
Baffle
1
NS
0555233-4
Baffle
1
NS
0555234-4
Baffle
1
NS
0555237-2
Bracket
1
NS
0555244-1
Baffle
1
NS
0555250-16
Baffle
1
AR
0555298-2
Baffle
3
NS
0555298-3
Baffle
4
NS
0555302-
Baffle
1
NS
0555302-8
Baffle
4
NS
056001-8
Valve
1
NS
0560037-1
Clamp
2
NS
0570010-2
Bracket
6
NS
0570047-2
Bracket
21
NS
0570050PA6
Cable
4
NS
0570058-1
Bracket
1
AR
0570079-3
Circuit Board
1
AR
0570088-3
Lamp
2
NS
0570088-4
Light
1
NS
0570094-1
Shield
1
NS
0570095-1-279
Cover
1
NS
0570311PB27
Wire
1
NS
0570311PB28
Cable
3
NS
0570311PB29
Wire Assy
1
NS
0570422-1
Housing
1
NS
0570424-1
Spacer
1
NS
0570445-1
Plenum
1
NS
0570445-2
Plenum
1
NS
059-0117
Fuse
4
NS
059-0118
Fuse
4
NS
059-0120
Fuse
2
NS
059-0121
Fuse
3
NS
059-0125
Fuse
7
NS
0591300-1
Door Post Skin
1
NS
0591301-10
Tunnel Assy
1
NS
0592300-3
Fuel Tank
1
AR
0592300-4
Fuel Tank
1
AR
0593000-4
Elevator RH C172
1
OH
0595000-3
Nose Cap, Upper
1
AR
05S011P001
Lock washer
4
NS
06-12900
Shock Cord Fastener
4
NS
0600035-
Shim
27
NS
0600049-
Bracket
1
NS
0600107-
Flange
12
NS
0600134-
Bracket
6
NS
0600156-10
Bearing
4
NS
0600221-
Tab
72
NS
0600259-1
Rod
3
NS
0600276-
Placard
6
NS
0600284-
Mount
2
NS
0600430-32
Wire
5
NS
0600432-1
Wedge
5
NS
0600439-1
Filler
11
NS
0600448-1
Hose
58
NS
0600448-2
Line
10
NS
0600448-3
Tube
3
NS
0600455-1
Block
8
NS
0600500-133
Tube Assy
6
NS
0600500-140
Tube
5
NS
0600500-150
Air Scoop Assy
2
NS
0600500-24
Shield
5
NS
0600500-67
Tube
2
NS
0600500-80
Baffle
1
NS
0600501-12
L19 Bracket
7
NS
0600501-4
Cover
6
NS
0600503-25
Mount
6
NS
0600514-30
Panel
1
NS
0600514-38
Line
7
NS
0600514-46
Inner Skin
1
NS
0600515-73
Doubler
1
AR
0600520-16
Support
1
NS
0600520-16
Bracket
10
NS
0600521-24
Support
2
NS
0600521-29
Cover
2
NS
0600521-49
Placard
2
NS
0600523-23
Plate
6
NS
0600523-25
Plate
29
NS
0600600-2
Bracket
1
NS
0600603-1
Shield
2
NS
0610032-
Plate
1
NS
0610038-1
Bracket
1
AR
0610050-7
Panel Assy LH
1
NS
0610067-
Bushing
10
NS
0610072-2
Angle
4
NS
0610074A
Grommet
1
NS
0610502-010
Motor
1
AR
0611048-1
Stop, Seat
55
NS
0611048-2
Stop
60
NS
0611051-
Spring
19
NS
0611105-4
L19 Handle
21
NS
0611127-
Hinge
11
NS
0611129-2
Bulkhead
1
NS
0611133-1
Rod
4
NS
0611134-2
Rail
1
NS
0611135-
Link
224
NS
0611163-
Strap
3
NS
0611246-1
Step, LH
5
NS
0611246-2
Step, RH
1
AR
0611251-
Latch
2
NS
0611280-
Vent Assy
7
NS
0611291-7
Shaft
10
NS
0611382-
Ring
1
NS
0611662-
Seat
9
NS
0611662-
Cup
3
AR
0612129-
Rib
1
NS
0612137-2
Angle
2
NS
0613057-1
Rail
2
NS
0613105-2
Doubler
1
NS
0613127-
Tube
20
NS
0613134-
Pad
2
NS
0613159-
Spring
162
NS
0613206-
Clip
18
NS
06161-002
Instrument Panel
1
NS
0620004-18
Skin
2
NS
0620004-30
Skin
1
NS
0620005-2
Fairing, RH
2
NS
0620018-10
Wing RH
1
OH
0620018-9
Wing LH
1
OH
0620311-2
Doubler
1
AR
062100-2
Strut
1
AR
062100-6
Strut
1
AR
0621107-
Hinge
1
NS
0621530-1
Strap, Fuel
6
NS
0622117-
Doubler
3
NS
0624107-
Hinge
20
NS
0624115-1
Weight
3
NS
0625053-
Stringer
1
AR
0625100-10
LE Skin
5
NS
0625100-5
Skin
4
NS
063-01200
Brake Pressure Plate
1
NS
0632000-5
Skin
2
NS
0632127-1
Edge
2
NS
0632128-1
Angle
1
NS
0633121-
Fairing
1
NS
0634100-
Tip, LH
15
NS
0634101-
Tip, RH
9
NS
0634102-
Trim Tab, Light
3
NS
0634102-10
Trim Tab, Heavy
21
NS
0634111-
Hinge
12
NS
064-01700
Plate, Back, Brake
1
NS
0641101-1
Bracket
67
NS
0642101-
Leaf Spring
4
NS
0642102-
Leaf Spring
1
NS
0642103-
Leaf Spring
1
NS
0642140-3
Assembly
1
NS
0642150-1
Bracket
2
NS
0642159-
Leaf Spring
1
NS
0650108-
Plate
24
NS
0650109-
Plate
4
NS
0650110-
Bracket
3
NS
0650113-
Rod
2
NS
0650121-
Hinge
5
NS
0650123-10
Baffle
2
NS
0650133-
Bracket
3
NS
0650144-
Strap
4
NS
0650160-
Baffle
1
NS
0650172-
Bracket
1
NS
0650186-3
Grounding Strap
21
NS
0652058-
Cover
10
NS
0652068-1
Cover
10
NS
0652100-16
Doubler
1
NS
0652105-
Filler
8
NS
0652127-10
Cowl Assy
2
NS
0652127-9
Cowl Assy
2
NS
0652135-2
Reinforcement
12
NS
0652135-3
Stiffener Hood
30
NS
0652135-5
Angle
7
NS
0652302-
Nose Bowl
2
NS
0653116-6
Insulator
20
NS
0653119-1
Mount
50
NS
0653119-2
Bracket
50
NS
0653120-2
Mount
10
NS
0656101-
Elbow
18
NS
066-00400
Brake Lining
7
NS
066-02200
Brake Lining
62
NS
066-03300
Brake Lining
3
NS
066-06200
Brake Lining
27
NS
066-06500
Brake Lining
18
NS
066-06600
Brake Lining
12
NS
066-09700
Brake Lining
10
NS
066-10600
Brake Lining
20
NS
066-11000
Brake Lining
80
NS
066-11200
Brake Lining
10
NS
066-30026
Brake Lining
12
NS
066-30026
LINING
4
NS
066-3012-01
Marker Light Assy
2
AR
0660054-
Rod
4
NS
0660073-
Link
13
NS
0660080-1
Clip, Retaining
6
NS
0660105-17
Cable
1
AR
0660105-21
Cable
1
NS
0660105-27
Cable
12
NS
0660105-31
Cable
6
NS
0660105-34
Cable
12
NS
0660129-
Rib
4
NS
0660134-2
Bracket
8
NS
0660139-
Bellcrank
3
NS
0660150-11
Pedal
4
NS
0660150-12
Pedal
4
NS
0660153-2
Shaft
13
NS
0660158-2
Bar
4
NS
0660159-2
Mount
9
NS
0660245-2
Bracket
1
NS
0660259-1
Rod
2
NS
0660271-
Pin
22
NS
0660293-
L-19 Trim Tab Actuator
4
NS
0660343-
Bushing
12
NS
0660427-
Wheel and Sprocket Assy
4
NS
0660523-
Block
24
NS
068-02500
Shim
1
NS
068-02700
Shim
3
NS
068-04100
Shim
11
NS
068-04100
Shim
8
NS
069-00200
Bolts-Anchor
2
AR
069-00400
Anchor Bolts
3
NS
069-A72-30
Plate
6
NS
06B23072
Gasket
19
NS
06DU03
Bushing
2
NS
06E19769-0.63
Gasket
11
NS
06E19769-1.00
Gasket
3
NS
07-111140K
Bearing
1
NS
0700058-1
Window Trim
1
NS
07000674-32
Skin
1
NS
0700099-120
Line
1
NS
0700100-143
Kick Plate
1
AR
0700100-144
Kick Plate
1
AR
0700100-193
Retainer
2
NS
0700103-131
Strip
1
NS
0700105-21
Skin
15
NS
0700106-2
Knob
2
NS
0700120-1
Light Assy.
3
AR
0700145-1
Placard
49
NS
0700147-66
Line
1
NS
0700148-1-193
Hood Assy (alt 0700148-1)
1
NS
0700193-4
Panel
4
NS
0700309-10
Baffle
2
NS
0700309-11
Baffle
2
NS
0700309-7
Baffle
1
NS
0700313-25
Cover
1
NS
0700313-5
Plate
1
NS
0700313-7
Cover
1
NS
0700315-002
Bag
1
NS
0700318-
Baffle
1
NS
0700319-13
Placard
1
NS
0700319-2
Plate
2
NS
0700319-6
Cover
1
NS
0700322-4
Seal
1
NS
0700327-1
Adaptor
1
NS
0700616-1
Shield
2
NS
0700616-1
Shield
2
AR
0700628-5
Bushing
2
NS
0700628-9
Slide
1
NS
0700646-4
Cover
2
NS
0700668-14
Windlace
2
NS
0700668-7
Grill
1
NS
0700672-1
Shield
1
NS
0700674-24
Skin
11
NS
0700685-1
Plate
1
NS
0700685-3
Plate
1
NS
0700692-1
Cap
2
NS
0700702-1
Shield
1
NS
0700702-6
Panel
1
NS
0700707-5
Bracket
1
NS
0700719-1
Cover
17
NS
0700745-2
Emblem
1
NS
0701-162
Fitting
2
NS
0705023-1
Placard
3
NS
0705023-12
Placard
10
NS
0705023-2
Placard
1
NS
0705035-1
Placard
3
NS
0705048-26
Placard
1
NS
0705048-5
Placard
1
NS
0705094-2
Placard
1
NS
0705098-1
Placard
2
NS
0709000-2
Rib
1
NS
0709115-2
Door
4
NS
0709271-15
Splice
4
NS
0709271-5
Spar
2
NS
0709271-6
SEGMENT
1
NS
0709271-7
Angle
3
NS
0709271-8
Spacer
1
NS
0709271-9
Stiffener
4
NS
071-1006-11
Loop Antenna
2
AR
071-1042-00
Antenna
1
NS
071-4001-00
Kit
1
NS
07100-
Bearing
7
NS
0710000-23
Skin
1
NS
0710000-25
Skin
1
NS
0710000-27
Skin
1
NS
0710000-4
Skin
1
NS
0710003-19
Angle
1
NS
0710003-29
Skin
6
NS
0710003-40
Retainer
4
NS
0710003-41
Retainer
4
NS
0710003-6
Angle
1
NS
0710003-7
Skin
1
NS
0710003-9
Skin
2
NS
0710006-1
Angle
1
NS
0710006-4
Stringer
1
NS
0710007-1
Bulkhead
1
NS
0710010-10
Doubler
2
NS
0710010-14
Skin
1
NS
0710010-9
Doubler
2
NS
0710014-8
Escutcheon
1
NS
0710015-12
Spring
1
NS
0710015-12
Spring
1
NS
0710015-13
Spring
50
NS
0710015-15
Shaft
4
NS
0710024-1
Angle
3
NS
0710025-1
Stiffener
12
NS
0710026-3
Retainer
1
NS
0710031-4
Support Assy - Baggage Shelf
1
AR
0710036-4
Sill
8
NS
071006-1
Rib
1
NS
0710107-3
Retainer
1
NS
0710109-2
Fairing
4
NS
0710112-1
Retainer
1
NS
0710113-9
Retainer
1
NS
0710312-2
Handle
1
AR
0710312-2
Handle
2
NS
0710317-1
Cam
2
NS
0710600-3
Skin
1
NS
0710601-
Bulkhead
1
NS
0710601-15
Bulkhead
1
NS
0710601-47
Bulkhead
1
NS
0710602-2
Sill
1
AR
0710605-13
Stiffener
1
NS
0710610-5
Bulkhead
14
NS
0710610-7
Bulkhead
1
NS
0710611-4
Bulkhead Assy
1
AR
0710612-3
Support
1
NS
0710613-1
Support
1
NS
0710615-1
Bulkhead
1
NS
0710615-3
Bulkhead
1
NS
0710615-4
Bulkhead
1
NS
0710616-2
Rib
1
NS
0710617-1
Bulkhead
2
NS
0710617-2
Bulkhead
2
NS
0710618-1
Seat Track
1
AR
0710618-5
Rail seat
1
NS
0710618-6
Seat Track
1
AR
0710621-1
Bracket
1
NS
0710623-1
Stop
1
NS
0710623-2
Plate
1
NS
0710625-1
Hinge
1
NS
0710644-1
Angle
1
NS
0710658-2
Seat Track
1
AR
0710700-10
Doubler
1
NS
0710702-1
Rib
1
AR
0710703-1
Stringer
1
NS
0711000-31
Skin
2
NS
0711001-21
Fairing Upper
7
AR
0711001-36
Bracket Assy
1
NS
0711001-48
Hinge Upper RH
1
NS
0711001-59
Pin
29
NS
0711017-1
Bolt Latch
2
NS
0711018-16
Bar Pull
1
NS
0711018-23
Strap
1
NS
0711018-24
Strap
1
NS
0711018-27
Bracket
1
NS
0711021-12
Spacer
3
NS
0711023-5
Skin Door
6
NS
0711032-1
Latch AY
1
NS
0711033-1
Cam
1
NS
0711037-11
Hinge Half
1
AR
0711037-11
Hinge Half (alt 0711037-18)
3
NS
0711037-14
Hinge Half
1
NS
0711037-15
Hinge Half
1
AR
0711037-16
Hinge
2
AR
0711037-17
Hinge
3
AR
0711037-19
Hinge (alt 0711037-10)
1
AR
0711037-2
Hinge
2
NS
0711037-20
Hinge
1
AR
0711037-21
Hinge
1
AR
0711037-4
Hinge half RH
2
NS
0711037-4
Hinge half RH
3
AR
0711037-498
Hinge/ Hinge assy
4
AR
0711037-5
Hinge
1
NS
0711037-500
Hinge/ Hinge assy
4
AR
0711037-6
Hinge Half
2
NS
0711037-9
Hinge
1
NS
0711038-1
Pin
13
NS
0711039-1
Hinge
1
AR
0711039-1
Hinge
3
NS
0711039-2
Hinge
12
NS
0711040-4
Arm
4
NS
0711048-1
Handle
1
NS
0711050-15
Tube
2
NS
0711061-3
Latch Assy
1
AR
0711061-4
Latch Assy
1
AR
0711064-5
Support
1
NS
0711065-1
Support
1
AR
0711083-1
Latch
10
AR
0711083-1
Latch
4
NS
0711086-5
Plate
1
NS
0711088-1
Frame
1
NS
0711091-6
Bulkhead
1
NS
0711096-1
Channel
1
NS
0711100-8
Bulkhead
8
NS
0711101-32
Jamb
5
NS
0711101-42
Jamb
3
NS
0711102-
Hinge, Baggage Door
3
AR
0711111-1
Cam
3
AR
0711112-14
Bulkhead
1
NS
0711112-22
Bulkhead
1
NS
0711112-25
Reinforcement
1
NS
0711113-2
Stringer
2
NS
0711114-4
Angle
4
NS
0711137-1
Skin
1
NS
0711316-1
Stiffener
1
NS
0711600-9
Skin
1
NS
0711603-1
Stringer
1
NS
0711604-
Door Post
3
NS
0711604-20
Bulkhead
1
NS
0711604-24
Frame
12
NS
0711604-8
Frame
1
NS
0711608-11
Stringer
1
NS
0711608-6
Floor Board
1
NS
0711608-7
Skin
4
NS
0711613-6
Rib
1
NS
0711614-4
Bulkhead
2
NS
0711615-1
Retainer
1
AR
0711615-2
Retainer
1
AR
0711616-1
Fairing
1
NS
0711616-7
Fillet
1
NS
0711617-1
Channel
2
NS
0711617-2
Rib
2
NS
0711632-7
Support
2
AR
0711667-1
Spring
1
NS
0711671-3
Stringer
1
NS
0711674-3
Bulkhead
2
NS
0711676-2
Stiffener
1
NS
0711681-1
Retainer
2
NS
0711681-3
Retainer
1
NS
0711681-4
Retainer
2
NS
0711682-1
Shelf
2
NS
0711683-2
Bracket
1
NS
0711684-1
Intercostal
1
NS
0711684-2
Channel
1
NS
0711684-3
Stiffener
1
NS
0711685-2
Fillet
1
NS
0711687-6
Pulley
1
NS
0711687-8
Lever Assy
1
AR
0711689-3
Bracket
1
NS
0711691-1
Cover
1
NS
0711694-15
Clutch Assy
2
AR
0711694-16
Clutch Assy w/ guide, no cover
1
AR
0711694-24
Door Clutch Assy.
1
NS
0711695-11
Cover, LH
1
AR
0711695-12
Cover, RH
1
AR
0711695-13
Guide
7
AR
0711695-3
Cover, LH (alt 0711695-7)
3
AR
0711702-20-535
Frame, seatback
1
AR
0711705-1
Handle
2
NS
0711705-1
Handle
1
AR
0711768-2
Bracket
1
NS
0711772-1
Plate
6
NS
0711779-2
Escutcheon
1
NS
0711781-1
Bracket
1
NS
0711781-2
Bracket
1
NS
0711788-1
Spring
1
NS
0711790-1
Latch Assy (includes 0711705-1 Handle)
2
AR
0711800-21
Skin
1
NS
0711800-9
Skin
1
NS
0711832-10
Angle
1
NS
0711858-4
Panel
1
NS
0712000-13
Stiffener
1
NS
0712000-2
Skin
4
NS
0712000-22
Skin
9
NS
0712005-1
Stiffener
1
NS
0712006-15AGW
Stiffener
1
NS
0712006-1AGW
Stiffener
2
NS
0712006-2
Angle
2
NS
0712007-2
Stiffener
10
NS
0712007-3
Stiffener
10
NS
0712007-4
Stiffener
5
NS
0712007-8
Stiffener
9
NS
0712016-4
Gusset
1
NS
0712031-3
Diode/ Fuse Holder Assy
1
NS
0712036-1
Doubler
1
NS
0712039-1
Bracket
4
AR
0712070-802
Bulkhead
2
NS
0712201-4
Bulkhead
1
NS
0712203-1
Bulkhead
1
AR
0712205-1
Angle
1
NS
0712205-10
Bulkhead only
3
AR
0712207-2
Reinforcement
2
AR
0712213-
Stop
1
AR
0712301-3
Bracket
1
AR
0712303-1
Guide
1
AR
0712304-15
Fitting
2
NS
0712306-11
Bracket
1
AR
0712306-12
Bracket
8
NS
0712306-12
Bracket
1
AR
0712307-1
Fairing
5
AR
0712307-2
Fairing
5
AR
0712309-15
Bracket
13
NS
0712309-5
Bracket
1
AR
0712309-6
Bracket
1
AR
0712309-7
Bracket
1
AR
0712309-8
Bracket
2
AR
0712311-14
Doubler
1
NS
0712311-4
Bulkhead
1
NS
0712313-2
Fairing
1
NS
0712317-1
Bracket
4
AR
0712317-2
Bracket
3
AR
0712317-3
Bracket
3
AR
0712317-4
Bracket
3
AR
0712400-12
Pan
4
NS
0712400-3
Pan
3
NS
0712400-4
Pan
1
NS
0712500-10
Bushing
2
NS
0712500-17
Collar
8
NS
0712503-5
Bulkhead
2
NS
0712504-4
Skin
1
NS
0712508-1
Trim
1
NS
0712516-1
Stiffener
1
AR
0712519-1
Gusset
2
NS
0712519-1
Gusset
2
AR
0712523-1
Bulkhead
1
AR
0712525-2
Aft Tail Cone Assy
1
AR
0712526-1
Stringer
2
NS
0712528-3
Doubler
1
NS
0712607-3
Skin
1
NS
0712608-7
Bulkhead
1
NS
0712609-10
Bulkhead
3
NS
0712609-3
Bulkhead
1
NS
0712609-7
Bulkhead
1
NS
0712609-9
Bulkhead
3
NS
0712610-2
Bulkhead
1
NS
0712610-4
Bulkhead
3
NS
0712612-3
Bulkhead
1
NS
0712612-4
Bulkhead
1
NS
0712612-6
Bulkhead
1
NS
0712612-6
Bulkhead
1
NS
0712615-3
Bulkhead
2
AR
0712616-3
Reinforcement
1
NS
0712616-7
Bulkhead
1
AR
0712616-9
Stiffener
1
AR
0712616-9
Stiffener
2
NS
0712618-4
Angle
2
NS
0712627-1
Stringer
1
NS
0712627-17
Stringer
1
NS
0712627-18
Stringer
1
NS
0712627-19
Stringer
1
NS
0712627-3
Stringer
2
NS
0712627-31
Stringer
4
NS
0712627-32
Stringer
1
NS
0712627-4
Angle
1
NS
0712627-5
Stringer
1
NS
0712627-6
Stringer
1
NS
0712641-1
Bracket
1
NS
0712647-3
Stringer
3
NS
0712648-1
Stringer
1
NS
0712762-1
Support
1
AR
0712762-2
Support
1
AR
0712764-2
Ventral Fin
1
AR
0712765-1
Cover
1
NS
0713000-12
Skin
1
NS
0713003-51
Fairlead
1
NS
0713007-2
Stringer
5
NS
0713008-2
Bulkhead
3
NS
0713008-3
Bulkhead
3
NS
0713008-4
Bulkhead
6
NS
0713009-1
Clip
3
NS
0713018-4
Plate, RH
5
NS
0713018-5
Plate, LH
5
NS
0713019-33
Union
1
NS
0713020-1
Spring Linkage
4
NS
0713020-2
Spring/ Crossarm
1
NS
0713023-7
Bracket
1
NS
0713028-5
Retainer
4
NS
0713037-
Clamp
1
NS
0713049-8
Shield
2
NS
0713052-
Bulkhead
2
NS
0713053-5
Angle
1
NS
0713053-6
Angle
1
NS
0713054-2
Bulkhead
8
NS
0713054-4
Bulkhead
1
NS
0713063-
Spring
1
NS
0713070-1
Bushing
1
NS
0713070-20
Bracket
1
NS
0713070-22
Shim
1
NS
0713070-6
Pin Positioning
1
NS
0713070-9
Bellcrank
1
NS
0713074-1
Stop
20
NS
0713074-1
Stop, Seat
7
AR
0713100-16
Skin
8
NS
0713100-22
Skin
4
NS
0713100-24
Strip
4
NS
0713105-1
Bulkhead
1
AR
0713124-1
Spring
27
NS
0713135-1
Door Assy. (use 0713135-2)
1
NS
0713135-2
Door Assy
2
AR
0713139-1
Air vent
1
NS
0713143-1
Stringer
1
AR
0713143-2
Stringer
2
NS
0713144-1
Bulkhead
1
AR
0713144-2
Rib
1
AR
0713153-1
Bulkhead
1
NS
0713191-1
Handle
2
AR
0713191-1
Handle
1
NS
0713192-4
Reducer
1
NS
0713200-32
Fairing
1
NS
0713200-33
Fairing
1
NS
0713208-1
Escutcheon
6
NS
0713210-4
Decal
1
NS
0713244-1
Bracket
4
NS
0713247-200
Rheostat
1
NS
0713250-1-532
Knob
1
NS
0713263-2
Stringer
2
NS
0713272-1
Bracket
1
NS
0713276-1
Panel
1
NS
0713287-3
Skin
1
NS
0713287-4
Skin
1
NS
0713287-4
Skin
1
NS
0713287-5
Skin
2
NS
0713287-7
Skin
2
NS
0713303-2
Knob
3
NS
0713303-7
Knob
1
NS
0713307-1
Mount
6
NS
0713307-2
Clamp
1
NS
0713321-1
Brace
3
NS
0713332-1
Strip
1
AR
0713334-4
Skin
1
NS
0713334-8
Skin
1
NS
0713481-3
Instrument panel
15
NS
0713481-5
Instrument Panel
7
NS
0713495-17
Plate
2
AR
0713495-18
Angle
2
NS
0713495-19
Bracket
1
AR
0713495-20
Bracket
1
AR
0713495-51
Bracket Assy (alt 0713495-59)
1
AR
0713495-52
Bracket Assy (alt 0713495-60)
1
AR
0713495-53
Stiffener
2
AR
0713495-54
Angle
2
NS
0713496-4
Bracket Ay
1
NS
0713592-8
Glove Box
1
NS
0713593-9
Glove Box Door
1
NS
0713600-4
Skin
1
NS
0713603-1
Plate
1
NS
0713603-2
Plate
3
N
0713604-7
Channel
2
NS
0713604-8
Channel
1
NS
0713606-2
Plate
1
NS
0713608-3
Bulkhead
1
NS
0713609-5
Retainer
2
NS
0713611-2
Retainer
1
NS
0713613-1
Reinforcement
1
NS
0713614-1
Bulkhead
1
NS
0713614-2
Bulkhead
4
NS
0713615-1
Stringer Assy
1
NS
0713615-2
Stringer
1
NS
0713617-1
Bulkhead
8
NS
0713617-2
Bulkhead
1
NS
0713619-1
Stiffener
1
NS
0713619-2
Angle
1
NS
0713628-1
Bracket
7
NS
0713628-2
Bracket
7
NS
0713632-4
Fitting
2
NS
0713633-3
Plate
1
NS
0713633-4
Plate
1
NS
0713634-2
Bulkhead
8
NS
0713634-3
Bulkhead
11
NS
0713634-4
Bulkhead
1
NS
0713636-1
Bracket
3
NS
0713637-1
Support
5
NS
0713640-15
Panel
2
NS
0713640-3
Panel Instrument
6
NS
0713640-4
Panel
5
NS
0713659-6
Cover
1
NS
0713663-2
Bracket
1
NS
0713671-1
Angle
1
NS
0713676-1
Plate
21
NS
0713677-1
Bracket
2
NS
0713684-1
Doubler
2
NS
0713684-4
Doubler
1
NS
0713685-1
Stiffener
1
nS
0713685-2
Stiffener
3
NS
0713703-1
Floor Board
49
NS
0713739-1
Spacer
2
NS
0713755-15
Instrument Panel
6
NS
0713755-8
Support
1
NS
0713757-2
Bracket
1
AR
0713757-2
Bracket
3
NS
0713762-1
Support
3
AR
0713766-6
Skin
1
NS
0713766-7
Skin
1
NS
0713767-2
Angle
2
NS
0713770-2
Panel
3
NS
0713789-1
Sill
3
NS
0713817-1
Tube
5
NS
0713819-1
Placard
3
NS
0713858-9
Baffle
20
NS
0713881-3
Door Glove Box
1
NS
0713929-1
Bracket
1
AR
0713929-1
Bracket
1
NS
0713999-1
Bracket
1
NS
0714003-1
Tiara Headliner
8
NS
0714043-7
Bottom Seat cushion (foam only)
1
NS
0714051-8
Cover
1
AR
0714061-1
Guide
1
NS
0714062-2
Pin
1
NS
0715009-2
Molding
1
NS
0715010-2-532
Window Moulding
1
NS
0715022-8-532
Trim
1
NS
0715023-1
Panel
1
AR
0715029-2
Cover
1
NS
0715038-1
Hanger
5
AR
0715039-4-4DF
Arm Rest
1
NS
0715039-4-4GF
Arm Rest
1
NS
0715045-1
Retainer
30
NS
0715045-2
Retainer
40
NS
0715046-1
Holder
2
NS
0716106-2
Placard
1
NS
0716136-1
Bracket
2
NS
0716616-1
Line
1
NS
0716622-1
Adaptor Vent
3
AR
0716623-3
Handle
1
AR
0716623-5
Handle
1
AR
0717024-27
Base Assy Latch
1
NS
0717026-3
Spring
27
NS
071725-004
Channel
1
NS
07196-
Bearing
15
NS
07196-
Bearing
2
NS
072000-
Skin
4
NS
0720001-10
Skin
1
NS
0720001-33
Skin, LE
1
NS
0720001-38
Skin, LE
1
NS
0720001-42
Skin, LE
1
NS
0720001-43
Skin, LE
1
NS
0720001-52
Leading Edge, LH
1
NS
0720001-55
Leading Edge, RH
1
NS
0720001-9
Skin
9
NS
0720001-9
Skin
9
NS
0720002-1
Fairing
1
NS
0720002-12
Fairing
3
NS
0720002-14
Fairing, RH
42
NS
0720002-2
Fairing
1
NS
0720005-2
Stiffener
3
NS
0720016-1
Fairing
4
NS
0720017-3
Fairing
3
NS
0720017-4
Fairing
1
NS
07204-
Bearing
4
NS
0720601-11
Skin LH
1
NS
0720601-12
Skin RH
1
NS
0720601-14
Skin LE RH
1
NS
0720601-15
Skin LH
1
NS
0720601-16
Skin RH
1
NS
0720601-17
Skin
1
NS
0720601-18
Skin
2
NS
0720601-201
Wing LH C182
1
OH
0720601-202
Wing RH C182
1
OH
0720601-203
Wing LH Ext Range C182
1
OH
0720601-204
Wing RH Ext Range C182
1
OH
0720601-205
Skin LH
1
NS
0720601-207
Wing RH Ext Range
1
OH
0720601-208
Wing RH C182
1
Oh
0720601-209
Wing LH C182
1
OH
0720601-21
Skin
1
NS
0720601-210
Wing LH C182 Ext Range
1
OH
0720601-211
Wing LH C182
1
OH
0720601-212
Wing RH C182
1
OH
0720601-213
Wing LH C182 Ext Range
1
OH
0720601-214
Wing RH C182 Ext Range
1
OH
0720601-44
Skin
1
NS
0720601-57
Skin LH
1
NS
0720601-58
Skin RH
1
NS
0720601-99
Skin
1
NS
0720606-6
Doubler
6
AR
0720606-6
Doubler
7
NS
0720608-23
Nose Rib
2
NS
0720608-26
Rib
2
NS
0720608-7
Tip Rib
1
NS
0720614-3
Fairing
1
NS
0720614-4
Fairing
1
NS
0720701-16
Wing RH C182
1
OH
0720701-17
Wing LH C182
1
OH
0720701-18
Wing RH C182
1
OH
0720701-19
Wing LH C182
1
OH
0720702-9
Fairing
1
AR
0721100-5
Stiffener
1
NS
0721100-5
Stiffener
10
NS
0721100-7
Stiffener
12
NS
0721105-3
Tube
2
NS
0721110-3
Tube
1
NS
0721110-4
Tube
1
NS
0721111-10
Bulkhead
1
NS
0721111-5
Bulkhead
3
AR
0721111-9
Bulkhead
1
NS
0721112-3
Bracket
10
NS
0721116-2
Bulkhead
1
NS
0721116-3
Tube
1
NS
0721117-4AGW
Bracket
1
NS
0721182-200
Wing LH
1
OH
0721182-201
Wing RH
1
OH
0721182-202
Wing LH Ext Range C182
1
OH
0721182-203
Wing RH Ext Range C182
1
OH
0721182-204
Wing RH
1
OH
0721182-205
Wing LH
1
OH
0721182-206
Wing RH Ext Range
1
OH
0721182-207
Wing LH Ext Range
1
OH
0721203-1
Step C185 LH
1
AR
0721203-2
Step C185 RH
1
AR
0721207-3
Strap
1
NS
0721300-16
Door Assy
1
AR
0721300-9
Neck
1
AR
0721302-1
Plate
1
AR
0721303-8
Cap
1
NS
0721400-17
Plate
1
NS
0721400-18
Plate
2
NS
0721400-43
Spacer
1
NS
0721401-14
Stiffener
1
NS
0721401-37
Stiffener
3
NS
0721401-38
Stiffener
1
NS
0722000-1
Wing LH C182
1
OH
0722000-10
Skin
1
NS
0722000-13
Wing LH C182
1
OH
0722000-19
Wing LH C182
1
OH
0722000-2
Wing RH C182
1
OH
0722000-20
Wing RH C182
1
OH
0722000-21
Wing LH C180 / C185
1
OH
0722000-22
Wing RH C180 / C185
1
OH
0722000-23
Wing LH C182
1
OH
0722000-24
Wing RH C182
1
OH
0722000-3
Wing LH C180 / C185
1
OH
0722000-4
Wing RH C180 / C185
1
OH
0722000-9
Skin
1
NS
0722012-11
Adapter
4
NS
0722100-3
Retainer
1
NS
0722100-4
Window Pnl Clear
1
AR
0722180-37
Skin, LE
1
NS
0722180-38
Skin, LE
1
NS
0722180-39
Skin, LE
1
NS
0722180-40
Skin, LE
1
NS
0722180-49
Skin, LE
1
NS
0722180-50
Skin, LE
1
NS
0722180-59
Skin Ay.
1
NS
0722180-60
Skin, LE
1
NS
0722180-61
Skin, LE
1
NS
0722180-67
Skin, LE
1
NS
0722180-68
Skin, LE
1
NS
0722180-69
Skin, LE
1
NS
0722180-70
Skin, LE
1
NS
0722180-79
Skin Ay.
1
NS
0722180-83
Skin, LE
1
NS
0722180-84
Skin, LE
1
NS
0722182-1
Wing LH C182
1
OH
0722182-17
Skin
1
NS
0722182-19
Skin
2
NS
0722182-2
Wing RH C182
1
OH
0722182-20
Wing RH C180 / C185
1
OH
0722182-21
Wing LH C180 / C185
1
OH
0722182-22
Wing RH C180 / C185
4
OH
0722182-23
Wing LH C180 / C185 Ext Range
1
OH
0722182-3
Wing LH C182 Ext range
1
OH
0722182-4
Wing RH C182 Ext Range
1
OH
0722182-40
Skin
1
NS
0722182-41
Wing LH C182 Ext Range
1
OH
0722182-42
Wing RH C182 Ext Range
1
OH
0722182-43
Wing LH C182
1
OH
0722182-44
Wing RH C182
1
OH
0722201-1
Rib
15
NS
0723200-5
Tip
1
AR
0723201-1
Shield LH
2
AR
0723201-1
Shield LH
5
NS
0723201-2
Shield RH
3
NS
0723201-2
Shield RH
6
AR
0723201-3
Shield LH w/Strobe
20
AR
0723201-4
Shield RH w/Strobe
15
AR
0723205-15
Shield
1
AR
0723205-16
Shield
1
AR
0723604-1
Ring
1
AR
0723605-2-791
Fairing
2
NS
0723605-3
Fairing
3
AR
0723607-1
Spar
1
NS
0723610-5
Strut
3
AR
0723612-3-791
Fairing
1
NS
0723612-3-791
Fairing
2
AR
0723612-4-791
Fairing
1
NS
0723615-200
Wing Tip
1
NS
0724115-5
Rib
1
NS
0726001-7
Gasket
1
NS
0726004-2
Adapter
1
NS
0726031-1
Baffle
1
NS
0726110-1
Fuel Sender
10
AR
0726113-1
Fuel Filler
3
NS
0726113-2
Adapter
3
NS
07300914-
Tip
1
NS
0731000-18
Skin
1
NS
0731000-2
Rib
5
AR
0731000-21
Splice
10
NS
0731000-21
Splice
11
AR
0731000-24
Skin
1
NS
0731000-25
Skin
2
NS
0731000-27
Rib
19
NS
0731000-3
Rib
5
NS
0731000-30
Tab
1
NS
0731000-36
Rib
9
NS
0731000-4
Rib
6
NS
0731000-40
Rudder
1
OH
0731000-41
Vertical Fin C180
1
OH
0731000-5
Rib
5
NS
0731000-59-791
Tip Fin
1
NS
0731000-7
Rib
7
NS
0731000-8
Rib
6
NS
0731000-82
Tab
1
NS
0731000-83
Vertical Fin C180
1
OH
0731000-9
Skin
17
NS
0731001-10
Fin
1
OH
0731001-19
Fin
1
OH
0731001-2
Skin
1
NS
0731001-3
Skin LH
1
NS
0731001-4
Skin RH
1
NS
0731001-9
Plate
1
NS
0731019-2
Tip
1
AR
0731019-5
Tip
1
NS
0731019-6
Tip
1
AR
0731022-2
Rib
2
NS
0731022-4
Rib
2
NS
0731024-3
Vertical Fin C180
1
OH
0731024-9
Vertical Fin C180
1
OH
0731036-1
Rib
12
NS
0731100-1
Rudder
1
OH
0731100-5
Bracket
1
AR
0731604-4
Fair Dorsal
1
NS
0731604-6
Fairing
1
NS
0731604-7
Fairing Assy Dorsal
1
NS
0731604-8
Fairing Assy Dorsal
1
NS
0731605-2
Fair Dorsal
2
AR
0731605-3
Fairing
1
NS
0731606-1
Cap
1
NS
0731606-11
Tip
2
AR
0731606-6-791
Tip
4
AR
0731606-8
Plate
1
NS
0731607-2
Baffle
3
NS
0732000-151
Skin
1
NS
0732000-154
Elevator
1
OH
0732000-16
Rib
5
NS
0732000-26
Skin
1
NS
0732000-32
Rib
1
NS
073210-11
Hinge
1
AR
0732102-4
Seal
1
NS
0732600-1
Horizontal Stabilizer C182
1
OH
0732600-10
Horiz Stab
1
OH
0732600-2
Skin
4
NS
0732600-3
Skin
5
NS
0732600-4
Horizontal Stabilizer C180
1
OH
0732600-5
Skin
1
NS
0732600-6
Skin
1
NS
0732600-8
Skin
1
NS
0732600-9
Skin
1
NS
0732601-5
Fitting
2
AR
0732602-4
Spar
1
NS
0732611-1
Rib Stabilizer Nose
1
NS
0732613-1
Tip, Stabilizer
1
NS
0732614-1
Fairing
3
AR
0732614-2
Fairing
6
AR
0732615-5
Fairing, LH
5
NS
0732615-6
Fairing, RH
5
NS
07331000-19
Tip
1
AR
07331000-19
Tip
1
NS
0733102-5
Bellcrank
22
AR
0733110-1
Rudder
1
OH
0733110-3
Spacer
1
NS
0733113-1
Clip Tee
1
NS
0733115-1
Bellcrank
8
AR
0734101-
Bellcrank
18
AR
0734102-
Torque Tube
1
NS
0734102-0
Torque Tube
1
NS
0734110-1
Torque Tube LH
4
NS
0734110-2
Torque Tube RH
5
NS
0734110-5
Rib
3
NS
0734600-10
Hinge Half
3
NS
0734600-10
Hinge Half
2
AR
0734600-19
Elevator, RH C180
1
OH
0734600-202
Elevator RH C188
1
OH
0734600-24
Elevator, RH C185
1
NS
0734600-25
Trim Tab, RH Elevator C182
3
OH
0734600-3
Spacer
1
NS
0734600-32
Elevator RH C185
1
OH
0734600-33
Elevator LH C185
1
OH
0734600-35
Elevator LH C188
1
OH
0734600-7
Skin
15
AR
0734600-7
Skin
29
NS
0734600-8
Spacer
1
NS
0734602-1
Rib
32
NS
0734602-2
Rib
23
NS
0734602-4
Rib
1
NS
0734602-5
Rib
16
NS
074-03500
Back Plate
1
NS
0741000-7
Bracket
7
NS
0741005-7
Fairing
1
NS
0741006-
Faring
3
NS
0741014-1
Step
2
NS
0741015-1
Step
4
NS
0741016-1
Clip
10
NS
0741022-2
Shim
1
AR
0741046-11
Doubler
1
NS
0741046-14
Scraper
3
NS
0741047-2
Nut Ay.
5
AR
0741048-2
Cap
9
AR
0741048-2
Cap
1
NS
0741610-13
Scraper
2
NS
0741610-8
Doubler
2
NS
0741614-2
Cover
1
NS
0741622-2
Cover Plate
4
AR
0741623-1
Step Assy
1
AR
0741623-1
Step Assy
3
NS
0741623-4
Tread
1
NS
0741624-11
Fairing
3
NS
0741639-5
Fairing Assy, LH
3
NS
0741639-6
Fairing Assy, RH
3
NS
0741639-8
Bulkhead
4
NS
0741641-7
Spacer
4
NS
0741646-9
Door - Cowl Flap
1
AR
0742005-1
Spring
2
NS
0742021-2
Spring
1
NS
0742100-20
Spring
1
NS
0742100-6
Washer
1
NS
0742111-
Reinforcement
18
NS
0742115-31
Angle RH
1
NS
0742115-51
Plate
1
NS
0742136-1
Spring
1
NS
0742141-2
Adapter
14
NS
0742152-2
Spring
1
AR
0742177-1
Spring
3
NS
0742200-4
Bushing
3
NS
0742200-6
Link
6
NS
0742200-7
Axle (alt 3236C2)
1
NS
0742401-9
Ring
1
NS
0742410-13
Scraper
2
NS
0742410-28
Stud
1
NS
0742410-8
Ferrule
3
NS
0742410-9
Scraper
1
AR
0742410-9
Scraper
2
NS
0743009-1
Spacer
1
NS
0743602-497
Nose Wheel Arm
1
AR
0743609-5
Plate
1
NS
0743609-6
Scraper
3
NS
0743618-2
Fairing
6
NS
0743618-4
Scraper
2
NS
0743620-1
Bracket
2
NS
0743624-1
Dampener
1
NS
0743627-5?
Cap
8
AR
0743627-6
Cap
2
NS
0743627-6
Cap
12
AR
0749115-6
Rib
3
NS
075-01500
Plate
3
NS
075-01902
Plate
1
NS
075-10300
Torque Plate
1
NS
0750024-1
Drain
1
NS
0750031-1
Strap
4
NS
0750038-4
Engine intake air filter
1
AR
0750111-12
Baffle
1
NS
0750111-17
Plate
1
NS
0750111-19
Arm
1
NS
0750111-21
Boss
1
NS
0750111-26
Union
1
NS
0750113-1
Housing
3
NS
0750114-2
Gasket
2
NS
0750115-
Spring
4
NS
0750117-12
Baffle
1
NS
0750117-23
Baffle
1
NS
0750117-3
Baffle
6
NS
0750117-30
Bracket
10
NS
0750118-4
Baffle
2
AR
0750118-4
Baffle Assy
3
NS
0750119-
Bracket
10
NS
0750121-
Deflector
2
NS
0750125-25
Baffle
1
NS
0750126-9
Valve assy
1
AR
0750127-0
Filter
1
NS
0750127-2
Gasket
1
NS
0750128-1
Baffle
1
NS
0750128-11
Gusset
2
NS
0750128-150
Seal
1
NS
0750128-21
Baffle
2
NS
0750128-23
Baffle
5
NS
0750128-37
Seal
1
NS
0750128-40
Baffle
1
AR
0750128-44
Baffle
1
NS
0750128-57
Baffle
1
NS
0750128-60
Baffle
1
NS
0750130-4
Tube
1
NS
0750133-23
Seal
3
NS
0750133-9
Bracket
1
NS
0750135-3
Baffle
2
NS
0750135-7
Baffle
1
NS
0750135-8
Baffle
2
NS
0750139-
Adaptor
2
NS
0750139-
Adaptor
3
AR
0750143-1
Deflector
2
NS
0750143-3
Bracket
1
NS
0750144-20
Seal
3
NS
0750144-32
Seal
6
NS
0750144-6
Seal
7
NS
0750149-10
Baffle
1
NS
0750149-2
Baffle
1
NS
0750152-1
Baffle
2
NS
0750159-1
Clip
3
AR
0750159-1
Clip
3
NS
0750161-22
Clamp
2
NS
0750161-25
Clamp
12
NS
0750161-25
Clamp Half
4
AR
0750162-3
Brace
1
NS
0750162-4
Brace
1
NS
0750166-4
Bracket
3
NS
0750173-1
Shaft
2
NS
0750175-1
Gasket
12
NS
0750192-703
Boot
1
NS
0750196-1
Baffle
1
AR
0750196-1
Baffle
2
NS
0750220-1
Bolt
8
NS
0750223-1
Bracket
4
NS
0750233-1
Bracket
1
NS
0750236-1
Baffle
1
NS
0750283-1
Deflector
4
NS
0750284-5
Bulkhead
1
NS
0750286-4
Spinner (alt 0750286K200)
1
NS
0750286K200
Dome Assy, Spinner
1
NS
0750286K200
Spinner (alt 0750286-4)
1
NS
0750606-12
Adapter
1
NS
0750606-6
Adaptor
2
NS
0750614-5
Retainer
4
NS
0751006-3
Lug
1
NS
0752000-117
Hinge
1
AR
0752000-117
Hinge
1
NS
0752000-119
Angle
2
NS
0752000-125
Nose Cap
1
NS
0752000-135
Bracket
3
NS
0752000-138
Angle
1
NS
0752000-142
Cowl Flap
1
RP
0752000-143
Cowl Flap
1
NS
0752000-151
Doubler
2
NS
0752000-159
Skin
1
NS
0752000-23
Skin
1
NS
0752000-3
Support
1
NS
0752000-50
Top
1
NS
0752000-64
Spacer
5
NS
0752002-
Spring
3
NS
0752004-7
Bulkhead
1
AR
0752005-4
Lug
7
NS
0752006-2
Lug
20
NS
0752006-8
Ring
2
NS
0752010-46
Doubler
1
NS
0752011-1
Nose Cap
2
AR
0752011-12
Doubler
1
NS
0752011-20
Doubler
15
NS
0752011-21
Doubler
7
NS
0752011-6
Cap
4
NS
0752011-7
Baffle
1
NS
0752013-1
Cowl Bracket
1
NS
0752013-2
Clip
1
NS
0752014-10
Baffle
8
NS
0752014-12
Baffle
2
NS
0752014-15
Hinge Assy.
2
NS
0752014-17
Clip (alt 0752014-32)
9
NS
0752014-5
Skin
2
NS
0752015-26
Doubler, RH
1
NS
0752015-38
Doubler
4
NS
0752015-39
Bracket
1
NS
0752016-11
Seal
13
NS
0752019-10
Strap
4
NS
0752019-11
Strap
1
NS
0752019-7
Doubler
9
NS
0752019-8
Doubler (Splice)
4
NS
0752020-1
Mount
1
AR
0752022-1
Stiffener
1
NS
0752023-
Strip
2
NS
0752023-4
Strip
8
NS
0752023-5
Strip
2
NS
0752028-1
Doubler
4
NS
0752028-2
Doubler
1
NS
0752030-30
Strap
1
NS
0752030-5
Doubler, Splice
4
NS
0752030-9
Doubler LH
1
NS
0752031-52
Doubler
3
NS
0752032-1
Receptacle
5
NS
0752033-1
Bracket
1
NS
0752033-2
Cowl Bracket Assy
1
NS
0752037-2
Elbow
2
NS
0752043-1
Lug
2
NS
0752043-1
Lug
3
AR
0752044-1
Fillet
2
NS
0752053-2
Stiffener
1
NS
0752055-1
Frame
1
AR
0752055-1
Frame
1
NS
0752057-12
Stiffener
3
NS
0752057-13
Stiffener
5
NS
0752057-17
Stiffener
1
NS
0752057-22
Stiffener
2
NS
0752057-23
Stiffener
2
NS
0752057-28
Stiffener
1
NS
0752057-3
Stiffener
1
NS
0752059-13
Reinforcement
1
NS
0752059-14
Reinforcement
4
NS
0752059-17
Reinforcement
1
NS
0752059-18
Reinforcement
1
NS
0752096-804
Nose Cap
1
AR
0752600-13
Doubler
1
NS
0752600-25
Cowl
1
AR
0752600-27
Skin
20
NS
0752600-3
Cowl
1
AR
0752600-7
Skin
1
AR
0752603-1
Mount
2
NS
0752606-1
Stiffener
1
NS
0752608-4
Louver
1
AR
0752609-13
Bracket
1
NS
0752609-14
Bracket
2
NS
0752609-16
Bracket
2
NS
0752609-2
Pin
2
NS
0752609-200
Cowl Flap
1
AR
0752609-202
Cowl Flap
2
AR
0752609-27
Pin
4
NS
0752610-1
Doubler
1
NS
0752611-1
Door
1
NS
0752612-2
Reinforce
1
NS
0752617-1
Doubler
2
AR
0752620-3
Spacer
18
NS
0752620-3
SPACER
15
NS
0752623-1
Bracket
8
NS
0752624-1
Door
1
NS
0752625-4
Hinge Half
1
NS
0752628-1
Door Assy
3
NS
0752628-1
Door Assy
2
AR
0752637-5
Dome
1
AR
0752639-1
Nose Cap Lower
1
AR
0752641-7
Plate
1
NS
0752644-1
Bracket
1
AR
0752644-2
Bracket RH
3
AR
0752644-4
Bracket
1
NS
0752644-5
Plate
1
AR
0752644-6
Plate
1
NS
0752644-6
Plate
2
AR
0752646-1
Gasket
1
NS
0752649-1
Stiffener
3
NS
0752700-5
Skin
1
NS
0752706-34
Skin
1
NS
0752707-1
Fairing
1
NS
0752731-6
Door Cowl
3
NS
0753000-13
Doubler
3
NS
0753000-14
Doubler
6
NS
0753000-15
Doubler
3
NS
0753000-17
Doubler
1
NS
0753000-23
Angle
2
NS
0753000-29
Doubler
1
NS
0753003-1
Fairlead
2
NS
0753016-1
Bracket
2
NS
0753017-1
Reinforcement LH
1
NS
0753017-2
Reinforcement RH
1
NS
0753020-1
Angle
1
NS
0753027-1
Bracket
1
NS
0753029-1
Bracket
2
NS
0753107-7
Doubler
1
NS
0753108-6
Doubler
1
NS
0753600-19
Doubler
3
NS
0753600-3
Doubler
3
NS
0753602-1
Doubler
2
NS
0755001-21
Baffle
2
AR
0755001-30
Baffle
1
AR
0755004-2
Baffle
1
AR
0755004-3
Baffle
1
AR
0755004-6
Baffle
3
NS
0755005-9
Baffle
1
NS
0755007-1
Baffle
1
NS
0755008-1
Baffle
5
NS
0755010-1
Baffle
3
NS
0755012-1
Baffle
4
NS
0755040-1
Baffle
2
NS
0755040-2
Baffle
1
AR
0755040-3
Baffle
2
NS
0755040-4
Baffle
2
AR
0755050-1
Baffle
1
NS
075507-1
Baffle
2
NS
0756009-1
Filter
1
NS
0756009-7
Fuel Filter
2
NS
0756010-11
Plunger
1
NS
0756015-1
Washer
2
NS
0756039-4
Fuel Strainer
1
AR
0756039-7
Fuel Strainer (Bowl only)
1
AR
0756039-9
Fuel Strainer
1
AR
0756041-1
Gasket
6
NS
0758036-2
Support
1
NS
076-01042-0001
FERRULE?
1
NS
0760011-2
Bracket
5
NS
0760021-1
Cover
1
NS
0760105-5
Bracket
1
NS
0760105-6
Bracket
1
NS
0760105-8
Bracket
1
NS
0760145-1
Bracket
1
NS
0760146-1
Bracket
4
NS
0760607-4
Bracket
10
AR
0760609-1
Bracket
3
NS
0760609-1
Bracket
20
AR
0760610-1
Guard
2
NS
0760610-1
Guard
5
AR
0760610-2
Guard
3
NS
0760610-2
Guard
15
AR
0760610-3
Guard
1
NS
0760610-5
Guard
5
NS
0760610-6
Guard
2
NS
0760611-2
Bellcrank Aileron RH
1
AR
0760612-7
Drive Assy LH
10
NS
0760615-1
Guard
1
NS
0760617-1
Bracket
20
AR
0760617-1
Bracket Assy Idler
1
NS
0760618-1
Bracket
5
AR
0760620-1
Tube
1
NS
0760620-1
Tube
1
AR
0760620-9
Tube
1
AR
0760651-2
Guide
1
NS
0760671-2
Guard
2
NS
0760675-1
Bellcrank
1
AR
0760676-1
Arm Control
10
AR
0760680-1
Guard
1
AR
0760682-1
Spring
2
NS
0760703-5
Bellcrank LH
6
AR
0760703-5
Bellcrank Aileron LH (0760703-1)
4
NS
0760703-6
Bellcrank Aileron, RH
20
NS
0760703-6
Bellcrank, RH
2
AR
0761202-4
Link
8
AR
0761202-50
Bellcrank
1
AR
0761205-8
Shaft Assy (Trim Wheel)
1
AR
0761206-1
Spring
1
NS
0762024-24
Drive Assy
3
AR
0762024-24
Drive Assy
4
NS
0762035-1
Cover
1
AR
0762036-1
Shield
10
AR
0762049-1
Bracket
1
NS
0762054-2
Drive Assy Flap RH
5
NS
0762054-4
Bellcrank, Flap
1
AR
0762054-904
Bellcrank, Flap
1
AR
0770021-1
Mast
4
NS
0770038-8
RF Filter
1
AR
0770048-1
Stiffener
7
NS
0770641-1
Flange
2
NS
0770642-1
Plenum
2
NS
0770642-5
Plenum Ay.
1
NS
0770645-3
Brackett
4
NS
0770650-1
Baffle
2
NS
0770657-1
Diode
14
NS
0770702-4
Cable
2
NS
0770710-5
Strap
1
NS
0770712-1
Angle
2
NS
0770728-1
Diode
3
NS
0770741-2
Cover
2
NS
0770783-1
Diode Assy
5
NS
0770783-2
Diode
4
NS
07713-4
Bulkhead
1
NS
078041-002
Tube
3
NS
0790014-2
Plug
2
NS
0791101-2
Skin
14
NS
0791301-5
Skin
1
NS
0792000-10
Wing RH C180 / C182
1
OH
0792000-11
Wing LH C180 / C182
1
OH
0792000-12
Wing RH C180 / C182
1
OH
0792000-13
Wing LH C180 / C182
1
OH
0792000-14
Wing RH C180 / C182
1
OH
0792000-15
Wing LH C180 / C182
1
OH
0792000-16
Wing RH C180 / C182
1
OH
0792000-18
Wing RH C180 / C182
1
OH
0792000-19
Wing LH C180 / C182
1
OH
0792000-2
Wing RH
1
OH
0792000-20
Wing RH C180 / C182
1
OH
0792000-21
Wing LH
1
OH
0792000-22
Wing RH
1
OH
0792000-23
Wing LH
1
OH
0792000-24
Wing RH
1
OH
0792000-25
Wing LH
1
OH
0792000-5
Wing LH
1
OH
0792000-6
Wing RH
1
OH
0792000-7
Wing LH
2
OH
07F21724
LINK
1
NS
080-0001
Seal
2
NS
080-0018
Gasket
3
NS
0800036-37
Fairing
1
NS
0800051-18
Skin
1
NS
0800056-37
Fillet
2
NS
0800056-39
Fillet
1
NS
0800056-41
Fillet
1
NS
0800056-42
Fillet
1
NS
0800060-2
Placard
1
NS
0800067-4
Track
1
NS
0800090-1
O2 Bottle Bracket
1
NS
0800102-2
Placard
4
NS
0800106-121
Line
1
NS
0800106-179
Tube
1
NS
0800106-214
Fuel Line
2
NS
0800121-5
Decal
1
NS
0800127-4
Support
2
NS
0800135-1
Decal
1
NS
0800142-1
Decal
2
NS
0800142-1
Decal
2
NS
0800158-2
Plate
1
NS
0800181-13
Placard
4
NS
0800181-17
Placard
4
NS
0800181-18
Placard
3
NS
0800181-4
Plate
1
NS
0800181-57
Placard
2
NS
0800181-66
Placard
1
NS
0800181-67
Placard
1
NS
0800181-83
Placard
5
NS
080020-
Spring
2
NS
0800403-11
Line
1
NS
0800403-12
Line
1
NS
080056-13
Fairing
1
AR
080056-14
Fairing
1
AR
0805000-96
Flap Inbd RH
1
OH
0811000-119
Guard
1
NS
0811000-81
Bracket
6
NS
0811000-91
Bracket
1
NS
0811001-8
Skin
1
NS
0811019-3
Block
1
NS
0811019-6
Block
1
NS
0811040-1
Window
1
AR
0811056-
Bulkhead
1
NS
0811084-1
Trim
1
NS
0811098-1
Bracket
1
NS
0811100-51
Stringer
1
NS
0811100-54
Doubler
1
NS
0811100-63
Stringer
1
NS
0811100-8
Stringer
1
NS
0811129-2
Channel
2
NS
0811133-3
Placard / Cover
1
NS
0811150-104
Bracket
3
NS
0811150-106
Bracket
1
NS
0811150-19
Spar
1
NS
0811150-91
Bracket
1
NS
0811150-92
Doubler
1
NS
0811200-12
Bracket
1
NS
0811200-134
Bulkhead
1
NS
0811200-135
Bulkhead
1
NS
0811200-2
Doubler
1
NS
0811200-27
Doubler
1
NS
0811200-6
Bulkhead
1
NS
0811200-86
Brace
1
NS
0811202-12
Gasket
1
NS
0811218-5
Cable Assy
1
NS
0811225-32
Bulkhead
1
NS
0811225-6
Bracket, Pulley
1
NS
0811250-46
Doubler
1
NS
0811250-77
Skin
1
NS
0811250-97
Bracket
1
NS
0811250-98
Bracket
1
NS
0811250-99
Doubler
2
NS
0811252-1
Fuselage Cabin Assy
1
NS
0811253-2
Channel
1
NS
0811254-10
Channel
2
NS
0811275-16
Block
2
NS
0811289-1
Angle
1
NS
0811296-1
Segment
2
NS
0811296-1
Segment
2
NS
0811340-7
Skin
1
NS
0811375-57
Doubler
42
NS
0811388-1
Fitting
2
NS
0811403-1
Strip
1
NS
0811407-15
Strip
2
NS
0811410-5
Baffle
1
NS
0811410-7
Baffle
1
NS
0811440-73
Step
1
AR
0811468-1
Checklist
1
NS
0811468-4
Checklist
1
NS
0811489-5
Skin
1
NS
0811490-12
Linkage Rod
1
NS
0811490-21
Cam
1
NS
0811490-23
Pin
1
NS
0811490-26
Cylinder w/ Key
1
NS
0811490-27
Shell
1
NS
0811490-31
Cylinder w/ Key
5
NS
0811490-34
Handle
1
NS
0811490-59
Spindle
1
NS
0811490-6
Handle
2
NS
0811490-73
Door Handle, Latch and Lock, ( No key)
1
NS
0811490-74
Handle
1
NS
0811490-77
Spring
1
NS
0811490-82
Bracket
1
NS
0811500-1
Jack Pad
1
AR
0811503-1
Spacer
3
NS
0811528-1
Checklist
2
NS
0811533-1
Spring, Door
2
AR
0811535-1
Arm Pulley
1
NS
0811539-1
Handle
1
NS
0811550-1
Arm
1
NS
0811566-14
Chanel
1
NS
0811577-1
Clip
2
NS
0811581-13
Stringer
2
NS
0811581-5
Buttons
23
NS
0811609-6
Channel
1
NS
0811609-8
Angle
16
NS
0811690-27
Trim
1
NS
0811690-29
Trim
1
NS
0811707-3
Retainer
2
NS
0811708-1
Retainer
1
NS
0811723-5
Hook
1
NS
0811724-13
Stud
1
NS
0811724-14
Stud
1
NS
0811725-42
Base Latch
1
NS
0811725-7
Hinge Half
5
NS
0811735-1
Shaft
1
NS
0811753-1
Retainer
1
NS
0811757-3
Support
1
NS
0811784-5
Channel
1
NS
0811791-16
Curtain
1
NS
0811791-20
Curtain
1
NS
08118-
Bearing
1
NS
0811830-28
Trim
4
NS
0811892-2
Plate
1
NS
0811898-10
Retainer
1
NS
0811898-11
Retainer
1
NS
0811898-3
Bracket Assy
1
NS
0811901-2
Strut
1
AR
0811907-1
Spring
1
AR
0811917-10
Spar
5
NS
0811932-1
Step
1
AR
0811935-1
Bracket
2
NS
0811946-7
Spacer
2
NS
0811948-1
Spring, Torsional
1
AR
0811994-1
Plate
4
NS
0812000-1
Visor
2
AR
0812000-27
Support
1
NS
0812120-2
Pan
1
NS
0812200-111
Seat Stop
1
NS
0812200-44
Bracket
1
NS
0812216-20
Bellcrank
2
NS
0812220-22
Cam
2
NS
0812224-1
Stop
2
NS
0812252-1
Support
1
NS
0812253-1
Spacer
2
AR
0812253-1
Spacer
6
NS
0812253-2
Spacer
1
NS
0812253-2
Spacer
2
AR
0812279-1
Angle
1
NS
0812339-1
Socket
4
NS
0812350-29
Support
1
NS
0812397-1
Casing
3
NS
0812480-32
Placard
1
NS
0812480-44
Decal
1
NS
0812480-50
Decal
1
NS
0812480-97
Placard
3
NS
0812485-21
Bracket
1
NS
0812485-21
Bracket
1
AR
0812497-5
Doubler
1
NS
08125-
Bearing (214-00400)
6
NS
08125-20629
BEARING, CONE,ROLLER,TAPERED
1
NS
0812500-10
Placard (Cover)
1
NS
0812503-1
Ant. Clip
1
NS
0812534-3
Mount
2
NS
0812577-2
Support
1
NS
0812611-
Channel
1
NS
0812744-603
Track, Seat
1
NS
0812745-2
Stop
1
NS
0812770-7
Stop
3
NS
0812785-14
Skirt
1
NS
0812807-1
Hinge
1
NS
0812807-2
Hinge
2
NS
0812853-3
Cable
1
NS
0812860-16
Pin
16
NS
0812863-3-279
Cover
2
NS
0812929-1
Cover
2
NS
0812929-2
Cover
3
NS
0812971-5
Cushion, Armrest
2
NS
0812972-3
Angle
3
NS
0812992-1
Lever
1
NS
0812994-1
Arm
2
NS
0812995-7
Rod
1
NS
0813000-116
Bracket
3
NS
0813000-118
Doubler
1
NS
0813000-131
Gusset
1
NS
0813000-188
Bracket
1
NS
0813000-190
Bracket
1
NS
0813000-25
Bracket
1
NS
0813000-26
Bracket
1
NS
0813000-30
Bracket
2
NS
0813000-4
Nose Bulkhead
1
AR
0813000-41
Rib
1
NS
0813000-45
Frame
2
NS
0813000-46
Frame
1
AR
0813000-46
Frame
1
NS
0813000-61
Bracket
1
NS
0813000-63
Doubler Skin
1
NS
0813000-64
Doubler
3
NS
0813000-73
Housing
5
AR
0813001-12
Skin
2
NS
0813001-15
Skin
1
NS
0813001-18
Gusset
2
NS
0813001-19
Doubler
1
NS
0813002-13
Skin
1
NS
0813003-1
Bolt
2
NS
0813005-
Center Plate
10
NS
0813005-18
Angle
1
NS
0813005-3
Cover
1
NS
0813008-1
Bracket
2
NS
0813017-2
Bellcrank
4
AR
0813021-11
Door, LH
1
AR
0813021-12
Door, RH
1
AR
0813022-2
Bulkhead
1
NS
0813022-3
Bulkhead
1
NS
0813022-4
Bulkhead
1
NS
0813024-2
Stringer
1
NS
0813024-8
Stringer
1
NS
0813043-1
Door
1
AR
0813044-3
Doubler
2
NS
0813044-4
Splice
1
NS
0813045-13
Stiffener
1
NS
0813045-4
Strip
1
NS
0813045-7
Doubler
1
NS
0813045-8
Bulkhead
1
NS
0813049-1
Bulkhead
2
NS
0813050-1
Support
1
NS
0813051-2
Support
1
AR
0813053-1
Mount
1
NS
0813056-3
Stiffener
1
NS
0813084-18
Stringer
1
NS
0813089-15
Stiffener
1
NS
0813089-20
Angle
1
NS
0813089-32
Doubler
1
NS
0813094-17
Channel
1
NS
0813094-18
Channel
1
NS
0813095-12
Stringer
1
NS
0813097-2
Doubler
1
NS
0813100-11
Skin
1
NS
0813130-1
Rib
1
NS
0813150-201
Tube
1
AR
0813150-29
Steering Assy
1
AR
0813150-56
Support
1
NS
0813150-57
Support
2
NS
0813150-58
Support
1
NS
0813150-59
Support
1
NS
0813150-70
Retainer, Nose Fwd
1
NS
0813156-4
Brake Housing
1
AR
0813156-4
Housing
1
NS
0813177-
Pitot Tube
1
AR
0813195-2
Rib
2
NS
0813200-10
Bulkhead
1
NS
0813300-107
Angle
1
NS
0813300-122
TUBE AY TORQUE
1
NS
0813300-13
Door
1
NS
0813300-35
Housing
1
AR
0813300-46
Uplock
1
AR
0813300-47
Hook
1
NS
0813300-53
Rod
2
AR
0813300-7
Hinge
9
NS
0813300-8
Hinge
12
NS
0813300-92
Hinge
7
SV
0813300-92
Hinge
4
NS
0813300-93
Hinge
12
NS
0813313-1
Bearing
2
NS
0813477-1
Handle
1
NS
0813488-6
Panel
1
NS
0813513-
Switch
1
NS
0813527-2
Guard
1
NS
0813545-4
Support
1
NS
0813569-2
Retainer
1
NS
0813575-14
Panel
103
NS
0813576-1
Decal
1
NS
0813728-1
Support
1
NS
0813742-1
Clamp
2
NS
0813742-4
Clamp
1
AR
0813746-1
Inlet Assy
1
AR
0813750-24
Adaptor
1
NS
0813750-55
Adaptor
6
NS
0813757-8
Shroud
1
NS
0813772-1
Scoop
4
NS
0813801-11
Adapter Assy
1
AR
0813808-1
Knob
1
NS
0813841-4
Thermostat
1
NS
0813865-1
Blower
1
AR
0813901-5
Orifice
1
NS
0814000-57
Stringer
1
NS
0814000-74
Stringer
22
NS
0814000-79
Stringer
1
NS
0814000-9
Doubler
1
NS
0814000-90
Angle
4
NS
0814000-91
Link
1
NS
0814000-97
Doubler
1
NS
0814007-1
Bellcrank Elevator
2
AR
0814107-22
Stringer
1
NS
0814108-1
Seat Back
1
NS
0814109-1
Spacer
1
AR
0814109-1
Spacer
1
NS
0814112-13
Skin
1
AR
0814112-13
Skin
6
NS
0814112-2
Fin
2
NS
0814112-2
Fin
1
AR
0814112-3
Cover
1
NS
0814114-1
Doubler
1
NS
0814114-2
Plate
3
NS
0814146-8
Angle
2
NS
0814200-15
Bulkhead
1
NS
0814200-59
Bulkhead
1
NS
0814200-70
Bulkhead
1
NS
0814212-3
Bulkhead
1
NS
0817725-14
Skin
1
NS
0818606-8
Angle
1
NS
0819000-139
Channel
1
NS
0819005-6
Plate
2
NS
0819006-5
Block Stop
5
NS
0819007-3
Frame
2
NS
0819007-5
Frame-Placard Support
1
NS
0819007-7
Frame-Placard Support
1
NS
0819011-3
Holder
2
NS
082000-34
Cover
1
AR
0820000-11
Cover
1
NS
0820000-29
Cover
1
NS
0820000-3
Tube
1
AR
0820000-30
Fairing
1
AR
0820000-31
Cover
1
NS
0820000-51
Tork Tube
1
AR
0820105-8
Hose
2
NS
0820111-1
Tube
3
NS
0820113-1
Tube
2
NS
0820210-5
Skin
2
NS
0820210-7
Skin
1
NS
0820214-2
Rib
1
NS
0820215-3
Bulkhead
2
NS
0820215-4
Bulkhead
7
NS
0820501-11
Lens
1
NS
0820502-1
Doubler
2
NS
0820521-1
Bracket
2
NS
0820531-1
Bushing
6
NS
0820535-1
Lever
3
NS
0820536-2
Support
1
NS
0820539-1
Fair Exh
1
NS
0820539-2
Fairing
1
AR
0822000-26
Reinforcement
1
AR
0822000-39
Doubler
1
AR
0822000-46
Channel
1
NS
0822001-3
Cover Assy, Hinge
2
AR
0822001-33
Plate
3
NS
0822005-47
Cover
1
NS
0822006-1
Bracket
1
AR
082201-33
Angle
4
NS
0822022-1
Rib
1
NS
0822025-1
Skin
1
NS
0822028-1
Former
1
NS
0822028-2
Former
1
NS
0822029-1
Former
1
NS
0822029-2
Former
1
NS
0822030-3
Stringer
2
NS
0822030-7
Stringer
1
NS
0822034-10
Angle
2
NS
0822034-9
Angle
2
NS
0822035-7
Rib
1
NS
0822037-18
Skin
1
NS
0822037-25
Skin
1
NS
0822037-62
Skin
1
NS
0822038-32
Shim
1
NS
0822040-10
Rib
1
NS
0822040-21
Rib
1
NS
0822040-6
Rib
1
NS
0822040-9
Rib
1
NS
0822100-1
Rib
1
NS
0822100-104
Rib
1
NS
0822100-18
Cap
1
NS
0822100-21
Structure
1
NS
0822100-54
Angle
1
NS
0822100-55
Structure
1
NS
0822100-59
Block
2
NS
0822100-80
Rib
2
NS
0822175-13
Doubler
1
NS
0822175-15
Angle
1
NS
0822175-30
Doubler
1
NS
0822175-31
Doubler
2
NS
0822175-53
Rib
1
AR
0822175-7
Web
1
NS
0822175-8
Web
1
NS
0822177-3
Filler
3
NS
0822180-8
Support
1
AR
0822275-102
Doubler
13
NS
0822275-123
Stiffener
2
NS
0822275-13
Web
2
NS
0822275-133
Rib
4
NS
0822275-14
Rib
1
NS
0822275-146
Rib
1
NS
0822275-152
Rib
1
NS
0822275-157
Rib
1
NS
0822275-162
Rib
1
AR
0822275-162
Rib
1
NS
0822275-163
Rib
1
NS
0822275-165
Door
1
NS
0822275-178
Rib
1
NS
0822275-185
Hinge Half
1
NS
0822275-25
Rib
1
NS
0822275-26
Rib
2
NS
0822275-69
Rib
1
NS
0822275-73
Rib
2
NS
0822275-75
Rib
1
NS
0822275-76
Rib
3
NS
0822275-88
Angle
1
NS
0822350-0
Rib
1
NS
0822350-11
Rib
1
NS
0822350-110
Rib
2
NS
0822350-112
Rib
3
NS
0822350-114
Rib
2
NS
0822350-117
Rib
2
NS
0822350-118
Rib
1
NS
0822350-119
Rib
1
NS
0822350-12
Rib Assy
1
NS
0822350-13
Rib
1
NS
0822350-17
Rib
1
NS
0822350-173
Channel
1
NS
0822350-175
Stringer
1
NS
0822350-18
Rib
2
NS
0822350-19
Rib
1
NS
0822350-194
Rib
1
NS
0822350-20
Rib
2
NS
0822350-203
Rib
1
NS
0822350-204
Rib
1
AR
0822350-205
Rib
1
NS
0822350-208
Rib
2
NS
0822350-228
Rib
1
NS
0822350-24
Rib
1
NS
0822350-26
Rib
1
NS
0822350-266
Rib
1
NS
0822350-269
Rib
1
NS
0822350-278
Rib
1
NS
0822350-280
Rib
1
NS
0822350-35
Rib
1
NS
0822350-45
Rib
1
NS
0822350-46
Rib
1
NS
0822350-47
Rib
1
NS
0822350-48
Rib
1
NS
0822350-49
Rib
1
NS
0822350-50
Rib
2
NS
0822350-7
Rib
1
NS
0822350-8
Rib
2
NS
0822350-91
Rib
8
NS
0822360-46
Rib
1
NS
0822367-1
Door
1
NS
0822380-24
Cover
1
NS
0822380-32
Doubler
1
NS
0822380-59
Doubler
9
NS
0822380-6
Door
2
NS
0822380-63
Door
9
NS
0822500-33
Fitting
5
NS
0822500-4
Skin
1
NS
0822500-8
Plate
1
NS
0822509-1
Stringer
3
NS
0822509-2
Stringer
3
NS
0822510-14
Stringer
3
NS
0822510-32
Cover
1
NS
0822510-8
Skin
1
NS
0822511-13
Channel
1
NS
0822550-10
Fitting
1
NS
0822550-26
Fitting Lwr Fwd RH
1
NS
0822550-6
Fitting
1
NS
0822554-10
Bracket
6
NS
0822555-3
Rib
1
NS
0822557-7
Rib
1
NS
0822560-1
Cover
1
NS
0822569-12
Stringer
1
NS
0822569-7
Stringer
4
NS
0822569-9
Stringer
2
NS
0822580-1
Doubler
2
NS
0822591-1
Rib
4
NS
0822591-2
Rib
1
NS
0822600-16
Cap Spar
1
NS
0822600-19
Reinforcement
2
NS
0822600-22
Angle
2
NS
0822600-23
Reinforcement
1
NS
0822600-29
Fitting
1
NS
0822600-30
Fitting, Aft
3
NS
0822600-4
Web
2
NS
0822608-6
Rib
5
NS
0822608-8
Rib
1
NS
0822610-22
Skin
1
NS
0822610-4
Skin
1
NS
0822610-40
Skin
2
NS
0822613-1
Channel
1
NS
0822613-2
Channel
3
NS
0822684-2
Fitting
2
NS
0822790-5
Fitting
1
NS
0822815-31
Stringer
4
NS
0822815-32
Stringer
2
NS
0822815-47
Stringer
1
NS
0822815-49
Stringer
1
NS
0822815-53
Stringer
1
NS
0822815-54
Stringer
1
NS
0823000-110
Floor- Sump
1
NS
0823000-127
Skin
1
NS
0823000-128
Skin
2
NS
0823000-138
Skin
1
NS
0823000-29
Strip
1
NS
0823000-62
Cover
1
AR
0823000-66
Skin
1
NS
0823000-76
Skin Floor Tip Tank
1
NS
0823000-88
Skin
1
NS
0823000-92
Door Assy.
1
NS
0823000-93
Door
1
NS
0823009-1
Cover
2
NS
0823075-12
Bulkhead
1
NS
08231-
Bearing
17
NS
08231-20629
Bearing
3
NS
0823226-1
Cap
1
AR
0823230-1
Cap
1
NS
0823231-1
Cap
2
NS
0823330-16
Skin
1
NS
0823333-5
Rib
1
NS
0823333-6
Rib
1
NS
0823336-2
Angle
1
NS
0823336-4
Angle
1
NS
0823337-1
Grommet
7
NS
0823337-2
Grommet
65
NS
0823338-1
Skin
1
NS
0823338-2
Skin
1
NS
0823339-2
Skin
1
NS
0823339-4
Skin
1
NS
0823341-1
Former
1
NS
0823341-2
Former
1
NS
0823342-1
Stiffener
1
NS
0823342-2
Stiffener
1
NS
0823348-1
Angle
1
NS
0823355-1
Gasket
1
NS
0823356-10
Angle
1
NS
0823356-2
Angle
2
NS
0823356-9
Angle
2
NS
0823400-105
Angle
1
NS
0823400-106
Angle
1
NS
0823400-144
Panel
1
NS
0823400-157
Plate
1
NS
0823400-190
Cable
2
NS
0823400-46
Gasket
4
NS
0823400-56
Doubler
1
NS
0823400-64
Bulkhead Spar
2
NS
0823400-65
Angle
1
NS
0823400-71
Plate
1
NS
0823400-73
Doubler
1
NS
0823400-77
Band
1
NS
0823400-78
Band
1
NS
0823403-2
Support
1
NS
0823403-7
Support
1
NS
0823403-8
Shield
2
NS
0823411-1
Cap
1
AR
0823412-13
Adaptor
1
NS
0823412-14
Adapter
1
NS
0823413-1
Fairing
1
NS
0823413-3
Fairing
4
AR
0823413-4
Fairing
1
NS
0823413-5
Doubler
1
NS
0823413-8
Fairing
1
NS
0823416-10
Doubler
1
NS
0823416-10
Doubler
2
NS
0823416-11
Bulkhead
3
NS
0823416-12
Bulkhead
4
NS
0823416-9
Doubler
2
NS
0823420-2
Cover
1
NS
0824000-22
Rib
1
NS
0824000-38
Angle
1
NS
0824000-40
Bracket
1
NS
0824000-91
Skin
1
NS
0824006-1
Hinge
1
AR
0824006-1
Hinge
1
NS
0825000-18
Frame
1
NS
0825000-35
Rib
1
NS
0825000-36
Rib RH
1
NS
0825000-41
Rib
1
NS
0825000-44
Rib
1
NS
0825000-46
RIb
3
NS
0825000-59
Skin
1
NS
0825000-60
Skin
1
NS
0825000-81
Doubler Outbd LH
1
NS
0825000-82
Flap, RH Outboard
1
OH
0825000-83
Flap, LH Outboard
1
OH
0825000-94
Doubler
1
NS
0825000-96
Flap, RH Inboard C310
1
OH
0825000-97
Flap, LH Inboard C310
1
OH
0826000-13
Channel
1
NS
0826000-27
Doubler
1
NS
0826000-30
Hinge Half
3
NS
0826005-4
Arm Hinge Door
2
NS
0826005-4
Arm Hinge
1
AR
0826018-233
Tube Assy
1
NS
083000-66
Skin
1
NS
0831000-10
Skin
1
NS
0831000-3
Trim Tab Rudder C310
1
SV
0831000-43
Plate
1
NS
0831000-50
Horn, Trim Tab
1
AR
0831000-88
Hinge
1
NS
0831002-11
Skin
1
NS
0831002-11
Skin
1
NS
0831002-13
Skin
2
NS
0831002-14
Skin
1
NS
0831002-15
Skin
2
NS
0831002-18
Skin
1
NS
0831002-207
Rudder C340
1
OH
0831002-4
Skin
1
NS
0831002-50
Rudder C310
1
OH
0831002-51
Rudder C310
1
OH
0831002-53
Rudder C340
1
OH
0831002-56
Rudder - C340
1
OH
0831002-6
Fairing
1
AR
0831002-61
Rudder - C310
1
OH
0831005-3
Strap Bonding
4
NS
0831016-2
Tip
1
NS
0831018-6
Tip
1
NS
0831018-802
Tip
8
AR
0831019-1
Placard
8
NS
0831116-1
Tip
2
AR
0831116-1
Tip
2
NS
0831250-82
Spar
1
AR
0831253-2
Tip
2
AR
0831253-2
Rudder C310
1
OH
0831253-7
Skin
1
NS
0831282-3
Screw
1
NS
0831323-1
Channel
2
NS
0831325-1
Bellcrank
4
AR
0831336-1
Tip
2
AR
0831338-1
Channel
1
NS
0831359-9
Torque Tube, Rudder
3
AR
0831360-1
Tip
4
AR
0831364-2
Bracket
1
NS
0832000-13
Skin
1
NS
0832000-14
Skin
3
NS
0832000-15
Skin
2
NS
0832000-17
Skin LH Inbd
1
NS
0832000-186
Skin
1
NS
0832000-20
Spar
2
AR
0832000-22
Channel
1
AR
0832000-24
Channel
1
NS
0832000-25
Skin
1
NS
0832000-29
Block
1
NS
0832000-3
Skin
1
NS
0832000-327
Skin
2
NS
0832000-328
Skin
1
NS
0832000-33
Bellcrank
1
NS
0832000-55
Bracket
2
NS
0832000-61
Gusset
5
NS
0832000-62
Gusset
4
NS
0832106-1
Stiffener
1
AR
0832111-4
Rib
1
NS
0832115-1
Tip
2
NS
0832120-1
Tip
3
NS
0832120-1
Tip
4
AR
0832125-3
Weight
1
NS
0832126-1
Elevator LH C310
1
NS
0832126-12
Trim Tab, RH Elevator C310
1
NS
0832126-19
Skin
1
NS
0832126-20
Skin
2
NS
0832126-3
Skin
1
NS
0832126-4
Skin
5
NS
0832126-7
Skin
5
NS
0832130-1
Rib
1
NS
0832130-1
Rib
4
AR
0832131-1
Rib
7
AR
0832143-5
Horn
1
NS
0832144-1
Rib
9
AR
0832144-2
Rib
13
AR
0832144-2
Rib
1
NS
0832145-1
Trim Tab RH Elevator C320
2
NS
0832250-13
Spar 310 Horiz Stab Spar
1
NS
0832250-19
Rib
1
NS
0832250-20
Rib
1
NS
0832250-200
Rib
4
NS
0832250-21
Rib
1
NS
0832250-22
Rib
1
NS
0832250-23
Rib
1
NS
0832250-29
Rib
3
NS
0832250-29
Rib
5
AR
0832250-32
Rib
3
NS
0832250-33
Rib
4
NS
0832250-38
Rib
22
AR
0832250-39
Rib
1
NS
0832250-39
Rib
17
AR
0832250-4
Rib
7
NS
0832250-40
Rib
5
NS
0832250-49
Angle
1
NS
0832250-64
Spar
2
NS
0832250-66
Rib
2
AR
0832250-66
Rib
2
NS
0832250-67
Rib
2
AR
0832250-69
Rib
8
NS
0832250-7
Angle
1
AR
0832250-75
Support
2
NS
083314-2
Nose Cone
1
AR
0840125-4
Rod
1
AR
0840125-5
Tube
3
AR
0840125-6
Rod
4
AR
0841000-2
Bushing
2
NS
0841000-6
Clamp
8
NS
0841000-70
Washer
2
NS
0841000-80
Spacer
3
NS
0841000-85
Washer
4
NS
0841000-99
Bushing
6
NS
0841003-2
Bushing
14
NS
0841004-1
Washer
13
NS
0841004-2
Washer
11
NS
0841004-3
Washer
13
NS
0841004-4
Washer
13
NS
0841004-5
Washer
6
NS
0841004-6
Spacer
10
NS
0841004-7
Spacer
19
NS
0841004-8
Shim
2
NS
0841004-9
Spacer
1
NS
0841006-
Spring
2
NS
0841009-2
Cable
2
NS
0841012-1
Fitting
5
NS
0841064-9
Seal
5
NS
0841104-2
Rocker Arm
1
AR
0841104-3
Arm Rocker
1
AR
0841104-3
Rocker Arm
1
AR
0841106-1
Bellcrank
1
AR
0841106-5
Bellcrank, Idler, LH
1
AR
0841110-1
Lock Assy-Slide Brace
1
AR
0841111-1
End Fitting
1
NS
0841113-2
Screw
1
NS
0841130-2
Rod
1
AR
0841136-4
Bellcrank
1
AR
0841136-4
Bellcrank
1
NS
0841138-1
Rod
1
AR
0841140-4
Arm Uplock
113
NS
0841200-15
Ring
2
NS
0841200-16
Valve
1
AR
0841200-19
Ring
27
NS
0841200-25
Ring
36
NS
0841200-31
Spacer
1
NS
0841200-7
Plug
1
NS
0841203-1
Spacer
3
NS
0841235-3
Bracket
4
NS
0842000-35
Spacer
3
NS
0842000-44
Bracket
1
NS
0842000-70
Truss
1
AR
0842000-74
Bracket
1
AR
0842000-74
Bracket
1
NS
0842007-1
Retainer
2
AR
0842010-1
Bracket
1
NS
0842104-1
Bellcrank
1
NS
0842104-2
Bellcrank
1
AR
0842105-1
Bracket
2
AR
0842105-7
Bracket Drag Link LH
1
AR
0842110-1
Housing
1
AR
0842120-1
Tube Assy
1
AR
0842122-9
Link
1
AR
0842130-4
Tube
1
AR
0842140-2
Bellcrank
1
AR
0842400-4
Plug
2
NS
0842400-7
Ring
5
NS
0842413-2
Head Bearing
1
NS
0843350-4
Angle
1
NS
0843360-2
Bulkhead
3
NS
0843400-137
Bushing
1
NS
0843400-39
Spacer
1
AR
0843400-42
Pin
1
NS
0843400-57
Crank Assy
1
AR
0843406-1
Rod
2
AR
0843414-3
Tube Ay
1
AR
0843500-35
Bolt Fork (alt 5243518-3)
4
NS
0843500-6
Link
1
NS
0843500-61
Tube
1
AR
0843510-15
Weld
2
AR
0843510-16
Weld
3
AR
0843538-1
Hinge
1
AR
0843538-1
Hinge
8
NS
0843538-3
Hinge
1
AR
0843538-800
Hinge
6
NS
0850007-4
Strap
2
NS
0850250-1
Unit (Alt C6334-16)
1
NS
0850300-1
Bulkhead (alt 0850300-6)
2
AR
0850308-1
Ring Ay.
1
AR
0850308-2
Ring Ay.
1
NS
0850312-1
Doubler
6
NS
0850326-4
Fillet
1
NS
0850330-3
Spacer
3
NS
0850342-1
Arm
1
NS
0850342-3
Arm
6
NS
0850352-1
Plate
1
NS
0850372-10
Plate
5
NS
0850372-27
Door - Cowl Flap
4
NS
0850372-7
Door
2
NS
0850410-1
Valve Drain
2
NS
0850418-3
Pin
1
NS
0850423-3
Hinge Half
4
NS
0850423-4
Hinge Half
2
NS
0850423-5
Bracket
3
NS
0850436-2
Support
2
NS
0850451-2
Valve Assy Heater
1
AR
0850456-1
Separator
1
AR
0850459-8
Spacer
1
NS
0850475-8
Filter
1
AR
0850489-1
Spring
4
NS
0850491-3
Cover
2
NS
0850492-5
Plate
3
AR
0850492-6
Plate
1
AR
0850496-2
Baffle
3
NS
0850500-31
Bushing
7
NS
0850509-1
Clevis
7
NS
0850525-1
Hinge
4
NS
0850526-1
Spring
5
NS
0850531-3
Arm
2
NS
0850532-1
Shaft
2
NS
0850540-7
Bracket
1
NS
0850553-1
Plate Mounting Airbox
1
NS
0850557-1
Baffle
2
NS
0850564-4
Shroud
2
NS
0850575-6
Door
3
NS
0850597-1
Tube
1
NS
0850597-1
Tube
3
NS
0850600-6
Flange
2
NS
0850600-90
Riser
1
NS
0850600-91
Riser
1
NS
0850604-8
Bracket
4
NS
0850625-7
Insulation
2
NS
0850626-10
Diffuser
1
NS
0850631-1
Bulkhead
1
NS
0850631-2
Bulkhead
1
NS
0850631-2
Bulkhead
1
NS
0850632-1
Bulkhead
1
NS
0850634-1
Rib
1
NS
0850635-1
Rib
1
NS
0850636-1
Stiffener
1
NS
0850638-1
Stiffener
2
NS
0850638-2
Stiffener
2
NS
0850639-1
Doubler
1
NS
0850642-4
Channel
1
NS
0850649-11
Plate
4
NS
0850651-2
Rib
3
NS
0850662-1
Gasket
4
NS
0850707-1
Bracket
1
NS
0850712-30
Ring
3
NS
0850723-1
Brace
2
NS
0850724-1
Brace
7
NS
0850730-2R
Stack
1
NS
0850731-5R
Exhaust
1
OH
0850902-1
Shroud
2
NS
0851000-1
Stiffener
1
NS
0851000-105
Support
1
NS
0851000-108
Block
2
NS
0851000-120
Stiffener
4
NS
0851000-124
Ring
6
NS
0851000-151
Hinge
1
NS
0851000-167
Skin
1
NS
0851000-176
Angle Assy
1
NS
0851000-192
Channel
2
NS
0851000-193
Reinforcement
1
NS
0851000-194
Channel
2
NS
0851000-197
Stiffener
1
NS
0851000-199
Skin
3
NS
0851000-206
Adaptor
1
NS
0851000-217
Stiffener
1
NS
0851000-221
Splice
2
NS
0851000-225
Fillet
1
NS
0851000-50
Hinge
1
NS
0851000-51
Fillet
1
NS
0851000-52
Fillet
1
NS
0851000-75
Former
2
NS
0851005-12
Stiffener
1
NS
0851005-21
Doubler
1
NS
0851005-23
Cap
2
AR
0851005-24
Nose Cap, RH
2
AR
0851010-1
Cowl
1
AR
0851017-1
Doubler
1
AR
0851019-1
Door
1
AR
0851020-11
Strip
4
NS
0851020-12
Skin
1
NS
0851025-2
Support
1
NS
0851029-1
Placard
1
NS
0851036-1
Clip
27
NS
0851040-23
Cap Nose
1
NS
0851040-28
Cap Nose
2
NS
0851040-29
Cap Nose
1
NS
0851040-8
Strip
1
NS
0851045-10
Skin
1
NS
0851046-2
Support
2
AR
0851053-5
Shroud
1
NS
0851117-202
Cap-Nose
1
NS
0851120-22
Skin
2
NS
0851120-24
Skin
1
NS
0851120-28
Skin
1
NS
0851121-11
Doubler
1
NS
0851121-13
Doubler
3
NS
0851121-14
Doubler
1
NS
0851125-2
Doubler
4
NS
0851126-1
Bulkhead
5
NS
0851127-2
Doubler
2
NS
0851135-3
Angle
1
NS
0851160-7
Frame
2
NS
0851164-204
Door Assy
1
NS
0851164-27
Skin
1
AR
0851166-1
Baffle
1
NS
0851170-18
Hinge
1
NS
0851170-213
Panel
1
NS
0851171-1
Block
3
NS
0851184-1
Tube
1
NS
0851204-5
Baffle
1
NS
085149-2-6
Plate
1
NS
0851500-134
Support
1
NS
0851500-151
Fillet
1
NS
0851500-19
Bracket
1
NS
0851500-32
Cover
1
NS
0851500-36
Channel
1
NS
0851500-38
Channel
1
NS
0851500-40
Channel
1
NS
0851500-42
Channel
1
NS
0851524-2
Bracket
1
NS
0851525-18
Hinge Half
6
NS
0851525-2
Hinge
1
NS
0851538-1
Link
1
NS
0851539-4
Arm
4
NS
0851539-5
Bolt
7
NS
0851552-1
Support
8
NS
0851561-2
Former
2
NS
0851562-5
Former
1
NS
0851564-1
Washer
13
NS
0851571-1
Link
2
NS
0851589-2
End
1
NS
0851590-1
Plate
1
NS
0851601-13
Web
1
NS
0851601-21
Web
1
NS
0851613-3
Bracket
2
NS
0851619-1
Barrel
1
NS
0851631-60
Fair Bag C
1
NS
0851631-68
Fairing
1
NS
0851631-71
Fairing
1
NS
0851700-101
Tab
1
NS
0851700-108
Seal
1
NS
0851700-116
Baffle
1
NS
0851700-117
Baffle
1
NS
0851700-118
Baffle
1
NS
0851700-121
Baffle
1
NS
0851700-14
Lug
1
NS
0851700-39
Support
2
NS
0851700-61
Zee
1
NS
0851700-68
Support
1
NS
0851700-69
Baffle
3
NS
0851700-9
Plate
1
NS
0851700-95
Stud
1
NS
0851700-96
Bracket
1
NS
0851711-1
Baffle
3
NS
0851712-21
Seal
1
NS
0851712-9
Baffle
1
NS
0851715-1
Shroud
1
NS
08517192-10
Skin
2
NS
08517192-9
Skin
1
NS
0851734-10
Doubler
1
NS
0851734-7
Doubler
4
NS
0851734-8
Doubler
1
NS
0851734-9
Doubler
1
NS
0851738-23-1
Door
1
NS
0851740-1
Baffle
3
NS
0851740-2
Bracket
5
NS
0851743-1
Baffle Fwd Inner Cylinder
3
NS
0851743-2
Baffle
5
NS
0851753-1
Baffle
1
NS
0851754-1
Baffle
1
NS
0851754-1
Baffle
1
NS
0851754-4
Baffle
1
NS
0851757-1
Baffle AY
1
NS
0851757-2
Baffle
1
NS
0851758-5
Baffle
1
NS
0851780-5
Angle
1
NS
0851780-8
Skin
1
NS
0851781-29
Support
1
NS
0851781-36
Support RH
1
NS
0851783-11
Doubler
1
NS
0851783-12
Doubler
2
NS
0851784-6
Angle
1
NS
0851792-11
Fairing
1
NS
0851792-12
Cover
2
NS
0851792-22
Fairing
1
NS
0851793-3
Skin
1
NS
0851793-31
Strap
1
NS
0851793-39
Shim
12
NS
0851793-43
Strap
1
AR
0851795-1
Placard
6
NS
0851800-3
Skin
1
NS
0851800-3
Skin
2
NS
0851811-4
Skin
1
NS
0851813-7
Channel
1
NS
0851816-31
Fillet
1
AR
0851816-37
Fillet
5
NS
0851816-40
Fillet
2
NS
0851816-41
Fillet
2
NS
0851816-42
Fillet
1
NS
0851816-43
Fillet
2
NS
0851816-44
Fillet
3
NS
0851817-15
Shield
1
NS
0851818-1
Baffle
1
NS
0851818-1
Baffle
1
NS
0851818-3
Baffle
1
NS
0851838-3
Baffle
1
NS
0851841-1
Support
1
NS
0851846-26
Baffle
2
NS
0851854-1
Baffle
2
NS
0852000-15
Support
2
NS
0852000-26
Link
4
NS
0852004-2
Baffle
2
NS
0852004-3
Baffle
1
NS
0852005-28
Baffle
1
NS
0852005-33
Adaptor
2
NS
0852013-206
Nose Cap
1
AR
0852013-208
Nose Cap
1
NS
0852013-210
Nose Cap
1
NS
0852593-15
Valve, Air
2
NS
0852593-200
Alt Air Door
1
NS
0852593-202
Ail Air Door
1
NS
0852600-6
Seal
1
NS
0852600-7
Support
1
NS
0854016-8
Arm
1
NS
0854016-9
Arm
1
NS
0855013-1
Valve, Fuel
1
NS
0855020-4
Valve Fuel
2
AR
0855030-15
Bulkhead
1
AR
0855030-3
Support
7
AR
0855042-3
Adaptor
4
AR
0860060-1
Cable
1
NS
0860207-111
Cable
1
NS
0860207-114
Cable
15
NS
0860207-11CR
Cable
1
NS
0860207-123
Cable
1
NS
0860207-138
Cable Aileron
1
NS
0860207-146
Cable-Elevator
1
NS
0860207-150
Cable
2
NS
0860207-21
Cable
2
NS
0860207-37
Cable
2
NS
0860207-89
Cable
1
NS
0861100-97
Guard
1
NS
0861106-5
Switch
1
NS
0861108-5
Marker
1
NS
0861116-1
Spacer
7
NS
0861129-2
Placard
1
NS
0861129-8
Placard
1
NS
0861149-5
Placard
1
NS
0861207-1
Spring
2
NS
0861212-1
Spacer
2
NS
0861232-1
Rack
2
NS
0861233-1
Knob
1
NS
0861233-2
Knob
2
NS
0861310-3
Overlay
1
NS
0861313-1
Overlay-Steering Yoke
2
NS
0861315-2
Overlay
19
NS
0861317-2
Bracket
1
NS
0861324-2
Pin
2
NS
0861354-1
Bushing
1
NS
0861400-54
Link
4
NS
0861500-1
Bellcrank
1
NS
0861500-13
Bellcrank
1
NS
0861500-50
Key
1
NS
0861500-72
Spacer
2
NS
0861520-1
Clamp
1
NS
0861700-20
Pin
1
NS
0861700-21
Pin
11
NS
0861701-2
Plate
1
NS
0861710-3
Piston
1
NS
0861910-
Spring
1
NS
0862100-19
Bushing Flap Bellcrank
1
AR
0862100-51
Rod Assy
1
NS
0862100-57
Rod
2
AR
0862100-58
Rod
2
AR
0862101-12
Link
1
NS
0862101-23
Spacer
2
NS
0862101-24
Spacer
3
NS
0862101-25
Spacer
11
NS
0862101-27
Link
1
NS
0862101-5
Link Ay.
2
AR
0862101-5
Link
1
NS
0862101-6
Link Ay.
2
AR
0862109-10
Hinge
1
NS
0862109-9
Hinge
1
NS
0866002-1
Bracket
2
NS
0870009-1
Cap
1
AR
0870041-10
Clip
1
NS
0870041-13
Brush
4
NS
0870059-13
Stiffener
1
NS
0870124-4
Support
1
NS
0870135-31
Angle
1
NS
0870140-18
Angle
10
NS
0870142-3
Rheostat
1
NS
0870158-7
Plate
1
NS
0870158-8
Plate
1
NS
0874107-12
Stayer
1
NS
0876067-34
Pulley
7
AR
088-00100
Insulator (alt 88-1)
1
NS
088-00125-0001
Hold Down
1
NS
088-00200
Insulator
7
NS
088-0040
Insulator
6
NS
088-0056-03
Knob
1
NS
088-0837-01
Trim
1
NS
0890012-2
Doubler
2
NS
0890012-3
Doubler LH
1
NS
0890012-5
Doubler
1
NS
0890018-16
Placard
1
NS
0890018-2
Placard
1
NS
0890018-3
Placard
2
NS
0890018-6
Placard
2
NS
0891004-2
Doubler
2
NS
0891004-4
Plate
1
NS
0892202-2
Insert
2
NS
0893200-5
Elevator LH C310
1
OH
0893200-6
Elevator RH C310
1
OH
0894000-2
Reduction Unit
2
AR
0894000-4
Actuator
1
AR
0895000-2
Door
1
NS
0895000-2
Door
1
AR
0895000-3
Door
1
NS
0895000-3
Door
1
AR
0895000-4
Door
1
NS
0895000-9
Door
1
AR
0895008-3
Bulkhead
1
AR
0895008-4
Doubler
3
NS
0895008-6
Washer
23
NS
0897-1R
Rib
1
NS
0897010-4
Tube
3
NS
0897010-5
Tube
1
NS
0897010-8
Placard
1
NS
089753-
Coupler Link
2
NS
0898000-1
Fastener
47
NS
0898000-2
Fastener
22
NS
0899002-1
Bracket
2
NS
0899002-2
Brace
2
NS
08DU08
Bushing
12
NS
09-02500
Poly Fiber Tape
1
NS
09-19200
Ring
10
NS
09-19300
Plate
6
NS
09006-002
Tube
3
NS
0904-2
Brushes
2
NS
0911130-6
Rod
3
NS
0915000-000
Rod
1
AR
092-01800
Brake Piston Assy
2
NS
0925100-2
Flap LH / RH C162
1
NS
094-10301
Nuts
37
NS
094-10401
Nut
9
NS
094-15100
Nut
3
NS
0941001-1
Brushes
2
NS
095-02600
Static Seal
17
NS
095-10500
Washer
60
NS
0950265-
Cap
3
AR
09608-003
Inlet
1
NS
096CM
Snap Ring
10
NS
097-1501-35
Capacitor
7
NS
099001-058
Exhaust
1
AR
099001-132
Riser
2
NS
099005-401
Clamp
1
NS
1-0426013-2
Gasket
1
NS
1-070-004-01
Spacer
1
NS
1-0F712
Oil Filter
1
NS
1-101A-115S-7
Inverter
1
AR
1-10408
Seal
3
NS
1-130-097-02
Seal
1
NS
1-1317-AC
Fuel Lever Transmitter
1
NS
1-1737
Cover
1
AR
1-225094-2
Connector
5
NS
1-2395
Pulley
2
NS
1-2456-3
Rod
2
NS
1-4714-1
Bracket
2
NS
1-480350-0
Socket Housing
21
NS
1-480351-0
Connector
16
NS
1-480698-0
Plug
2
NS
1-480702-0
Connector
2
NS
1-507-1
Muffler
1
NS
1-H919
Metal seal
3
NS
1-PB08-001
Switch
3
NS
1.5KE51CA
Transorb
5
NS
1/16X5/8TYP3
Pin
10
NS
1/2-2-81-105
Fuel Meter
1
AR
1/4 Ball Bearing
Bearing, Ball
1
NS
10-03380
Tack Cable
1
NS
10-0644-1
READING LIGHT
5
AR
10-100-909
Screen
4
NS
10-102079
Cam
1
NS
10-102090
Spring
1
NS
10-12046Y
Cist. Cyl. Rotor
2
NS
10-157123Y
Gear, Magneto
1
NS
10-157134
Plug
1
NS
10-157158
Screw
8
NS
10-157159
Screw
1
NS
10-157161
Screw
5
NS
10-157208
Kit
1
NS
10-157209
Kit
1
NS
10-157241
Lead
4
NS
10-160844
Brush
1
NS
10-163011
Ferrule
7
NS
10-163049
Bushing
9
NS
10-163131
Capacitor
2
NS
10-163131
Capacitor
1
AR
10-163374-4
Felt
4
NS
10-180157-1
Tube
1
NS
10-2144-75
Check Valve
1
AR
10-2429-1
Canopy Latch Pin
1
NS
10-24X13/4
Screw
11
NS
10-24X21/2
Screw
11
NS
10-25055
Sender
1
AR
10-25459
Gear
4
NS
10-257982-20F
Contact (type MS3193-A20-20A)
9
NS
10-320169
Plate Assy
2
NS
10-320283
Clamp
82
NS
10-320298-1
Clamp
1
NS
10-320323
Washer
23
NS
10-320324
Washer
23
NS
10-320394
Plate
2
NS
10-320467
Terminal
34
NS
10-320468
Terminal
17
NS
10-320604
Ferrule
31
NS
10-320628
Bushing
14
NS
10-320649
Kit
10
NS
10-320651
Bushing
11
NS
10-320777
Grommet
19
NS
10-32326
Spring
7
NS
10-325582
Sleeve
1
NS
10-349276
Capacitor
1
NS
10-349323-1
Plate
3
NS
10-349354-2
Cam
1
NS
10-349354-3
Cam
1
NS
10-349511
Washer
1
NS
10-3503
Washer
6
NS
10-350793
Breaker
2
NS
10-353056
Bearing
4
NS
10-353060
Bearing, Roller
2
NS
10-353110
Bearing
1
NS
10-353111
Bushing
1
NS
10-353115
Seal Oil
3
NS
10-357078
Bushing
6
NS
10-3570797
Magneto Point
1
NS
10-357165
Coil
1
NS
10-357173
Contact, Ignition, Magneto
7
NS
10-357193
Bushing
2
NS
10-357200-1
Switch
1
AR
10-357424
Block
1
NS
10-357510
Repair kit
5
NS
10-357592
Seal
9
NS
10-35922-12
Fitting
2
NS
10-35936-6
Screw
21
NS
10-380051-4A
Hose
1
AR
10-382519
Block
1
NS
10-382584
Contact Assy.
1
NS
10-382585
Control
3
NS
10-382681
Capacitor
1
AR
10-382681
Capacitor
2
NS
10-382807
Capacitor
1
AR
10-382959
Screw
4
NS
10-382993
Placard
7
NS
10-391213
Screw
4
NS
10-391421
Bushing
2
NS
10-391586
Block
1
NS
10-400567
Bearing
1
NS
10-450949-10
Gasket
6
NS
10-50739
Plate
2
NS
10-50766
Plate
2
NS
10-50771
Plate
5
NS
10-51354
Washer
15
NS
10-51391
Plug
5
NS
10-51676
Condenser
2
NS
10-51678
Oil Seal Deflector
4
NS
10-520024-11
Support
1
NS
10-52305-1
Kit Ground Terminal Assy
1
NS
10-52939Y
Cover
1
NS
10-52949
Block
1
NS
10-52958
Block
1
NS
10-620009
Ferrule
30
NS
10-620026-2
Clamp
1
NS
10-620039-5
Plate
3
NS
10-620109
Ferrule
10
NS
10-620641-20
Spark Plug Lead
2
NS
10-620642-74
Lead
1
NS
10-682007
Seal Kit
5
NS
10-7713
Condenser
1
NS
10-81806
Bearing
9
NS
10-8560
Bushing
6
NS
10-90404-4
Nut
12
NS
10-92815-62
Snap Ring
3
NS
10-94460-60
Kit
4
NS
100-000133-1
Placard
3
NS
100-110010-61
Wedge
3
NS
100-110020-601
Rib
1
NS
100-110029-1
Access Door
1
AR
100-110065-3
Rib
33
NS
100-110065-4
Rib
66
NS
100-110067-109
Conduit-LE Assy
1
NS
100-110067-3
Skin
1
NS
100-110067-75
Conduit
1
NS
100-2M
Louver
1
NS
100-3115117-2
Rib
1
NS
100-324037
Placard
2
NS
100-340557-21
Doubler - Antenna
5
NS
100-364295-3
Windshield Temp Control
1
AR
100-369016-7
Bracket
1
NS
100-380006-121
Probe
1
AR
100-380006-177
Fuel Probe
1
AR
100-380006-95
Probe, Fuel
1
AR
100-381006-1
Switch
2
AR
100-384062-195
Lens
2
NS
100-384125
Antenna
2
AR
100-524145-9
Placard
2
NS
100-524161-7
Clamp
6
NS
100-524174-11
Drum
2
NS
100-524174-15
Lever
1
NS
100-524176-3
Drum-Lever Assy Pedestal
2
NS
100-524197-7
Brake Housing (clamp)
1
NS
100-525196-1
Brake
2
NS
100-530118-19
Trim
1
NS
100-530146
Placard
1
NS
100-530161
Placard
1
NS
100-530168-19
GIMP Seal (Beige)
1
NS
100-530219-41
Bushing
2
NS
100-530323-11
Magnet
2
NS
100-530323-601
Escutcheon Assy
1
NS
100-530330-12C
Cover
1
NS
100-530350-43
Washer
1
NS
100-530354-3
Adaptor
1
NS
100-530360-35
Ash Tray
3
NS
100-530360-43C
Trim
1
NS
100-530411-1
Placard
1
NS
100-530481-1
Placard
2
NS
100-554033-1
Plate
2
NS
100-555023-7
Duct
4
NS
100-555037-29
Cover
3
NS
100-555062-4
Bracket
1
NS
100-570048-1
Tube
1
NS
100-600012
Quadrant Assy
1
AR
100-920001-269
Tube
1
NS
100-920057-3
Placard
2
NS
100-920058-3
Placard
2
NS
100-920066-1
Flame Arrestor
1
NS
100-920069-1
Adaptor
1
NS
100-960037-1
Bracket
1
NS
100-970020
Tube
1
NS
1000-143
Checklist
1
NS
1000-144
Checklist
1
NS
100002037
Name Plate
2
NS
10001137
Tube
2
NS
10001623
Seat
10
NS
10002-015
Skin
1
NS
10002542
Decal
153
NS
10002543
Decal
1
NS
10002609
Aneroid
1
NS
100033-4
Repair Kit
1
NS
100033-6
Repair Kit
2
NS
100037-6
Screw
13
NS
10004397
Mounting Plate
25
NS
10008-019-2
Angle
12
NS
10008-17-1
SEGMENT
1
NS
10008-17-2
SEGMENT
2
NS
10008-19-1
Support
8
NS
100080-3
Nut
21
NS
1001
Catch
4
NS
10010
Saddle Hinge
1
AR
10010
Saddle Fitting
4
NS
100103
Resistor
9
NS
100108-3
Screw
36
NS
100108-5
Screw
68
NS
100108-7
Screw
8
NS
100108-9
Screw
46
NS
100350-0-2
Washer
13
NS
100362
Nut
2
NS
10043-000
Stiffener
1
NS
10044-21
PIVET ASSY
1
NS
1005131-1
Knob
1
NS
100536-802
OAT Sensor W/ Plate?
2
NS
10060
Plug
2
NS
1006670-5
Exhaust Ring
8
NS
100696A-ZC020
Spacer
1
NS
1007
Lamp
3
NS
1007-002
Bracket
2
NS
1007-2
Mounting Bracket
1
NS
100712-006
Duct Assy
2
NS
1007161-3
Expander
7
NS
100725-012
Baffle Assy LH
1
NS
100726-002
Baffle Assy
1
NS
100726-004
Baffle Assy
1
NS
100731-002
Baffle Assy LH
1
NS
100731-003
Baffle Assy RH
1
NS
1007467
Seal Kit
4
NS
1007468
Seal Kit
3
NS
10080-000
Pulley
1
NS
100801-S5-4781
Bushing
1
NS
100801X4-0540
Spacer
4
NS
1008093-000
Seal
4
NS
10086-D1
Rib
1
NS
100871-002
Bail Wire Assembly (89415-000)
1
NS
100942C0020-31
Spring
2
NS
100942L0101-25
Spring
2
NS
100943ZA016J
Spring
2
NS
100943ZS023G
Spring
4
NS
10095-021
Rod
1
AR
100951-X-032XN
Washer
1
NS
100951-X031WB
Washer
4
NS
100951A0064XU
Washer
1
NS
100951DD032WK
Washer
3
NS
100951DD032XM
Washer
1
NS
100951DD040ZZ
Washer
4
NS
100951DD064XM
Washer
2
NS
100951S016XF
Washer
8
NS
100951S016YP
Washer
2
NS
100951S032XF
Washer
1
NS
100951S032XL
Washer
1
NS
100951S071YP
Washer
5
NS
100951X031WB
Washer
10
NS
100951X031YN
Washer
3
NS
100951X032YP
Washer
4
NS
100951X050VP
Washer
1
NS
100951X050ZM
Washer
4
NS
100951X060YA
Washer
1
NS
100951X063XT
Washer
1
NS
100951X063YK
Washer
7
NS
100951X100VW
Washer
1
NS
100B02
Elbow
73
NS
100PL-4
Eye
6
NS
101-00500
O-Ring
1
NS
101-012069-51
Bracket
4
NS
101-012069-53
Support
4
NS
101-012069-73
Bracket
4
NS
101-012069-75
Clip
4
NS
101-012069-77
Angle
4
NS
101-012069-79
Clip
4
NS
101-02700
O-Ring (alt MS28775-222)
25
NS
101-035968-19
Plate
1
NS
101-081021-5
Angle
14
NS
101-110023-1
Washer
10
NS
101-110023-3
Washer
10
NS
101-110031-2
Spar Cap
2
NS
101-110031-4
Spar Cap
2
NS
101-110036-1
Hinge Fitting
2
NS
101-11061-3
Angle
1
NS
101-11061-4
Angle
1
NS
101-120019-5
Cap
1
NS
101-120020-61
Skin-Upper-skin assem TE & REA
1
NS
101-120022-25
Fairlead
1
NS
101-120052-9
Cap
4
NS
101-120055-31
T.E. Rib
28
NS
101-120055-32
T.E. Rib
26
NS
101-120055-35
T.E. Rib
19
NS
101-120055-39
T.E. Rib
46
NS
101-120055-41
T.E. Rib
18
NS
101-120055-6
TE Rib R/H
12
NS
101-120073-29
Shelf
1
NS
101-120103-3
Channel
1
NS
101-120103-9
Stiffener
1
NS
101-120108-119
Liner Upper Inbd
1
NS
101-1201203
Placard
2
NS
101-120122-49
Strap Support
3
NS
101-120124-3
Placard
15
NS
101-120138-1
Decal
4
NS
101-1250055-31
Rib
28
NS
101-1250055-39
Rib
26
NS
101-130001-1
Aileron, LH King Air
1
OH
101-130001-269
Aileron, LH King Air
1
OH
101-130001-293
Aileron, LH King Air
1
OH
101-130001-311
Trim Tab, Aileron LH King Air
1
OH
101-130001-317
Aileron, LH King Air
1
OH
101-130001-325
Aileron LH King Air
1
OH
101-130001-327
Aileron RH King Air
2
NS
101-130003-139
Aileron Tab King Air
1
OH
101-130003-181
Aileron, LH King Air
1
NS
101-130003-183
Aileron RH King Air
1
OH
101-130003-610
Aileron RH King Air
1
OH
101-130003-611
Aileron RH
1
OH
101-160001-17
Flap, LH Inboard King Air
1
NS
101-160001-28
Flap, RH Inboard King Air
1
NS
101-160001-29
Spacer
1
NS
101-160001-35
Flap, LH
1
OH
101-160001-43
Flap Assy LH
1
OH
101-160001-44
Flap RH
1
OH
101-160012-19
Rib
1
NS
101-160012-2
Rib
1
NS
101-160012-23
Rib
1
NS
101-160012-24
Rib
1
NS
101-160012-29
Rib
1
NS
101-160013-11
Bond Assy
10
NS
101-170001-30
Skin
10
NS
101-170005-1
Wing Tip LH Inst
2
NS
101-170005-22
Skin
1
NS
101-170005-3
Wing Tip Assy LH
2
NS
101-170005-603
Wing Tip LH
2
NS
101-170005-603-1
Wing Tip LH
2
NS
101-170010-15
Rib
1
NS
101-24900
O-Ring
4
NS
101-3118-1S
Kit
1
NS
101-320244-17
Plate L/H Inbd
2
NS
101-320363-15
Panel
1
NS
101-340526-3
Cover
1
NS
101-340587-11
Cover
1
NS
101-341101-71W-C
Placard
1
NS
101-342659-335
Placard
1
NS
101-361047-7
Bracket
1
NS
101-364116-3
Plate
1
NS
101-364331-13
Bracket
1
NS
101-364331-3
Harness Aft Partn
2
NS
101-380013-13
Valve
1
OH
101-384028-3
Switch (alt A45C-63)
1
NS
101-384036-33
Water Proof Match Box
19
NS
101-384110-1
Valve
1
NS
101-384223-1
Mask & Container
1
OH
101-3890011-113
Valve, Check
2
AR
101-389006-11
Actuator
1
AR
101-400010-38
Skin
1
NS
101-400010-8
Skin
1
NS
101-400017-33
Skin Top
1
NS
101-400017-41
Skin
1
NS
101-400017-51
Skin
1
NS
101-400017-53
Skin
1
NS
101-400017-55
SKIN LWR LH AFT SIDE FUSE
1
NS
101-4080-1
Placard KIT
1
NS
101-410001-11
Clip
1
NS
101-410001-9
Clip
1
NS
101-410051-1
Panel LH
1
NS
101-410061-1
Skin
1
NS
101-410086-1
Keel Web
9
NS
101-420024-10
Skin Lwr Aft
1
NS
101-420024-45
Glare shield
1
NS
101-420031-9
Doubler
4
NS
101-420041-7
Bulkhead
3
NS
101-420107-1
Support Assy-Seat Track
1
AR
101-430039-3
Plate
1
NS
101-430085-1
Longeron
1
NS
101-430124-1
Decal
1
NS
101-430124-3
Decal
15
NS
101-430179-1
Bracket
1
NS
101-430236-2
Escutcheon
1
NS
101-440017-603
Tail Cone Assy
1
AR
101-440018-5
Fin Center
1
AR
101-514058-9
Bracket
8
NS
101-514106-5
Cable
1
NS
101-514113-21
Actuator Door
1
NS
101-521047-1
Push Rod
2
NS
101-521052-7
Cam
1
NS
101-521055-1
Shaft
1
NS
101-521056-1
Arm
1
NS
101-524013-3
Bracket
1
AR
101-524014-5
Quadrant Assembly
2
AR
101-524030-21
Bellcrank
1
NS
101-524057-1
Dial
1
AR
101-524072-1
Actuator, Elevator Trim
3
AR
101-524078-3
Shim-Actuator Instal Rudder Tr
1
AR
101-524092-1
Push Rod
1
NS
101-524092-31
Push Rod Assy
2
AR
101-524092-47
Actuator Rod Elev Trim KA 350
2
AR
101-524093-1
Clevis
1
NS
101-524093-1
Clevis
1
AR
101-524177-1
Adapter Assy Rudder Trim Tab
1
AR
101-530023-18
Trim, Pedestal Upholstery
1
NS
101-530064-21
Clip
10
NS
101-530143-3
Plate
1
NS
101-530149-17
Retainer
1
NS
101-530231-10
Strut Arm
2
NS
101-530231-12
Strut Arm
1
NS
101-530256-63
Fairing Assy (Blue)
1
NS
101-530294-43
Linen Cap
1
NS
101-530350-15
Plate
1
NS
101-530352-2
Guide
2
NS
101-530361-3
Cable Assy
1
NS
101-530361-7
Cover
1
NS
101-530394-9
Frame
1
NS
101-530419-1
Channel Assy
1
NS
101-530421-5
Spacer Fitting
8
NS
101-530471-23
Cover
4
NS
101-530652-1
Carrier
1
NS
101-530657-1
Knob
1
NS
101-530792-1
Stud Seat Track
1
NS
101-540023-1
Gasket
2
NS
101-550086-59
Cover
2
NS
101-550089-11
Decal
1
NS
101-555089-25
Seal
1
NS
101-555140-1
Support Air Inlet
1
NS
101-555140-3
Support
1
NS
101-560096-3
Placard
1
NS
101-560134-1
Decal
8
NS
101-570020-1
Bracket
2
NS
101-570020-2
Bracket Assy RH
1
NS
101-570020-6
Bracket
1
NS
101-570043-3
Angle
1
NS
101-580107-1
Retainer Assy
7
NS
101-580107-15
Retainer Assy
1
NS
101-590010-127A7
200 Pho Rev
1
NS
101-60001
O-Ring
2
NS
101-600015-603
Fairing
1
NS
101-6003-0003
Kit
1
NS
101-610000-609
Elevator, LH King Air
1
OH
101-610000-610
Elevator, RH King Air
1
OH
101-610000-617
Elevator LH King Air
1
OH
101-610000-618
Elevator RH King Air
1
OH
101-620000-33
Horizontal Stabilizer King Air
1
OH
101-620000-39
Horizontal Stabilizer King Air
1
OH
101-620000-41
Horizontal Stabilizer King Air
1
OH
101-620000-601
Horizontal Stabilizer King Air
1
OH
101-620000-605
Horizontal Stabilizer Assy
1
OH
101-620010-73
Stabilizer Assy
1
OH
101-620010-75
Stabilizer LH
1
OH
101-620010-83
Skin LE Horiz
1
NS
101-620010-84
Skin LE Horiz
1
NS
101-620033-9
Tip
1
AR
101-630000-117
Hinge
3
NS
101-630000-157
Hinge
1
NS
101-630000-613
Rudder King Air
1
OH
101-630000-617
Rudder King Air
1
OH
101-640000-59
Clip
1
NS
101-640001-609
Vert Fin
1
OH
101-8001-11
Brake Lining
5
NS
101-8001-223
Gear
9
NS
101-8001-27
Disc
4
NS
101-8001-37
Rivets
30
NS
101-8001-53
Hub Cap
1
NS
101-8002-15
Disc
1
NS
101-8017-1S
Kit
2
NS
101-810019-1
Link
1
NS
101-810024-1
Bushing
8
NS
101-810103-1
Panel
7
NS
101-810126-3
Swivel Assy.
15
NS
101-810207-1
Washer
1
NS
101-820013-1
Arm
1
NS
101-9026-2
Stack
1
AR
101-910015-151
Plate
23
NS
101-910019-1
Stud
1
NS
101-910021-125
Louver
1
NS
101-910024-101
Reinforcement
2
NS
101-910024-161
Channel
2
NS
101-910024-69
Skin
2
NS
101-910025-29
Clip
1
NS
101-910025-63
Doubler
8
NS
101-910026-39
Bushing
6
NS
101-910026-49
Spacer
2
NS
101-910038-11
Seal
1
NS
101-910038-13
Strip
1
NS
101-910038-5
Clip
1
NS
101-910038-6
Clip
1
NS
101-910049-125
Screen
3
NS
101-910049-131
Plate
1
NS
101-910049-140
Angle
1
NS
101-910049-141
Retainer
3
NS
101-910049-149
Angle, Cowling Assy
3
NS
101-910049-150
Angle Cowling Assy
3
NS
101-910049-153
Angle
3
NS
101-910049-29
Angle
1
NS
101-910049-63
Bracket
1
NS
101-910049-71
Zee
4
NS
101-910049-77
Gusset
3
NS
101-910049-87
Angle
5
NS
101-910060-7
Duct
1
NS
101-910062-7
Cap
1
NS
101-910069-53
Bracket
19
NS
101-910069-57
Arm
1
NS
101-910069-73
Support
6
NS
101-910069-74
Support
1
NS
101-910069-85
Pin
5
NS
101-910114-115
Shock Link
3
NS
101-910116-6
Angle
1
NS
101-910119-109
Angle
1
NS
101-910128-1
Shield
2
NS
101-920000-79
Tube Assy.
3
NS
101-920001-29
Tube Assy.
5
NS
101-920026-1
Doubler
3
NS
101-920058-3 B-C
Decal
1
NS
101-920058-3 W-C
Decal
2
NS
101-920061-15
Gasket
40
NS
101-920061-33
Gasket
2
NS
101-920096-11
Placard
2
NS
101-930000-5
Tube
1
NS
101-930010-10
Side-Duct
1
NS
101-930010-29
Side (Oil Cooler)
2
NS
101-930023-3
Tube
1
NS
101-960026-49
Spacer
1
NS
101-970039-1
Tube
1
NS
101-970082-1
Tube Assy
1
NS
101-980010-24
Angle RH INBD
1
NS
101-980021-3
Doubler
1
NS
101-980022-3
Skin
1
NS
101-980022-4
Skin
1
NS
101-980022-7033
Skin
1
NS
101019-4
Hinge Half
1
NS
101019-501
Door
1
NS
1010946
Pad Cylinder
1
NS
101104-002
Cowl
1
AR
101107-015
Trim Weight Plate
1
NS
101118-002
SPACER, ASSEMBLY
1
NS
101146-00
Gasket
4
NS
101246
Gasket
4
NS
101300
Tab, Access
15
NS
101334-31
Contact
10
NS
101335-002
Clip
4
NS
1014
Boot
10
NS
10150-003-7
Shim
3
NS
10150-011-2
Control
5
NS
101524013-1
Bracket
1
AR
101550
Bearing
1
NS
10171-005
Fitting
1
AR
10172-001-3
Plate
14
NS
10172-004-3
Splice
1
NS
10172-004-4
Splice
3
NS
10182-001-2
Plate
13
NS
10182-001-4
Plates
5
NS
10182-001-5
Plates
4
NS
10182-047-1
Doubler
3
AR
10182-047-2
Doubler
1
NS
10183-905
Tip
1
NS
10188-005-1
Cable
4
NS
101935-09443
Altitude Digitizer
1
AR
101S-K586
Decal
1
NS
102-100014-615
Skin
1
NS
102-100026-15
Former Inbd LE
12
NS
102-1267-01
Filter
1
NS
102-160000-601
Flap, LH B58
2
NS
102-160000-603
Flap Assy
1
NS
102-170010-607
Adapter
1
NS
102-364044-81
Retainer Assy
1
NS
102-410001-55
Angle
1
NS
102-430063-19
Frame
1
NS
102-430138-49
Skin
2
NS
102-430448-1
Skin
1
NS
102-530111-5
Handle
1
NS
102-555019-1
Mounting Assy.
1
NS
102-555034-1
Strip
1
NS
102-91001-95
Tube Assy
2
AR
102-910021-15
Air Inlet
1
AR
102-910024-153
Baffle
2
AR
102-910024-169
Baffle
2
NS
102-910024-179
Baffle
1
SV
102-910024-23
Baffle
2
NS
102-910024-41
Baffle
1
NS
102-910024-95
Baffle
3
AR
102-910024-97
Baffle
1
NS
102-910026-43
Bracket
2
AR
102-910026-59
Bracket
2
AR
102-910026-97
Clamp
4
AR
102-910033-27
Clip
1
NS
102-910036-17
Tube Assy
1
AR
102-910037-19
Tube-Vacuum Pump Instal
2
AR
102-910038-3
Weld Assy-Cover Instl- Turbine
1
AR
102-910038-35
Heat Shield
1
AR
102-910038-43
Angle Assy
3
AR
102-910052-1
Bracket-Air filter Vacuum pump
2
AR
102-980000-267
Cowl
3
AR
102-980019-15
Rib
1
NS
1020
Flasher
9
NS
10201-000
Nipple
1
AR
102050-002
Horizontal Stabilizer PA46
1
OH
10210-007-13AGW
Plate
1
NS
10210-007-19
Angle
1
NS
10210-007-20
SEGMENT
1
NS
10210-007-21
SEGMENT
1
NS
10210-007-3
SEGMENT
4
NS
10210-007-4
SEGMENT
7
NS
10210-007-5
SEGMENT
1
NS
10210-007-7
Splice
2
NS
10210-007-8
Spacer
1
NS
10210-012-2
Plate
2
NS
1021017-1
Rib
1
NS
102149
Hour Meter
1
AR
10221-000
Clevis
1
AR
1023
Relay
5
AR
102300-3
Plate
2
NS
102429-1
Bushing
1
NS
102431
Ball Stud
1
NS
102436-1
Spring
9
NS
102436-7
Spring
3
NS
102464-003
Plate
3
NS
1025
Coupling (alt 14807-00)
1
NS
10280-000
Catch
1
NS
102808-4B012
Washer
2
NS
102889-008
Cover- PA46-500
2
NS
102899B
Switch
4
NS
1029-3
Hose
2
NS
102909-805
Phone Mic Jack Plate
10
NS
10293-000
Grommet
12
NS
102933-2403625
Spacer
8
NS
102933-S4ZC0625
Spacer
3
NS
102948-008
Plate
44
NS
103-11800
Bolt
1
NS
103-610000-21
Rib
1
NS
103025-003
Skin
1
NS
10310-095-5
Doubler
5
NS
10310-095-6
Doubler
6
NS
10310-096-14
Plate
2
NS
103154-002
Hinge Assy
19
NS
1032140-2
Rib
2
NS
10337-003-13
Angle
2
NS
103637
Plate
1
NS
103728-0016
Screw
4
NS
10376-401
Tip
1
NS
10376-402
Tip
1
AR
10377-029
Skin
1
NS
103927
Bolt
80
NS
10398-01
Filter
1
NS
104-05100
Fitting
1
NS
104-05100
Fitting
2
AR
104-130002-6
Skin
4
NS
104-130024-11
Strip
5
NS
104-130024-7
Strip
5
NS
104-410047-3
Support
1
NS
104-410049-5
Bracket
4
NS
104-420000-11
Panel
1
NS
104-420011-3
Cover
2
NS
104-420019-5
Frame
2
NS
104-420065-9
Bulkhead
1
NS
104-430004-19
Bulkhead
3
NS
104-430021-1
Bulkhead
1
NS
104-610001-602
Elevator
1
NS
104-620001-14
Skin
1
NS
104-620001-6
Bulkhead
2
NS
104-620001-601
Stab
1
NS
104-630001-605
Rudder
1
NS
104-810017-5
Orifice
184
AR
104-910029-21
Bulkhead
2
NS
104-920044-11
Tube Assy, Engine Drain
1
NS
104-960063-3
Weld Assy
5
NS
1040
Bch Latch Assy
1
AR
10401-1
Pocket Door Pusher/Latch
3
NS
104233-004
Wire Assy
2
NS
104233-005
Wire
1
NS
10426
Ring
2
AR
104294162P34
Stud
10
NS
10430-000
Clip Assy.
2
NS
10437
Lever (10437-00)
15
NS
10445-01
Toggle Arm
135
NS
1045-58
Retainer
10
NS
104501-004
Fairing
1
AR
104609-002
Panel
1
NS
104644-004
Rub Strip
6
NS
10466-013
Clamp
2
NS
10469
Screw
2
NS
10486
Circlet
5
NS
105-00200
Brake Rivets
200
NS
105-00300
Brake Rivets
25
NS
105-1
Rivets
8
NS
105-100011-101
Stringer
3
NS
105-100011-49
Rib
1
NS
105-100026-3
Plate splice lower
1
AR
105-110011-15
Spar
2
NS
105-130000-1
Aileron LH Duchess
2
NS
105-130000-12
Skin
4
NS
105-160000-13
Spar
3
NS
105-160000-6
Skin
1
NS
105-160000-9
Spar
3
NS
105-190011-19
Skin
1
NS
105-225-101
Breaker
2
NS
105-320011-13
Tube-Air Pressure System
1
NS
105-360016-3
Static Discharger
7
NS
105-410000-165
Door
1
NS
105-410000-219
Skin
1
NS
105-420000-193
Keel
1
NS
105-440000-179
Tail Cone Assy
1
AR
105-440000-179
Tail Cone Assy
1
NS
105-520044-1
Rod End
2
NS
105-600011-31
Fairing
2
AR
105-600011-33
Fairing
1
AR
105-600011-37
Stinger
2
AR
105-610000-3
Elevator Assy RH B76
1
OH
105-610000-49
Tip
1
NS
105-610000-77
Tab Spar
2
NS
105-610000-95
Angle
1
NS
105-620000-67
Rib
2
NS
105-630000-7
Rib
93
NS
105-630000-9
Pin
159
NS
105-910010-75
Gusset
1
NS
105-910011-15
Nose Bowl
1
AR
105-920015-13A
Decal
2
NS
105-980000-179
Skin
3
NS
105-980000-21
Channel
1
NS
105-980000-39
Channel Wing
1
NS
105015-002
Rib LH
13
NS
105015-003
Rib RH
10
NS
105019
Clamp
1
NS
105090-A032-12K
Washer
9
NS
105090A032-10J
Washer
4
NS
10515
Seal
2
NS
10521
Washer
2
NS
1052150
Cowl
1
NS
105350
Link
1
NS
105352
Bushing
3
NS
10538-3
Contact
1
NS
10567-000
Rib
1
NS
10570-7
Support
1
NS
105739-S-YK043
Bushing
6
NS
105739-S-YK0946
Bushing
2
NS
105739-X-YN1375
Bushing
2
NS
105739-X-YR0875
Bushing
2
NS
105739S-YH0230
Bushing (alt 105739-S-YH0230)
6
NS
105739S-YN0385
Bushing
1
NS
105739X-XA0343
Bushing
2
NS
105739X-YN1280
Bushing
1
NS
105740-80312-0483-1110
Bushing
1
NS
105740-X-2R0480
Bushing
2
NS
105740-X-YC0375
Bushing
2
NS
105740-X-YL2008
Bushing (MLG)
1
NS
105740-X-YM1790
Bushing
2
NS
105740X-Y50625
Bushing
2
NS
105740X-YC1125
Bushing
1
NS
105740X-YM1790
Bushing
4
NS
105740X-ZP0385
Bushing
3
NS
105789-18
Clamp
1
NS
10578B
Oil Cooler
1
AR
1058-21-1
Arm
19
NS
1058-28
Plate
19
NS
105982-4A10-002
Bolt
1
NS
10599A
Oil Cooler
1
AR
105C-2586
Socket
1
NS
106-530042-3-462
Trim
1
NS
106-530065-187
Panel
15
NS
106-530078-4C
Pad Arm
1
NS
106-530109
Pan
1
NS
106043-ZA-070
Tube
1
NS
106200G6-8
Hose-Fuel System
2
NS
10627T001
Window
2
NS
10634-005
Rib
1
NS
10634-047
Rib
1
NS
10638
Gasket
1
NS
10647
Bearing
1
NS
10647D-1
Bolt
1
NS
10654-002
Clamp
1
AR
10654-002
Clamp
1
NS
10655-002
Clamp
3
NS
10656-000
Clamp
2
NS
106598A
Arm
31
NS
106598B
Arm
50
NS
106631
Washers, Rubber
10
NS
10664-1
SPIGOT
4
NS
1071X6X2
Adaptor
6
NS
1073
Lamp
2
NS
107473-8-18000
Stringer
3
NS
10749-101
Elevator, LH Cirrus SR20
1
OH
1075-00-1
Valve
3
NS
10756-102
Rudder
1
OH
10758-000
Fitting
4
NS
10762
Retainer
3
NS
10781-4-48CR
Clamp, hose fire sleeve
29
NS
107996-10-1
Thermostat
1
SV
108-110020-8
Rib
1
NS
108-11019-1
Rib
1
NS
108-130010-4U
Skin, Aileron
3
NS
108-130011-2
Tip Fairing, RH
1
NS
108-160010-1
Flap Assy
1
NS
108-160014-3
Rib, LH Flap Assy
1
NS
108-3041118
Stinson Aileron Cable
1
AR
108-430014-7
Cam
1
NS
108-440000-37
Channel
9
NS
108-610000-1
Elevator LH B77 Skipper
1
OH
108-610000-19
Rib
1
NS
108-610000-2
Elevator Assy RH
1
NS
108-610011-13
Half Hinge Tab Assy
1
NS
108-610011-2
Trim Tab RH Elevator
1
NS
108-620000-17
Spar Tip
1
NS
108-620012-1
Tip
1
NS
108-6221710
Support, Stinson
2
AR
108-6221818
Baffle
1
NS
108-630000-1
Rudder
1
SV
108-640000-1
Vertical Fin
1
OH
108-640000-19
Rib
6
NS
108-640000-47
Doubler-vert stab
4
NS
108-640000-601
B 80 Skipper Vertical
1
AR
108-640000-601
Vertical Fin
1
OH
108-910010-13
Doubler
2
NS
108-910010-19
Skin-Fairing Cowling Assy LH
1
NS
1080-001
Screw
4
NS
10804-000
Sight Gage
2
AR
108059-1
Gasket
130
NS
10809-010
Skin
1
NS
10834-000
Elbow
1
AR
108424-2
Bracket
10
NS
10850M10
Cap Light Blue
1
NS
10850M3
Cap Light Green
1
NS
10850M4
Cap Light Amber
3
AR
109
Bracket Air Filter
3
AR
109-0424-01-1
Bearing
1
NS
109-63563-2
Hinge
1
NS
109-810020-11
Angle
10
NS
109-810020-9
Angle
10
NS
109-910077-13
Frame
2
NS
10ARM300-13C
Insulator
1
NS
10CB
Seal
10
NS
10D2232
Hydraulic Ski Valve
2
AR
11-0329
Plate
2
NS
11-03533
Landing Light
1
NS
11-04010
Fuse Holder
3
NS
11-09629
Mini LED
5
NS
11-101-20
Cover RH
1
NS
11-14910
Gray Duel Rocker Switch
1
NS
11-17514
Control. Unit
1
NS
11-5565-61
Cover, light 10'
8
NS
11-7074-
Seating tool
4
NS
110-173
Adapter
1
NS
110-185-06t-3
Nut
60
NS
110-185-10t-3
Nut
35
NS
110-550502
Bracket
1
NS
110-57
Plate
2
NS
1100-7
Checklist
1
NS
110000-3
Plate
1
NS
110006-2
Gear
3
NS
1100723-50
Alternator
1
AR
110115
Valve , Oxygen
1
AR
110237-4A
Gasket
2
NS
1103
Nasal Cannula
3
NS
11042
Gasket
6
NS
1105-001-14
Anti-Collision Light
1
NS
1108249
Starter
2
AR
1108550
Bracket
1
NS
1109511
Starter
1
AR
1109514
Starter
1
AR
1109694
Starter
1
AR
1109926
Starter
1
SV
111-0016
Lens
1
NS
111-0016
Lens, Clear
10
AR
111-04600
Cover, Master Cylinder
1
NS
11106T001-L96
Plug
2
NS
1111-517700
Check Valve
4
NS
1111-548393
Valve Check
2
NS
1111061-9
Rib
2
NS
1111072-0
Baffle
1
NS
1111073-0
Baffle
1
NS
111190-10
Ring
3
NS
111200-10
Snap Ring
1
NS
111200-2
Ring
1
NS
111200-8
Ring
2
NS
11126-1
Ball
2
NS
111417-45-0090
Hose
1
NS
111506-8
Ring Wiper
3
NS
11169T001
Arm
1
NS
111716-6-XX4
Duct
1
NS
1118386
Regulator
1
NS
1118713
Regulator
1
NS
11189-0010
Resistor
3
NS
1119114
Regulator
1
NS
11199-003
Plate
2
NS
111F417-10D0162
Hose
1
NS
111F417-10D0175
Hose
1
NS
111F504-6S0040
Hose
1
NS
112-210-101
Switch
1
NS
112-3A
Valve
1
NS
11200-000
Pulley
22
NS
112131
Strip
4
NS
112149-1
Grommet
5
NS
112166
Plate
2
NS
112391
Retainer Spring
1
NS
112412-Grommet
Grommet Half
1
NS
112413-2
Ball Half
1
NS
112413-4
Half Ball
4
NS
112413-8
Ball (half Ball grommet)
1
NS
112436-6
Retainer
1
NS
112733-2
Placard
3
NS
112733-8
Placard
6
NS
112745
Placard
6
NS
11299-002
Clamp
1
NS
113-837-020
Handle, (464-046)
1
AR
113/1D
Bolt
9
NS
11353
Actuator
1
NS
11365
Buckle
2
NS
1138-2
Doubler
1
NS
113LH7940T162
Nut
3
NS
114-110033-9
Doubler
1
NS
114-11027-3
Skin
1
NS
114-120023-6
Angle Nacelle
1
NS
114-120032-5
Reinforcement
1
NS
114-120044-25
Zee
1
NS
114-120072-4
Liner
1
NS
114-170000-601
Wing Tip
2
NS
114-320028-1
Switch Pnl
1
NS
114-340118-15
Web
1
NS
114-361035-1
Vent Assy, Battery
1
NS
114-364142-9
Gasket
1
NS
114-40023-19-404
Filler
2
NS
114-410000-177
Stringer
1
NS
114-410000-191
Angle
1
NS
114-410020-59
Keel Web
1
NS
114-410026-43
Angle
1
NS
114-410039-13
Clip, Ballast Weight
1
NS
114-420001-111
Tee
1
NS
114-420026-9
Stiffener
1
NS
114-420036-7
Bulkhead
1
NS
114-420039-3
Frame
1
NS
114-420041-45
Former
1
NS
114-430004-169
Stringer
1
NS
114-430045-1
Cover
1
NS
114-430046-21
Former
1
NS
114-430080-6
Angle
1
NS
114-430086-7
Web Former
1
NS
114-430087-13
Web
1
NS
114-430087-16
Bulkhead
1
NS
114-430091-4
Angle
1
NS
114-430105-87
Tee Angle
1
NS
114-430120-17
Angle
1
NS
114-430124-13
Bulkhead
1
NS
114-440000-11
Angle
1
NS
114-440000-48
Stringer
1
NS
114-440000-70
Stringer
1
NS
114-440043-1
Bulkhead-Tail cone F
1
NS
114-530054-21
Angle
1
NS
114-530054-57
Angle
5
NS
114-530177-37
Weld Rung Assy
1
NS
114-540000-19
Bracket
1
NS
114-550050-19
Outlet Assy heat
3
NS
114-550211-5
Frame Screen Assy
1
NS
114-580249-11
Shield
1
NS
114-580249-13
Shield Assy
1
NS
114-630000-123
Angle-Rudder assy
1
NS
114-630000-87
Bracket Rudder
11
NS
114-630000-93
Angle
1
NS
114-640000-35
Bracket
2
NS
114-810022-1
Axle
1
NS
114-910022-5
Firewall Seal Upper
2
NS
114-920043-1
Gasket
10
NS
114-980000-30
Door Nacelle
1
NS
114-980025-33
Stiffener Firewall
1
NS
114-980078-15
Nacelle Skin
1
NS
114-980078-23
Skin
6
NS
1143640
Retaining Ring
20
NS
1145
Lamp
3
NS
114941
Ring
1
NS
11495-03
Skin
1
NS
115-00039
Hose & Adapter
1
NS
115-00354-00
Kit
1
NS
115-102
Insulator
8
NS
115-110000-9
Block
9
NS
115-120000-10
Angle
4
NS
115-120000-13
Nut Plate
3
NS
115-120000-9
Angle
8
NS
115-120011-35
Doubler
1
NS
115-120014-21
Bracket
2
NS
115-120014-7
Bracket
1
NS
115-120017-27
Doubler
3
NS
115-120017-29
Angle
3
NS
115-120017-39
Doubler
3
NS
115-120020-6
Angle
4
NS
115-120021-16
Plate
4
NS
115-120021-37
Doubler
6
NS
115-120021-38
Doubler
5
NS
115-120023-19
Clip - Rib
3
NS
115-120023-60
Bracket
4
NS
115-120023-63
Filler
2
NS
115-120024-19
Angle
4
NS
115-120024-20
Rib
5
NS
115-120024-46
Bracket
4
NS
115-120024-51
Angle
5
NS
115-120024-53
Angle
4
NS
115-120024-55
Angle
9
NS
115-120024-57
Angle
5
NS
115-120024-58
Bracket
5
NS
115-120025-101
Angle
3
NS
115-120025-19
Angle
5
NS
115-120025-20
Angle
5
NS
115-120025-39
Angle
3
NS
115-120025-73
Strip
9
NS
115-120025-77
Plate
12
NS
115-120025-79
Angle
4
NS
115-120025-93
Tab
2
NS
115-120027-27
Angle
2
NS
115-120029-11
Plate
4
NS
115-120029-7
Bracket
3
NS
115-120033-15
Angle
4
NS
115-120036-3
Bracket
1
NS
115-120037-6
Bracket
1
NS
115-120037-8
Bracket
1
NS
115-120039-28
Angle
2
NS
115-120039-37
Angle
12
NS
115-120049-1
Bracket
1
NS
115-120050-4
Extrusion
3
NS
115-120056-14
Angle
2
NS
115-120056-19
Wedge
2
NS
115-130010-103
Angle
25
NS
115-130010-135
Doubler
10
NS
115-130010-137
Rib
12
NS
115-130010-144
Bracket
1
NS
115-130010-15
Spar
4
NS
115-130010-155
Angle
25
NS
115-130010-27
Rib
8
NS
115-130010-275
Rib
1
NS
115-130010-29
Rib
5
NS
115-130010-33
Rib
12
NS
115-130010-35
Rib
7
NS
115-130010-37
Rib
18
NS
115-130010-39
Rib
3
NS
115-130010-41
Rib
14
NS
115-130010-43
Rib
5
NS
115-130010-45
Rib
7
NS
115-130010-47
Rib
11
NS
115-130010-49
Rib
13
NS
115-130010-51
Rib
12
NS
115-130010-52
Rib
12
NS
115-130010-56
Rib
2
NS
115-130010-58
Rib
11
NS
115-130010-59
Rib
13
NS
115-130010-60
Rib
12
NS
115-130010-61
Rib
12
NS
115-130010-63
Doubler
7
NS
115-130010-64
Doubler
3
NS
115-130010-67
Doubler
14
NS
115-130010-80
Doubler
15
NS
115-130010-87
Rib
13
NS
115-130010-89
Rib
3
NS
115-130010-91
Rib
1
NS
115-130012-1
Bracket
4
NS
115-130012-5
Bracket
2
NS
115-151
Pad
3
NS
115-160016
Extrusion
2
NS
115-160017
Extrusion
1
NS
115-160019-2
Extrusion
1
NS
115-160021-1
Extrusion
1
NS
115-160021-2
Extrusion
1
NS
115-179
Insulator
12
NS
115-410039-40
Baggage Door
13
NS
115-420011-21
Rib
1
NS
115-420011-22
Rib
2
NS
115-420011-25
Doubler
2
NS
115-420011-43
Rib
3
NS
115-420013
Block Assy
18
NS
115-420015-15
Rib
6
NS
115-420015-17
Angle
6
NS
115-430001-35
Wedge
1
NS
115-430100-65
Seal
1
NS
115-521050-1
Tube
1
NS
115-521132-3
Bracket
8
NS
115-524015
Shaft
1
NS
115-524061-15
Clip
11
NS
115-555032-1
Skin
9
NS
115-555040-11
Clutch Assy
1
NS
115-555040-5
Sheave
8
NS
115-555041-19
Plate
7
NS
115-600011-39
Angle
1
NS
115-610010-185
Elevator
2
NS
115-610010-213
Elevator
2
NS
115-610010-279
Elevator
2
NS
115-610010-331
Ribs, Elevator Assy
35
NS
115-610010-339
Elevator
1
OH
115-610010-343
Elevator LH W/Wedge
1
NS
115-610010-344
Elevator RH W/Wedge
1
NS
115-610010-347
Elevator
2
NS
115-610010-359
Elevator
2
NS
115-610010-621
Elevator
2
NS
115-620010-351
Spar Horiz Stab
1
NS
115-620010-493
Skin LH
5
NS
115-620010-496
Rib Horiz Stab
40
NS
115-620021-21
Bracket
7
NS
115-620023-2
Support
2
AR
115-620026-5
Lower Plate Support
51
NS
115-640000-1
Rib
6
NS
115-640000-3
Rib
3
NS
115-8001-7
Brake, Lining
4
NS
115-810060-11
Hinge
1
NS
115-810060-44
Bracket- Door Assy
1
NS
115-810060-51
Door MLG RH INBD
1
AR
115-810060-52
Door MLG LH OUTBD
1
AR
115-810063
Pin-Drag Brace
2
NS
115-810069
Shim
2
NS
115-810071-4
Seal Assy
1
NS
115-921041
Gasket
8
NS
115-980000-132
Hinge
1
NS
115-980000-47
Bulkhead Nacelle
2
NS
1150-15X3/8
Belt
1
NS
115094
Extrusion- Strip
1
NS
115155
Seal
1
NS
115155-12000
Seal Front Door
1
NS
11523-000
Fairing
1
NS
11524-004
Stiffener
1
NS
11526-001
Rib
1
AR
115280-002
Rib
1
AR
1156
Lamp
2
NS
1157
Lamp
7
NS
11589B21819-6
Skin
1
NS
1159
Gasket
3
NS
1159AC20095-29
Bracket
1
NS
1159B42000-405
Gear Door, Gulfstream
1
NS
1159CE20101-1A2
Seal
1
NS
1159CS20812-37
Rib
1
NS
1159CS20824-21
Rib
2
NS
1159CS20824-25
Rib
2
NS
1159P20422-9
Rod
1
NS
1159P20520-7
Tube Assy
1
NS
1159P50714-13
Clip
1
NS
1159P50714-15
Clip
1
NS
1159SB20333-903
Bracket
2
NS
1159SC-C228-23
Bearing
1
NS
11611-003
Hinge
1
NS
11629-1
Transformer
2
AR
11659-000
Fairing
1
NS
11674
Sensor (core only)
1
AR
11675-002
Angle
6
NS
11682-000
Hinge Assy-Flap Inboard
1
NS
117-320081-1
Angle
5
NS
117-620012-5
Rib
14
NS
1170-1
Clamp
1
NS
1170-2
Clamp
5
NS
11700-000
NLA Pawl
3
NS
11711
Bearing
2
NS
11719-001
Plate
1
NS
11734-000
Bracket
2
NS
1173T0817-01
Switch, Thermal
2
AR
1173T0817-02
Switch, Thermal
2
AR
1176
Lamp
8
NS
118-0482-3R
Cover
2
NS
118-110047-7004
Bond Assy, Skin
1
NS
118-110070-17
Bracket LH
4
NS
118-110070-18
Bracket
3
NS
118-110070-19
Bracket
4
NS
118-130000-80
Rib Aileron
4
NS
118-130000-95
Rib
4
NS
118-364027-1
Panel
1
NS
118-389005-0005
Fuel Valve Shutoff
1
AR
118-4-17
Fairing
1
AR
118-69
Hub
1
NS
118-910036-15
Bulkhead
1
NS
11819-000
Bracket
2
NS
118553
Seal
2
NS
118596
Clip
12
NS
1185981-1
Horn
7
NS
11915
Intercom
1
AR
11933-000
Washer
7
NS
11935-0001
Reactor
1
NS
1195
Lamp
1
NS
1196
Lamp
4
NS
11963-002
Rod
2
NS
1199-13
Flange
1
NS
1199-14
Flange
2
NS
1199-2
Shroud
1
NS
11990-001
Cover
2
NS
11JMA
Plate
1
NS
11SM3
Switch
1
NS
12-10391
Housing
1
NS
12-269
Universal Joint
3
NS
12-902-1
Shunt
1
NS
120
Fitting
4
NS
120-008C56-33
Washer
3
NS
120-02458-001
Elevator
1
OH
120-043-32-24
Shim
23
NS
120-08080-002
Aileron
1
OH
120-20278-013
Flap LH
1
OH
120-20278-014
Flap RH
1
OH
120-20808-003
Rudder
1
OH
120-6014-00
IC
1
NS
1200
Seal Kit
3
NS
12000
Sensor (core only)
1
AR
120000-503
Fairing
1
NS
120001-003
Fairing
1
NS
120001-004
Fairing
1
NS
120001-5
Fairing
1
NS
1200039-2
Tip
1
NS
1200039-2
Tip
3
AR
1200053-3
Plate
1
AR
1200053-4
Plate
1
AR
1200077-4
Rib
1
NS
1200077-9
Plate
1
NS
1200084-21
Retainer
2
NS
1200084-22
Retainer
2
NS
1200085-26
Plate
3
NS
1200090-6
Gasket
1
NS
1200096-1-532
Cover
3
NS
12001-5
Checklist
1
NS
1200106-124
Line
1
NS
1200106-216
Tube
1
AR
1200106-228
Tube
1
NS
1200106-267
Vent Line, RH1
1
NS
1200106-51
Fuel Vent Line, LH-EXT
11
AR
1200106-52
Fuel Vent Line, RH-EXT
3
AR
1200115-1
Net (alt 2015009-1)
1
NS
1200139-1
Nut
2
NS
1200164-1
Knob
1
NS
1200169-1
Doubler
10
AR
1200180-1
Bellcrank
1
AR
1200182-2
Cable
2
NS
1200182-9
Bushing
1
NS
1200183-1
Bracket
10
AR
1200183-2
Bracket
3
AR
1200191-7
Tube
1
NS
1200193-26
Insulation
1
NS
1200206-3
Bracket Assy
1
AR
1200231-1
Retainer
2
NS
1200231-3
Retainer
1
AR
1200231-4
Retainer
1
AR
1200231-4
Retainer
1
NS
1200234-2
Retainer
1
NS
1200245-1
Bracket
1
NS
120032-5
Roof Antenna Bracket
3
AR
1200406-227
Tube
1
NS
1200406-228
Tube
1
NS
1200415-7
Escutcheon
1
NS
1200438-1
Bracket
1
NS
1200438-2
Bracket
1
NS
1200448-1
Socket
7
NS
1200535-27
Edging
2
NS
1200562-1
Strip
24
NS
1200612-10
Strap
1
NS
1200612-5
Bracket set
1
NS
1200612-6
Bracket
1
NS
1200614-4
Baffle
1
NS
1200615-1
Bracket
1
NS
1200625-2
Frame
1
NS
1200625-21
Skin
2
NS
1200625-3
Frame
1
NS
1200625-47
Doubler
3
NS
1200625-51
Doubler
1
NS
1200625-63
Rib
1
NS
1200641-10
Stringer
2
NS
1200641-18
Hinge
15
NS
1200641-31
Panel
4
NS
1200641-718
Hinge Half
1
NS
1200641-9
Sill
36
NS
1200656-10
Molding
1
NS
1200691-1
Fitting, Drain
9
AR
1200702-7
Cover (ALT PN 1200702-13)
2
AR
1200702-8
Cover (ALT PN 1200702-14)
2
AR
1200708-1
Placard
1
NS
1200709-1
Placard
169
NS
1200761-1
Button
2
NS
1201020-1
Step
2
AR
1201051-1
Pipe
1
NS
1201051-7
Union
1
NS
1201074-1
Clip
3
NS
12046
Gasket
7
NS
1205059-6
Placard
1
NS
1205059-7
Placard
1
NS
1205085-2
Placard
3
NS
120515-2
Bracket
1
NS
1205252-1
Placard
1
NS
1205252-2
Placard
1
NS
1205253-1
Placard
41
NS
12073-000
Plungers
4
NS
12079-03
Shim
7
NS
1209
Seat Belt- Sky Blue
1
NS
1209005-1
Actuator
1
NS
1209053-1
Plate
1
NS
1209053-2
Plate
7
NS
1209066-1
Plate
2
NS
120919
Spring
40
NS
12100-EM2B
Placard
2
NS
12100-EM7B
Placard
3
NS
12100-EM8B
Placard
1
NS
1210001-2
Skin
1
NS
1210021-1
Bulkhead
1
NS
1210032-4
Dampener
1
NS
1210040-10
Bracket
1
NS
1210050-18
Angle
1
NS
1210072-201
Cup
1
NS
1210112-22
Duct
1
NS
1210402-28
Sill
1
NS
1210404-2
Skin
1
NS
1210404-838
Skin
1
NS
1210405-2
Bulkhead
1
NS
1210405-5
Angle
1
NS
1210405-6
Angle
1
NS
1210408-2
Seat Rail
1
AR
1210408-22
Rail
1
NS
1210409-1
Stringer
2
NS
1210409-2
Stringer
1
NS
1210410-1
Angle
2
NS
1210410-2
Angle
1
NS
1210411-2
Reinforce
1
NS
1210412-1
Bulkhead
1
NS
1210412-19
Rib
2
NS
1210412-2
Cover
1
NS
1210412-21
Bulkhead
1
NS
1210412-26
Cover
1
NS
1210412-7
Rib
1
NS
1210414-2
Floorboard
1
NS
1210418-1
Stringer
1
NS
1210426-1
Support
1
NS
1210427-1
Stiffener
1
NS
121045-2
Gear Spur
1
NS
1210504-10
Skin
1
NS
1210504-5
Skin
1
NS
1210504-9
Skin
1
NS
1210505-2
Skin
3
NS
1210505-20
Skin
1
NS
1210520-11
Seat Rail
2
NS
1210520-12
Seat Rail
2
NS
1210520-16
Rail Seat Inbd
4
NS
1210520-18
Seat Rail
1
NS
1210520-2
Seat Track
2
NS
1210651-3
Skin
1
NS
1210651-802
Window Assy
1
NS
1210651-9
Skin
1
NS
1210658-4
Channel
1
NS
1210662-1
Angle
1
NS
1210704-1
Pin Dowel
3
AR
1210704-2
Pin Dowel
3
AR
1210810-3
Tab
2
NS
1211076-1
Bracket
1
NS
1211077-5
Support AY
1
NS
1211104-1
Bulkhead
2
NS
1211105-4
Fairing
3
NS
1211113-1
Bulkhead
1
NS
1211122-2
Gusset
1
NS
1211124-1
Hinge Half
1
NS
1211124-2
Hinge Half
1
NS
1211133-4
Doubler
3
NS
1211189-1
Doubler
3
NS
1211203-1
Bolt, Eye
4
NS
1211208-1
Bulkhead
1
NS
1211216-3
Hinge
1
NS
1211216-4
Hinge
1
NS
1211218-1
Hinge Half
4
NS
1211218-2
Hinge Half
1
NS
1211249-2
Handle
1
AR
1211251-1
Placard (Insert)
1
NS
1211254-10
Tunnel
1
NS
1211254-13
Tunnel
1
NS
1211281-9
Firewall
1
NS
1211287-1
Skin
1
NS
1211290-1
Angle
1
NS
1211299-1
Angle
1
NS
1211304-2
Bulkhead
2
NS
1211307-3
Bulkhead
1
NS
1211309-1
Stiffener
1
AR
1211309-2
Stiffener
1
AR
1211312-11
Stiffener
1
NS
1211314-1
Bulkhead
1
AR
1211314-1
Bulkhead
2
NS
1211325-2
Bulkhead
1
NS
1211327-9
Stiffener
1
NS
1211400-10
Skin
9
NS
1211400-25
Angle
1
NS
1211400-4
Skin
1
NS
1211401-1
Angle
1
NS
1211401-3
Angle
1
NS
1211402-11
Longeron
1
NS
1211402-12
Longeron
3
NS
1211405-1
Angle
2
NS
1211405-2
Angle
2
NS
1211414-2
Rib
1
NS
1211423-5
Doubler
1
AR
1211427-16
Bulkhead
1
NS
1211431-28
Stringer
1
NS
1211431-5
Stringer
1
NS
1211434-2
Bulkhead
1
NS
1211434-4
Channel
1
NS
1211435-15
Frame
1
NS
1211435-30
Frame
1
NS
1211435-46
Bulkhead
5
NS
1211436-5
Channel
1
NS
1211445-12
Channel
1
NS
1211445-3
Channel
1
NS
1211445-9
Channel
1
NS
1211446-1
Arm, Main Gear Door Assy
1
NS
1211447-4
Cover
17
NS
1211448-8
Spacer
1
NS
1211455-7
Hinge
1
NS
1211455-8
Hinge
1
NS
1211462-3
Plate
2
NS
1211471-3
Frame
1
NS
1211480-1
Hinge, LH
1
NS
1211480-5
Hinge
1
NS
1211480-6
Hinge
1
NS
1211480-7
Hinge
1
NS
1211480-8
Hinge
1
NS
1211487-3
Stiffener
1
NS
1211489-3
Stringer
1
NS
1211492-3
Cable
5
NS
1211520-3
Spring
2
NS
1211527-11
Scuffplate
1
NS
1211527-12
Scuffplate
1
NS
1211527-13
Scuffplate
1
NS
1211602-3
Angle
1
NS
1211606-10
Floorboard
4
NS
1211607-11
Bulkhead
9
NS
1211607-11
Bulkhead
3
NS
1211614-3
Bulkhead
1
NS
1211614-9
Bulkhead
1
NS
1211618-1
Rib
1
NS
1211635-6
Doubler
2
NS
1211649-2
Stringer
4
NS
1211649-6
Channel (Cessna 414)
1
NS
1211650-10
Skin
1
NS
1211652-11
Door Seal, Cargo
3
AR
1211654-1
Rib
1
NS
1211654-23
Bulkhead
1
NS
1211661-1
Hinge Half, Lower Fwd
1
AR
1211661-2
Hinge Half, Lower Fwd
2
AR
1211661-3
Hinge Half, Fwd Cargo
2
AR
1211661-4
Hinge Half, Fwd Cargo
1
AR
1211661-5
Hinge Half, Aft Lower Aft
1
AR
1211661-6
Hinge Half, Upper Aft
1
AR
1211675-3
Bolt
1
NS
1211676-2
Doubler Assembly
1
NS
1211703-1
Handle
1
NS
1211716-7
Cover
1
NS
1211716-801
Shelf
1
NS
1211765-1
Angle
1
NS
1211766-2
Plate
1
NS
1211767-2
Retainer
1
NS
1211768-3
Doubler
1
NS
1211768-4
Doubler
1
NS
1211836-1
Washer
5
NS
1211845-1
Wall
3
AR
1211894-1
Air Box
2
AR
1211903-2
Doubler (121193-2)
12
NS
1211905-1
Skin
1
NS
1212007-1
Fairing
2
NS
1212010-11-791
Stinger
1
AR
1212010-14-791
Stinger
1
AR
1212013-1
Fairing
4
AR
1212013-2
Fairing
5
AR
1212019-1
Fair Cabin
1
NS
1212019-2
Fairing
1
NS
1212028-2
Reinforcement
1
NS
1212030-1
Stiffener
1
NS
1212127-1
Doubler
1
NS
1212127-3
Doubler
2
NS
1212130-1
Bulkhead
1
AR
1212143-1
Cover
1
NS
1212201-1
Channel
1
AR
1212208-6
Mount Assy
1
NS
1212400-2
Skin
2
NS
1212400-22
Skin
1
NS
1212400-6
Skin
1
NS
1212407-1
Angle
2
NS
1212407-2
Angle
1
NS
1212407-3
Angle
2
NS
1212407-4
Angle
1
NS
1212410-2
Stiffener
1
NS
1212412-16
Bulkhead
1
NS
1212413-2
Frame
1
NS
1212414-12
Frame
1
NS
1212416-28
Stringer
1
NS
1212416-3
Stringer
3
NS
1212425-1
Bulkhead
13
NS
1212426-3
Fairing
1
NS
1212426-4
Fairing Lwr RH
2
NS
1212426-4
Fairing Lwr RH
1
AR
1212426-7
Fairing
3
NS
1212426-8
Fairing
2
NS
1212600-7
Stinger
2
AR
1212710-11
Stringer
1
NS
1212710-2
Stringer
1
NS
1212710-7
Stringer
1
NS
1212875-1
Doubler
1
NS
1213000-15
Strip
1
NS
1213000-17
Skin
5
NS
1213000-5
Skin
2
NS
1213000-8
Retainer
1
NS
1213001-13
Strip
1
NS
1213001-52
Skin
4
NS
1213008-5
Bracket
3
NS
1213011-1
Bulkhead
3
NS
1213018-1
Zee
1
NS
1213021-2
Nose Gear Brkt Mount Assy
2
NS
1213033-2
Skin
1
NS
1213037-1
Clamp
2
NS
1213058-1
Doubler
1
NS
1213063-5
Support
1
NS
1213072-1
Bracket
6
NS
1213073-1
Hinge
3
NS
1213074-1
Plate
1
NS
1213075-1
Hinge
17
NS
1213076-1
Pin
1
NS
1213079-1
Fork
1
NS
1213101-1
Door Post
1
NS
1213101-4
Door Post
2
NS
1213102-1
Frame
1
NS
1213109-2
Bulkhead
3
NS
1213118-1
Bracket
1
NS
1213118-2
Bracket
1
NS
1213126-1
Doubler
1
NS
1213126-2
Doubler
1
NS
1213128-8
Door
1
NS
1213130-1
Bracket
1
NS
1213131-1
Hinge
2
NS
1213131-2
Hinge
3
NS
1213131-7
Hinge
1
NS
1213132-1
Reinforcement
1
NS
1213132-2
Doubler
1
NS
1213135-1
Bumper
1
NS
1213150-203
Door
1
NS
1213158-2
Adapter
4
NS
1213158-3
Adapter
3
NS
1213163-1
Seal
1
NS
1213181-5
Skin
1
NS
1213184-6
Wall Tunnel
2
NS
1213185-1
Stiffener
1
NS
1213185-2
Stiffener
1
NS
1213187-2
Plate
2
NS
1213193-10
Panel Control
1
NS
1213194-12
Bulkhead
3
NS
1213195-1
Stiffener
4
NS
1213197-14
Bulkhead
1
NS
1213201-3
Plate
3
NS
1213224-1
Control
1
NS
1213254-3
Bracket
1
NS
1213256-2
Bracket
1
NS
1213257-1
Spacer
1
NS
1213261-208
Cowl Flap RH
1
AR
1213261-219
Cowl Flap LH
1
AR
1213261-220
Cowl Flap RH
1
AR
1213261-49
Baffle
1
NS
1213263-1
Mount
2
NS
1213263-2
Mount Hinge, RH
1
NS
1213266-1
Fairing
1
NS
1213266-2
Fairing
1
NS
1213309-3
Louver
1
NS
1213310-1
Support
1
NS
1213319-2
Housing
1
NS
1213319-5
Housing
4
NS
1213321-2
Reflector
5
NS
1213335-2
Seal
1
NS
1213335-7
Seal
3
NS
1213374-4
Angle
1
NS
1213387-9
Instrument panel RH
5
NS
1213390-1
Strip Assy Cowl
3
NS
1213400-15
Windshield
1
NS
1213401-10
Skin, RH
1
NS
1213401-20
Skin
1
NS
1213401-25
Skin
2
NS
1213401-3
Skin
1
NS
1213401-4
Skin
1
NS
1213403-2
Stringer
1
NS
1213403-3
Seat Rail
1
NS
1213404-1
Angle
2
NS
1213404-2
Angle
2
NS
1213405-1
Bracket
2
NS
1213406-15
Door Post
5
NS
1213406-18
Frame
2
NS
1213407-1
Bulkhead
2
NS
1213412-17
Bulkhead
1
NS
1213412-2
Bulkhead
2
NS
1213412-32
Seal
1
NS
1213412-34
Bulkhead
1
NS
1213412-53
Bulkhead
1
NS
1213412-7
Bulkhead
1
NS
1213413-9
Angle
1
NS
1213414-5
Stringer
1
NS
1213417-7
Stringer
1
NS
1213419-1
Bulkhead
1
NS
1213420-21
Bracket
1
NS
1213421-1
Tee
2
NS
1213421-2
Tee
2
NS
1213422-10
Rib
1
NS
1213422-4
Bulkhead
1
NS
1213429-1
Bracket
5
NS
1213431-4
Hinge Half
1
NS
1213433-10
Bracket
1
NS
1213433-14
Channel
1
NS
1213433-15
Channel
1
NS
1213433-48
Bracket
1
NS
1213433-9
Bracket
1
NS
1213436-1
Bulkhead
1
NS
1213449-1
Mount Hinge
2
NS
1213449-2
Mount
3
NS
1213450-1
Support
1
AR
1213450-1
Support
2
NS
1213450-2
Support
3
NS
1213450-3
Support
3
NS
1213450-4
Support
1
NS
1213455-1
Bracket
1
NS
1213456-2
Channel
1
NS
1213457-1
Angle
2
NS
1213458-1
Stop, cowl Flap
1
NS
1213458-2
Stop
1
NS
1213462-1
Stiffener
1
NS
1213463-5
Bracket
2
NS
1213467-20
Shim
1
NS
1213469-11
Cowl Flap LH C205
1
AR
1213469-12
Cowl Flap RH C205
1
AR
1213469-203
Cowl Flap
6
AR
1213469-204
Cowl Flap
6
AR
1213469-205
Hinge
2
NS
1213473-1
Shield
1
NS
1213473-2
Shield
1
NS
1213496-5
Brace
1
NS
1213496-6
Brace
1
NS
1213511-1
Emblem
1
NS
1213511-1
Insignia
2
NS
1213512-1
Bracket
2
NS
1213515-7
Skin
4
NS
1213518-1
Bracket
2
NS
1213526-1
Bracket
1
NS
1213529-2
Stiffener
1
NS
1213530-1
Doubler
1
NS
1213530-2
Doubler
1
NS
1213531-3
Knob
1
NS
1213535-1
Placard (Alt 1205024-1)
1
NS
1213538-1
Stiffener
2
NS
1213600-5
Skin
1
NS
1213605-3
Tube
1
NS
1213611-2
Skin
1
NS
1213611-8
Skin
2
NS
1213612-
Doubler
1
NS
1213615-2
Bracket
1
NS
1213618-1
Retainer
3
NS
1213618-2
Retainer
2
NS
1213625-1
Plate
1
NS
1213625-3
Plate
1
NS
1213628-1
Baffle
1
NS
1213628-2
Baffle
1
NS
1213628-3
Baffle
1
NS
1213628-4
Baffle
1
NS
1213630-3
Skin
6
NS
1213645-1
Mount (ALT J6984-64)
18
NS
1213662-1
Plate
1
NS
1213671-4
Doubler
2
NS
1213690-815
Instrument Panel
6
NS
1213692-7-532
Cover
1
NS
1213705-3
Gusset
1
NS
1213710-19
Retainer
2
AR
1213713-4
Channel
15
NS
1213713-5
Channel
1
NS
1213715-3
Skin
1
NS
1213718-1
Bracket
1
NS
1213719-1
Bulkhead
1
AR
1213720-1
Doubler
1
NS
1213734-1
Doubler
1
NS
1213734-2
Doubler
1
NS
1213786-3
Bulkhead
1
NS
1213796-1
Casting
1
NS
1213800
Skin
1
NS
1213834-1
Bulkhead
1
NS
1213834-2
Bulkhead
1
NS
1213846-4
Doubler
1
NS
1213862-2
Bumper
2
NS
1213926-2
Jamb
1
NS
12139291-279
Louver
2
NS
1213942-2
Hinge
3
NS
1214
Seat Belt- Beige
1
NS
1214049-1
Channel
1
AR
1214101-8
Cover
3
NS
1214101-9
Cover
4
NS
1214118-3
Stop
1
NS
121494
Filter
1
AR
1215015-27
Cover
4
NS
1215045-15-B40
Molding
1
NS
1215045-16-532
Molding
1
NS
1215045-18-532
Molding
1
NS
1215045-2
Cover
1
NS
1215045-24-532
Shield
1
NS
1215045-27
Cover
1
NS
1215045-32
Insert
1
NS
1215045-43-532
Shield
1
NS
1215056-2
Cup
1
NS
1215059-1
Retainer
1
NS
1215063-3
Strip Loop
1
NS
1215066-1
Sill
1
NS
1215084-2-532
Escutcheon
1
NS
1215109-12
Molding
1
NS
1215109-3
Molding Upper LH
2
NS
1215137-4
Trim
2
NS
1215153-1
Retainer
1
NS
1215158-3
Angle
10
NS
121553
Filter
1
NS
12156-002
Fuse Holder
1
NS
1216106-1
Yoke
1
NS
1216107-1
Seal
6
NS
1216107-2
Seal
2
AR
1216107-2
Seal
4
NS
1216407-19
RESERVOIR AY FUEL LH
2
AR
1216407-20
RESERVOIR AY FUEL RH
5
AR
1216407-42
RESERVOIR AY FUEL RH
5
AR
1216407-43
RESERVOIR AY FUEL LH
2
AR
1217001-1
Door
1
AR
1217011-1
Bracket
1
NS
1217011-10
Bracket
1
NS
1217011-10
Bracket
1
AR
1217011-2
Bracket
2
NS
1217011-9
Bracket Assy
2
AR
1217011-9
Bracket
1
NS
1217012-1
Bracket
3
NS
1217012-2
Bracket
2
NS
1217012-6
Bracket
1
NS
1217013-2
Bracket
1
AR
1217025-1
Torque Tube Assy
1
AR
1217036-2
Support
4
NS
1217036-5
Support
1
NS
1217037-11
Door, RH
2
NS
1217045-206
RH Door
1
AR
1217046-3
Plate
1
AR
1217046-4
Plate
1
AR
1217049-1
Latch Assy ( use -1217049-9)
1
AR
1217049-2
Latch Assy
1
AR
1217049-9
Latch Assy (alt -1217049-15)
2
NS
1217050-6
Shaft
1
AR
1217052-3
Retainer
1
NS
1217052-5
Retainer
1
NS
1217053-2
Handle, Door
2
AR
1217057-1-532
Cap
1
NS
1217062-1
Spring
1
NS
1217063-1
Latch, LH
2
AR
1217063-12
Bracket
1
NS
1217063-2
Latch, RH
2
AR
1217063-3
Bracket
2
NS
1217063-3
Bracket
1
AR
1217065-3
Plate Striker
2
AR
1217065-3
Plate Striker
3
NS
1217065-4
Plate
1
NS
1217084-1
Stiffener
1
NS
1217084-2
Stiffener
4
NS
1217088-11
Rod
1
NS
1217088-17
Rod Ay.
4
NS
12180-000
Bracket
2
NS
1218011-1
Shield
1
AR
1218032-3
Dimming Assy
1
NS
121839
Seal
12
NS
1219-R4SS
Retainer Ring
20
NS
122-610040-31
Cover Assy
4
NS
122-810080-5
Hub Assy, Anti Skid
1
NS
1220-1-0
Servo
1
NS
1220002-201
Wing LH
1
OH
1220002-202
Wing RH
1
OH
1220002-203
Wing LH C210
1
OH
1220002-204
Wing RH C210
1
OH
1220002-205
Wing LH
1
OH
1220002-206
Wing RH
1
OH
1220002-209
Wing LH
1
OH
1220002-210
Wing RH
1
OH
1220002-211
Wing LH
1
OH
1220002-212
Wing RH
1
OH
1220002-213
Wing LH
1
OH
1220002-215
Skin, LE
1
NS
1220002-22
Skin Lwr
1
NS
1220002-32
Wing RH C-210
1
OH
1220002-33
Wing LH C-210
1
OH
1220002-38
Skin, LE
1
NS
1220002-39
Skin, LE
1
NS
1220002-40
Skin, LE
1
NS
1220002-41
Skin, LE
1
NS
1220002-84
Skin, LE
1
NS
1220002-9
Wing LH C210 Ext Range
1
NS
1220002-90
Wing Rh
1
OH
1220002-91
Wing LH
1
OH
1220003-17
Skin, LE
1
NS
1220003-201
Wing LH Ext Range
1
OH
1220003-202
Wing RH Ext Range
1
OH
1220003-203
Wing LH C210 Ext Range
1
OH
1220003-205
Wing LH Ext Range
1
OH
1220003-208
Wing RH Ext Range
1
OH
1220003-210
Wing RH Ext Range
1
OH
1220003-211
Wing LH Ext Range
1
OH
1220003-213
Wing LH Ext Range
1
OH
1220003-215
Wing LH Ext Range
1
OH
1220003-25
Skin LH
1
NS
1220003-26
Skin LH
1
NS
1220003-27
Skin, LE
1
NS
1220003-28
Skin, LE
1
NS
1220003-32
Wing RH Ext Range
1
OH
1220003-33
Wing LH
1
OH
1220003-35
Wing LH Ext Range
1
OH
1220003-5
Skin LH
1
NS
1220004-10
Wing RH C210 Ext Range
1
OH
1220004-17
Skin, LE
1
NS
1220004-202
Wing RH C180 / C185 Ext Range
1
OH
1220004-204
Wing RH C210 Ext Range
1
OH
1220004-204
Wing RH C180 Ext Range
1
OH
1220004-206
Wing RH C180 / C185 Ext Range
1
OH
1220004-208
Wing RH C-180/185 Ext Range
1
OH
1220004-210
Wing RH
1
OH
1220004-215
Wing LH
1
OH
1220004-24
Skin RH
1
NS
1220004-25
Skin RH
1
NS
1220004-4
Skin RH
1
NS
1220019-14
Bulkhead
25
NS
1220019-16
Support
1
NS
1220019-18
Rib
6
NS
1220022-3
Plate
20
AR
1220027-1
Hanger
1
NS
1220027-4
Hanger
2
NS
1220028-13
Fairing
4
NS
1220028-14
Fairing
4
NS
1220046-6
Bracket
2
AR
1220049-1
Stiffener
1
NS
1220052-1
Bracket
1
AR
1220054-2
Skin
1
NS
1220054-3
Trailing Edge LH
1
NS
1220054-4
Trailing Edge RH
1
NS
1220055-2
Stop
2
AR
1220056-1
Bracket
1
AR
1220059-1
Wing LH C210
1
OH
1220059-11
Skin
2
NS
1220059-12
Skin
1
NS
1220059-17
Skin
1
NS
1220059-2
Wing LH C210 Ext Range
1
OH
1220059-23
Wing LH
1
OH
1220059-24
Wing LH Ext Range
1
OH
1220059-25
Wing LH
1
OH
1220059-26
Wing LH Ext Range
1
OH
1220059-3
Wing LH
1
OH
1220059-31
Wing LH
1
OH
1220059-32
Wing LH Ext Range
1
OH
1220059-40
Skin
1
NS
1220059-5
Skin
1
NS
1220059-8
Skin
1
NS
1220060-1
Wing RH C210
1
OH
1220060-12
Skin
1
NS
1220060-2
Wing RH C210 Ext Range
1
OH
1220060-24
Wing RH Ext Range
1
OH
1220060-25
Wing RH
1
OH
1220060-28
Skin
1
NS
1220060-3
Wing RH
1
OH
1220060-30
Wing RH
1
OH
1220060-31
Wing RH Ext Range
1
OH
1220060-32
Wing RH C206
1
OH
1220060-33
Wing RH Ext Range
1
OH
1220060-4
Wing RH Ext Range
1
OH
1220068-2
Rib
2
NS
1220072-1
Rib
2
NS
1220073-3
Spar
1
NS
1220076-6
Rib
1
NS
1220078-4
Spar
1
NS
1220084-2
Angle
1
NS
1220084-3
Angle
1
NS
1220084-4
Angle
1
NS
1220085-10
Aileron RH C206
1
OH
1220085-17
Aileron, LH
1
OH
1220085-18
Aileron RH
1
OH
1220085-9
Aileron, LH T210 / C207
1
OH
1220086-2
Reinforcement
1
AR
1220087-1
Angle
1
NS
1220088-1
Doubler
1
NS
1220089-1
Support
1
NS
1220089-1
Support
6
AR
1220089-2
Support
1
NS
1220089-2
Support
5
AR
1220091-1
Bracket
2
NS
1220091-2
Doubler
1
NS
1220093-1
Bracket
1
AR
1220098-1
Bracket
5
AR
1220099-3
Cover
1
AR
1220100-16
Flap Assy
1
NS
1220100-22
Skin , RH Inbd LE
1
NS
1220100-24
Flap, RH C206
1
OH
1220100-25
Flap LH C206
1
OH
1220100-27
Stiffener
1
NS
1220100-29
Flap, L/H
1
NS
1220100-7
Skin LE, Outbd LH
1
NS
1220100-8
Skin LE, Outbd RH
3
NS
1220102-1
Spar LH Flap Spar 206
1
NS
1220102-6
Spar 210 Aileron
1
NS
1220102-8
Spar 206 Flap
2
NS
1220114-1
Spacer
58
NS
1220114-2
Spacer
44
NS
1220118-2
Retainer
5
AR
1220133-2
Inlet
1
AR
1220801-1
Wing LH C207
1
OH
1220801-10
Wing LH C207 Ext Range
1
OH
1220801-11
Wing LH C206
1
OH
1220801-12
Wing LH C207
1
OH
1220801-2
Wing LH C206
1
OH
1220801-3
Wing LH C206 Ext Range
1
OH
1220801-4
Wing LH C207
1
OH
1220801-5
Wing LH C207
1
OH
1220801-6
Wing LH C207
1
OH
1220801-7
Wing LH C207
1
OH
1220801-8
Wing RH C207 Ext Range
1
OH
1220801-9
Wing RH C206
1
OH
1220802-1
Wing RH C207
1
OH
1220802-10
Wing RH C206
1
OH
1220802-11
Wing RH C206 Ext Range
1
OH
1220802-12
Wing RH C207
1
OH
1220802-2
Wing RH C207
1
OH
1220802-3
Wing RH C207
1
OH
1220802-4
Wing RH C-206 Ext Range
1
OH
1220802-5
Wing RH C-207
1
OH
1220802-6
Wing RH C-207
1
OH
1220802-7
Wing RH
1
OH
1220802-8
Wing RH
2
OH
1220802-9
Wing RH C-207
1
OH
1220803-1
Wing LH
1
OH
1220803-15
Wing LH
1
OH
1220803-16
Wing RH
1
OH
1220803-19
Wing LH
1
OH
1220803-2
Wing RH
1
OH
1220803-20
Wing RH
1
OH
1220803-21
Wing LH
1
OH
1220803-22
Wing RH
1
OH
1220803-24
Wing RH C-206
1
OH
1220803-44
Wing RH T206
1
OH
1220803-9
Skin
1
NS
1220804-24
Wing RH T206
1
OH
1220804-5
Wing LH C206
1
OH
1220804-6
Wing RH C206
1
OH
1220804-7
Wing LH C206
1
OH
1220804-8
Wing RH C206
1
OH
1220804-9
Wing LH C206
1
OH
1221002-8
Skin
2
NS
1221005-25
Spar
16
NS
1221006-1
Aileron, LH C210
1
OH
1221006-15
Skin, Aileron
1
NS
1221006-16
Skin, Aileron
1
NS
1221006-2
Aileron RH C210
1
OH
1221006-21
Skin, Aileron
4
NS
1221006-22
Aileron RH C177
1
OH
1221006-23
Aileron, LH C177
1
OH
1221006-26
Skin, Aileron
1
NS
1221006-27
Skin, Aileron
1
NS
1221006-33
Aileron, LH C177
1
OH
1221006-34
Aileron RH C177
1
OH
1221006-35
Aileron, LH C210
1
OH
1221006-36
Aileron RH C210
1
OH
1221006-37
Aileron, LH C210
1
OH
1221006-38
Aileron RH C210
1
OH
1221006-39
Skin, Aileron
4
NS
1221006-41
Aileron LH T210
1
OH
1221006-42
Aileron RH T210
1
OH
1221006-7
Skin, Aileron
1
NS
1221006-8
Tab
2
NS
1221006-813
Leading Edge LH
4
NS
1221007-10
Skin
1
NS
1221007-11
Flap, LH
1
OH
1221007-12
Flap, RH
2
OH
1221007-13
Skin
4
NS
1221007-18
Skin
1
NS
1221007-19
Skin
1
NS
1221007-20
Skin
1
NS
1221007-21
Skin
1
NS
1221007-22
Skin
1
NS
1221007-22
Skin
1
NS
1221007-23
Flap, LH
1
OH
1221007-24
Flap, RH
1
OH
1221010-13
Bracket
1
NS
1221013-1
Rib
2
NS
1221025-1
Scoop
1
AR
1221028-1
Connector
2
AR
1221029-1
Air Vent
1
NS
1221039-1
Doubler
1
NS
1221040-86
Rib
1
AR
1221042-105
Rib
1
AR
1221042-107
Rib
1
AR
1221042-109
Rib
3
AR
1221042-111
Rib
1
NS
1221042-23
Rib
2
AR
1221042-26
Rib
1
AR
1221042-39
Bulkhead
1
NS
1221042-41
Rib
1
AR
1221042-41
Rib
1
NS
1221042-43
Rib
3
AR
1221042-46
Rib
1
NS
1221042-57
Rib
1
AR
1221042-63
Rib
1
AR
1221042-65
Rib
1
AR
1221042-80
Rib
1
NS
1221042-94
Rib
1
AR
1221042-94
Rib
2
NS
1221042-95
Rib
3
NS
1221042-96
Rib
1
NS
1221042-96
Rib
2
AR
1221042-97
Rib
2
AR
1221042-97
Rib
2
NS
1221042-98
Rib
1
NS
1221042-98
Rib
1
AR
1221042-99
Rib
3
NS
1221047-8
Cover
16
NS
1221049-1
Doubler
1
NS
1221050-3
Cover
9
NS
1221050-8
Doubler
1
NS
1221055-146
Stringer
1
NS
1221055-150
Stringer
2
NS
1221055-152
Stringer
1
NS
1221055-154
Stringer
1
NS
1221055-305
Stringer
1
NS
1221058-2
Bracket
4
NS
1221059-5
Bracket
4
NS
1221059-6
Plate
2
NS
1221060-3
Window
2
NS
1221061-11
Rib
1
AR
1221061-12
Rib
1
AR
1221061-13
Rib
1
AR
1221061-15
Rib
1
AR
1221061-17
Rib
1
AR
1221061-19
Rib
2
AR
1221061-21
Rib
2
AR
1221061-22
Rib
1
AR
1221061-23
Rib
2
AR
1221061-4
Rib
1
NS
1221061-7
Rib
1
AR
1221062-1
Bulkhead
2
NS
1221062-2
Bulkhead
4
NS
1221062-5
Bulkhead
1
AR
1221062-7
Bulkhead
2
AR
1221062-9
Bulkhead
2
AR
1221064-21
Rider
1
NS
1221066-7
Rib
1
NS
1221066-8
Rib
1
NS
1221068-4
Stiffener
4
NS
1221068-5
Stiffener
3
NS
1221068-6
Stiffener
4
NS
1221068-9
Stiffener
1
NS
1221070-2
Rib
3
NS
1221071-2
Rib
1
NS
1221072-4
Bracket
1
NS
1221074-4
Rib
1
NS
1221076-7
Spar
1
NS
1221078-8
Rib
2
NS
1221079-8
Rib
2
NS
1221080-5
Rib
1
NS
1221080-6
Rib
5
NS
1221080-7
Rib
7
NS
1221082-2
Rib
1
NS
1221082-4
Rib
1
NS
1221085-12
Angle
2
NS
1221085-5
Angle
2
NS
1221085-6
Stiffener ALT(1221085-3)(1221085-15)
6
NS
1221086-1
Bracket
1
NS
1221086-2
Guard
2
NS
1221086-2
Guard
2
AR
1221087-2
Autopilot Bellcrank
1
NS
1221087-2
Bellcrank
1
AR
1221089-24
Rib
1
NS
1221089-33
Hinge
1
AR
1221089-37
Rib
2
AR
1221089-40
Hinge
1
AR
1221089-41
Rib
1
NS
1221089-44
Hinge
1
AR
1221090-12
Support
1
NS
1221090-12
Support
1
AR
1221090-7
Support
1
NS
1221090-7
Support
1
AR
1221090-8
Support
1
NS
1221090-8
Support
1
AR
1221091-1
Doubler
1
NS
1221092-12
Rib
1
AR
1221092-6
Rib
1
AR
1221093-1
Doubler
1
NS
1221093-2
Back Plate
1
AR
1221093-3
Plate
1
NS
1221097-1
Bracket
1
AR
1221097-2
Bracket
1
AR
1221101-2
Reinforcement
2
NS
1221104-1
Channel
1
NS
1221105-15
Fillet, LH
2
NS
1221111-1
Tip, LH
1
NS
1221111-200
Tip Wing
1
NS
1221111-201
Wing Tip, LH
1
NS
1221119-1
Fillet Assy
1
Ar
1221121-11
Weight
1
AR
1221121-11
Weight
1
NS
1221121-2
Weight
4
AR
1221121-3
Weight
1
AR
1221126-1
Retainer
2
NS
1221127-5
Rib
2
NS
1221127-5
Rib
1
AR
1221128-8
Rib
1
AR
1221130-1
Skin
2
NS
1221131-2
Support
1
AR
1221131-4
Support
1
AR
1221131-6
Support
1
AR
1221132-3
Doubler
1
NS
1221138-8
Rib
1
NS
1221144-2
Rib
1
NS
1221147-1
Shield
2
AR
1221147-1
Shield
2
NS
1221147-2
Shield
1
NS
1221147-2
Shield RH
2
AR
1221147-3
Shield
1
NS
1221149-1
Doubler
3
NS
12212
Valve
1
AR
1221202-2
Doubler
1
AR
1221221-4
Skin
1
NS
1221222-10
Skin
4
NS
1221234-10
LE Skin (ALT PN 1221233-10)
1
NS
1221246-1
Cover
1
NS
1222003-1
Channel
2
NS
1222022-1
Cover
1
AR
1222035-1
Angle
1
NS
1222105-10
Spacer
5
NS
1222105-8
Stiffener
1
NS
1222106-10
Reinforcement
1
AR
1222106-203
Reinforcement
1
NS
1222106-9
Reinforcement
2
AR
1222122-10
Rib
2
NS
1222122-9
Rib
1
NS
1222136-44
Doubler
1
AR
1222140-2
Doubler
1
AR
1223000-11
Shim
25
NS
12252-003
Brace
1
NS
1226
Lift Detector
1
AR
1227002-10
Fairing
2
NS
1227002-2
Fairing
1
NS
1227002-2
Fairing
1
NS
1227002-2
Fairing
3
AR
1227400-1
Strut
1
AR
1227400-2
Strut
1
AR
1227402-1-791
Fairing
1
NS
1227402-3-791
Fairing
1
NS
1227402-4-791
Fairing
3
NS
12276-000
Fairing
1
NS
12276-001
Fairing
1
NS
1227600-2
Strut
1
AR
122821
Filter
1
NS
123-002-001
Filter
1
NS
1230625-1
Bracket
4
NS
1230773-1
Bracket
13
NS
1230775-1
Bracket
10
NS
12310-1050-7
Plate
1
NS
12310-1083-6
Plate
1
NS
12310-1088-8
Spacer
1
NS
12310-1088-9
Placard
1
NS
12310-1138-12
Angle
1
NS
12310-1138-32
Bracket
1
NS
12310-1138-9
Bracket
1
NS
12310-1182-14
Cover
3
NS
12310-1193-14
Panel
1
NS
1231000-18
Skin
1
NS
1231000-18
Skin
4
NS
1231000-20
Vertical Fin C182
3
OH
1231000-23
Vertical Fin C182
3
OH
1231000-4
Skin
1
NS
1231000-4
Skin
2
NS
1231000-6
Skin
1
NS
1231000-6
Skin
1
NS
1231000-7
Doubler
1
NS
1231001-11
Rudder C182
1
OH
1231001-12
Rudder C210
1
OH
1231001-13
Rudder C182
1
OH
1231002-1
Spar
1
NS
1231009-1
Rib
4
NS
1231010-4
Rib
4
NS
1231014-4
Plate Doubler
7
NS
1231021-3
Clip
1
NS
1231023-18
Bracket
1
NS
1231023-21
Upper Hinge Rudder C206
2
NS
1231025-3
Bracket
1
NS
1231030-1
Bracket
3
NS
1231032-1
Rib
1
AR
1231032-1
Rib
13
NS
1231032-2
Rib
6
AR
1231034-2
Skin
1
NS
1231034-4
Skin
1
NS
1231034-5
Skin
1
NS
1231034-6
skin
1
NS
1231034-9
Rudder
2
OH
1231040-1
Cover
2
AR
1231056-1
Bulkhead
1
NS
1231057-1
Vertical Fin C210
1
OH
1231057-16
Vertical Fin T210
1
OH
1231057-27
Vertical Fin C182
1
OH
1231057-3
Skin
2
NS
1231057-4
Skin
2
NS
1231057-5
Adapter
2
NS
1231060-1
Rib
2
AR
1231060-1
Rib
2
NS
1231064-3
Tip
1
AR
1231064-4
Tip
1
AR
1231065-11
Vertical Fin C206
1
OH
1231065-13
Vertical Fin C206
1
OH
1231065-14
Vertical Fin C206
1
OH
1231065-15
Vertical Fin C206
1
OH
12312
Unit
1
NS
123190-1
Valve Check
1
NS
1232000-12
Doubler
1
NS
1232007-3
Rib
1
AR
1232012-1-791
Cap
2
AR
1232040-3
Boot
1
NS
1232040-5
Boot
1
NS
1232116
Spar
1
NS
1232143-1
Bushing
3
NS
1232600-10
Skin
1
NS
1232600-11
Skin
1
NS
1232600-12
Skin
3
NS
1232600-16
Skin
2
NS
1232600-2
Skin
5
NS
1232600-200
Skin
2
NS
1232600-200
Skin
1
NS
1232600-26
Stabilizer
1
OH
1232600-28
Skin
5
NS
1232600-29
Stabilizer
1
OH
1232600-3
Skin
7
NS
1232600-31
Stabilizer
1
OH
1232600-32
Skin
6
NS
1232600-4
Skin
1
NS
1232600-6
Stabilizer
1
OH
1232600-7
Stabilizer C182
1
OH
1232601-1
Rib
6
NS
1232601-1
Rib
16
AR
1232602-1
Rib
6
AR
1232602-1
Rib
7
NS
1232604-1-791
Tip
1
NS
1232604-2
Tip
1
NS
12329-000
Channel
1
NS
1233000-2
Fin Assy, Fwd C206
1
NS
1233000-2
Fin Assy, Fwd C206
1
OH
1233000-3
Fin Assy, Aft C206
1
NS
1233000-3
Fin Assy, Aft C206
1
OH
12331-002
Angle
20
NS
1234000-10
Skin
1
NS
1234000-18
Skin
8
NS
12340045
Spacer
5
NS
1234008-4
Bracket
1
NS
1234013-1
Bracket
1
NS
1234014-1
Rib
1
NS
1234014-2
Rib
3
NS
1234014-2
Rib
7
AR
1234022-2
Rib
3
NS
1234022-2
Rib
9
AR
1234029-1
Arm Assy
5
AR
1234031-2
Bushing
2
NS
12345-004
Fitting Assy-Tie Down
2
AR
12345-004
Fitting Assy-Tie Down
5
NS
1234600-1
Elevator LH C182
1
OH
1234600-12
Hinge Half- Elevator
1
NS
1234600-13
Spacer
1
NS
1234600-14
Spacer
1
NS
1234600-2
Elevator RH C182
1
OH
1234600-3
Skin
8
FN
1234600-4
Skin
8
FN
1234603-1
Rib
5
AR
1234603-1
Rib
8
NS
1234603-2
Rib
1
AR
1234603-2
Rib
5
NS
1234604-1
Rib
1
AR
1234604-1
Rib
5
NS
1234608-3-791
Tip Elevator
1
NS
1234608-4-791
Cap
2
AR
1234612-1
Rib
8
AR
1234612-1
Rib
17
NS
1234613-1
Trim Tab, RH Elevator C182
1
OH
1234613-2
Skin Trim Tab Upper
2
NS
1234613-3
Skin Trim Tab Lwr
2
NS
1234613-5
Hinge Half Tab Tab
1
NS
1234614-1
Channel
1
AR
1234620-21
Spacer
1
NS
1234620-3
Elevator, LH C210
1
OH
1234620-4
Elevator, RH Assy C210
1
OH
1234623-1
Rib Elevator
8
AR
1234623-2
Rib
8
AR
1234624-1
Rib Elevator
1
NS
1234625-1
Hinge
1
NS
1234634-2
Doubler
4
NS
1234638-5
Channel
1
AR
1234639-3
Rib
18
AR
1234640-1
Cap
1
AR
1234640-3
Cap
4
AR
1234640-4
Cap
1
AR
1234646-1
Rib
1
NS
1234648-12
Stiffener
1
NS
1234648-2
Stiffener
1
NS
1234648-8
Stiffener
1
NS
1234660-1
Elevator, LH T210
1
OH
1234660-12
Skin RH
2
NS
1234660-2
Elevator, RH T210
1
OH
1234660-3
Skin LH
2
NS
1234660-4
Skin RH
2
NS
1234663-2
Wedge
1
NS
1234665-10
Trim Tab Elevator C210
2
OH
1234668-3
Skin, Trailing Edge
1
NS
1234668-3
RH TE IB Skin
1
NS
12350
Oil Seal
1
NS
12350-000
Tube
1
NS
12351-015
Engine mount
1
NS
12353-03
Plate
1
NS
12357-05
Skin
2
NS
1240001-5
Knob
5
NS
124007D03400000
Line
2
NS
1241-2
Directional Gyro
1
AR
1241003-1
Plate
1
NS
1241003-2
Plate
5
NS
1241003-3
Plate
9
NS
1241003-6
Plate
1
NS
1241010-1
Hub Cap
4
NS
1241014-2
Casting
1
NS
1241015-7
Bumper
1
NS
1241016-1
Washer
12
NS
1241026-1
Clevis
2
NS
1241029-3
Spring Uplock
1
NS
1241035-2
Clip
1
NS
1241037-1
Plate
3
NS
1241038-2
Shim
2
NS
1241038-3
Shim
2
NS
1241043-3
Pin
12
NS
1241047-1
Shim
9
NS
1241047-2
Shim
7
NS
1241057-1
Bracket
1
NS
1241059-2
Clip
12
NS
1241060-1
Plate Safety
19
NS
1241063-1
Hub
1
NS
1241063-2
Hub Cap
1
NS
1241066-2
Support
1
NS
1241069-1
Bracket
2
NS
1241074-1
Link
2
AR
1241075-2C
Bracket
1
AR
1241078-6
Up Lock assy
1
AR
1241079-1
Rod End
1
NS
12411-1198-5
Cover
4
NS
12411-1203-3
Rib
1
NS
1241106-1
Support
1
NS
1241107-1
Seal
4
N
1241108-1
Step
2
NS
1241110-200
Shaft
1
NS
1241113-1-D70
Fairing
2
AR
1241113-2-D70
Fairing
2
AR
1241145-8
Door
1
NS
1241150-201
Hinge Assy
2
NS
1241152-3
Pin
7
NS
1241152-4
Pin
1
NS
1241159-1
Hinge Half
1
NS
124119
Filter
1
NS
1241232-3-D70
Fairing
1
AR
1241404-1
Wedge
1
NS
1241404-2
Wedge
5
NS
1241404-3
Wedge
3
NS
1241406-1
Spring
1
NS
1241407-1
Bolt
1
NS
1241424-1
Link
2
AR
1241424-1
Link
2
NS
1241606-7
Fitting
1
NS
12416107-2
Support
1
AR
1241614-4
Spacer
1
NS
1241618-5
Support Assy LH
1
AR
1241629-1
Shim
2
NS
1241629-2
Shim
1
NS
1241629-3
Shim
1
NS
1241629-4
Shim
3
NS
1242001-18
Brace, Sea Plane
3
NS
1242008-5
Stiffener
1
NS
1242022-5
Step, LH
1
AR
1242022-5
Step, LH C206
1
NS
1242022-6
Step, RH
1
AR
12428-000
Baffle
1
NS
1243010-2
Arm
1
NS
1243014-1
Spacer
2
NS
1243024-1
Bushing
1
NS
1243025-3
Bellcrank
1
AR
1243030-5
Shim
41
NS
1243030-6
Shim
47
NS
1243030-7
Shim
29
NS
1243040-1
Washer
2
NS
1243043-1
Cup
1
NS
1243050-2
Tube
1
AR
1243056-2
Tube
1
AR
1243404-1
Collar Assy
3
AR
1243411-1
Wiffletre
1
AR
1243411-497
Bellcrank Arm
1
AR
1243421-2
Bushing
1
NS
12436-013
Exhaust
1
NS
1243607-1
Arm
2
NS
1243616-1
Plate
1
NS
1243617-1
Collar
2
AR
1243618-2
Shim
8
NS
1243619-1
Tab Washer
6
NS
1243811-6
Collar Assy
1
AR
12452-001
Placard
1
NS
12454-000
Bracket
1
NS
124748-035
Filter
2
NS
124756-06
Seal Felt
3
NS
125-00-005-A1A1
Repair Kit
2
NS
125-6W
Tip White
1
NS
1250007-1
Shroud
1
NS
1250014-1
Bracket
8
NS
1250014-1
Bracket
1
AR
1250017-1
Clip
1
NS
1250024-1
Mount
2
NS
1250027-1
Bracket
1
AR
1250100-12
Baffle
3
NS
1250100-27
Baffle
1
NS
1250100-8
Baffle
1
NS
1250116-4
Valve Nozzle
1
NS
1250133-7
Clip
1
NS
1250134-1
Baffle
24
NS
1250134-2
Baffle
2
NS
1250138-1
Bracket
1
NS
1250202-1
Spring
4
NS
1250213-5
Wedge
1
NS
1250214-1
Bushing
7
NS
1250215-1
Arm Alt
2
NS
1250217-2
Stiffener
1
NS
1250250-8
Tail Pipe
1
NS
1250257
Stack
1
AR
1250259-2
Clamp
1
NS
1250264-8
Stack
1
AR
1250306-1
Door Ay.
1
NS
1250309-1
Bushing
2
NS
1250310-1
Spring
9
NS
1250317-2
Bracket
2
NS
1250317-2
Support
1
AR
1250318-1
Bracket Assy
2
AR
1250319-1
Locator
1
NS
1250402-1
Support
6
NS
1250405-1
Nut
1
NS
1250410-3
Placard
10
NS
1250412-1
Support
1
AR
1250412-3
Support
1
NS
1250412-3
Support
9
AR
1250413-1
Doubler
2
AR
1250419-2
Dome
1
AR
1250419K201
Spinner, Polished
1
AR
1250420-2
Dome
2
AR
1250488-1
Bushing
1
AR
1250503-1
Air Duct
2
NS
1250503-2
Air Duct
3
NS
1250696-12
Support
5
AR
1250701-5
Bracket
1
NS
1250701-6
Support
1
NS
1250702-1
Air Box
1
AR
1250703-1
Duct
1
NS
1250704-4
Filter
6
NS
1250711-1
Bracket
1
NS
1250712-1
Support
1
NS
1250715-1
Gasket
6
NS
1250720-1
Doubler
1
NS
1250724-1
Doubler
2
NS
1250805-5
Bracket
1
NS
1250816-2
Gasket
2
NS
1250816-3
Gasket
3
NS
1250821-12
Plate
5
NS
1250821-30
Skin
1
NS
1250825-1
Bolt
2
AR
1250829-12
Baffle
1
NS
1250830-1
Duct
1
AR
1250830-24
Bracket
1
NS
1250830-28
Bracket
3
NS
1250830-28
Bracket
6
AR
1250830-38
Support
1
NS
1250830-43
Bracket
1
NS
1250837-1
Arm
1
NS
1250838-1
Race
1
NS
1250838-2
Retainer
1
NS
1250839-17
Door (alt 1250839-21)
1
NS
1250839-20
Hinge
2
NS
1250842-1
Doubler
1
NS
1250842-2
Spacer
6
NS
1250844-807
Doubler
1
NS
1250844-9
Doubler
1
NS
1250873-200
Cowl Flap
1
AR
1250874-2
Bracket
3
NS
1250876-17
Reinforcement
3
NS
1250876-18
Skin
7
NS
1250876-20
Angle
1
NS
1250876-51
Brace
1
NS
1250888-1
Baffle
1
NS
1250889-1
Elbow
1
AR
1250904-2
Cap
1
AR
1250906-16
Skin
1
NS
1250908-1
Tee
1
NS
1250916-1
Bracket
4
NS
1250918-2
Shield, Heat
1
AR
1250924-9
Baffle
2
NS
1250925-5
Baffle
1
NS
1250929-5
Coupler
1
NS
1250936-1
Plate
31
NS
1250937-1
Strip
25
NS
1250938-1
Catch
1
NS
1250940-20
Reinforcement
1
NS
1250955-1
Duct
1
AR
1250956-1
Nose Cap
1
AR
1250956-2
Nose Cap
1
AR
1250958-10
Baffle
1
NS
1250958-4
Baffle
5
NS
1250958-5
Shield
2
NS
1250958-6
Support
1
NS
1250961-5
Cup
10
NS
1250961-5
Cup
100
AR
1250962-5
Baffle
1
NS
1250962-5
Baffle
6
AR
1250963-3
Baffle
5
NS
1250964-1
Baffle
2
NS
1250965-1
Baffle
2
NS
1250965-1
Baffle
1
AR
1250966-1
Baffle
2
NS
1250966-1
Baffle
3
AR
1250966-3
Bracket
1
AR
1250967-10
Seal
1
NS
1250967-13
Baffle
1
NS
1250968-1
Support
2
AR
1250968-1
Support
3
NS
1250969-12
Support
3
NS
1250969-2
Support
1
NS
1250969-4
Support
4
NS
1250971-1
Bracket
6
AR
1250971-2
Bracket
3
AR
1250972-1
Support
6
AR
1252
Lamp
17
NS
1252010-1
Cap
1
AR
1252010-15
Doubler
1
NS
1252010-17
Splice
1
NS
1252010-18
Splice
1
NS
1252010-705
Cowl
9
NS
1252014-34
Support
1
AR
1252014-35
Support
2
AR
1252014-36
Landing Light Bracket
1
AR
1252014-37
Support
1
NS
1252014-38
Support
1
NS
1252015-2
Bracket
1
AR
1252015-2
Bracket
4
NS
1252017-2
Shield
1
NS
1252121-6
Bulkhead
1
NS
1252400-8
Skin
11
NS
1252410-11
Doubler
2
NS
1252410-2
Skin
1
NS
1252410-33
Doubler
2
NS
1252410-34
Doubler
2
NS
1252410-35
Doubler
1
NS
1252410-41
Skin
1
NS
1252411-3
Bulkhead
2
NS
1252413-41
Nose Cap, LH
1
AR
1252413-42
Nose Cap, RH
1
AR
1252413-836
Nose Cap
1
NS
1252418-1
Duct
1
SV
1253004-2
Angle
1
NS
1253005-1
Doubler
1
NS
1253018-2
Panel
6
NS
1253033-2
Reinforcement
1
NS
1253035-5
Valve Seat
1
NS
1253040-1
Shim
1
NS
1253041-1
Spring
5
NS
1253409-7
Bulkhead
1
NS
1253410-1
Angle
1
NS
1253411-11
Panel, Side Upper
1
NS
1253411-2
Side Pnl
1
NS
1253411-3
Panel
1
NS
1253432-1
Gusset
1
NS
1253435-5
Support
1
NS
1253611-5
Stringer
1
NS
12537-000
Rib
4
NS
1254000-1
Skin
1
AR
1254000-2
Skin
1
AR
1254007-1
Clamp
2
NS
1254008-1
Shroud
1
AR
1254012-9
Tab
2
NS
12543-002
Tunnel
1
NS
1255005-1
Baffle
2
NS
1255007-20
Support
4
NS
1255007-5
Bracket
3
NS
1255007-5
Bracket
2
AR
1255007-6
Bracket
19
NS
1255008-12
Baffle
1
NS
1255008-12
Baffle
8
AR
1255008-16
Baffle
1
AR
1255009-8
Baffle
1
NS
1255010-8
Baffle
2
NS
1255011-7
Plate
2
NS
1255020-1
Baffle
1
NS
1255026-3
Baffle
1
AR
1255026-3
Baffle
2
NS
1255029-1
Bracket
1
NS
1255031-1
Baffle
2
NS
1255032-2
Baffle
7
AR
1255032-2
Baffle
1
NS
1255032-4
Baffle
5
AR
1255033-1
Support
4
NS
1255033-2
Support
6
NS
1255046-4
Baffle
1
NS
1255081-1
Baffle
1
AR
1255081-1
Baffle
1
NS
1255094-1
Bracket
1
NS
12560-000
Bracket
3
AR
12560-000
Bracket
4
NS
1256004-2
Cowl
1
AR
1256006-1
Bracket
1
NS
1256020-2
Insulator
3
NS
1256024-2
Bracket
1
NS
125669P6
Stud
8
NS
1260005-1
Link
1
NS
1260016-1
Spring
1
NS
1260023-1
Bellcrank
2
AR
1260023-2
Bellcrank
20
NS
1260023-2
Bellcrank
2
AR
1260051-2
Support
1
NS
1260054-1
Bushing
3
NS
1260056-2
Drive
1
NS
1260065-8
Tube
1
AR
1260071-1
Retainer
50
AR
1260074-1
Actuator
1
SV
1260074-1
Actuator
5
AR
1260095-1
Bellcrank
5
NS
1260105-109
Cable
2
NS
1260105-13
Cable
2
NS
1260105-9
Cable
3
AR
1260112-1
Quadrant LH
1
AR
1260112-2
Quadrant RH
1
AR
1260128-5
Rod Ay Flap Outbd
2
AR
1260133-1
Bellcrank
17
AR
1260138-5
Doubler
1
NS
1260138-6
Doubler
1
NS
1260141-9
Tube
1
AR
1260149-1
Actuator
1
OH
1260149-2
Actuator
1
OH
1260232-1
Screw Assy
1
SV
1260238-4
Tab actuator (bracket only)
8
AR
1260244-1
Torque Tube Flap
1
AR
1260420-1
Sprocket
2
AR
1260420-1
Sprocket
1
NS
1260421-1
Sprocket
2
AR
1260440-3
Bellcrank
1
AR
1260453-1
Lever
5
NS
1260456-6
Rudder Bar
2
AR
1260475-1
Cable
1
NS
1260475-102
Cable
1
NS
12605-000
Clevis
1
NS
1260505-1
Cable
2
NS
1260505-12
Rudder Cable RH
1
NS
1260505-12
Cable Rudder AFT RH C210
1
AR
1260505-13
Rudder Cable LH
1
NS
1260505-13
Cable Rudder AFT LH C210
1
AR
1260505-14
Cable
1
NS
1260505-167
Cable
2
NS
1260505-187
Cable
1
NS
1260505-325
Cable
1
NS
1260505-4
Cable
2
NS
1260505-97
Cable (Park Brake)
1
NS
1260538-7
Clamp
1
NS
1260540-3
Bracket
1
NS
1260610-1
Trim Indicator
1
AR
1260610-1
Indicator
1
NS
1260625-32
Plate
1
NS
1260644-15
Bungee
2
AR
1260653-5
Rod
1
NS
1260664-1
Roller Kit&Retainer Assy
1
SV
1260681-6
Bracket
1
NS
12610
Oil Seal
2
NS
126120
Gear
1
NS
1261420-2
Guide
1
NS
1261421-2
Support
1
NS
1261438-1
Trim Wheel
1
NS
1261444-3
Support
1
NS
1261459-1
Gimbal Half
1
AR
1261460-1
Sprocket
1
AR
1261461-1
Bracket
1
AR
1261463-1
Bracket
2
NS
1261463-1
Bracket LH
1
AR
1261463-2
Bracket
2
NS
1261463-2
Bracket
1
AR
1261465-1
Cover Plate
1
AR
1261472-1
Sprocket
1
AR
1261474-1
Guard
1
AR
1261474-2
Guard
1
AR
1261475-2
Bracket
1
AR
1261475-4
Arm Assy
1
AR
1261632-11
Panel LH
11
NS
1261632-17
Bulkhead
1
NS
1261632-3
Panel LH
11
NS
1261632-5
Panel LH
11
NS
1261633-4
Guard
3
AR
1261635-3
Panel
1
NS
1261640-3
Tunnel
1
NS
1261640-4
Tunnel
1
NS
1261649-3
Panel
1
NS
1261649-4
Panel
1
NS
12617-003
Panel
1
NS
1262011-1
Support
4
AR
1262011-2
Support
4
AR
1262018-2
Bracket
1
NS
1262018-22
Bracket
1
NS
1262027-1
Bell Crank
2
AR
12622-000
Cover
1
NS
1263713-4
Frame
1
NS
12662-002
Rib (alt 15831-002)
1
NS
1266639-85
Bracket
5
NS
12692-005
Angle
3
NS
12692-007
Angle
20
NS
12693-64
Cable
2
AR
126973
Gasket
3
NS
1270049-1
Cable (chain)
1
NS
1270051-1
Bellcrank
1
NS
1270082-1
Diode
3
NS
1270092-1
Panel
1
AR
1270308-1
Bracket
1
AR
1270432-1
Doubler
1
NS
1270432-2
Cover
2
AR
1270446-1
Rib
2
NS
1270449-1
Cable
1
NS
1270449-6
Cable
1
NS
1270627-97
Angle
1
NS
1270653-1
Strap Assy
1
AR
1270672-1
Support
1
NS
1270695-2
Clip
7
NS
12707-000
Cup
11
NS
12707-004
Cup Cowl Fastener
30
AR
1270704-2
Bus Bar
1
AR
1270704-3
Bus Bar
1
AR
1270709PA-2
Wire
3
NS
1270709PA16
Battery Cable
2
AR
1270709PA18
Cable
1
AR
1270713-1
Board
1
NS
1270717-1
Diode
4
NS
1270717-2
Diode
3
NS
1270727-1
Switch
1
NS
1270727-1
Switch Assy
6
AR
1270741-2
Bus Bar
1
NS
1270741-3
Bar-Bus
1
NS
1270742-3
Bus Bar
4
NS
1270745-2
Bus Bar
1
NS
1270745-3
Bus Bar
1
NS
1270859-2
Mount
2
NS
127088
Spring
17
NS
12712-00
Baffle
1
NS
1272255-1
Arm
1
NS
127599
Screw
1
NS
1276-23-333
Spring
3
NS
12761-002
Cover
5
NS
1277082-1
Gear
1
NS
1277187-1
Insert
1
NS
1277246-1
Gear
1
NS
12795
Gasket
2
NS
12795-000
Fairing
1
NS
12795-001
Stringer
1
NS
128-340319-3
Assembly
1
AR
128-920163-5
Cover
1
NS
128-920186-613
Bond Assy
1
NS
12800826-1
Valve
1
NS
1280109-2
Cylinder
1
AR
1280110-
Actuator
2
AR
1280114-1
Hand Pump
1
AR
1280120-1
Actuator
7
AR
1280120-4
Actuator
1
AR
1280120-4
Actuator
2
SV
1280121-1-279
Trim
1
NS
1280122-1
Spring
2
NS
1280207-1
Shield
1
NS
1280210-1
Bar Cross
1
AR
1280222-2
Spring
1
NS
1280231-1
SPRING
1
NS
1280402-1
Support
10
NS
1280504-2
Actuator
1
AR
1280504-2
Actuator
1
OH
1280506-94
Line ASSY
1
NS
1280508
Line
1
NS
1280516-4
Screen
6
NS
1280523-10
Tube
2
NS
1280523-7
Tube
1
NS
1280523-9
Tube
1
NS
12807-000
Plate
1
NS
1280816-1
Piston
1
NS
1280816-2
End
1
NS
1280818-1
Washer
1
NS
1280840-1
Pressure Switch
1
AR
12809-000
Rod
1
AR
12809-000
Rod
3
NS
1281000-1
Actuator
3
AR
1281000-2
Actuator
1
AR
1281001-1
Body Actuator
1
AR
1281002-1
Piston Assy
2
AR
1281028-1
Actuator
4
AR
1281029-1
Actuator
2
AR
1281033-1
Accumulator
1
AR
12818-300
Skin
3
NS
12822-003
Plate
2
NS
12828-000
Gasket
1
NS
12838-002
Placard
2
NS
12844-004
Tube
3
NS
1286021-1
Bracket
8
NS
1288900-9
Channel
1
NS
129-130000-603
Aileron RH
1
NS
129-3404-1
ELT Paperwork Kit
3
NS
129-440061-27
Angle
4
NS
129-440061-28
Angle
6
NS
129-440061-29
Angle
2
NS
129-440061-31
Angle
5
NS
129-440061-32
Angle
1
NS
129-440061-33
Angle
6
NS
129-440061-34
Angle
5
NS
129-440061-35
Splice
4
NS
129-440061-37
Splice
4
NS
129-530038-41
Cover
1
NS
129-530062-39
Trim
2
NS
129-530087-3
Strip Side Wall
7
NS
129-610031-29
Trim Tab
1
AR
129-610031-32
Trim Tab RH
1
AR
12944-000
Channel
1
NS
12969-000
Fairing
1
NS
12969-001
Fairing
1
NS
12973-003
Fairing
1
NS
12973-004
Fairing
2
NS
12974-001
Cuff
1
NS
12982-000
Pulley
1
NS
12984-00
Strap
1
AR
1299377-14
Doubler assy
2
NS
12RB
Lamp mini
7
NS
13-1523
Shaft
1
NS
13-701060-4
Shim
2
NS
130-160000-1
Flap, L/H
1
OH
130-160000-2
Flap, R/H
1
OH
130-364157-0001
Panel Assy
1
NS
130-430065-1
Skin
2
NS
130-430069-41
Stringer
2
NS
130-524052-15
Actuator, RH
2
AR
130-526031-37
Stop Guard
10
NS
130-530094-15
Spacer
2
NS
130-530157-7
Stringer
2
NS
130-610000-601
Elevator Assy L/H
1
OH
130-610000-602
Elevator Assy R/H
1
OH
130-610000-603
Bond Assy. LH
1
NE
130-610000-604
Bond Assy. RH
1
NE
130-610000-7
Trim Tab Elevator LH King Air
1
OH
130-610000-7615
Bond Assy. LH
1
NE
130-630000-127
Rudder
1
OH
130-630000-3
Trim Tab, Rudder
2
NS
130-630000-601
Rudder
1
OH
130-630000-627
Rudder
1
OH
130-630000-95
Rib-Rudder Assy
1
NS
130000BEP-4
Pulley
1
NS
130010
Molding
2
NS
1300304
Rubber Ext (sold by the FT)
1
NS
1300365
Seal
5
NS
1301-003-020
Washer
1
NS
130102-5
Backshell (alt DE24657)
2
NS
130175-5P098
Receptacle
6
NS
130175-6P130
Receptacle
7
NS
1301765SF08
Stud
2
NS
1301765SF20
Stud (Alt. 98265-2-200)
12
NS
1301765SR17
Stud, Positive Lock
3
NS
130177-4
Pin
1
NS
130177-5
Pin
27
NS
13033-000
Arm
1
NS
130343
Ring
14
NS
130423-15600
T-Strip
2
NS
13047-001
Bracket
1
NS
13052-007
Rib
2
NS
130524-23
Fire Sleeve
1
NS
13071-000
Nut
2
NS
13074-002
Link Upper
2
AR
13074-003
Link
1
NS
1307950-3
Washer
1
NS
13089-000
Rod
1
NS
1309
Bulb
2
NS
13090-000
NLA Cap ASSY
2
NS
130909B130
Bolt
1
NS
130909B14
Bolt
6
NS
130909B170
Bolt
1
NS
130909B3
Bolt
5
NS
130909B37
Bolt (AN4-10)
6
NS
130909B43
Bolt
1
NS
130909B75
Bolt
3
NS
130909B83
Bolt
1
NS
130909B84
Bolt
2
NS
130909B9
Bolt
4
NS
130936P12D048
De-icing Tube
1
NS
130936P4A0180
Tube
2
NS
130D/3
Fire Sensor
1
AR
130YLAU-LL
Boom Bracket
3
NS
1310120-3
Check Valve
4
NS
131026-027-00
Rubber Extrusion
10
NS
131049
Socket
1
SV
131071
Bracket
10
NS
131083-7
Seal
4
NS
13115-000
Bracket
14
NS
13119-005
Scoop
1
NS
1312641
Handle
1
AR
13135-000
Disk
2
NS
13149-000
Skin
4
NS
13150-001
Fairing
1
NS
13150-004
Seal
2
NS
13152-005
Bracket
2
NS
131553-3F
Rod End
1
NS
13158-000
Cowl
2
NS
13158-010
Skin
1
NS
13158-021
Skin
1
NS
13158-022
Skin
1
NS
13163-000
Dome
3
AR
132-420151-1
Frame
1
NS
13210-000
Filter
1
NS
132404-42
Transistor
2
NS
1325
Gaskets
20
NS
13251
Washer
1
NS
132659
Cap
10
NS
133-00016-0007
Resistor
1
NS
133-106
Plate
2
NS
133010-1
Rudder Tip
4
AR
133010-1
Rudder Tip
1
NS
133079
Pinion
1
NS
133544
Bolt
1
NS
13379-7
Wing Tip Cirrus
1
NS
133A13
Valve
1
AR
133B268
Disc
6
NS
133B5-2
Vacuum Regulator
1
NS
13445-006
Chain
1
NS
134706P12
Stud
7
NS
13471-002
Panel Rear Baggage Compart
1
NS
13482-005
Firewall
1
NS
135
Bearing
4
NS
135-0010-117
Stringer
1
NS
135-02890-402
Fairing
1
NS
135-3
Nylatch Cupboard Catch
1
NS
135-40
Insulator kit
2
NS
13514-000
Clamp
2
NS
135184
Hose
1
NS
135425-1
Washer
8
NS
135437M
Valve
17
NS
13550-00
Pipe
1
NS
1356-2C-90A
Fuel Xmtr
2
OH
1356-2C-A
Fuel Xmtr
2
OH
13586-014
Tube
2
NS
13600-048
Nutplate
6
NS
13600LA902A1
Bearing
7
NS
13600LA912A1
Bearing
2
NS
13621
Bearing Roller
9
NS
13621XL
Bearing
3
NS
13647-000
Skin
1
NS
13647-002
Skin
1
NS
13647-003
Skin
1
NS
13647-003
Skin
2
NS
13647-004
Skin
1
NS
13656-000
Support
1
NS
13685
Bearing
3
NS
13718-000
Support
1
NS
13726-000
Plate
1
NS
13733-004
Stick Assy
1
NS
13749-000
Skin
1
NS
137587
Float Assy
6
NS
13760-001
Elevator LH SR22
1
OH
13767-000
Gasket
1
NS
13778-006
Gasket
4
NS
137806
Lug
7
NS
1379377C
Window
1
NS
1379664C4
Composite
2
AR
13821
Air Filter
1
NS
13830
Bearing
12
NS
13836-20629
Bearing
1
NS
1385
Lamp
8
NS
13850-002
Stiffener
1
NS
13850-003
Stringer
1
NS
13850-004
Angle
1
NS
138861
Gasket
27
NS
13889
Bearing (alt 214-00200)
7
NS
13889-20629
Bearing
1
NS
13889-20629
BEARING
1
NS
13904-000
Plate
6
NS
13945-031
Strip
1
NS
13945-040
Strip
10
NS
13945-077
Strip, 13 inch
3
NS
13945-093
Strip
2
NS
13950-000
Panel
1
NS
13997-3
Retainer
6
NS
13A7025
Heater (48611-011)
1
NS
13A716-1
Placard
3
NS
14
Lamp
11
NS
14-103
Switch
1
NS
14-48A
Condenser
2
NS
14-528
Aeroduct
2
NS
140-5281-3
Link
12
NS
140-580011-6
Pipe assy.
1
AR
140-580011-8
Pipe assy.
1
AR
140-6220
Switch
3
NS
1400019-27
Placard
1
NS
1400019-69
Placard
3
NS
1400019-77
Placard
4
NS
1400056-1
Cover
47
NS
1400058-2
Window Trim
16
NS
14015-000
Skin
1
NS
14026-000
Support
1
NS
140289-3
Flexible Shaft Assy
2
NS
14040-000
Bracket
3
NS
14054-000
Bracket
1
NS
14055-001
Skin
1
NS
14064-05
Angle
2
NS
14076-000
Clamp
1
NS
14088-002
Strut
1
NS
14096
Gasket
16
NS
14099-000
LE Skin
1
NS
141-3406-8
Strap
1
AR
141-63563-2
Hinge
2
NS
1410050-29
Stringer
1
NS
1410050-31
Stringer
1
NS
1410050-9
Angle
4
NS
14106-000
Tube
1
NS
14107-000
Tube
2
NS
14110-00
Rod
2
NS
1411100-19
Frame
20
NS
1411202-201
Bracket
1
NS
1411202-201
Bracket
2
AR
1411206-13
Bracket
1
NS
1411206-7
Arm
1
NS
1411208-1
Cam Lock Door
1
NS
1411211-4
Hinge Assy
1
NS
1411211-4
Hinge
1
AR
1411390-3
Support
1
NS
1412000-6
Skin
18
NS
1412100-28
Bulkhead
3
NS
1412100-47
Bulkhead
1
NS
1412100-73
Bulkhead
1
NS
1412100-88
Bulkhead
1
NS
1412251-4
Fairing
5
NS
1412275-11
Stringer
6
NS
1412275-2
Spar
2
NS
1412450-2
Skin
1
NS
14126-000
Gasket
6
NS
14128-000
Gasket
1
NS
14133-000
Drum
1
NS
1413354-10
Rib
1
NS
1413501-17
Plate
25
NS
1414
Lamp
17
NS
1414044-1
Outlet
1
NS
1414082-6
Pad-P-Bage
1
NS
1414087-15
Clamp
2
AR
1414104-23
Housing Roller
4
NS
1414104-40
Housing Roller
1
NS
1414104-54
Bushing
21
NS
1414104-56
Clamp
1
NS
1414104-67
Housing
3
NS
1414116-4
Spring
9
NS
1414217-1
Retainer
1
NS
1414231-1
Pawl, Seat Back
1
NS
1414261-1
Stop
7
NS
14175-011
Bushing
2
NS
14175-014
Bushing
6
NS
14175-015
Bushing
2
NS
14175-028
Bushing
8
NS
14175-037
Bushing
5
NS
14175-046
Bushing
4
NS
14175-080
Bushing
2
NS
14175-081
Bushing
2
NS
14175-089
Bushing
2
NS
14175-090
Bushing
4
NS
14175-093
Bushing
4
NS
14175-103
Bushing
10
NS
14183-018
Bushing
1
NS
1420006-2
Detector
1
NS
1420011-5
MLG Shock Strut Assy
5
NS
14205-000
Valve
1
NS
1421001-4
Fairing RH
4
NS
1421001-5
Fairing
1
AR
1421001-5
Fairing
2
NS
1422010-3
Angle
3
NS
1422016-2
Rib
3
NS
1422016-8
Rib
1
NS
1422023-1
Plate
1
NS
1422025-3
Stringer
2
NS
1422025-4
Stringer
2
NS
1422039-2
Reinforcement
1
NS
1422048-1
Strap
1
NS
1422400-19
Skin
8
NS
1422400-4
Skin
11
NS
1422418-7
Cover
4
NS
1422439-4
Reinforcement
1
NS
1422500-8
Skin
1
NS
1422513-1
Skin
1
NS
1422558-4
Shield
5
AR
1422558-5
Shield
2
NS
1422559-3
Retainer
1
NS
1422571-1
Rib
1
NS
1422572-1
Rib
1
NS
1422572-2
Rib
1
NS
1422573-2
Rib
2
NS
1422574-2
Rib
2
NS
1422575-2
Rib
1
NS
1422577-3
Rib
1
NS
1422578-11
Stringer
1
NS
1422595-1
Plate
6
NS
1422599-2
Plexiglass
1
NS
1422600-18
Web
1
NS
1422625-15
Skin
1
NS
1422625-26
Skin
1
NS
1422625-7
Doubler
1
NS
1422625-8
Doubler
1
NS
1422639-1
Rib
5
NS
1422639-2
Rib
13
NS
1422640-1
Rib
2
NS
1422640-2
Rib
1
NS
1422651-1
Hinge
1
NS
1422662-1
Rib
1
NS
1422672-1
Rib
2
NS
14232-000
Strut
1
NS
14235-013
Clamp
1
AR
14235-018
Clamp
1
NS
14240-002
Plate
6
NS
14240-003
Gasket
4
NS
1424000-23
Rib
1
NS
1424000-53
Skin
1
NS
1424000-63
Aileron LH C337
1
NS
14246-000
Plate
4
NS
1425000-2
Flap, RH C337
1
OH
1425000-22
Rib
7
NS
1425000-31
Rib
14
NS
1425000-37
Skin LH
1
NS
1425000-39
Skin, LH
1
NS
1425000-40
Skin, RH
1
NS
1425000-44
Spar
1
NS
14253-006
Tube
1
NS
14257-002
Scoop
1
NS
14258-002
Scoop
1
NS
14261-000
Fitting
1
NS
1427015-5
Strap
1
NS
14271-000
Brace
1
NS
14281-000
Cable
1
NS
14296-000
Plate
4
NS
143-14130-3
Rib
1
NS
143-31001-SA9
Rod
3
AR
143-31004-12
Bulkhead
1
AR
143-31901-75
Skin
1
NS
143-31901-76
Skin
1
NS
14300-005
Cable
1
NS
1431000-11
Skin
2
NS
1431000-26
Cover
1
NS
1431000-29
Skin
7
NS
1431000-3
Rudder, LH C337
1
OH
1431000-49
Skin
1
NS
1431000-50
Skin
2
NS
1431000-58
Rudder, RH C337
1
OH
1431000-7
Skin
4
NS
1431001-11
Tip
2
NS
1431001-11
Tip
5
AR
1431002-1
Bracket
1
NS
1431002-51
Rib
4
NS
1431002-53
1964
2
NS
1431002-9
Rib
3
NS
1431003-37
Spar
1
NS
1431005-2
Bracket
25
NS
1431024-3
Rib
1
NS
143123
Plate
2
NS
1432000-32
Hinge
1
NS
14329-000
Plate
2
NS
14352
Union
1
NS
14366-000
Line
1
NS
143727
Cover
1
NS
14382-001
False Spar
4
NS
14389-001
Skin
1
NS
1438HH
Bearing
2
NS
14401-046
Retaining Ring
1
NS
14405-001
Cover
1
NS
144180
Cap Nut (MS24679-441)
2
NS
1442001-1
Axle
1
AR
1442002-1
Spacer
3
AR
1442113-5
Shaft
1
NS
1442113-9
Bearing
2
NS
1442200-10
Scraper
1
AR
14431-00
Baffle
3
NS
14431-006
Baffle
2
NS
14432-000
Baffle
3
NS
14433-03
Bracket
2
NS
14435-000
Cover
2
AR
14437
Baffle
1
NS
14443-00
Baffle
3
NS
14467-001
Baffle
1
NS
14470-009
Clip
1
NS
14481-000
Lift Strut Fork
8
NS
145-00060-01
ENT Button
1
NS
145-01000
Bushing
11
NS
145-14146-3
Rib
1
NS
145-14162-3
Rib
1
NS
145-14262-2
Rib
1
NS
145-22010
Tip, Elevator
4
AR
145-24001-6
Fairing
2
AR
145-25029-409
Harness
1
AR
145-34138-1
Link Assy
1
NS
145-53032-60
Doubler
1
NS
1451005-1
Spacer
4
NS
14513-000
Baffle Tie
1
NS
14513-028
Rods
2
NS
1452002-1
Skin
3
NS
1452002-2
Skin
3
NS
1452005-1
Skin (1452005-5)
4
NS
14541-000
Brace
1
AR
14545-00
Fuel Strainer
1
NS
14549-000
Bracket
1
NS
14552001
Duct
1
NS
145579P4
Stud
6
NS
1457003-1
Baffle
1
NS
1457006-1
Baffle
1
NS
1457007-1
Baffle
1
NS
1457014-2
Bracket
1
NS
1457105-1
Baffle
1
NS
1457107-1
Bracket
2
NS
1457110-1
Baffle
1
NS
1457133-3
Seal
1
NS
1457133-7
Baffle
1
NS
14573-000
Plate
2
NS
1457305-2
Spacer
7
NS
1457306K200
Spinner
1
AR
1457307-4
Doubler
1
NS
14574-001
Channel Assy-Radio Mount
1
NS
146
Lift Detector
6
AR
1460100-23
Cable
2
NS
1460202-3
Support
1
NS
1460317-6
Wheel
1
NS
1460320-496
Pedal
1
NS
1462000-12
Bellcrank
1
NS
1462011-5
Rod
1
NS
14627-003
Pin
10
NS
14634-000
Door Lock
1
AR
14635-002
Spring
3
NS
146471P20
Stud
4
NS
146471P4
Stud
4
AR
146473P8
Stud
12
NS
14679-000
Rod
1
NS
14685-000
Fairing
1
NS
147-0034-00
Bushing
3
NS
1470089-15
Lamp
1
NS
1470089-15
Light
1
AR
1470106-2
Bracket
1
NS
1470112-2
Support
4
NS
1470121-3
Bracket
2
NS
1470219-1
Scoop
2
NS
1470220-4
Bracket
1
NS
1470220-9
Cover
11
NS
1470222-2
Clip
3
NS
14724-000
Channel
1
NS
14729-000
Bracket
2
NS
1478
Spacer
1
NS
14793-000
Plate
1
NS
148
Lift Detector
10
AR
148-28
Insulator Feed Thru
2
NS
148-6
Lift Detector
1
AR
148-7
Lift Detector
2
AR
1482
Cover Assy
17
NS
1482-00-1
Motor only
1
AR
148427
Bearing
1
NS
14843-011
Bushing
14
NS
14843-016
Bushing
14
NS
14843-018
Bushing
7
NS
14843-019
Bushing
10
NS
14843-020
Bushing
9
NS
14843-029
Bushing
1
NS
14843-030
Bushing
4
NS
14843-035
Bushing
24
NS
14843-046
Bushing
8
NS
14843-051
Bushing
2
NS
14843-060
Bushing
1
NS
14843-069
Bushing
2
NS
14843-078
Bushing
12
NS
14843-089
Bushing
6
NS
14843-093
Spacer
3
NS
14843-093
Spacer
3
AR
148891
Gasket
3
NS
14889P-01
Grommet
44
NS
149-111
Extrusion
1
NS
149-140
Strap Seal
13
NS
149-422104-5
Retainer
1
NS
14904-000
Flap
1
NS
14926-000
Kit
1
NS
14929-003
Clamp
6
NS
14931-T8
Oil Seal
1
AR
14931-T8
Bearing
1
NS
14973-000
Firewall Molding
4
NS
14976-002
Bushing
5
NS
14976-003
Bushing
1
NS
14976-013
Bushing
18
NS
14976-015
Bushing
1
NS
14976-016
Bushing
1
NS
14976-017
Bushing
3
NS
14976-021
Bushing
2
NS
14976-022
Bushing
3
NS
14976-023
Bushing
2
NS
14976-026
Bushing
1
NS
14976-043
Bushing
10
NS
14976-047
Bushing
1
NS
14976-061
Bushing
2
NS
14976-062
Bushing
2
NS
14976-069
Bushing
18
NS
14976-074
Bushing
1
NS
14976-102
Bushing
2
NS
149828
Filter
16
NS
14984-002
Stringer
2
NS
14994
Gasket
3
NS
14994-000
Tube
2
NS
14E00-1
Viberator
1
NS
14P23
Brush Cap
4
NS
15-310
Belt
1
NS
15-48A
Kit, Contact
1
NS
15-810071-7
Seal Assy
1
NS
150
Lift Detector
16
AR
150-00038-0000
Hose
20
NS
150-4
Lift Detector
1
AR
150-LFS
Fairing
1
NS
150-LWS
Fairing, Strut to Wing
1
NS
150-RFS
Fairing
1
NS
150-RWS
Fairing
1
NS
1500005-1
Fairing
1
NS
1500005-10
Fairing
1
NS
1500005-11
Fair T .BOO
2
NS
1500005-12
Trim Cover
2
NS
1500005-17
Skin
1
NS
1500005-19
Fairing
1
NS
1500005-20
Fairing
1
NS
1500005-9
Fairing
1
NS
150005-12
Trim Cover
2
NS
1500070-10
Ramp
1
NS
1500070-31
Bulkhead
2
NS
1500070-8
Stiffener
1
NS
1500116-210
Line
1
NS
1500139-1
Trim
2
NS
1500139-2
Trim
2
NS
150043
Screen
12
NS
150080-6004
Decal
5
NS
150080-6005
Decal
5
NS
150080-6008
Decal
4
NS
1501010-2
Cover
2
NS
150110
Plate
2
NS
15027
Baffle
1
NS
15028
Baffle
1
NS
15030
Oil Seal
1
AR
15038-000
Plate
1
NS
1505
Bearing
1
NS
1505015-1
Placard
1
NS
1505015-9
Placard
2
NS
1505053-1
Checklist Cessna 337G
1
NS
1505087-1
Placard
2
NS
1505087-2
Placard
3
NS
1505087-5
Placard
10
NS
1505087-6
Placard
1
NS
1505087-7
Placard
2
NS
15066-000
Panel
1
NS
15068
Grommet
1
NS
150D187X006R2
Resistor
5
NS
151
Lift Detector
1
AR
151-4
Lift Detector
1
OH
151-63563-2
Hinge
1
NS
1510040-5
Step
1
NS
1510050-1
Stringer
1
NS
1510050-18
Angle
7
NS
1511083-1
Control Base
10
NS
1511098-1
Bulkhead
1
NS
1511207-1
Spring
1
NS
1511208-12
Plate
2
NS
1511208-13
Plate
1
AR
1511208-16
Shim
4
NS
1511260-4
Skin
1
NS
1511265-11
Rib
1
NS
1511265-12
Rib
1
NS
1511350-3
Bulkhead
1
NS
1511350-6
Bulkhead
1
NS
15114
Washer
1
NS
1511401-8
Shim
4
NS
1511415-2
Cam
1
NS
1511426-1
Connector
1
NS
1511450-18
Skin
3
NS
1512
Lamp Grimes
13
NS
1512000-12
Skin
1
NS
1512000-27
Skin
2
NS
1512041-6
Skin
1
NS
1512041-6
Skid
1
NS
1512200-18
Angle
1
NS
1512203-7
Doubler
3
NS
1512280-13
Flap Control Lever
1
AR
15123
Bearing
2
NS
1512350-018
Flange
1
NS
1512350-36
Angle
1
NS
1512350-47
Bulkhead
1
NS
1512353-6
Hinge
1
NS
1512353-8
Bracket
4
AR
1512357-3
Hinge
2
NS
1512374-1
Support
1
NS
1512374-2
Support
1
NS
15125-000
Doubler
3
NS
1513-10B
Micro Chip
1
NS
15130
Friction Plate
20
NS
1513001-4
Skin
3
NS
1513060-1
Skin
8
NS
1513134-8
Doubler
4
NS
1513148-9-532
Console
1
NS
1513174-1
Nut
4
NS
1513174-4
Nut Dark Brown
8
NS
1513174-5
Nut Black
4
NS
1513190
Cover
1
NS
1513190-57-279
Cap
1
NS
15132
Spring
5
NS
1513200-11
Bulkhead
1
NS
1513200-12
Bulkhead
1
NS
1513213-1
Support
1
NS
1513378-1
Bracket
1
NS
1513472-1
Doubler
1
NS
1513475-1
Scupper
1
NS
1513500-193
Bracket
1
NS
1513509-1
Reinforcement
1
NS
1513527-1
Cable
1
NS
1513556-10
Bracket
1
NS
1513556-13
Cover
1
NS
1513629-4
Bracket
14
NS
1513670-852
Panel
4
AR
1513809-14
Shim
2
NS
1513837-4
Post Light
1
NS
1513852-20
Outlet
1
NS
1514025-5
Skin
4
NS
1514037-13
Bracket
1
NS
1514043-1
Bracket
6
NS
1514115-14-279
Cover
1
NS
1514129-1
Stringer
12
NS
1514130-4
Pad
1
NS
151429-4
Seat Track
1
NS
151443
Spacer
11
NS
1515060-20
Skin
8
NS
1515091-6
Retainer
1
NS
1515115-6
Cover
2
AR
1515127-6
Support
1
NS
1515152-1
Holder
1
NS
15153-000
Baffle
1
NS
15155-000
Baffle
5
NS
1516017-1
Plate
14
NS
1516030-1
Bracket
6
NS
15162-00
Baffle
1
NS
1517105-13
Slide
1
NS
15206-000
Plug
6
NS
15206-002
Plug
1
NS
1520B
Knob
1
NS
1520T100-2
Valve
1
AR
15210-000
Baffle
1
NS
1521001-13
Fairing
2
NS
15217-000
Rod
1
NS
1522004-10
Door
1
NS
1522020-10
Skin
1
NS
1522020-3
Panel
1
NS
1522020-4
Panel
1
NS
1522020-5
Panel Stru
1
AR
1522020-9
Skin
2
NS
1522035-1
Skin
1
NS
1522037-1
Spring
1
NS
1522041-1
Doubler
1
NS
1522042-1
Door
1
NS
1522128-1
Adapter
11
NS
1522129-1
Door
12
NS
1523094
Bowl
2
NS
1523513
Trap
4
NS
15245
Bearing
1
NS
15249-000
LHV Panel
1
NS
152633
Spring
32
NS
1527014-1
Spring
1
NS
15289-000
Plate
1
NS
153-0008
Lamp
1
NS
153-00400
Seal
1
NS
153-006
Wire
10
NS
153-00800
Seal
2
NS
153-01500
Grease Seal
7
NS
153-01500
Grease Seal
2
NS
153-01900
Ring
2
NS
153-043
Fitting
1
NS
153-1
Ring
1
NS
153-15
Seal
10
NS
153-289
Wire
1
NS
153-3
Ring
1
NS
153-30014
Retainer
3
NS
153-30048
Retainer
2
NS
153-430
Bolt
4
NS
153-8
Ring
2
NS
153-9
Ring
4
NS
1530042
Sprocket
1
NS
15306-000
Placard
2
NS
1531003-3
Cap, RH
1
AR
15314-000
Plate
1
NS
15320-000
Stiffener
1
NS
1532011-7
Spar, C-377 Elevator
7
NS
1532017-1
Trim Tab Elevator C337
1
OH
15344
Static Wick
5
NS
153597
Jack Pad
1
AR
154-00400
Seal, Felt
4
NS
154-01300
Grease Felt/Seal
10
NS
154-01400
Gasket
4
NS
154-03600
Seal
4
NS
154-3
Felt Seal
15
NS
154-30010
Seal
1
NS
154-30011
Seal
5
NS
1541041-1
Shim
2
NS
1541041-7
Shim
2
NS
1541041-8
Shim
3
NS
1542011-1
Bracket
1
NS
1542016-20
Rib
2
NS
1542016-6
Stiffener
1
NS
1542018-1
Shim
4
NS
1542032-1
Bumper Assy.
1
NS
1542033-3
Pin
1
NS
1542039-1
Hub Cap
1
NS
1542060-6
Hinge
2
AR
1542070-1
Brace
1
NS
1542071-1
Stiffener
2
NS
1542072-1
Doubler
1
NS
1546992-103
Link
1
NS
15475-002
Baffle
1
AR
15477-001
Baffle
1
AR
15477-001
Baffle
1
NS
15482-4
Skin
1
NS
15487-004
Baffle
1
AR
155-00100
Snap Ring
11
NS
155-00200
Snap Ring
2
NS
155-00600
Snap Ring
11
NS
155-08500
Retaining Ring
1
NS
155-1
Snap Ring
10
NS
155-10
Ring
8
NS
155-119
Snap Ring
19
NS
155-6
Ring
2
NS
155-8
Ring
6
NS
1550001-1
Bracket
1
NS
1550001-2
Bracket
1
NS
1550032-28
Hinge Half
1
NS
1550035-1
Bracket
28
NS
1550130-1
Door
1
NS
1550148-2
Gasket
1
NS
1550242-5
Bracket
1
NS
1551000-19
Doubler
1
NS
1551004-9
Keel
1
NS
1551010-19
Bulkhead
1
NS
1552004-17
Pin
1
NS
1552004-18
Door
3
AR
1552004-2
Skin
1
NS
1552009-2
Hinge, R/H
1
NS
1552012-201
Baffle
2
NS
1552012-202
Baffle
1
NS
1552012-5
Baffle
1
NS
1552012-6
Baffle
1
NS
1552017-6
Skin
6
NS
1552103-21
Skin
1
NS
1552108-2
Skin
1
NS
1552108-8
Angle
1
NS
1552124-1
Baffle only (no Screen)
1
NS
1552126-4
Clip
1
NS
1552126-9
Screen
1
NS
1552128-1
Door
1
NS
1552130-5
Skin
1
NS
1552160-1
Fairing
2
NS
1552531-3
Arm
18
NS
1553003-6
Channel
7
NS
1553006-1
Angle
12
NS
1553009-4
Bracket
2
NS
1553100-29
Hat
1
NS
1553100-3
Bulkhead
1
NS
15538109D
Elbow
1
NS
15562-000
Spar
1
NS
1557000-14
Skin
2
NS
1557000-15
Skin
2
NS
1557007-13
Baffle
7
NS
1557111-1
Baffle
1
NS
1557143-21
Baffle
1
NS
1557147-1
Baffle
1
NS
15572-000
Skin
2
NS
15572-003
Spar, False, Aileron
1
NS
15572-1
Pannel
2
NS
1557303-13
Dome
3
AR
1557303-8
Doubler
1
NS
15578-002
Plate
9
NS
15592
Gasket
8
NS
156-PL-6
Bushing
1
NS
156-PL-9
Bushing
1
NS
1560-124-3036
Bracket
1
NS
1560-185-8202
Strap Assy.
5
NS
1560-216-4677
Shield, Heater Outlet
12
NS
1560-393-9609
Bearing
1
NS
1560-570-4170
Bumper, Door Stop
3
NS
1560-710-2794
Sealine Steip
1
NS
1560-M24-8668
Stiffener
2
NS
1560-U6-311-4
Channel
2
NS
1560100-317
Cable-Elevator
1
NS
1560205-9
Shaft
1
NS
1560323-1
Clutch
1
NS
1560326-3
Guide
1
NS
1560326-3
Angle
1
NS
1560337-1
Housing / Cover
1
NS
1562010-2
Bellcrank
1
NS
1562033-1
Arm
1
NS
156391-7
Cable
67
NS
1565
Lift Detector
1
AR
15655-002
Tip, Stabilator
3
AR
15657-011
Trim Tab RH Stabilator PA23-250
2
NS
15657-011
Trim Tab RH Stabilator PA23-250
1
OH
157
Gasket
7
NS
157-00900
Shield
1
NS
157-00900
SHIELD, DUST,BRAKE
2
NS
1570001-206
Cable
4
NS
1570001-271
Cable
1
NS
1570150
Shield
1
NS
1570307-1
Connecto Assy
2
NS
1570347-6
Rack
1
NS
1571011-8
Upper RH Cap
1
AR
15713-002
Plate
1
AR
15736-002
N.L.G Ring
73
NS
1574-2
Shroud
2
NS
15761-000
Grommet
1
NS
15772
Packing
5
NS
15782-004
Doubler
1
AR
15795-3013-1
Block-Fore and Aft
2
NS
15799-002
Bushing
1
NS
158-435
Cap
3
NS
158-8
Cap
3
NS
158-8
Hub Cap
2
AR
1580006-4-279
Cover
1
NS
15821-002
Rib
1
NS
15831-000
Rib
3
NS
15831-002
Rib
1
NS
15831-002
Rib
8
AR
15854-002
Bracket
1
AR
159-104
Disc
1
NS
159AC10414-87
Tube
1
NS
159ODL1009-19-1063
Bushing
1
NS
15A1
Screw
3
NS
15A22
Screw
4
NS
15F19957-37
Rod
1
NS
15H21201
Spring
29
NS
16-105
Clock
1
NS
16-20-FTD
Nipple/ Fitting
4
NS
16-A-36
Washer
3
NS
1600-034-1
Gasket
1
NS
1600010-156
Tube
1
NS
1600014-2
Clamp
14
NS
1600014-4
Clamp
1
NS
1600015-8AGW
Tube
2
NS
1600016-1
Support
4
NS
1600018-1
Support
1
NS
1600018-2
Support
10
NS
1600018-3
Support
9
NS
1600018-7
Support
30
AR
1600018-7
Support
2
NS
1600020-1
Angle
3
NS
1600025-1
Support
1
NS
1600025-7
Support
1
AR
1600026-2
Support
2
AR
1600026-3
Support
2
AR
1600032-5
Plate
2
NS
1600033-1
Cover
10
AR
1600035-1
Tee
2
NS
1600036-1
Retainer
1
NS
1600036-3
Stiffener
2
NS
1600037-2
Angle
1
NS
1600072-1
Support
3
NS
1600089-1
Support
10
NS
1600108-1
Plate
1
NS
1600109-3
Retainer
6
NS
1600111-5
Screen
2
NS
1600118-1
Support
1
NS
16002-002
Stiffener
1
NS
160026-2
Support
5
NS
16004-000
Skin
1
NS
16005-000
Skin
2
NS
16007-002
Ring
1
AR
16008-004
Rib
3
AR
16008-005
Seat Assy Front
1
NS
16010-001
Spar
2
NS
16012-000
Rib
1
AR
16014-027
Rib
1
AR
16018-004
Rib
1
NS
16019-000
Channel
2
NS
16019-001
Channel
1
NS
16019-3
Placard
1
NS
1602
Bearing Sleeve
4
NS
16026-000
Rib
1
AR
16027-000
Rib
1
NS
16028-512
Pin
12
NS
16029-002
Angle
1
AR
16029-004
Angle
1
AR
16029-006
Angle
1
AR
16029-008
Angle
1
AR
16029-010
Stringer
1
AR
16029-012
Stringer
1
AR
16029-014
Stringer
1
AR
16029-016
Stringer
1
AR
16032P12
Stud
11
NS
16032P4
Stud
4
NS
16034-000
Rib
1
NS
16034-001
Rib
1
NS
16039-001
Forging
1
NS
16045-004
Skin
1
NS
16052-000
Rib
1
AR
16053-002
Channel
1
AR
16053-002
Channel
2
NS
16053-004
Channel
1
AR
16053-005
Channel
1
NS
16053-005
Channel
2
AR
16057-006
Skin
1
NS
16078-6
Ring
16
NS
1608026-3
Spacer
4
NS
1608074-1
Seal
2
NS
1608074-2
Seal
1
NS
1608075-1
Shim
9
NS
1608075-2
Shim
9
NS
1608075-3
Shim
2
NS
1608100-1AGW
Knife
1
NS
1608101-1
Bracket
1
NS
1608103-1
Support
1
NS
1608103-4
Seal
2
NS
1608118-1
Handle
4
NS
1608152-1
Tube
1
NS
16086-000
Fairing
2
AR
1609025-35
Skin LE
1
NS
1609026-2
Doubler
3
NS
1609028-1
Shim
8
NS
1609033-2
Bracket
4
NS
1609033-4
Placard
3
NS
1609035-7
Cover
1
NS
1609103-2
Link
3
NS
161-620001-45
Skin
1
NS
1610003-10
Cushion
2
NS
1610003-12
Retainer
5
NS
1610006-3
Retainer
2
NS
1610006-5
Retainer
2
NS
1610006-6
Retainer
2
NS
1610006-8
Retainer
4
NS
1610007-2
Hinge
38
NS
1610018-1
Plate
9
NS
1610020-1
Spacer
1
NS
1610020-2
Spacer
1
NS
1610031-1
Lever Assembly LH
6
NS
1610043-1
Inlet
1
NS
1610044-1
Bulkhead
1
NS
1610054-1
Plate
1
NS
16102-162
Link
100
NS
16109-0
Fairing
3
AR
16109-0
Fairing
1
NS
16110-002
Block
1
NS
16110-003
Block
8
NS
1611015-1
Bracket
1
NS
161145-00
Gasket
5
NS
16116-000
Rib
1
NS
1612001-22
Skin
2
NS
1612001-23
Skin
1
NS
1612001-3
Plate
1
NS
1612001-6
Skin
1
NS
1612002-13
Stringer
2
NS
1612002-15
Stringer
4
NS
1612002-16
Stringer
4
NS
1612002-3
Channel
1
NS
1612002-4
Channel
2
NS
1612004-3
Separator
8
NS
1612004-4
Separator
6
NS
1612012-1
Cover
1
NS
1612014-3
Stiffener
1
NS
1612014-4
Stiffener
1
NS
1612015-2
Fairing
5
NS
1612025-3
Retainer
1
AR
1612030-1
Tube
2
AR
1612032-1
Tube
5
AR
1612034-1
Stiffener
7
NS
16123-002
Fairing
2
AR
16123-011
Fairing
2
NS
16125
Static Wick
1
NS
16128-000
Spar
1
NS
16129-000
Spar
1
NS
1613-4
Placard
1
NS
1613001-240
Bushing
3
NS
1613015-5
Support
2
NS
1613040-5
Flange
1
NS
1613040-6
Ring
1
NS
1613059-1
Channel
3
NS
1613059-2
Channel
3
NS
1613063-1
Angle
1
NS
1613063-2
Angle
2
NS
1613064-1
Hinge
2
NS
1613064-2
Hinge
3
NS
1613076-14
Cap
4
NS
1613076-5
Cap
2
NS
1613079-1
Fairing
3
NS
1613079-2
Fairing
1
NS
1613083-14
Hinge
2
NS
1613084-2
Gusset
4
NS
1613091-3
Felt Pad
10
NS
1613137-1
Skin
1
NS
1613137-2
Skin
1
NS
1613139-1
Sill
2
NS
1613139-2
Sill
1
NS
1613148-2
Bulkhead
1
NS
1613178-11
Fairing
2
NS
1613178-7
Fairing
3
NS
1613198-1
Support
4
NS
1613198-2
Support
4
NS
1613205-4
Angle
1
NS
1613208-8
Skin
1
NS
1613228-16
Cover
1
NS
1613241-1
Stiffener
3
AR
1613241-2
Stiffener
3
AR
1613241-3
Stiffener
3
AR
1613262-1
Hinge
2
NS
1613266-1
Spacer
3
NS
1613273-13
Stiffener
1
NS
1613276-1
Cable
2
NS
1613297-1
Support
1
NS
1613297-2
Support
1
NS
1613297-3
Bracket
4
NS
1613409-2
Former
1
NS
1613420-3
Fairing
2
AR
1613426-1
Stiffener
1
NS
1613432-1AGW
Knife
1
NS
1613444-6
Seal
1
NS
1613444-9
Seal
1
NS
1613450-27
Door
1
NS
1613469
Bracket
1
NS
16136-000
Trim Tab, Rudder PA23-250
2
OH
16136-000
Trim Tab, Rudder PA23-250
3
AR
16148-000
Rib
1
NS
16149-000
Fitting
1
AR
1615-055-9023
Link
1
NS
1615-133-6872
Assy
1
NS
16150-000
Fitting
1
AR
16153-000
Ribs
52
NS
16157B
Spring
1
NS
16160
Pin
3
NS
1616018-1
Support
2
NS
1616028-3
Stiffener
1
AR
1616028-3
Stiffener
1
NS
1616028-8
Scoop
2
AR
1616028-8
Scoop
7
NS
16165-000
Rib
1
AR
16166
Cover
1
AR
16170-016
Skin
1
NS
16170-026
Wing LH
1
NS
16178-000
Rib
1
NS
16188-001
Link
1
NS
16191-000
Link
1
AR
16191-000
Link Assy
1
NS
16192-001
Rib
1
AR
16192-001
Rib
2
NS
16197-000
N.L.A. Link
4
NS
16199-002
Skin Lower
1
NS
16199-016
Skin Upper
1
NS
1620-00-306-9871
Socket
1
AR
16200-002
Skin
1
NS
16200-010
Skin
2
NS
16200-011
Skin
2
NS
16200-012
Skin
1
NS
1620003-1
Wing LH C188
1
OH
1620003-11
Skin
1
NS
1620003-12
Skin
1
NS
1620003-2
Wing LH C188
1
OH
1620003-23
Wing LH C188
1
OH
1620003-29
Wing LH C188
1
OH
1620003-3
Wing LH C188
1
OH
1620003-30
Skin
2
NS
1620003-31
Wing LH C188
1
OH
1620003-32
Skin
1
NS
1620003-34
Wing LH C188
1
OH
1620004-2
Wing RH C188
1
OH
1620004-22
Wing RH C188
1
OH
1620004-29
Wing RH C188
1
OH
1620004-3
Wing RH C188
1
OH
1620004-30
Skin
1
NS
1620004-31
Wing LH C188
1
OH
1620004-32
Wing RH C188
1
OH
1620005-2
Stiffener
6
NS
1620005-7
Stiffener
6
NS
1620009-1
Fitting
15
AR
1620009-2
Fitting
2
NS
1620009-3
Fitting LH
1
AR
1620009-4
Fitting RH
1
AR
1620019-2
Angle
2
NS
1620021-3
Bracket
1
AR
1620021-3
Bracket
1
NS
1620021-5
Bracket
1
NS
1620021-5
Bracket
2
AR
1620021-6
Bracket
1
AR
1620022-1
Skin
1
NS
1620022-10
Skin
6
NS
1620022-3
Skin
7
NS
1620022-4
Skin
15
NS
1620022-5
Skin
12
NS
1620022-6
Skin
14
NS
1620022-7
Skin
7
NS
1620022-8
Skin
7
NS
1620022-9
Skin
7
NS
1620023-10
Hinge
11
AR
1620023-4
Sill
3
NS
1620026-10
Hinge
5
AR
1620026-11
Hinge
5
AR
1620027-3
Angle
1
AR
1620027-3
Angle
14
NS
1620029-6
Stiffener
1
AR
1620029-6
Stiffener
3
NS
1620030-1
Bracket
1
NS
1620037-1
Bracket
3
NS
1620042-19
Fairing
7
NS
1620042-9
Fairing
3
NS
1620046-5
Bracket
1
NS
1620059-3
Fence
5
NS
1620059-4
Fence
2
NS
1620059-5
Fence
1
NS
1620074-201
Tip W/ Light Provisions
6
NS
1620082-2
Spacer
1
NS
1621-DS
Bearing
1
NS
16210-003
Skin
1
NS
16210-010
Stringer
5
NS
1621000-16
Skin
1
NS
1621000-5
Skin
2
NS
1621000-7
Skin LE
1
NS
1621007-17
Rib
1
NS
1621007-18
Rib
1
NS
1621007-2
Rib
1
NS
1621007-21
Rib
1
NS
1621007-23
Rib
8
NS
1621007-24
Rib
4
NS
1621007-29
Rib
3
NS
1621007-32
Rib
6
NS
1621007-4
Rib
17
NS
1621007-6
Insert
2
NS
1621008-21
Rib
20
NS
1621008-23
Rib
18
NS
1621008-24
Rib
12
NS
1621008-25
Rib
9
NS
1621008-26
Rib
6
NS
1621009-11
Rib Assy
2
NS
1621009-13
Rib
10
NS
1621009-16
Rib
6
NS
1621009-17
Rib Assy
1
NS
1621009-23
Rib
1
NS
1621009-5
Rib
9
NS
1621012-1
Retainer
5
NS
1621012-2
Retainer
5
NS
1621012-3
Retainer
7
NS
1621015-1
Rib
2
NS
1621015-3
Rib
1
NS
1621015-4
Rib
3
NS
1621401-13
Rib
3
NS
1621401-14
Rib
3
NS
1621401-2
Rib
4
NS
1621402-4
Rib
4
NS
1621403-1
Rib
9
NS
1621403-2
Rib
8
NS
1621406-2
Retainer
1
NS
1621409-3
Stiffener
1
NS
16221012-3
Doubler
1
NS
16223-000
Plate
70
NS
16231-000
Fuel Bracket
1
NS
16234-000
Channel
1
NS
16235-003
Latch, Landing Gear
1
NS
16237-002
Channel
38
NS
16238-000
Rod
6
NS
1624001-11
Skin
5
NS
1624001-12
Skin
6
NS
1624001-13
Skin
3
NS
1624001-14
Skin
2
NS
1624001-17
Skin
5
NS
1624001-18
Skin
6
NS
1624001-19
Skin
3
NS
1624001-20
Skin
2
NS
1624002-1
Spar
6
NS
1624012-4
Rib
3
NS
1624022-12
Bracket
1
NS
1624022-13
Bracket
1
NS
1625-5P-1
Plug
1
NS
16273-000
Angle
2
NS
16274-003
Collar
1
NS
16289-000
Reinforcement Fuselage AF
6
NS
16289-001
Reinforcement Fuselage AF
78
NS
162A7819P21
Washer
40
NS
162A7819P22
Washer
75
NS
162A7820P21
Washer
119
NS
162A7820P22
Washer
43
NS
162A8280P21
Strap
12
NS
162A8281P21
Strap
8
NS
1630-00-829-6249
Stationary Disk
23
NS
16305
Static Wick
3
NS
1631001-3
Strap
2
NS
1631001-5
Strap
1
NS
1631007-2
Strap
1
NS
1631007-3
Strap
1
NS
1631011-1
Collector, Fresh Air
1
AR
1631012-2
Doubler
16
NS
1631013-1
Shield
1
NS
1632004-4
Wing RH C188
1
OH
16325
Static wick
5
NS
16327-000
Panel
1
NS
16335
Retainer
2
NS
16338-000
Stringer
1
NS
16340-008
Strip
1
NS
1635-70
Screw
1
NS
16365-009
Baffle
1
NS
1637
Zerk
18
NS
16382-000
Channel
2
NS
164
Lift Detector
1
AR
164-00500
Brake Disc
2
NS
164-02800
Brake Disc
2
NS
164-07501
Brake Disc
2
NS
164-07906
Disc, Brake
1
NS
164-25A
Disc
2
NS
164-3
Lift Detector
1
AR
164-30440
Brake Disc
1
NS
164-30804-1
Brake Disc
1
NE
164-32F
Disc
1
NS
164-35
Disc
1
NS
16405
Nut
6
NS
1641
Zerk Fitting
1
NS
1641025-2
Bracket
2
NS
1641025-8
Bracket
1
NS
16413-000
Baffle
1
NS
16414-000
Baffle
2
NS
16423-000
Bellcrank
1
AR
16424-011
Plate
1
NS
1643-12D
Fitting
6
NS
16436-000
Baffle
1
NS
16436-000
Baffle
2
NS
16436-001
Baffle
1
NS
16439-000
Bar
8
NS
16460-000
Rod
5
NS
16460-001
Rod
2
NS
16471-000
Nacelle
1
NS
16483-000
Nose Cowl
1
NS
16487-005
Skin
3
NS
16487-025
Skin
2
NS
16498-001
Angle
1
AR
165-14
Connector
1
NS
1650014-3
Shaft
4
NS
1650025-3
Support
2
NS
1650029-2
Bracket
1
NS
1650035-2
Bracket
6
AR
1650047-1
Clamp
1
NS
1650047-3
Clamp
2
NS
1650067-1
Retainer
8
NS
16505-001
Bracket
1
NS
16509-1
Skin
2
NS
1651004-1
Arm
1
NS
1651025-4
Bracket
1
NS
16511-000
Fairing
1
NS
16517-000
Skin
1
NS
16517-1
Skin
1
NS
1652001-5
Doubler
1
NS
1652009-10
Doubler
1
NS
1652010-3
Mount
1
NS
1652012-11
Support
4
NS
1652013-14
Door
1
NS
1652013-21
Arm
1
NS
1652014-11
Bracket
1
NS
1652014-3
Bellcrank
1
NS
1652017-2
Angle
1
NS
1652021-10
Duct
5
NS
1652025-1
Bulkhead
1
NS
1652027-23
Support
2
NS
1652027-24
Support
2
NS
1652027-28
Deflector
1
AR
1652033-1
Pan
4
NS
1652036-1
Door Assy.
2
NS
1652054-1
Cover
3
NS
16527-004
Trim
1
NS
1653001-19
Firewall
1
NS
16532
Gasket
11
NS
165341
Filter
1
NS
16536-001
Plate Assy, Firewall upper
1
NS
16541-002
Angle
1
AR
16541-002
Angle
2
NS
16543-008
Skin
1
NS
16548-000
Clamp
1
NS
16549-08
Skin
1
NS
16549-13
Skin
1
NS
1655003-4
Bracket
1
NS
1655011-3
Seal
1
NS
16560-005
Bracket
2
NS
1656021-3
Seal
1
NS
16561-000
Fitting
2
AR
16590-000
Line
1
NS
16596-000
Baffle
1
NS
16596-000
Baffle
1
NS
166
Plate
1
NS
166-61
Placard
2
NS
1660-01-105-6357
Filter-sub assy
13
NS
1660008-6-279
Strip Royalite
2
NS
1660014-1
Rod End
2
NS
1660026-1
Bracket
3
NS
1660110-1
Actuator ASSY.
2
NS
1660110-13
Actuator
2
NS
1660110-9
Actuator
1
NS
1660131-14
Stop
2
AR
1660132-1
Handle
1
NS
1660132-3
Handle
1
NS
1660133-6
Arm
1
NS
1660135-1
Bracket
1
NS
1660139-1
Block
3
NS
1660141-2
Shaft
1
NS
1660141-3
Knob
1
NS
1660147-1
Rod
1
AR
1660148-1
Rod
3
AR
1660161-1
Arm
3
NS
1660204-2
Shaft
1
NS
1660300-1
Cable
2
NS
1660300-2
Cable
2
NS
1660300-27
Cable
8
NS
1660302-6
Spacer
1
NS
1660415-8
Bellcrank
1
NS
1660504-2
Stop
1
NS
1660507-1
Bushing
3
NS
16607-000
Baffle
6
NS
16608-000
Bracket
2
NS
16617-001
Fairing
2
NS
16627-000
Baffle
1
NS
16627-000
Baffle
1
NS
16633-22
Tube
8
NS
1665
Lamp
20
NS
16681-000
Cover
1
NS
16690-000
Tab
1
NS
16693-004
Bulkhead
1
NS
1670000PA6
Wire
1
NS
1670008-2
Bracket
2
NS
16707-000
Bracket
1
AR
16707-000
Bracket
1
NS
16707-001
Bracket
1
AR
16711-001
Bulkhead
5
NS
16713-000
Bulkhead
1
NS
16715-000
Channel
2
NS
16719-01
Channel
2
NS
16745-000
Bracket
4
NS
16758-000
Air Vent
1
NS
16780-000
Balance Plate, Weight
1
NS
16781-002
Rib
203
NS
16782-005
Rib
97
NS
16782-008
Rib
1
NS
16782-009
Rib
203
NS
16783-000
Rib
1
NS
16784-000
Tip
1
NS
16785
Daton Granger Static Wick
4
NS
16791-000
Rib Rudder Balance Weight
1
AR
16793-000
Bulkhead
1
NS
168-2
Lift Detector
2
AR
1680-00-007
Cover Guard
2
NS
1680-EG-200-1
Cover
1
NS
16800-002
Spar
2
NS
16800-015
Rib
1
NS
16800-020
Skin
6
NS
16800-036
Rib
43
NS
16800-040
Skin
1
NS
16800-041
Skin
1
NS
16800-044
Trim Tab LH Stabilator PA24-250
1
NS
16800-049
Skin
1
NS
16800-051
Skin
1
NS
16800-053
Rib
5
NS
16800-054
Rib
4
NS
1680102-2
Body
2
NS
1680106-2
Cap End
5
NS
1680109-1
Screen
10
NS
1680116-1
Valve
5
NS
1680122-10
Tube
1
NS
1680122-13
Tube
1
AR
1680122-8
Line
1
NS
1680123-1
Dipstick
6
NS
168013
Retainer
30
NS
168090-9
Gear Box
1
AR
1683
Lamp
25
NS
16844-2
Plate
1
NS
16860-000
Plate
1
AR
16891-401
LH Flap, Cirrus
2
NE
16891-402
RH Flap, Cirrus
2
NE
169-000011
Placard
1
NS
169-11000-223
Rib
1
NS
169-11000-514
Rib
1
NS
169-110000-13
Rib O/B Wing
1
AR
169-110000-13
Rib O/B Wing
1
NS
169-110000-14
Rib-outbd wing
1
AR
169-110000-14
Rib
1
NS
169-110000-234
BRKT-LDG LIGHT-RH WING
3
NS
169-110000-247
Lens Assy
1
NS
169-110000-290
Seal
3
NS
169-110000-32
Rib
1
NS
169-110000-427
Bracket
2
NS
169-110017-1
Splice
1
NS
169-110018-354
Plate
1
NS
169-110019
Plate
1
NS
169-110019U
Splice plate, undrilled
1
NS
169-110029-43
Bracket
1
NS
169-110034-602
Door
2
AR
169-11014
Splice
1
NS
169-11021-652
Support
1
NS
169-130005-12
Spar Aileron
6
NS
169-130005-13
Bracket
4
NS
169-130005-5
Rib Aileron
2
NS
169-130005-6
Rib
1
NS
169-130005-7
Bracket
7
NS
169-160005-1
Flap LH W/Step C23 Musketeer
1
OH
169-160005-2
Flap RH C23 Musketeer
1
OH
169-160005-21
Spar
16
NS
169-160005-22
Spar
18
NS
169-160005-27
Doubler
6
NS
169-160005-39
Bracket
2
NS
169-160005-43
Flap LH W/Step C23 Musketeer
1
OH
169-160005-44
Flap RH C23 Musketeer
1
OH
169-160005-49
Skin
1
NS
169-160005-51
Flap, LH C23 Musketeer
1
NS
169-160005-53
Flap LH W/Step C23 Musketeer
1
OH
169-160005-55
Rib, Flap LH
3
NS
169-160005-9
Skin
1
NS
169-260000-114
Tip
1
NS
169-324028
Placard
4
NS
169-340051-13
Baffle
10
NS
169-340052-1
Decal
1
NS
169-360025-43
Plate
2
NS
169-360025-47
Bracket
1
NS
169-364017-3
INTERCOSTAL-TAXI LIGHT
1
NS
169-380021-5
Horn
2
AR
169-380032-5
Link
1
NS
169-380032-9
Door Stop
1
NS
169-380057-1
Actuator
2
AR
169-400005-155
Channel-Lower Cabin Floor
1
NS
169-400005-225
Bracket
1
NS
169-400005-238
Doubler
1
NS
169-400005-294
Skin, Forward Corner
1
NS
169-400005-295
Skin, Forward Corner
2
NS
169-400005-317
Cover Step
1
NS
169-400005-337
Cover, Lower Cabin
1
NS
169-400005-362
Seat Track
1
NS
169-400005-379
Floor, Lwr Cabin Center Fwd
3
NS
169-400005-417
Stringer
1
NS
169-400005-421
Stringer
3
NS
169-400005-422
Stringer
3
NS
169-400005-580
Skin
1
NS
169-400005-813
Step, LH
1
NS
169-400005-814
Step, RH
1
NS
169-400010-139
Plate
1
NS
169-400010-165
Doubler
1
NS
169-400013-3
Frame
1
NS
169-400013-4
Former
10
NS
169-400013-46
Doubler Assy
1
NS
169-400013-7
Plate
1
NS
169-400015-3
Frame, RH
1
NS
169-400017-5
Frame
1
NS
169-400024-5
Tube
1
NS
169-400025-63
Doubler
1
NS
169-410010-19
Washer
3
NS
169-420000-4
Channel
1
NS
169-420000-43
Clip
3
NS
169-420036-168
Hinge Half
2
NS
169-420036-169
Pin
2
NS
169-420038-7
Windshield
1
NS
169-420050-37
Keel
1
NS
169-440005-214
Skin
1
NS
169-440005-51
Stringer
2
NS
169-440013-11
Dorsal Fairing
1
AR
169-524000-35
Arm
2
NS
169-524020
Bellcrank
1
AR
169-524024-65
Link
2
NS
169-524031
Placard
1
NS
169-524039-3
Gear
2
NS
169-524049
Placard
6
NS
169-524071-71
Bracket
4
NS
169-524083-7
Flange
10
NS
169-530005-237
Trim Strip
3
NS
169-530005-238
Trim Strip
2
NS
169-534024-161
Foot Assy Bracket
1
NS
169-534096-3
Molding
1
NS
169-534096-4
Molding
1
NS
169-534098-1
Plate
1
NS
169-534113-1
Plate
1
NS
169-554005-53
Knob
2
NS
169-580001-107
Tube
1
NS
169-590016-11
Control Lock
1
NS
169-610000-146
Rib
1
NS
169-620000-10
Spars
12
NS
169-620000-119
Clip-Stab
3
NS
169-620000-124
Hinge Half
1
NS
169-620000-41
Skin
1
NS
169-620000-77
Rib
2
NS
169-620000-97
Bushing
2
NS
169-620001-21
Rib, Stab
2
NS
169-620001-22
Rib
8
NS
169-620001-35
Trim Tab RH Horizontal Stabilizer C23 Musketeer
1
NS
169-620001-45
Skin-Stab
1
NS
169-620001-48
Skin-Stab
1
NS
169-620001-57
Trim Tab LH Horizontal Stabilizer C23 Musketeer
1
NS
169-620010-3
Horn Elevator Trim
2
NS
169-640000-13
Vertical Spar
1
NS
169-640000-37
Skin
1
NS
169-640000-57
Pin Hinge Assy
1
NS
169-640000-601
Vertical Stabilizer C23 Musketeer
1
OH
169-640000-661
Rudder C23 Musketeer
1
OH
169-640000-71
Rib Rudder
2
NS
169-810000-39
Plate
3
NS
169-810000-57
Plate, landing gear
1
NS
169-810012-1
Compressor
3
NS
169-810025-1
Plate
1
NS
169-820022-1
Tube
1
NS
169-910002-29
Plate
1
NS
169-910010-137
Seal
1
NS
169-910013-111
Latch Assy
1
NS
169-910013-660
Nose Bowl
1
AR
169-910014-127
Retainer
2
NS
169-910014-41
Baffle
1
NS
169-910014-605
Baffle
1
NS
169-910014-611
Baffle
1
NS
169-910016-39
Doubler
2
NS
169-910017-11
Seal
1
NS
169-910017-29
Line
1
NS
169-910027-29
Valve
2
NS
169-910027-857
Valve
1
NS
169-910027-89
Shaft
3
NS
169-910028-7
Valve
1
NS
169-910030-73
Clip
4
NS
169-910040-13
Plate-Nose Cowl
1
NS
169-910040-15
Plate RH
2
NS
169-910040-3
Nose Cowl
1
AR
169-910040-9
Plate
2
NS
169-910049-35
Valve Assy
1
NS
169-910056-153
Channel
1
NS
169-920000-167
Guard Assy-Fuel System
1
AR
169-920013
Placard
9
NS
169-920039-18-5
Placard
1
NS
169-930010-1
Baffle
1
NS
169-940017-135
Plate
12
NS
169-950006-107
Shroud
3
NS
169-950006-47
Clamp
1
NS
169-950006-55
Shroud
2
NS
169-950006-61
Tube
1
NS
169-950006-97
Aft Exhaust Assy
1
AR
169-950010-15
Tube
9
NS
169-950010-29
Weld Assy Muffler
2
NS
169-950010-33
Ring
1
NS
169-950010-37
Shroud
1
NS
169-950012-3
Muffler Assy
1
NS
169-960011-1
Bulkhead
1
AR
169-960011-13
Bulkhead
3
AR
169-960011-3
Bulkhead
2
AR
169-960013-90
Angle
4
NS
16904-000
Angle
5
NS
16914-000
Hinge Half
10
NS
16917-000
Plate
1
AR
1692
Lamp
12
NS
16925-001
Plate
5
NS
16930
Static Wick
2
NS
1694-2
Pitot Tube
1
NS
16949
Baffle
1
NS
16950-000
Bracket
1
NS
16954-000
Skin, Nacelle Top
1
NS
16975-000
Bracket (Engine Control)
3
NS
16998-000
Stiffener
1
NS
16998-001
Rib
1
NS
169V-909-6-2R
Ammeter
1
NS
16A108
Gasket
5
NS
16A16
Gasket
1
NS
16A48
Gasket
6
NS
16R22291-P05
Fitting
1
NS
16ZTF600-400-36
Wave Guide
1
NS
17-20370
Receptacle
3
NS
170-64-1
Insert
90
NS
17000-262
Seal
1
NS
1700121-14
Line
1
NS
170026-4
Rib
1
NS
170041-1
Bracket
2
NS
170056-63
Plate
2
NS
17009
Gasket
14
NS
170144-2
Skin
1
NS
17036
Seal
2
NS
17038-001
Skin
1
NS
17050-009
Spar
1
NS
17053-2
Cap
2
AR
170554
Solenoid Valve
1
NS
17056-000
Hinge
7
AR
17058-003
Rib
3
NS
17059-000
Horn Assy, Rudder
1
NS
1706015-2
Cover
1
NS
17067-017
Bracket
1
NS
17067-018
Doubler
2
NS
17067-019
Skin Fwd
2
NS
17068-013
Spar
1
NS
17068-017
Rib
1
NS
17068-028
Skin, LH
1
NS
17068-029
Skin, RH
2
NS
17069-002
Bulkhead
3
NS
17069-041
Bulkhead
2
NS
17069-5
Bulkhead
1
NS
17069-6
Bulkhead
2
NS
170710
Screen
1
NS
170875
Separator
2
NS
17089-000
Pin
2
NS
1709004-2
Brace
4
NS
1709011-3
Reinforce
1
NS
171-13
H.P. Relief
1
NS
17100-000
Aileron LH PA23-250
1
OH
17100-001
Aileron RH PA23-250
1
OH
17100-004
Rib
7
NS
17100-017
Skin
1
NS
1710003-10
Fairing
2
NS
1710003-9
Fairing
4
NS
17101-002
Arm
1
NS
17101/319
Bushing
2
NS
17104-004
Rib
9
NS
17104-005
Rib
6
NS
17104-035
Skin
1
NS
17104-052
Skin
1
NS
17104-057
Flap, RH PA23-250
1
NS
17104-066
Skin, Bottom Flap
1
NS
171090-4
Push Rod Assy, Door Latch
1
AR
1711000-10
Baffle
2
NS
1711004-1
Stringer
1
NS
1711009-3
Stringer
1
NS
1711009-4
Stringer
1
NS
1711025-10
Hinge
1
NS
1711025-11
Hinge
1
NS
1711026-13
Bracket
1
NS
1711029-1
Jamb
1
NS
1711029-12
Bracket
1
NS
1711038-2
Doubler
1
NS
1711039-1
Doubler
1
NS
1711039-2
Stiffener
1
NS
17116-000
Shim
1
NS
1712001-1
Fitting
1
AR
1712006-3
Bulkhead
5
NS
1712006-7
Bulkhead
10
NS
1712008-7
Cover
1
NS
1712018-2
Rib
1
NS
171206-22
Stiffener
1
NS
1712072-1
Plate
2
AR
1712072-2
Plate
2
AR
1712080-2
Clutch
2
NS
1712088-1
Cover
2
NS
17121-005
Skin
1
NS
17121-005
Skin
1
NS
1712100--6
Skin
1
NS
1712103-5
Bulkhead
1
NS
1712106-22
Stringer
1
NS
1712106-24
Stringer
1
NS
1712108-3
Angle
4
NS
1712108-4
Angle
7
NS
1712142-1
Bellcrank assy
1
AR
1712159-12
Stiffener
1
NS
17126-008
Balance Assy
2
NS
17126-008
Balance Assy
1
AR
17130
Cable
1
NS
1713000-2
Skin
1
NS
1713000-203
Door Post
1
NS
1713002-1
Stringer
3
NS
1713002-2
Stringer
1
NS
1713002-4
Stringer
3
NS
1713003-4
Stringer
2
NS
1713005-2
Stringer
1
NS
1713008-2
Floorboard
1
NS
1713015-4
Bulkhead
2
NS
1713019-1
Bulkhead
1
NS
1713034-4
Skin
7
NS
1713040-1
Channel
1
NS
1713054-7
Bracket
1
NS
1713054-8
Bracket
1
NS
1713078-1
Bracket
3
NS
1713092-1
Bracket
2
NS
1713093-3
Bracket
1
NS
1713093-4
Stiffener
1
NS
1713102-5
Stiffener
1
NS
1713102-6
Stiffener
1
NS
1713103-1
Spar
1
NS
1713105-1
Spacer
1
NS
1713108-3
Support
1
NS
1713108-4
Angle
1
NS
1713145-1
Stiffener
1
NS
1713145-2
Angle
1
NS
1713145-3
Stiffener
2
NS
1713147-1
Retainer
1
NS
1713156-1
Gusset
2
NS
1713158-1
Support
2
NS
17132-003
Channel
1
NS
17132-006
Angle
1
NS
1713200-13
Bracket
1
NS
1713201-18
Stringer
1
NS
1713260-4-532
Trim Panel
1
NS
1713274-2-989
Cover
1
NS
1713274-3-532
Trim
1
NS
1713275-3-279
Cover
1
NS
1713282-2
Bracket
1
NS
1713285-1
Support
1
NS
1713285-2
Support
1
NS
1713285-3
Support
9
NS
1713286-1
Support
2
NS
1713290-1
Angle
1
NS
1713321-2
Bracket
1
NS
1713384-2
Stiffener
1
NS
1713387-1
Strap
8
NS
1714000-22
Shim
12
NS
1714000-22
WASHER
12
NS
1714099-31
Retainer
1
NS
1714099-32
Retainer
1
NS
171465
Plate
41
NS
17150-000
Bracket
1
NS
1715019-1
Molding
1
NS
1715029-1
Retainer
1
NS
1715029-2
Retainer
1
NS
1715041-1-532
Molding
1
NS
1715041-15-532
Trim
1
NS
1717027-1
Bracket
1
NS
1717035-3
Plate
1
NS
1717039-3
Latch
1
AR
1717039-3
Latch
1
NS
1717049-2
Bolt, Latch
1
NS
1717052-1
Arm Stop
4
NS
1717054-1
Stiffener
3
NS
1717055-1
Stiffener
1
NS
1717056-3
Bracket Assy LH
5
NS
1717086-2
Shaft
1
NS
17179-002
Tube
1
AR
17184-006
Rib
1
AR
17184-008
Rib
1
NS
17184-011
Rib
1
AR
17184-011
Rib
1
NS
17184-016
Rib
2
NS
17184-017
Rib
1
NS
17184-018
Rib
1
AR
17186-008
Rib
1
AR
17186-009
Rib
1
AR
17188-011
Rib
1
NS
17188-012
Rib
1
NS
17188-013
Rib
2
NS
17189-010
Rib
2
NS
17189-011
Rib
2
NS
17193-62
Skin
1
NS
17198-000
Bracket
1
AR
17198-030
Angle
1
AR
17202-000
Shim
10
NS
17207-000
Angle
1
AR
1722003-1
Rib
1
NS
1722003-5
Skin
1
NS
1722007-1
Strip
1
NS
172201-1
Stiffener
1
NS
1722010-1
Screen
4
NS
1722044-4
Rib
6
NS
1722044-5
Stringer
2
NS
1722045-1
Cover
4
NS
1722045-5
Cover
1
NS
1722049-2
Rib
1
AR
1722054-2
Rib
3
NS
1722063-1
Bracket
7
NS
1722064-1
Track
4
AR
1722064-25
Track
1
AR
1722064-7
Track
1
AR
1722082-7
Lever
1
NS
1722086-6
Guide
1
NS
1722087-1
Retainer
1
NS
17221-000
Tool
3
NS
17222-1
Rib
1
NS
17223-001
Angle
1
NS
1723001-3
Shield
1
NS
17241-000
Channel
2
NS
17252499
Bulkhead
1
AR
17254453
Actuator
3
AR
1726041-7
Door
1
NS
1726045-6
Strainer
2
NS
1726401-2
Doubler
2
NS
17269-005
Rib
10
NS
1728B
Fitting
12
NS
173-58137-9
Linear Actuating Cylinder Cap
1
NS
173038-40
Hose Assy
1
NS
17304-005
Channel
1
AR
17305-000
Channel
1
NS
17305-008
Channel
1
NS
17306-000
Rib
1
AR
17307-010
Rib
1
NS
17308-016
Rib
1
NS
17308-021
Rib
1
NS
17309-004
Skin
1
NS
17309-014
Skin
7
NS
17309-018
Frame
1
NS
17309-037
Skin
1
NS
17309-037
Skin
1
NS
17309-043
Skin
1
NS
1731-504
Pin
4
NS
1731000-200
Vertical Fin C177
1
OH
1731000-201
Vertical Fin C177
1
OH
1731001-2
Spar
2
NS
1731009-3
Cap
3
AR
1731019-3
Bracket
2
AR
1731026-1
Rib
6
AR
17311-002
Bushing
3
NS
17312-000
Pin
2
NS
17314-000
Rod Assy
1
NS
173145-02
Regulator
1
NS
173159-013
Doubler
1
NS
17316-000
Plate
1
NS
17317-000
Plate
1
NS
173178-31
Stringer
1
NS
173178-41
Stringer
1
NS
173178-45
Stringer
1
NS
17318-002
Plate
1
NS
17318-003
Plate
18
NS
17320
Thermoswitch
1
AR
1732003-26
Stabilator C177
1
OH
1732003-5
Skin
1
NS
1732003-6
Skin
1
NS
1732003-7
Stabilator C177
1
OH
1732007-1
Rib
19
NS
1732008-3
Rib
3
NS
1732009-1
Bulkhead
1
AR
1732011-1
Rib
14
AR
1732013-1
Rib
11
AR
1732015-1
Splice
8
AR
1732025-5
Trim Tab LH Horizontal Stabilator C177
1
AR
1732025-6
Trim Tab RH Horizontal Stabilator C177
2
AR
1732036-2
Fairing
4
SV
1732037-2
Stiffener
1
NS
1732038-1
Rib
32
AR
1732052-1
Rib
12
AR
1732053-1
Rib
2
NS
1732054-1
Rib
2
NS
1732063-1
Bracket LH
1
NS
1732063-1
Bracket LH
1
AR
1732063-2
Bracket RH
1
AR
1732063-2S
Bracket RH
1
NS
1732064-1
Bracket LH
1
NS
1732068-3
Bracket
1
NS
173267-5
Doubler
1
NS
17329-013
Bulkhead Rear spar
1
NS
17329-028
Rib
1
NS
1733000-1
Rudder C177
1
OH
17351-300
Spacer/Sleeve
1
NS
17353-000
Bracket
1
NS
17353-001
NLA No Tools
1
NS
17356-009
Bulkhead
2
NS
17356-012
Bulkhead Assy
3
NS
17356-015
Rib
1
NS
1736
Grease Fitting
13
NS
17360-010
Skin
1
NS
17360-014
Skin
2
NS
17360-015
Skin
1
NS
17360-015
Skin
1
NS
17361-005
Skin
2
NS
17364-000
Plate
3
NS
17366-000
Clip
4
AR
17366-002
Clip
5
AR
17369-000
Bracket
2
AR
17374-000
Plate
1
NS
1737597
Bowl Assy
18
NS
17377-002
Skin
1
NS
17377-003
Skin
1
NS
17377-004
Skin
1
NS
17377-005
Cap
1
NS
17377-005
Skin
1
NS
17377-015
Skin
2
NS
17396-80
Bracket
1
NS
173D22LN20
Connector
3
NS
174-S-22
Gasket
2
NS
1741004-12
Cover
1
AR
1741004-12
Cover
1
NS
1741005-200
Fairing
6
AR
1741005-239
Fairing
1
AR
1741005-240
Fairing
1
AR
1741005-243
Fairing
1
NS
1741005-247
Fairing
1
NS
1741005-251
Fairing
1
NS
1741005-252
Fairing
1
NS
1741006-3
Retainer
4
NS
1741022-1
Stiffener
1
AR
1741022-2
Stiffener
1
AR
17412-041
Spar Assy
1
NS
17413-003
Handle
1
NS
17422-004
Skin
1
NS
17422-005
Skin
1
NS
17423-000
Plate
1
AR
1743015-1
Bearing
1
NS
1743016-1
Ring
3
NS
17442-000
Tee
1
NS
17472-000
Channel
2
NS
17475-004
Air Duct
1
NS
17494-000
Fairing
1
NS
17496
Bulkhead
1
NS
17497-004
Top Assy
1
NS
174975
Spring
5
NS
175000-2-132
Rib
1
NS
175001-3
Rib
1
NS
175007-501
Skin
1
NS
175022-2
Retainer
2
NS
17518-000
Bracket
1
AR
17518-000
Bracket
2
NS
17520
Bearing
8
NS
1752002-1
Cowl
5
NS
1752002-3
Shim
3
AR
1752007-4
Sill
1
NS
1752059-1
Angle
12
NS
1752091-1
Cowl Flap C177
1
NS
1752105-1
Cover
1
NS
1752111-3
Bracket
1
NS
1752111-3
Bracket
1
AR
1752113-1
Gasket
2
NS
1752119-4
Bracket
3
NS
1752119-7
Bracket
3
NS
17531-012
Rib
1
NS
17531-018
Reinforcement
1
NS
17531-022
Gear Door
1
NS
1754010-1R
Riser
2
SV
17546-004
Bracket Assy-Nose Wheel
1
NS
17546-005
Bracket
1
NS
17547-002
Stop
4
NS
17548-000
Block
1
NS
17550-000
Bracket
1
AR
1755004-1
Baffle
19
AR
1755008-1
Baffle
3
NS
1755014-1
Support
1
AR
1755026-27
Baffle
1
NS
17572-000
Spring
1
AR
17580
Bearing
10
NS
17581-001
Cover
1
NS
1760006-110
Cable
3
NS
1760006-111
Cable
2
NS
1760006-29
Chain
2
NS
1760006-44
Cable
1
NS
1760024-1
Lock
1
NS
176143
Spring
19
NS
17615-004
Link
1
NS
1763009-3
Rod
1
NS
17636-000
Tube-Flap Control Cylinder
1
NS
17640-023
NLA Cover Nose Wheel
2
NS
176447
Plug
2
NS
17645-000
Link
2
AR
17645-000
Link
2
NS
176497
Guide
1
NS
17667-000
Skid Assy - Tail
2
NS
1767065-1
Link Assy.
1
NS
1767068-2
Shaft
1
NS
17672-000
Fuel Cap
2
NS
17686-000
Plate
1
NS
17692-000
Hinge
3
NS
17696
Bush Screw
2
NS
17696-000
Rod Assy
6
NS
177-00300
Pin, Brake
4
NS
177-00300
Pin, Brake
7
NS
177-00400
Pin
21
NS
177-01600
Pin, Brake
5
NS
177-8430-09-503
Lamp Base
2
NS
17742-000
Cover
1
AR
17752-003
Pipe
1
NS
17765-000
Hinge Assy
1
NS
17765-002
Hinge
2
NS
17766-066
Hose
1
NS
1777
Lamp
25
NS
177718
Washer
23
NS
177765
Seal
3
NS
17780-000
Control
1
NS
177829
Nut
3
NS
17785-000
Doubler
1
NS
17792-000
Gear Door
1
NS
17793-000
Cover
1
NS
17794-000
Bushing
1
NS
17802-000
Rod Assy
2
NS
17806-000
N.L.A. Reflector
2
NS
17807-000
Guard
13
NS
1781
Cap
155
NS
17834-000
Angle Assy
6
NS
17847-001
Fitting
1
NS
17848-003
Bearing
2
NS
17852-002
Plate
1
NS
17853-001
Fairing
1
NS
17853-002
Fairing
1
NS
17870-008
Strap Assy, Baggage Tie Down
1
NS
17870-010
Strap NLG Tie Down
1
NS
17871-008
Strap
2
NS
17871-014
Strap (2 blk,1 beige)
3
NS
17880-000
Tube
1
NS
17884-000
Spinner
3
AR
17884-002
Spinner
3
AR
17885-009
Tail Cone
1
AR
17913-023
Angle
4
NS
17913-024
Angle
3
NS
17913-051
Skin
1
NS
17913-059
Bulkhead
1
NS
17913-069
Skin
1
NS
17913-093
Doubler
1
NS
17913-110
Bulkhead
1
NS
17913-115
Skin
3
NS
17913-121
Splice
3
NS
17913-122
Splice
4
NS
17917-000
Plate
1
NS
17918-000
Plate
1
NS
179207
Tube Assy
1
NS
17944-000
Stem
1
NS
17950-000
Mast Stem
1
NS
17956-000
Bracket
1
NS
179826
Tube Spacing
2
NS
17B-47H
Handle
3
NS
18-0229
Spigot
1
AR
18-1501-3L
Pad
1
NS
18-1653
Gasket
10
NS
18-189SA2
Bulkhead
1
NS
18-1C
Sleeve
18
NS
18-3852-SA
Stud
1
NS
18-3M
Sleeve
3
NS
18-4214
Bushing
3
NS
18-910010-17
Arm
1
NS
18-910010-24
Cowl-Flap Assy RH
1
NS
18-910010-35
Hinge
1
NS
18-910033-29
Brace Assy
1
NS
180-432
Strap
1
NS
180-461
Curtain Tape, Snap
1
NS
180-497
Felt
8
NS
180-809
Webbing FT
1
NS
1800
Bushing
7
NS
180000
Bearing
1
NS
18001-005
Block
8
NS
180091
Placard
1
NS
180195
Bearing
8
NS
18022-000
Shim
8
NS
18040-000
Plate
2
NS
18045-000
Spring
1
NS
18049
Cowling
3
NS
18064-002
Bushing
1
NS
18081-000
Roller
11
NS
180849-28
Condenser Bag
1
NS
18098-000
Bushing
2
NS
18099-013
Reinforcement
2
NS
18110-1
Clamp
2
NS
1811226-4
Hinge
1
NS
18114-2
Clamp
1
NS
18116-005
Ring
4
NS
18117-001
Cover
1
NS
1813
Lamp
15
NS
18132-000
Clamp
1
NS
18132-002
Angle
1
NS
18132-1
Rib
1
NS
18132-5
Rib
1
NS
1813R
Lamp (Red)
2
NS
181417
Bushing
1
NS
18154-000
Channel
1
NS
1816
Lamp
37
NS
18165-000
Metal Strip
1
AR
181659
Cover Assy
18
NS
18172
Cylinder
2
AR
18183-000
Baffle
2
NS
18184-000
Baffle
3
NS
18185
Baffle
1
NS
18187-000
Baffle
3
NS
18188-000
Baffle
2
NS
1819
Lamp
3
NS
18192-00
Skin
1
NS
18193-000
Baffle
2
NS
18196-000
Bracket
1
NS
18198-000
Rod
2
NS
18199-00
Baffle
1
NS
1820
Lamp
15
NS
18202-000
Plate
1
NS
18206-2
Nut Wing Hinge Bolt
2
NS
1821-008
Pin
8
NS
1821-009
Pin
12
NS
18213-000
Bracket
2
NS
18214-000
Support
1
NS
18219-005
Clip
1
NS
18241-000
Clamp
2
NS
18242-002
Pin
9
NS
18261-000
Tack Off
1
NS
18274-005
Bracket
3
NS
18274-010
Bracket
2
NS
18274-011
Bracket
3
NS
18274-012
Bracket
6
NS
18276-500
Clamp
1
NS
18285-000
Gasket
4
NS
1829
Lamp
12
NS
183-00100
Bleeder Cap
5
NS
183-1
Cap Bleeder
24
NS
1830-CL
U-Channel
5
NS
18304-000
Earloop
1
NS
18307-000
Clamp
7
NS
183072-1-1
Heat Exchanger
5
AR
18309-000
Tube
4
NS
18316-002
Rod
2
AR
18316-003
Rod
4
AR
18321-000
Plate
2
NS
18340-000
Cover
3
NS
18344-003
Stop (Aztec)
5
NS
18349-002
Stud- Door Catch
2
AR
18349-002
Stud
2
NS
18359-000
Nut
2
NS
18360-000
Bushing
1
NS
18387-000
Bracket
1
NS
1839345
Bushing
4
NS
18399-000
Block
1
AR
184-323
Torque Plate
2
NS
18405-000
Scoop
2
NS
1841003-1
Spool
2
NS
18421-000
Spring
2
NS
18424-000
Plate
2
NS
18430-013
Strip-Window Moulding attach
1
NS
18430-014
Strip
1
NS
18430-016
Spar
1
NS
18453-002
Screw
1
NS
1846212
Elbow Nut
11
NS
18465-000
N.L.A Strip-Weather
2
NS
18480
Aeroduct
1
NS
18480-002
Cover
2
AR
18484-102
Gasket
2
NS
18492-000
Rheostat
1
NS
18496-000
Bracket
1
AR
1852
Lock Plate
22
NS
185272-2
Plate
1
NS
18530
Screw
4
NS
18531013-90
Strap
1
NS
18534013-131
Strap
2
NS
18534013-49
Handle
1
NS
18534013-51
Gear-Chair Assy
2
NS
1853917
Washer
9
NS
185678
Clip
1
NS
185916
Hinge Front Cowl
5
NS
185929U
Plate
1
NS
185968
Rod
1
NS
185981-1
Bracket
3
AR
185984-1
Cowl Flap Hinge
1
NS
186-2
Lift Detector
1
AR
186-218
Spring
6
NS
18602-000
Channel
2
NS
18610-00
Skin
1
NS
186100-3
Trailing Edge-Elevator
1
NS
186110
Trim Tab Assy
1
NS
186144RH
Rib
1
NS
186146LH
Rib
1
NS
186147
Rib
1
NS
186148
Rib
1
NS
18616-000
Cover
2
NS
1862
Spacer
2
NS
186203-2
Tip
1
NS
186210
Hinge Assy
1
NS
186250-2
Skin
5
NS
186250-3
T/E Assy.
1
NS
186251-1
Spar
1
NS
186252-10
Rib
2
NS
186252-19
Rib
2
NS
186252-26
Rib
1
NS
186252-3
Rib
1
NS
186252-6
Rib
1
NS
186252-7
Rib
3
NS
186254
Tab Bulkhead
1
NS
1864
Lamp (GE1864)
8
NS
18640-005
Nose Assy
1
NS
1865182
Plug
3
NS
18665-000
Rib
1
NS
18665-001
Rib
1
NS
18667-000
Assy.
4
NS
1867150
Oil Seal
2
AR
18687-003
Support
1
NS
18688-000
Bracket
1
AR
186929-1
Plate
2
NS
18697
Knob
21
NS
187-140
Fire Sleeve
2
NS
187-506
Seal
1
NS
187-573
Seal
2
NS
187-622
Strip Wiper
1
NS
187-625
Wiper Strip (Sold By the Ft)
9
NS
187-627
Wiper (ring)
17
NS
187-652
Cord
1
NS
187-808
Pin
6
NS
18701-00
Tip
4
NS
18707-000
Bracket
1
NS
18720
Bearing
16
NS
187300-1
Pulley
1
NS
18770-006
Valve
1
AR
187735-2
Sprocket
2
NS
187736-1
Bushing
1
NS
187797
Universal Joint
1
NS
187809
Universal Joint
1
NS
18790
Bearing
4
NS
18810010-25
Fairing
1
NS
18810010-27
Fairing
1
NS
18810010-29
Fairing
1
NS
18813-000
Bracket
3
NS
1881835
Spring
5
NS
1881865
Terminal Stud
4
NS
18823-000
Bellcrank
1
AR
18824-002
Shim
9
NS
18824-003
Plate
1
NS
1884
Axle Nut, Kit
1
NS
188515
Handle
1
NS
18872-003
Plate
1
NS
18874-000
Shim
10
NS
18874-002
Shim
5
NS
1887439
End, Frame
1
NS
188851-1
Guard
1
NS
1889
Lamp
6
NS
189-092
Tube
1
NS
189-354
Hinge
1
NS
189-364
Hinge
1
NS
189-379
Trim
1
NS
189-409
Seal
1
NS
189-715
Seal Tape
100
NS
189-720
Seal Tape
2
NS
189015
Tube Assy
4
NS
189021
Gasket
3
NS
18905-002
Airspeed
1
AR
18910010-18
Arm Assembly
1
NS
18910010-39
Clip
1
NS
18910010-40
Clip
1
NS
18910033-11
Doubler
8
NS
18910034-93
Reinforcement
15
NS
18911-000
Ball Door Stop
10
NS
18912-000
Plate
1
NS
189121
Duct Assy
1
NS
189140
Duct Assy.
1
AR
189142
Duct Assy.
1
NS
189160
Duct
1
AR
18918
Gasket
11
NS
189186-12
Collar
4
NS
1891R
Lamp
4
NS
18933-000
Strap
1
NS
18940013
Bearing
1
NS
1895
Lamp
3
NS
189521
Arm
3
AR
18958-000
Lock
1
NS
18963-000
Bushing
4
NS
18970011-25
Door (Plate)
3
NS
18970011-47
Hinge
3
NS
18970011-53
Wedge
4
NS
18970011-95
Phenolic Striker
1
NS
1898-1
G Switch
5
NS
18S5850P-10
Reinforcement
1
NS
18S5903A R
Plate
2
NS
18S5921-1
Bracket
4
NS
18S5921-1-824
Plate
14
NS
18S5921-651
Bracket
1
NS
18S9132-2
Elbow LH
1
NS
18S9154
Valve
1
AR
18S9156A
Arm Seal
2
NS
190-1010-1
Spigot
1
AR
1900272
Condenser
1
NS
1900C5048-3
Seat Track
3
NS
190238
Fuel Cap
1
NS
1902746
Shim
1
NS
19035-000
Plate
4
NS
1903871
Spring
13
NS
1904365
Arm
10
NS
19046-000
Link
1
NS
19055-002
Panel
2
NS
1906931
Brush
11
NS
1906945
Brush
14
NS
1906976
Brush
5
NS
1908550
Plate
2
NS
1908554
Cover Band
1
NS
1908556
Bolt
2
NS
1908580
Plate
1
NS
19086-003
Pin
1
NS
1908844
Bolt
2
NS
1908999
Plate
1
NS
1909173
Bolt
4
NS
19098-000
Cover
2
NS
1909851
Oil Seal
1
NS
1912
Lamp
2
NS
1912T93G01
Retrofit installation Kit
31
NS
19132-000
Clamp
2
NS
1914579
Washer
10
NS
19148-000
Plate
4
NS
19150
Bearing
3
NS
19155-002
Guide
1
NS
19161-000
Stop
1
NS
1916224
Spring
7
NS
19171-002
Brake Cylinder
5
NS
19182-000
Adapter
1
NS
192-001
Clamp
2
NS
1920-5-7
Stud
100
NS
19225-000
Block
2
NS
19262
Bearing
2
NS
19268
Bearing
10
NS
19282
Bearing Race
5
NS
19283-004
Rib
2
AR
19283-009
Rib
5
AR
19283-010
Rib
2
AR
1929351
Armature
1
NS
19294-000
Bracket
1
AR
193000-3D-0140
Line
1
NS
193004
Channel
15
NS
19304-000
Stop
7
NS
1931777
Lead, Brush
3
NS
19320-000
Baffle
2
NS
19321-000
Baffle
3
NS
1932506
Brush
16
NS
19327-003
Sub Assy Fuse,Nose,Sec
1
AR
19334-000
Tube
1
NS
1934355
Bushing
1
NS
193531-001
Nylatch
1
NS
19360-001
Fairing
2
NS
19361-001
Fairing
3
NS
19361-002
Fairing
2
NS
19365-000
Cam (PA28 Seat)
2
NS
1936938
Armature
1
NS
19377-000
Ring
11
NS
1938740
Bushing
4
NS
1939X
Lamp
10
NS
194
Lamp
3
NS
1940
Lamp
5
NS
19404-000
Horn
1
AR
19407-000
Bracket
1
AR
19409-002
Bracket
1
AR
19409-004
Bracket
1
NS
194090
Bushing
6
NS
1941978
Washer
1
NS
1943-5
Washer
50
NS
1943580
Bushing
1
NS
19447-003
Skin
1
NS
19447-003
Skin
1
NS
194887-001
Sealant
1
NS
19513-010
Washer
8
NS
19513-010
Washer
2
AR
19513-015
Washer
8
NS
19513-039
Washer
1
NS
19513-056
Washer
4
NS
19513-093
Washer
1
NS
19513-096
Washer
1
NS
19513-17
Seal
1
NS
1952217
Lead
2
NS
1953211
Spring
2
NS
19541-002
Door
1
NS
19543-000
Door Assy Glove Box
3
AR
19553-002
Skin
2
NS
19556-000
Plate
2
NS
19556-005
Plate
1
NS
195573
Clip
3
NS
1956345
Bushing
3
NS
1956975
Bolt
4
NS
1957-127
Plate
2
NS
19590-002
Channel
1
NS
1959523
Washer
2
NS
1959991
Collar
4
NS
19604P12
Stud
2
NS
19604P8
Stud
14
NS
1961323
Retainer
1
NS
1961871
Rivnut
1
NS
1963139
Bushing
5
NS
19640-000
Drain
1
NS
19650-000
Air Box
1
NS
19652-000
Rod
1
NS
1965276
Brush and Holder
1
NS
19654-000
Cam
1
NS
19664-003
Channel
1
NS
19664-005
Channel
1
NS
19664-006
Channel
2
NS
19664-008
Channel
1
NS
1968396
Screw Pole Sleeve
8
NS
19687-001
Bracket
1
NS
1968991
Bolt
8
NS
19778
Shaft
1
AR
1978X
Lamp
1
NS
19795-000
Molding Section ( in black)
15
NS
19800-000
Plate
2
NS
19803-000
Plate
1
NS
19817
Ring
15
NS
19821-000
Cover
1
NS
19835-000
Arm
1
NS
19837-000
Lock Assy
1
NS
19839-000
Bracket
1
NS
19845-000
Valve
1
AR
199-12
KIT (Bleeder Assy)
4
NS
199-M11023-5
Angle
3
NS
19927-002
Loop
5
NS
19927-003
Loop
1
NS
19938-000
Channel
2
NS
19941-000
Placard
1
NS
19946-00
Baffle
1
NS
19972-000
Strap
4
NS
19973-000
Plate
5
NS
19992-005
Bracket
1
NS
19E17-5A
Air Ejector
1
NS
19H450-7
Lockring
51
NS
1A0228
Plug
1
NS
1A0232
Clamp
1
NS
1A0278
Adaptor Kit
1
NS
1A0587
Filter
2
NS
1B495-4
Flux Detector
1
AR
1B6544
Lube Cap
30
NS
1C27-21
Fuel Pump
1
AR
1C359-1
Remote GYR
1
AR
1C363-1-183R
Servo
1
AR
1C363-1-197R
Servo
1
AR
1C363-1-209R
Servo
1
AR
1C363-1-306R
Servo
1
AR
1C363-1-312R
Servo
1
AR
1C363-1-504R
Servo
1
AR
1C363-1-602R
Servo
1
AR
1C373-6-452
Servo
1
AR
1C373-6-471
Servo
1
AR
1C373-6-501
Servo
1
AR
1C465-1-732
Servo
1
AR
1C508-1-359P
Servo
1
AR
1C508-1-378R
Servo
1
AR
1C508-1-529R
Pitch Servo Assy.
1
AR
1C709-21
Amplifier
1
NS
1C735-901
Sensor
1
AR
1CS10004-7
Stud
1
NS
1EN1-12B
Switch
2
NS
1H5-4
Manifold
1
AR
1HSN-64
Switch
4
NS
1J1-2A
Filter
2
AR
1J10-1
Filter
2
NS
1J12-1
Pressure Regulator
1
AR
1J2-1
Filter
1
NS
1J4-4
Filter
5
NS
1J7-2
Filter
1
NS
1K1-6-10
Elbow (alt AA1K1-6-10)
2
NS
1K1-6-8
Fitting
1
NS
1K10-4-4
Fitting
1
NS
1MN101
Fitting
1
NS
1N1201
Diode
12
NS
1N1343A
Diode
2
NS
1N3999A
Diode
3
NS
1N4003
Diode
2
NS
1N4005
Diode
2
NS
1N4006
Diode
1
NS
1N5358A
Diode
11
NS
1N5400
Diode
5
NS
1N968B
Diode
8
NS
1PA1000
Phase Adapt
1
AR
1PA15
Switch accessory pack
50
NS
1R1816
Bearing
2
NS
1SE1
Switch
4
AR
1SE3-3
Switch
3
NS
1SM3T
Switch
1
NS
1U128-005
PUMP
6
AR
1Z80011
Spacer
3
NS
2-017S469-40
Packing
8
NS
2-111-100-17
Curl Assy
1
NS
2-1142-22
Screen
1
NS
2-1524
Support
2
NS
2-161-3
Washer
4
NS
2-161-4
Washer
1
NS
2-1610-46
Bulkhead
2
NS
2-1616-33
Rib
1
NS
2-1625-1
Rib
1
NS
2-1800-087
Skin
1
NS
2-18S
Static Discharger
62
NS
2-199-3
Washer
1
NS
2-199-5
Washer
3
NS
2-202
Bearing
10
NS
2-214S469-40
Packing
1
NS
2-222S469-40
O-Ring
10
NS
2-23
Base
2
NS
2-23411
Bushing
2
NS
2-240
Aeroduct
1
NS
2-2600-79
Hinge
2
NS
2-2601-51
Hinge
2
NS
2-3202-83
Bulkhead
1
NS
2-3204-135
Channel
1
AR
2-3204-39
Channel
1
AR
2-3204-44
Channel
3
AR
2-3205-13
Skin
1
NS
2-3205-44
Angle
1
NS
2-3205-95
Channel
1
NS
2-3251-67
Channel
1
NS
2-3251-68
Channel
1
NS
2-3900-55
Panel
2
NS
2-3900-55
Panel
1
NS
2-43-8
Cable
1
NS
2-44-4B
Cable
1
NS
2-505-1
Duct
1
NS
2-7403-173
Trim
1
NS
20-0107B24
Instrument Light
2
NS
20-067-1
Bracket
10
NS
20-201-001
Spinner Mount Kit
1
NS
20-L-2-5
O-Ring
8
NS
200-18
Harness
1
NS
200-21
Lead, Ignition
2
NS
200-2370-010
Gasket
3
NS
200-6075-00
Receiver Board
1
NS
200038-801
Tip
1
NS
200041-005
Gasket
1
NS
200050-502
Rib
1
NS
200060-504
Fairing
2
NS
200080-013
Fairing
2
NS
200080-014
Skin
4
NS
200080-919
Skin
1
NS
2000T09P01
Key
1
NS
2000T34P03
Shim
1
NS
2000T45P02
Shim
3
NS
200102-901
Tip, Wing
1
AR
2002P003
Insert
4
NS
2002T94P01
Clamp
2
NS
2003T12P01
Gasket
4
NS
20047-005
Gasket
2
NS
2004T83P01
Nut
2
NS
20050-52
Plate, Anchor
13
NS
200625
Spring
3
NS
2009
Gear
2
NS
2009015-4
Adapter
2
NS
200921621
Pin
4
NS
200921775
Dowel
4
NS
200981
Bearing
1
NS
200C2
Placard
1
NS
200C4
Placard
1
NS
200PLPP
Plug
3
NS
200S
Bearing
4
NS
201-58110-005
Rod End (201-58110-5)
2
NS
2011002-1
Bulkhead
1
NS
2011002-3
Bulkhead
1
NS
2011005-3
Stringer
2
NS
2011019-2
Bulkhead
2
NS
2011023-2
Jamb
1
NS
2011023-5
Jamb
1
NS
2011026-1
Stiffener
1
NS
2011026-4
Stiffener
1
NS
2011028-7
Fitting
2
NS
2011028-7
Fitting LH
1
AR
2011028-8
Fitting
2
NS
2011028-8
Fitting RH
1
AR
201105
Ring
1
NS
201174-1
Fairing
1
NS
201191-5
Lens
2
NS
2012011-1
Bulkhead
1
NS
2012016-7
Bulkhead
1
NS
2012020-10
Skin
1
NS
2012020-9
Skin
1
NS
2012036-5
Doubler
1
NS
2012036-6
Doubler
1
NS
2012039-1
Stiffener
1
NS
2012039-2
Stiffener
1
NS
2012041-3
Stringer
1
NS
2012046-2
Stringer
1
NS
2012047-9
Bulkhead
1
NS
2012057-3
Bulkhead
1
NS
2012057-4
Bulkhead
1
NS
2012058-2
Bracket
1
NS
2012059-2
Stiffener
1
NS
2012059-3
Stiffener
1
NS
2012071-1
Bumper
1
NS
2012082-1
Bracket
3
NS
2012100-5
Skin
1
NS
201298-1
Connector (alt S1371-12)
1
NS
2013000-2
Skin
2
NS
2013001-1
Floorboard
1
NS
2013002-2
Stringer
1
NS
2013002-5
Rib
1
NS
2013002-8
Doubler
1
NS
2013002-9
Bulkhead
1
NS
2013044-1
Angle
1
NS
2013078-1
Cover
1
NS
2013096-1
Hinge Half
1
NS
2013106-1
Support
1
NS
2013107-1
Bracket
2
NS
201369-2
Amp Connector
36
NS
201411-06
Gasket
2
NS
2015001-800
Skin
5
NS
2015008-1
Trim
1
NS
2015009-7
Net
1
NS
201619
Bearing
1
NS
2017001-4
Door
1
AR
201717-1
Knob
1
NS
201718
Ring
1
NS
20179V001
Plug
1
NS
20184-000
Torque Tube PA24
1
AR
20185-000
Horn
1
AR
201924-1
Locking Spring Catch
12
NS
20193-009
Rib
4
NS
20193-010
Rib
1
NS
20193-011
Rib
4
NS
20193-012
Rib
3
NS
20193-018
Rib
4
AR
20193-020
Skin IB LE
6
NS
20193-021
Skin OB LE
1
NS
20193-022
Skin Top LH
1
NS
20193-023
Skin Top RH
1
NS
20193-024
Stiffener
1
NS
20193-026
Skin LWR LH
1
NS
20193-027
Skin LWR RH
1
NS
20193-032
Spar, LH
1
NS
20193-035
Stabilator RH PA24-250
1
OH
20193-036
Stabilator LH PA24-250
1
OH
20194-018
Hinge
1
NS
201946-15
Key
4
NS
201946-16
Key
4
NS
201946-17
Key
8
NS
201946-19
Key
4
NS
201946-20
Key
4
NS
201946-21
Key
2
NS
201946-22
Key
40
NS
201946-27
Key
2
NS
201946-28
Key
4
NS
201946-29
Key
7
NS
201946-30
Key
1
NS
201946-31
Key
3
NS
201947-12
Key
6
NS
20195-000
Horn Assy
1
NS
2019600-1
Resistor
21
NS
201KDD
Bearing
12
NS
201KTD2
Bearing
1
NS
201LS10
Switch
1
AR
201NPP
Bearing
14
NS
2021-1/1
Ashtray-Satin Aluminum
5
NS
20210-001
Support
1
NS
20211-000
Bracket
2
NS
20211-000
Bracket
4
AR
2022009-2
Rib
1
NS
2023-003-001
Gasket
1
NS
20234-000
Aileron, LH PA24-250
1
OH
20234-001
Aileron RH PA24-250
1
OH
20234-017
Plate
100
AR
20234-022
Rib
1
NS
20234-031
Bulkhead
1
NS
202382-3
Connector
2
NS
2024-4-4B
Elbow, Fitting
2
NS
20240-000
Bracket
1
AR
20240-001
Plate
1
AR
20242-000
Plate
1
AR
20242-001
Plate
1
AR
20244-000
Tube
2
AR
20247-000
Angle
1
NS
20249-000
Skin
3
NS
20249-001
Skin
1
NS
2025
Plug
1
NS
20256-000
Block
2
AR
20256-001
Actuator
1
NS
20257-002
Block
4
NS
2026000-2
Fitting
1
NS
20263-002
Rib
1
NS
20263-004
Rib
2
AR
20263-006
Rib
3
AR
20268-005
Rib
5
AR
20268-008
Rib
1
NS
20269-000
Rib
1
NS
20269-000
Rib
1
AR
20269-001
Rib
1
NS
20269-001
Rib
2
AR
20270-000
Rib
1
AR
20270-001
Rib
1
AR
20272-010
Rib
1
NS
20272-010
Rib
2
AR
20272-011
Rib
1
NS
20272-011
Rib
3
AR
20274-006
Rib
2
NS
20274-006
Rib
2
AR
20274-007
Rib
1
NS
20274-008
Rib
1
AR
20274-009
Rib
4
AR
20275-002
Rib
1
AR
20275-004
Rib
1
AR
20275-004
Rib
1
NS
20275-006
Rib
5
AR
20282-000
Rib
1
AR
20282-001
Rib
1
NS
20282-002
Rib
1
AR
20282-003
Rib
1
AR
20283-000
Assy
1
AR
20283-000
Assy
1
NS
20283-001
Rib
1
NS
20286-001
Liner
2
NS
20286-002
Liner
2
NS
20286-004
Liner
3
NS
20286-005
Liner
3
NS
20288-000
Rib
3
NS
20289-000
Pulley
1
AR
20289-001
Pulley
1
AR
202953-1
Placard
4
NS
20298
Joint T
23
NS
202992
Stiffener
20
NS
202997
Stiffener
20
NS
202NPP
Bearing
2
NS
203
Bearing
1
NS
203-13
Stud
47
NS
203-40
Bushing
6
NS
203-5873-541
Grill
4
NS
20300-25B-63
Indicator
1
AR
20303-004
Doubler
1
AR
20303-018
Channel
1
AR
20304-004
Rib
16
AR
20304-013
Rib
37
AR
20304-019
Skin, RH
1
NS
20304-037
Skin, INBD RH Flap
1
NS
20304-039
Skin
1
NS
20304-040
Skin
1
NS
20304-041
Skin
1
NS
20306-002
Plate
2
AR
203069
Switch
4
NS
20307-015
Channel
2
AR
20308-000
Rib
2
NS
20308-001
Rib
1
AR
20310-001
Rib
1
AR
20310-002
Rib
2
AR
20310-002
Rib, Wing
1
NS
20310-003
Rib
2
AR
20310-005
Rib
2
AR
20310-005
Rib
3
NS
203102-2
Tube
5
NS
20314-000
Channel
1
AR
20318-000
Rib
2
NS
20319-000
Rib, LH
1
AR
20319-001
Rib, RH
4
AR
20320-000
Rib
2
NS
20320-001
Rib
1
NS
20321-001
Rib
2
NS
20323-009
Rib
1
AR
20324-002
Rib
1
NS
20327-003
Gasket
7
NS
20330-000
Ring
4
AR
20333-000
Rib
1
AR
20337-005
Plates
14
AR
20345-000
Landing Light Brkt
1
AR
20345-002
Bracket
3
NS
20347-002
Clamp
6
AR
20351-009
Rib
1
AR
20354-000
Rib
2
NS
20354-003
Rib
1
NS
20357-004
Channel
2
AR
20357-009
Channel
3
AR
20358-000
Stiffener
1
NS
20358-001
Strip
1
AR
20359-000
Strip
5
AR
20359-000
Strip
1
NS
20360-005
Skin
1
NS
20360-014
Stiffener LH
1
AR
20360-027
Skin
2
NS
20360-029
Skin
1
NS
20364-001
Web
3
NS
20364-002
Web
3
NS
20364-01
Rib
1
AR
20365-413
Rudder
1
OH
20370-000
Cover Plate
4
NS
203708-6
Ring
1
NS
20371-003
Cirrus Rudder Tip
1
NS
20372-000
Plate Assy
2
AR
20372-000
Plate Assy
2
NS
20377-019
Skin
4
NS
20377-020
Skin
1
NS
20377-020
Skin
1
NS
20377-022
Skin
1
NS
20377-024
Skin
1
NS
20377-030
Skin
4
NS
20377-030
Skin
1
NS
20377-049
Skin
1
NS
20377-049
Skin
2
NS
20377-054
Skin
1
NS
20386-9
Adel Pump-Fluid
1
AR
203886-1
Flange
3
NS
20389-000
Bracket
1
AR
20392-000
Fitting
4
AR
203920
Fitting
4
NS
20393-000
Fitting
1
NS
20394-000
Bracket
1
AR
20394-000
Bracket
2
NS
203KDD
Bearing
6
NS
203KDDG
Bearing
3
NS
203SRRC
Bearing
1
NS
204-001-042-1
Cylinder
1
NS
204-030-859-017
Bracket Assy
2
NS
204-030-986-003
Striker, Back Plate
6
NS
204-030-986-009
Lock Plate
4
NS
204-040-791-1
Liner
32
NS
20400-000
Bracket
1
NS
20404-000
Fairing
5
AR
20404-000
Fairing
2
NS
20407-002
Fin Dorsal
1
AR
2041-002
Cover Assy
1
NS
2041003-14
Fitting
1
NS
2041015-1
Shim
2
NS
2041015-2
Shim
2
NS
2041015-4
Shim
1
NS
2041017-38
Extension
1
NS
2041030-10
Shim
2
NS
2041030-17
Shim
2
NS
2041030-18
Shim
2
NS
2041030-19
Shim
2
NS
2041030-3
Saddle
1
NS
2041030-9
Shim
2
NS
2041069-3
Plate
1
NS
2041069-4
Plate
1
NS
2041071-1
Plate
1
NS
2041071-2
Plate
1
NS
20414
Cover
1
AR
20420-1-0
Servo
1
AR
2043023-2
Block
1
NS
2043038-1
Shim
1
NS
20433-000
Plate
1
AR
20434-000
Rib
1
NS
204346-000
Plate
1
NS
204500
Oil Seal
1
NS
20476
Stop
1
AR
20479-006
Bracket
1
AR
20479-007
Angle
2
NS
20489-000
Skin
8
NS
20489-001
Skin
1
NS
20489-003
Skin
3
AR
20489-007
Skin
1
NS
20489-007
Skin
2
AR
204KC4
Bearing
16
NS
20500-007
Skin
1
NS
20500-011
Skin
1
NS
20500-034
Skin
1
NS
20500-036
Skin
2
NS
20500-039
Skin
1
NS
20500-053
Bulkhead
1
NS
20500-60
Skin
1
NS
2050006-1
Support
1
NS
20507-000
Channel
1
NS
205089-1
Pin
23
NS
2052012-1
Hinge Half
2
NS
2052012-3
Pin
1
NS
2054032-1
Bracket
1
NS
205493
Shim
3
NS
2055015-15
Baffle
1
NS
20554-022
Rib
1
NS
20555-003
Panel
1
AR
20557-001
Beam Assy
1
NS
20567-007
Skin
1
NS
20568-004
Bulkhead
1
NS
20575-000
Skin
2
NS
20587-002
Reflector
3
NS
20588-16
Angle
3
NS
20596-000
Door
2
NS
205KLD
Bearing
2
NS
206-010-134-001
Buffer
1
NS
206-010-463-005
Shim
2
NS
206-033-519-3
Bearing
4
NS
206-040-196-001
Gasket
2
NS
206-040-229-001
Gasket
1
NS
206-040-240-001
Gasket
4
NS
206-061-224-037
Floor Assy
1
NS
206-061-903-001
Gasket
2
NS
206-420-006
Vertical Tunnel Fwd Lwr
1
NS
20600-014
Skin
1
NS
20600-023
Rib
1
NS
20600-050
Channel
2
NS
20600-051
Channel
1
NS
20600-058
Channel
1
NS
20600-061
Hat
1
NS
20600-068
Stringer
1
NS
20600-096
Channel
2
NS
20600-101
Bracket
1
NS
2060006-3
Bracket
2
NS
2060012-1
Bracket
1
NS
2060012-2
Bracket
1
NS
2060022-2
Bracket
1
NS
20603-015
Bulkhead
1
NS
20603-016
Stiffener
1
NS
206037-2
Connector
1
NS
20604-011
Channel
2
NS
206070-1
Clamp Assy
3
NS
20610-002
Channel
1
NS
20610-011
Bracket
1
NS
20615-003
Frame
1
NS
20615-004
Frame
4
NS
20616-002
Channel
1
NS
20616-005
Rib
1
NS
206426-1
Plug
8
NS
2065-2497
Brush
1
NS
206508
Brush
1
NS
20654-001
Rib
1
NS
206540
Stop Valve
3
NS
20656-001
Bracket
3
AR
20662-000
Trim
1
NS
20663-000
Trim
3
NS
20663-004
Trim
2
NS
20663-005
Trim
2
NS
20663-006
Trim
2
NS
20663-013
Trim
5
NS
20666-002
Molding (alt 475-159)
6
NS
2067011-1
Bearing Half
3
NS
20671-001
Fitting
1
NS
20673-000
Bellcrank
2
AR
20674-000
Plate
3
AR
20677-006
Angle
6
AR
20677-007
Doubler
4
AR
20689-000
Felt
2
NS
206SZZC
Bearing (alt W206PP)
2
NS
207-01600
Hose, Brake Assy
4
NS
207-21A
Retainer
2
NS
2070-000
Tube
1
NS
20700-000
Rib
10
NS
2070005-11
Unit Assy. Warn Dual
1
AR
2070017-4
Holder
3
NS
2070018-1
Holder Assy.
2
NS
2070019-1
Holder Assy
4
NS
2070020-1
Holder
2
NS
2070021-1
Switch
1
NS
2070029-2
Holder
1
NS
207144
Spring Brush
6
NS
20718-002
Spar
1
NS
20718-003
Spar
1
NS
20718-8
Spar
1
AR
20720
Pin
12
NS
207251
Shell
8
NS
20727-000
Housing
1
AR
20729-000
Rudder PA24-180
1
OH
20729-002
Rib
6
NS
20729-003
Rib
6
NS
20729-004
Rib
5
NS
20729-005
Rib
7
NS
20729-006
Rib
8
NS
20729-007
Rib
6
NS
20729-015
Rib
3
NS
20729-016
Rudder PA24-250
1
OH
20730-005
Skin
1
NS
20730-006
Fin-Vertical PA 24-250
1
NS
20734-000
Link
2
AR
20735-003
Link
2
AR
20737-000
Bushing
2
NS
20737-002
Bushing
14
NS
20737-004
Bushing
6
NS
20737-005
Bushing
2
AR
20737-005
Bushing
3
NS
20737-008
Bushing
1
AR
20737-014
Bushing
10
NS
20737-016
Bushing
10
NS
20737-020
Bushing
2
NS
20737-037
Bushing
2
NS
20737-038
Shoulder Bushing
5
NS
20737-040
Bushing
10
NS
2073767
Seal
1
NS
20742-000
Pin
5
NS
20743-000
Shaft
1
NS
20754-000
Tube
2
AR
20754-002
Orifice Tube
2
AR
20756-001
Fitting
5
AR
20757-000
Fitting
1
AR
20757-001
Fitting
1
AR
20763
Gear
2
AR
20767-000
Link
1
AR
20767-003
Link
1
AR
20768-001
Link
1
AR
20782-000
Spacer
2
NS
207822-3
Fitting
4
NS
20784-000
Pin
3
AR
20784-000
Strut Pin (alt 680-755)
3
NS
20785-000
Bearing
1
NS
20785-000
Bearing
2
NS
20785-000
Bearing
2
SV
20786-000
Strut Tube
2
NS
20786-000
Strut Tube
2
AR
20787-000
Plug Piston Tube
1
NS
207948
Bushing
3
NS
207959
Lighter
1
NS
2080181-0001
Gear
2
NS
20803-002
Bushing
15
NS
208054
Washer
16
NS
20821-000
Rod End
1
NS
20825-000
Plug
1
AR
20828-000
Stud
5
AR
208283-1
Connector
1
NS
20833-006
Coupler
1
NS
20834-006
Bushing
1
NS
20838-000
Push Rod
1
NS
2083D340
O-Ring
1
NS
20844-000
Block
3
NS
20845-000
Bracket
5
AR
20860-005
Spacer
2
NS
208657-1
Connector
1
NS
20893-000
Bracket
1
NS
20898-000
Plate Assy.
1
NS
209-010-408-1
Link
2
NS
209-030-678-1
Clamp
47
NS
209-060-900-131-3
Rubber
1
NS
20951-000
Plater
1
NS
20952-000
Block
1
NS
20953-000
Spacer
2
NS
20961-000
Plate
1
NS
20971-00
Bulkhead
1
NS
20971-009
Bulkhead
1
NS
20973-S12
Rod
16
NS
2098288
Rectifier
4
NS
20983-000
Fairing
1
NS
20991
Stud
1
NS
20996-000
Bearing
2
NS
20C206
Retainer
3
NS
20P8
Nut
1
NS
20X0154
O.A.T. Gauge
2
NS
21-0249-1
Housing
9
NS
210-6285-2
Link Assy
1
AR
2100002-1
Support
2
NS
2100003-131
Line Vent
1
AR
210003-021
Skin
3
NS
210008-049
Fire Wall
1
NS
210016-019
Skin
2
NS
210016-020
Skin
2
NS
210016-077
Angle
6
NS
210016-090
Stringer
1
NS
210017-017
Angle
1
NS
210019-016
Doubler
1
NS
210020-005
Retractor, Emergency Lock
1
NS
210027-107
Skin
1
NS
210029-002
Rib
1
NS
210032-016
Beam
1
NS
210032-023
Beam
2
NS
210032-025
Beam
1
NS
210033-503
Bracket
7
NS
210035-527
Intercostal Otbd Left
1
NS
210038-002
Rib
1
NS
210038-004
Rib
1
NS
210041-001
Rib
2
AR
210041-010
Rib
1
AR
210042-002
Rib Assy
1
NS
210042-10
Rib
1
AR
210042-10
Rib
1
NS
210042-9
Rib
1
AR
210043-009
Rib
1
NS
210044-009
Rib
1
AR
210044-8
Rib
1
NS
210044-8
Rib
2
AR
210045-008
Rib
2
AR
210045-008
Rib
3
NS
210045-009
Rib
1
NS
210045-010
Rib
1
AR
210045-9
Rib
1
AR
210046-008
Rib
1
NS
210046-010
Rib
1
AR
210048-007
Rib
1
NS
210050-008
Plate
1
NS
210054-019
Skin
1
NS
210056-031
Channel
1
NS
210056-041
Channel
1
NS
210056-143
Stiffener
3
NS
210056-171
Bracket
1
AR
210056-171
Bracket Assy
2
NS
210056-172
Bracket Assy
2
NS
210073-000
Skin
1
NS
210078-501
Seat Track
2
NS
210078-505
Seat Track
2
NS
21008-000
Cylinder
2
NS
210080-133
Spring
1
NS
21010-009
Bulkhead
1
NS
210108-008
Fairing
2
NS
21011-000
Bulkhead
2
NS
21011-0008
Lamp
4
NS
210110-000
Former
1
NS
210110-001
Former
1
NS
210111-001
Former
2
NS
210111-007
Former
1
NS
210111-007
Former
1
AR
210111-100
Angle
2
NS
21012-003
Arm
1
AR
210136
Pin
6
NS
21023
Rib
1
NS
210231-001
Fairing
1
NS
210236-001
Rib (210236-1)
1
NS
210236-002
Rib
1
NS
210236-1
Rib
1
NS
210237-1
Rib (210237-001)
1
NS
21025-004
Pin
2
NS
21027-002
Frame
1
NS
21030-000
Cylinder
1
AR
21033-000
Fitting
3
AR
210379-005
Fairing
1
NS
21038-007
Bushing
1
NS
210389-1
Rib
1
NS
210439-501
Angle
1
NS
21044-009
Rib
1
NS
210460-3A
Cover
1
NS
21050-000
Ring
11
NS
2105024-1
Placard
11
NS
2105024-2
Placard
6
NS
2105026-1
Placard
3
NS
2105029-1
Placard
4
NS
21051
Gasket
7
NS
210522
Stud (alt 82-11-080-16)
5
NS
210570
Fastener
2
NS
210590
Fastener (alt FJR-35)
2
NS
2106002-13-156
Light
2
NS
2106499-8
Skin
1
AR
21065-012
Hinge
7
NS
21066-000
Horn
12
NS
21067-003
Rod
1
AR
21067-021
Set Screw
2
NS
21067-12
Gear
2
NS
21068-000
Bracket
1
AR
21079-000
Switch
1
NS
21098-000
Tube Assy
1
NS
211-35
Sleeve
10
NS
211-501-9084
Clamp
5
NS
211-501-9111
Clamp
1
NS
2110039-2
Tube
1
NS
2110043-16
Tube
1
NS
2111001-7
Rib
1
NS
2111550-14
Skin
1
NS
2111602-2
Skin
1
NS
2112131-2
Cover
1
AR
2112134-2
Cover
1
AR
2112137-5
Fairing
1
NS
2113017-3
Instrument Panel
1
NS
2113101-2
Gusset
1
NS
2113118-6
Bulkhead
1
NS
2113271-2
Mount
1
NS
21143-007
Scoop
1
NS
21146-003
Rear Baffle Lug
18
NS
21147-000
Bracket
1
NS
2115-1
Valve, Wemac
1
NS
2115019-1
Support
1
NS
2115030-4
Tube Assy
4
NS
2115046-5
Bracket
1
NS
2115047-1
Tray
1
NS
21154-002
Cover
2
AR
21159-000
Door
1
NS
2116005-1
Flex Drive
1
NS
2116005-1
Shaft
1
AR
2116010-6
Reservoir
1
AR
21161-0141
Seal
1
NS
21161-0213
Seal
3
NS
21161-141
Oil Seal
6
NS
21162-000
Cover
1
NS
21163-0141
Seal
5
NS
21165-002
Cover
1
NS
21167
Panel
1
NS
2117147-1
Lever
1
NS
21172-000
Bracket
1
NS
21172-002
Cover
1
NS
2117232-3
Shim
8
NS
2117237-2
Shim
5
NS
21174-000
Clamp
1
AR
21175-000
Clamp
1
AR
21175-000
Bracket
1
NS
21178-000
Swivel
1
AR
2117X-21
Fuel Tank
1
AR
2117X-22
Fuel Tank
1
AR
21182
Pipe, Intake
3
NS
21185-000
Hose
12
NS
2119
Seal
8
NS
211CC
Dry Air Pump
2
AR
212-12
Receptacle
4
NS
212-12D
Receptacle
19
NS
21206-000
Bracket
1
AR
21206-001
Bracket
1
AR
21209-000
Knob
2
NS
21215-000
Link
1
AR
21219-000
Rod Assy
1
AR
2122-M-70
Time Delay Switch
1
NS
21220-000
Bracket
1
AR
21226-000
Plate
2
NS
21229-000
Link
1
AR
21235-000
Plate
1
NS
21247-000
Clip
1
NS
21256-2
Bearing
10
NS
21257-002
Cover
3
NS
2126100-541
Bracket
4
NS
21270-000
Reinforcement
3
AR
21278-0270
Oil Seal
10
NS
21280-00
Boot
1
NS
21281-003
Tube
4
NS
21284
Housing ( Push Rod)
1
NS
21289-002
Strap
1
AR
21290-002
Step Support
1
NS
21298-000
Bracket
1
NS
213-6D
Socket
1
NS
21303-250
Body
1
NS
21318-000
Arm
4
NS
21319-003
Bracket
2
NS
21319-004
Bracket-Nose Wheel Door
32
NS
21320-006
Bracket
4
NS
21320-007
Bracket
2
NS
2132001-1
Rib
2
NS
2132001-2
Rib
1
AR
2132001-5
Rib
1
NS
21322-007
Bracket (ALT PN 21322-003)
10
NS
21324-000
Bracket
1
NS
2134000-2
C210 RH Elevator " R " model only
1
NE
2134000-24
Trim Tab RH Elevator C210 "R"
1
OH
2134000-24
Trim Tab RH Elevator C210 "R"
2
NS
213433
Synchronizer
1
AR
21346
Screw
4
NS
2135-018
Cable
3
NS
2135-020
Gasket
3
NS
213730
Temp Control
1
AR
2139938
Box
1
AR
214-16
Receptacle
9
NS
214-16N
Receptacle
10
NS
214-337
Washer
3
NS
2140-59
Screw
1
NS
2140-59
Screw
1
NS
21407-000
Seal
2
NS
21412-000
Stiffener
1
AR
21419P005
Valve Guide
11
NS
21419P010
Valve Guide
2
NS
21448-002
Channel
1
NS
21469-000
Spacer
2
NS
21474-000
Seal
2
NS
21476-000
Stud
1
NS
21476-002
Stud
14
NS
21479
Valve
2
NS
21482-000
Duct
2
NS
21487-000
Bushing
4
NS
215-20396-4
Window
1
NS
215-48318-1
Link Assy
11
NS
215-60426-1
Trim
100
NS
2150-09
Solenoid
1
NS
2150001-12
Adaptor
1
NS
2150001-7
Adapter Assy
1
NS
2150115-1
Shield
1
NS
2150121-2
Spring
1
NS
2151
Spring
1
NS
21510-002
Pin
4
NS
21517-000
Bracket
1
NS
2152005-1
Ramp LH
2
AR
2152005-3
Ramp RH
1
AR
2152014-1
Mount
1
NS
2152014-2
Mount
1
NS
2152021-1
Cowl
2
AR
21527-0213
Oil Seal
1
AR
21529-000
Baffle
1
NS
2153007-13
Bracket LH Lower
1
AR
2153007-14
Bracket
1
NS
21532-000
Baffle
1
NS
2154-62
Placard
23
NS
2154021-6
Cover
1
NS
2155024-8
Baffle
1
AR
2155025-5
Support
1
NS
21555-000
Tip
1
NS
21556-000
Tip
1
AR
21557-000
Tip
2
NS
21558-000
Plate
1
NS
2156010-1
Separator
1
AR
21564-000
Plate
2
AR
21564-000
Plate
9
NS
21586-000
Seal
2
NS
21596-00
Baffle
1
NS
21596-007
Bracket
2
NS
215CC
PUMP-DRY AIR
2
AR
2160015-1
Arm Ay
1
AR
21605-005
NLA Blkhd
1
NS
21605-007
Skin
1
NS
216290
Tube
2
NS
21639-002
Skin
1
NS
21639-003
Skin
1
NS
21642-008
Fitting
1
NS
2167X-1
Fuel Tank
1
AR
2167X-2
Fuel Tank
1
AR
21685-002
Clamp
1
NS
21686-004
Clamp
1
NS
21695-007
Cover
1
NS
21695-041
Cowl
1
NS
217
Dome Part of Assy FS200-1
1
AR
2170010-1
Bracket
1
NS
2170011-1-532
Cover
1
NS
2170012-1
Bracket
1
NS
21710-000
Washer, Nose Gear Lock
3
NS
21714-000
Arm (Alt 44386-000)
1
NS
21719-011
Bracket
3
NS
2174-002
Switch Assy-Limit
1
NS
21741-002
Bushing
4
NS
21786-3
Tail Cone
1
NS
21788-000
Plug Assy
1
NS
21788-003
Plug
1
NS
21820-002
Plate
2
NS
21822-000
Bushing
9
NS
21829-001
Lug
3
NS
21830-000
Lug
1
NS
21830-001
Lug
1
NS
21831-002
Flange
1
NS
21868-000
Bracket
20
NS
21868-000
Bracket
1
AR
2187-7
Rib
2
AR
218886
Armature
1
AR
21908-000
Sill
1
NS
2190R42
Light, Red
1
NS
21916-000
Rib
1
NS
21919-001
Cover
1
NS
21927-000
Handle
2
NS
219270
Nuts
4
NS
21932-000
Tube Assy
7
NS
219336
Screw
4
NS
2194-31
Adaptor
1
NS
21957-004
Skin
1
NS
21959-004
Skin
1
NS
219650
Nut Tinnerman (alt A1890-4Z1)
20
NS
21971-009
Bulkhead
1
NS
21C14
Clamp
1
AR
21DP2B
Dome
2
AR
21MC393
Plate Visor
1
NS
22-1120-00-19
Placard
1
NS
22-1144
Base
1
NS
22-3194
Gear
1
NS
22-3220-00-24
Spacers NLG Lower
2
NS
22-370-20
Shunt
7
AR
22-5249
Stud
17
NS
220-1284-00
Socket
1
NS
220000-001
Vertical Stabilizer Aerostar
1
OH
220000-003
Spar
1
NS
220000-005
Spar
4
NS
220000-160
Wing Skin
1
NS
220000-196
Skin
1
NS
2200001-30
Line
1
NS
22001-507
Door Assy.
1
AR
220020-001
Hinge
1
NS
220021-013
Cap
2
NS
220021-015
Cap
1
NS
220021-019
Cap
1
NS
22006P006
Stud
1
NS
220100-70
Rib
3
NS
2201092-1
Plate
1
NS
2202-10
Rib
1
AR
2202-10
Rib
1
NS
22022
Nut
17
NS
2203
Rib
1
AR
2203-19
Rib
1
AR
22039-002
Cowl Assy Engine Nose
3
AR
22039-002
Cowl Assy Engine Nose
3
NS
22039-2
Nose Bowl
1
AR
22045-000
Retainer
1
NS
22050-000
Bracket
1
NS
22053-0001
Trimmer Cap
1
NS
22066-000
Bolt
2
NS
221-5
Clamp
2
NS
2210011-1
Bulkhead, LH
1
NS
2210015-1
Doubler
1
NS
2210015-2
Doubler
1
NS
2210025-2
Bulkhead
2
NS
22102-005
Tube
1
NS
22104-004
Stop
9
NS
22104-008
Bumper
5
NS
22105-002
Gasket
1
NS
22105-003
Gasket
4
NS
22105-007
Gasket
4
NS
22105-010
Gasket
17
NS
22105-014
Gasket
1
NS
2211000-7
Skin
1
NS
2211004-3
Gusset
1
NS
2211005-2
Gusset
1
NS
2211014-8
Bulkhead
2
NS
2211016-6
Bulkhead
1
NS
2213025-1
Retainer
1
NS
2213032-1
Firewall
4
NS
2213032-2
Firewall
3
NS
2213082-1
Retainer
1
NS
2213083-13
Channel
1
NS
2213129-2
Shield
1
NS
22133
Gasket
2
NS
2215
Vent
1
AR
2215018-2
Holder
2
NS
2215022
Trim Panel
2
NS
22151CA040010
Screw
4
NS
22154-000
Rib
1
NS
22158-004
Channel
2
AR
22158-006
Channel
1
NS
22158-008
Channel
1
NS
22158-009
Channel
1
AR
22162-008
Channel
1
AR
22162-009
Channel
2
AR
22185-000
Plate
1
AR
221866P
Raybestos
2
NS
22197-000
Bracket
1
NS
22198-000
Plate
9
NS
22198-001
Plate
5
NS
222-075-106-105
Cover
1
NS
22201BE050006LE
Screw
1
NS
22210-000
Bracket
1
NS
22211-000
Bulkhead
1
NS
22215-000
Panel
1
NS
22217-003
Angle
1
NS
22222-026
Connector
3
NS
22233-002
Skin
1
NS
22234-000
Arm
2
NS
22237-000
Rod
1
NS
22238-003
Bracket
3
NS
22240-004
Channel
1
NS
22256
Pin
4
NS
22268-000
Assy
1
AR
22268-001
Assy
1
AR
22271-001
Rib
1
AR
22272-002
Stringer
1
NS
22272-006
Rib
1
NS
22272-010
Stringer
1
NS
22274-003
Rib
1
AR
222861
Plug, Black (Heyco POP-500) (alt 2643)
27
NS
22287-000
Knob
15
NS
2229A
Screen Assy
17
NS
223-750
Receptacle
5
NS
22300-002
Skin
1
NS
223018-7
Seal
2
NS
22310
Valve
1
AR
22324-002
Clip
1
NS
22324-003
Clip
1
NS
22338-000
Duct
1
NS
22344
Gasket
1
NS
22350
Gasket
15
NS
22366-000
Tube
1
NS
22387
Bushing
27
NS
22393-000
Shroud
1
NS
223948
Spacer
13
NS
223AS-09-150B
Bushing
2
NS
2240-14
Stator
1
NS
2240000-162
Skin
1
NS
22403-000
Fitting
7
NS
22404-000
Fitting
7
NS
2241119-1
Bushing
3
NS
2241121-1
Pad
2
NS
22418-004
Numeral Zero
3
NS
2243006-1
Eye Bolt
2
NS
224350
Ring
6
NS
2246026-1
Bracket
1
NS
22478-000
Vent
7
NS
22482-000
Scoop
2
NS
22486-000
Bracket
3
NS
2249-0210-001
Stub
1
NS
2250073-3
Bracket
1
NS
2250139-1
Bracket
1
NS
2250151-1
Bracket
2
NS
22502-008
Hose
1
NS
22514-000
Tube
2
NS
2252012-25
Cowl Flap, LH
1
AR
2252012-26
Cowl Flap, RH
1
AR
2252042-48
Skin
1
AR
2252055-1
Bracket
1
NS
2252059-13
Cowl Flap LH
1
NS
2252059-14
Cowl Flap
2
AR
2252059-14
Cowl Flap
5
NS
22532
Bolt
4
NS
22534
Bolt
4
NS
225396-1
Connector BNC
3
NS
2254001-1
Shroud
1
NS
2254018-9
Shroud
1
AR
2255S
Door Stop LH
1
AR
22562-000
Rib
2
NS
225679-6
Connector
3
NS
22579-003
Skin
2
NS
22599-000
Panel
1
NS
225S
Snap Clamp
2
NS
22606-008
Channel
1
NS
22607-005
Skin
2
NS
22607-016
Channel
1
NS
22609-000
Plate
1
NS
22616-000
Plate
2
NS
22620-013
Stringer
1
NS
22622-000
Bracket
3
NS
22627-002
Pulley
2
NS
22641-000
Handle
1
NS
22649-000
Doubler
1
NS
22659-006
Rib
2
AR
22659-007
Rib
5
AR
22668-002
Rib
3
NS
22676-000
Pin
1
NS
22688-000
Bracket
1
NS
226924
Ident Plate
2
NS
22699-008
Skin
1
NS
22699-011
Skin
1
NS
22699-017
Skin
1
NS
22699-018
Skin
1
NS
22699-020
Skin
1
NS
227-EAU
Relay
1
AR
22700-006
Stringer
1
NS
22700-007
Stringer
1
NS
22700-012
Skin
2
NS
2270008-1
Guard
2
NS
2270008-2
Guard
1
NS
2270044-1
Insulator
2
NS
22705-002
Rib
3
AR
22705-003
Rib
1
AR
22733-003
Bulkhead
3
NS
22733-004
Bulkhead
3
NS
22733-005
Bulkhead
1
NS
22733-006
Bulkhead
1
NS
22733-009
Former
1
NS
22740-000
Arm
2
AR
22751-002
Skin
1
NS
22751-004
Skin
1
NS
22780-000
Bracket
2
NS
22787-000
Doubler
1
AR
22787-000
Rib
1
NS
22787-001
Rib
1
AR
22788-001
Rib
1
NS
22803-005
Bulkhead
2
NS
22846-000
Gasket
1
NS
22852-000
Link
1
NS
22855-088
Flap Rod
2
AR
22858-006
Rheostat
1
NS
22859-000
Decal Pac (alt 456-424)
12
NS
22865-000
Rib
1
NS
22866-000
Web
2
NS
22866-001
Web
3
NS
22878-000
Bracket
1
NS
229-012
Spacer
1
NS
229-021
Spacer
1
NS
22902-001
Skin
1
NS
22943-000
Rod End
1
NS
22945-001
Shroud
1
NS
22949
Bushing
34
NS
22953-000
Harness
2
NS
22984
Shaft
1
NS
22A21-6-2
Nut Plate
4
NS
22DP2B
Bulkhead
1
AR
22K1-02
Nut
17
NS
22NA1-058
Nut Plate
1
NS
22NKTM02
Nut
4
NS
22R5Q-75
Capacitor
4
NS
22S12
Roll Pin
14
NS
23-001025-3
Angle
1
NS
23-001031
Placard
11
NS
23-001042-23
KIT-S-LE RPLT LH
1
NS
23-001042-25
Shim
5
NS
23-001042-41
Rib ReplcWing
1
NS
23-001042-43
Rib ReplcWing
1
NS
23-001042-53
KIT-S-LE RPLT LH
1
NS
23-001042-55
KIT-S-LE RPLT LH
1
NS
23-1
Switch
1
AR
23-1-3003
Brush
2
NS
23-2099-1
Doubler
2
NS
23-9-5S
KIT-S-LE RPLT LH
1
NS
23-FWU/3/300
Warning Unit
1
AR
230-125-382-13
Gasket
1
NS
230-716
Log Book
1
NS
2300006-25
Placard
7
NS
2300006-45
Placard
3
NS
230003-7
Rib
1
NS
230006-5
Clear Lens
1
AR
230015-003
Skin
1
NS
230015-012
Skin
1
NS
230015-014
Skin
1
NS
230018-001
Rib
2
NS
230018-002
Rib
3
NS
230018-501
Rib
2
NS
230018-502
Rib
3
NS
230018-505
Rib
2
NS
230018-506
Rib-Nacelle Assy
2
NS
230018-513
Rib
2
NS
230018-514
Rib
1
NS
230021-002
Zee-Hat
3
NS
230021-539
Doubler
1
NS
230021-541
Door
1
NS
230022-001
Fairing
1
NS
230032-513
Stiffener
2
NS
230032-515
Doubler
17
NS
230052-001
Weight
1
NS
230090-003
Skin
4
NS
2300HV
Valve Core
3
NS
23013-003
Channel
1
NS
23020110
Angle
1
NS
23032-1230
Retainer
2
SV
23032-1900
Clutch, Hub
1
NS
23032-1910
Spring Dampener
1
NS
23032-2452
Adaptor
1
NS
23054-005
Skin
1
NS
23056-003
Skin
1
NS
23056-003
Skin
1
NS
2306-1
Arm
1
NS
23064-000
Cable
1
NS
2307006-242
Hose Assy
1
NS
23083-000
Link
2
NS
2311020-37
Stiffener
1
NS
2311020-41
Bulkhead
1
NS
2311030-27
Bulkhead
1
NS
2311240-138
Bracket
1
AR
2311240-139
Bracket
1
AR
2311260-17-500
Frame
1
NS
2311289-1-801
Spring
1
NS
2311309-2
Retention Plate
1
AR
2311316-3
Retainer
1
AR
2311321-9
Pin
6
NS
2311382-1
Shaft
1
NS
2311450-39
Panel
1
AR
2311491-14
Tube
1
NS
2311660-1
Cable
1
NS
23117-000
PA24 RH Flap Cable
1
AR
2312038-3
Cover
1
NS
2313115-96
Seat Stop
1
NS
2314022-1528-1
Filler
1
NS
2314035-111
Placard (Learjet)
1
NS
2314035-118
Placard
2
NS
2315120-14
Bracket
1
NS
2315120-6
Clip
2
NS
2315125-7
Pulley
1
AR
2315127-1
Spring Cartridge Assy
1
AR
2315129-4
Bellcrank
1
AR
2315146-5
Link
1
AR
2315147-9
Sector
1
AR
2315152-25
Block Assy
1
NS
2315152-5
Block Assy
2
AR
2315155-19
Cover
3
NS
2315204-15
Cover
1
NS
2316008-3
Spacer/Ring
1
NS
2317029-22
Torque Tube
1
AR
2317047-11
Torque Tube
1
AR
2317048-2
Torque Tube
1
AR
2317060-2
Roller
1
NS
2318368-3
Bracket
1
NS
2319174-18
Clamp
1
NS
232-204
Nut, Ring, Retainer
10
NS
232-218-3
Clothing Clip Assy
48
NS
23210-002
Latch
1
NS
232182
Edge closure
8
NS
2322512-20
Shim
20
NS
2322516-213
Weld Assy, LH
2
NS
2322516-218
Weld Assy, RH
1
NS
2322516-227
Stiffener
2
NS
2322550-7
Plate
4
NS
23227-003
Track
1
NS
23227-003
Track
4
AR
23230-000
Pads
2
NS
2325010-10
Stringer
2
NS
2326014-4
Fuel Probe
2
NS
23274-03
Handle Valve
37
NS
23283-000
Bulkhead
28
NS
23283-001
Bulkhead
41
NS
23293-002
Stringer
1
NS
233
Gasket
1
NS
233-614
Kit, Seat
1
NS
23303-000
Holder
2
NS
2331025-508
Bushing
1
NS
2331519-15
Cable Assy
3
NS
2331519-16
Cable
3
NS
23318-000
Line
1
NS
2334001-24
Cap
1
NS
23350CC030L
Washer
2
NS
23353-004
Support
1
NS
23395-01
Gasket
7
NS
233994
Plate
6
NS
23409-000
Plate
2
NS
2341113-1
Washer
2
NS
2341125-1
Plate
5
NS
2342-3
Auto Pilot Assy
1
AR
23440-000
Rib
1
NS
23456-001
Plate
1
NS
23465-000
Rib
1
AR
23465-001
Rib
1
AR
23465-007
Rib
1
NS
23475-006
Rib
3
AR
2348030-5
U Bolt
2
AR
2348041-1
Bracket
1
AR
2348041-2
Bracket
1
AR
2348043-1
Bracket
1
AR
23486-000
Rib
1
AR
23486-001
Rib
1
AR
23487-002
Spar
2
NS
23488-07
Rib
1
AR
23495-000
Rib
1
AR
23495-001
Rib
1
AR
23496-000
Bulkhead
1
AR
23497-000
Rib
2
AR
23497-001
Rib
1
AR
235-106
Placard
12
NS
23515-009
Plate Gen.
1
NS
23515-011
Channel
1
NS
2352015-39
Tube
1
NS
23521-000
Channel
1
NS
23523-006
Rib
1
AR
23523-006
Rib
1
NS
23530-004
Rib
1
NS
23530-006
Rib
1
AR
23530-007
Rib
1
AR
23533-000
Bulkhead
1
AR
23533-001
Bulkhead
2
AR
23539-000
Skin
1
AR
23539-001
Skin
1
AR
23540-019
Angle
1
NS
23540-021
Angle
1
NS
23549-000
Bulkhead
1
AR
23549-001
Channel
1
AR
23550-000
Channel
1
AR
23555-008
Skin
1
NS
23555-10
Skin
2
AR
23555-11
Skin
1
AR
23556-003
Channel
1
AR
235600-101
Actuator, Flap
1
AR
23562-007
Skin
1
NS
23565-001
Rib
1
NS
2357
Switch
1
NS
23572-000
Panel
2
AR
23572-001
Panel
1
AR
23585-2
Cap
1
AR
23598-000
Cap
3
AR
23598-000
Fairing
1
NS
23609-5
Bulkhead
2
NS
23617-001
Bracket
1
NS
23617-002
Plate
1
NS
23618D
Bolt
2
NS
23636-00
Spring Detent
1
NS
23658-007
Bulkhead
2
NS
23669-005
Reinforcement
1
NS
23669-3
Bulkhead
1
NS
23675-004
Rib
1
NS
23675-005
Doubler
3
NS
23675-010
Channel
2
NS
2368
Valve (alt 491-908)
3
AR
23705-002
Plate
1
NS
23745-011
Hose Assy.
1
NS
23748-000
Doubler
1
NS
23756-002
Frame
3
NS
23768-005
Cover
1
NS
23808-69
Neck Bond
4
NS
23809-007
Door
1
AR
2380927
Bracket
2
NS
23819-00
Cap
3
AR
23820-005
Skin
1
NS
23820-006
Skin
1
NS
23837-002
Channel
1
NS
23837-041
Skin
1
NS
23837-22
Skin
1
NS
23837-41
Skin
1
NS
23839-004
Angle
1
NS
23842-000
Cowl Flap LH
2
AR
23867-004
Skin
1
NS
23867-005
Skin
2
NS
23867-006
Skin
1
NS
23874-000
Bracket Assy
2
NS
23875-001
Bracket Assy
2
NS
2388161-13
Line
1
NS
2388162-62
Support
1
NS
2388174-12
Bracket
1
NS
2389-003
Stud
6
NS
2392-4
Pulley Retainer
1
NS
2394
Air Vent Wemac
1
AR
23943-000
Knob, Flap
1
NS
23948
Weight 1/2 OZ
1
NS
23969-002
Nipple, Terminal, Electric
2
NS
2397202-2
Kit
1
NS
23975-000
Hinge
1
NS
23982-012
Tube
1
NS
23986-000
Baffle
1
AR
23D55
Gasket
3
NS
23D60
Gasket
1
NS
24-115
O-Ring
1
NS
24-62018
Clip
1
NS
240-0636-00
Choke
2
NS
240006-55
Flap Twin Commander
1
NS
24001-000
Clip
3
NS
24001129
Bearings
2
NS
240014-032
Bracket
1
NS
240014-083
Fairing
2
NS
240014-084
Fairing
1
NS
240014-510
Flap, RH Mooney
1
NS
24002-005
Frame
1
NS
240024-001
Trim Tab Aerostar
1
SV
240024-501
Trim Tab Elevator
1
NS
240027-501
Elevator
1
NS
24024P005
Guide
1
NS
24024P010
Guide
1
NS
24024P020
Valve Guide
4
NS
24033-000
Spring
1
NS
24039-000
Bracket
8
NS
24040-000
Strap
1
NS
24041-004
Vent
1
AR
24041-004
Vent
14
NS
24041-005
Vent Assy
1
AR
24047
Valve Guide
2
NS
24047-010
Guide
2
NS
24047P005
Guide
6
NS
24055-002
Hinge
1
NS
24055-003
Hinge
1
NS
24057-001
Hinge
1
AR
24057-002
Hinge
7
NS
24057-003
Hinge
3
NS
2406
Plug
2
NS
240836
Bracket
2
AR
24096-200A
Seal
1
NS
24096-300N
Gasket
6
NS
241-01-0322
Plug
13
NS
24102-000
Gear
1
NS
24108-013
Skin
1
NS
24108-4
Skin
1
NS
2411030-5
Skin
1
NS
2411050-36
Firewall
1
NS
24118-000
Plate
2
NS
2412018-2
Bulkhead
1
NS
24122
Bushing
22
NS
24123-000
Clasp
1
NS
2413000-3
Skin
1
NS
2413008-1
Skin
1
NS
2413028-1
Bulkhead
1
NS
2413036-5
Skin, LH
1
NS
2413043-2
Bulkhead
1
NS
2413049-1
Outlet, LH
1
AR
2413049-2
Outlet, RH
1
AR
2413059-1
Bulkhead
1
NS
2413059-2
Bulkhead
1
NS
2413069-4
Bulkhead
2
NS
2413093-1
Stop
1
NS
2413115-2
Bracket
1
NS
2413117-1
Doubler
4
NS
2413143-2
Lamp
1
NS
2413145-1
Angle
1
NS
2414002-1
Seat Rail
3
NS
2415007-1
Panel
1
NS
2415007-4
Panel
1
NS
2415009-1
Armrest (Blue) (alt 2415009-1BLU)
1
NS
2415009-1BLU
Armrest (Blue)
1
NS
24158-000
Socket
2
NS
2417002-2
Hinge Half
1
AR
2418132-19
Board
1
NS
24183-000
Plate
9
NS
2419245-1
Diffuser
1
NS
242003
Cover
1
NS
242004
Cover
1
NS
24208-000
Plate
2
NS
2422083-3
Rib
1
NS
24225
Generator
1
AR
2422514-15
Hinge
1
NS
2422514-16
Hinge
2
NS
2423101-3
Gasket
1
NS
2424000-292
Aileron RH Learjet
1
OH
2424000-72
Aileron RH Learjet
1
OH
2424000-99
LH Aileron
1
OH
2424001-22
Hat Section
1
NS
2424034-1-601
Bracket
4
NS
24251119-17
Plate
1
NS
24251119-19
Doubler
1
NS
24251119-20
Doubler
1
NS
24251119-21
Angle
2
NS
24251119-26
Plate
1
NS
24282-000
Rib
2
NS
24288-003
Skin
2
NS
24298-002
Cover
1
NS
24304-301
Gear
5
NS
24306
Stud
3
NS
24308
Pin
23
NS
2432000-11
Elevator
1
OH
2432000-201
Stabilizer C172
1
OH
2432000-23
Stabilizer Assy
2
FN
2432003-1
Channel Push Pull
1
AR
2432003-1
Channel Push Pull
1
NS
24321
Seal
2
NS
24323-000
Valve Assy. Cabin Air
4
NS
24334-000
Horn
1
NS
24343
Alternator
1
AR
24346-200C
Gaskets
2
NS
24346-200N
Gaskets
5
NS
24347
Poppet
2
NS
24353-003
Adapter
2
NS
24381-000
Mast Assy PA23-250
1
AR
24381-000
Mast Assy PA23-250
1
NS
24382-000
Elbow
1
NS
24388-000
Tube Assy
1
NS
2439
Nut
2
NS
244-16D
Receptacle
20
NS
244-16N
Receptacle
10
NS
2441004-1
Bracket
1
AR
2443
Nut
1
NS
24452-000
Cover
2
NS
24455-000
Fin Dorsal
1
AR
24474-000
Clamp
1
NS
24492-000
Insert
4
NS
24493-000
Placard
1
NS
24502-150
COUPLING
6
NS
2451022-1
Clevis
3
NS
24512-11
Brush
2
NS
2452-080RET
Retainer
12
NS
2452006-21
Fairing
1
NS
2452006-22
Housing, Lamp
2
AR
2452006-55
Cowl, LH
1
NS
2452016-1
Cowl, Flap
1
NS
2452020-1
Cover Plate
1
AR
2452020-2
Cover
1
NS
2452123-10
Retainer
2
NS
2452123-9
Reinforcement
2
NS
2454005-1
Shroud
2
NS
24550-004
Curtain Rail
1
NS
24550-005
Curtain Rail
1
NS
2455110-1
Assy
2
NS
24567-000
Knob
7
NS
2457
Nut
4
NS
2458-002
Jam Nut
1
NS
2458002-1
Support
1
NS
24582-000
Spring
1
NS
246-16520-008
Aileron Rib
1
NS
246-34504
Bearing
1
NS
24608-000
Latch
2
AR
2462000-4
Stabilizer
1
OH
24623-000
Tube
3
NS
24624-000
Bracket
1
NS
24629-000
Spring
2
NS
24631-004
Cable
2
NS
24631-006
Cable
2
NS
2464
Bulkhead
1
AR
24657-000
Tube
1
NS
24694-63
Bolt
7
NS
247-3000
Dome
1
NS
2471015-5
Exhaust Cover Assy.
2
NS
24720
Bearing
1
NS
24724-000
Rudder
1
OH
2473
Washer
2
NS
24733-000
Plate
2
NS
24738-003
Cover
1
NS
2475
Washer
25
NS
24759
Gasket
5
NS
24764
Screw
2
NS
24769
Bushing
1
NS
24770
Plug
6
NS
24770-000
Plug
4
NS
24780
Bearing
2
NS
247959
Socket
46
NS
247959
Socket
1
NS
24802
Key Outer Retainer, keeper
20
NS
2481051-6
Cover Plate
2
NS
2481079-4
Plate Assy
1
NS
24822-002
Track
1
NS
24827
Hose
2
NS
2484031-7
Filler
1
NS
2484031-9
Clip
4
NS
2484036-5
Tube
2
NS
24846-000
Cap
2
NS
2488090
Seal
3
NS
2488474-13
Cup Holder
1
NS
24896-000
Tip
2
NS
24896-1
Cover Assy
1
NS
24898
Seal
1
NS
249-8068-3333-504
Dial Light
1
NS
249117-063-10-080
Strip
1
NS
249117-063-10-480
Strip
1
NS
24915-000
Bracket
1
AR
24916-000
Bracket
2
NS
24941
Retainer
17
NS
24971-000
Placard
1
NS
24978
Bushing
100
NS
24D4459-38
Seal
1
NS
24RB
Lamp
1
NS
24V150W
Lamp
2
NS
25
Retainer
7
NS
25-0887-11
Filter Lens Set
2
NS
25-3258PTAKIT1
Kit, Plate
1
NS
25-6FN225-15A
Angle Panel
2
NS
25-6FN225-7A
Angle Panel
1
NS
25-6NF1023-1
Label
1
NS
25-7NF1537A
Bracket
2
NS
25-7NF1537A
Bracket
3
AR
25-8GF501-135A
Fairing, Bullet
1
NS
25-8PF321-1
Extension Plate
4
NS
25-8WG149-4
Fairing
1
NS
25-9WG1-112A
Aileron
1
OH
25-ES-1109
Bolt
1
NS
25-ES947-1SS1
Plate
1
NS
25-UM721A
Brake Plate
3
NS
250002-009
Lower Angle
1
NS
250002-011
Angle
1
NS
250006-032
Skin
4
NS
250009-003
Skin
1
NS
25001
Oil Seal
2
AR
2500101-25
Line
1
NS
250013-01
Holder
1
AR
250014-3
Link Assy
11
NS
250019-501
Hinge
1
NS
250051-513
Bolt
1
NS
250064-504D
Angle
1
NS
250102-501
Escutcheon Assy
1
NS
25010432
Oil Filter Can
1
NS
25010622
Oil Filter
6
NS
25015TA51S550
Transistor
16
NS
25016-000
Bumper
8
NS
25017-000
Bushings
2
AR
2504-1
Spacer
1
NS
25042-000
Bulkhead
3
NS
25042-001
Bulkhead
4
NS
25043-000
Brace
1
NS
25043-000
Brace
2
AR
25046
Square W/ Wires
1
AR
25047-000
Bracket
1
NS
2505059-4
Placard
4
NS
2505059-6
Placard
1
NS
2506
Socket
3
NS
25080
Plate
1
NS
25089-01
Aneroid Assy
2
NS
250SG1009
Brush
12
NS
2510-05
Light Assy.
1
NS
25100-001
Stabilizer RH PA30
1
NS
25100-005
Skin
10
NS
25102
Oil Seal
6
NS
25106-00
Cover
2
NS
2511000-6
Skin
1
NS
2511026-2
Bulkhead
1
NS
2511075-1
Bulkhead
1
NS
2511076-2
Bulkhead
1
NS
2511116-1
Plate Skid
3
NS
2511138-2
Seat Track
1
AR
2511138-3
Seat Track
1
AR
2511163-2
Bracket
1
NS
2511315-7
Switch Striker
1
AR
2511315-9
Angle
1
AR
2511317-3
Block Assy
1
AR
2511317-4
Block Assy
1
AR
251146
Spacer
7
NS
251148
Spring
3
NS
2511500-15
Stringer
1
NS
2511662-1
Fitting
1
NS
2511664-1
Fitting
1
NS
2511680-16
Shim
1
NS
25120
Grommet
1
NS
2512008-5
Longeron
1
NS
2512008-6
Longeron
1
NS
2512008-9
Longeron
1
NS
2512009-1
Bulkhead LWR OUTBD
1
NS
2512009-2
Bulkhead LWR OUTBD
1
NS
2512009-3
Bulkhead LWR CTR
1
NS
2512013-1
Longeron LH Inb
1
NS
2512013-2
Longeron RH Inb
1
NS
2512013-3
Longeron LH O/B
1
NS
2512013-4
Longeron RH O/B
1
NS
2512030-2
Bulkhead RH
1
NS
2512032-3
Bulkhead Canted
1
NS
2512038-2
Bulkhead Canted
1
NS
2512038-801
Former
1
NS
2512039-1
Bulkhead
1
NS
2512048-1
Trim Assy
1
NS
2512053-1
Jamb
1
NS
2512210-3
Door Jam Lower
1
NS
2512211-1
Door Jam Upper
1
NS
2512215-2
Bulkhead RH
1
NS
2512215-3
Bulkhead LH
1
NS
2512215-4
Bulkhead Lwr
1
NS
2512219-1
Door Jam Aft
1
NS
2513051-1
Chamber
1
NS
2513303-2
Pedestal
1
NS
25135
Gasket
1
NS
2513500-8
Skin
1
NS
2513501-2
Stringer
1
NS
2513517-2
Stiffener
1
NS
2513519-1
Gusset
1
NS
2513519-2
Bulkhead
1
NS
2513527-1
Closure
1
NS
2513531-1
Bulkhead
1
NS
2513531-2
Bulkhead
1
NS
2513552-4
Bulkhead
1
NS
2513715-1
Stringer
1
NS
2513715-2
Stringer
1
NS
2513850-1
Strip
1
NS
2514063-5
Trim
4
NS
2515
Air Outlet
1
NS
2515087-3
Channel
5
NS
2515131-6
Trim
6
NS
2515149-1
Skin
4
NS
2515157-4
Skin
4
NS
2515171-3
Cover Assy
1
AR
25171
Spacer
9
NS
2517114-5
Pan Assy.
2
NS
2518280-2-602
PC Board
1
NS
2518280-3
Cover
2
NS
2520014-1
Trim
1
NS
2520019
Pulley
5
NS
25203-000
Switch (Alt 474-644, 487-820)
4
AR
2520898
Bracket
1
NS
25212-003
Gasket
1
NS
2521636
Washer
2
NS
2522119-1
Rod
1
NS
2522326
Plate
3
NS
25233
Gasket
1
NS
2523800
Lever
1
NS
2524009-1
Rib
1
NS
25243-003
Strip
1
NS
25243-005
Strip
2
NS
25243-008
Strip
1
NS
25243-009
Strip
2
NS
25246-000
Bracket
1
NS
2524923-1
RSA Nozzle
1
NS
2525000-1
Flap LH
1
OH
2525104
Gasket
4
NS
25290-000
Bracket
1
NS
2530029
Housing
15
NS
2530029-3
Housing
15
NS
2530041-1
Fairing
1
NS
2530041-2
Fairing
1
NS
2530053
Bracket-Aileron Control Sys
4
NS
2531020-21
Angle
2
NS
2531020-24
Angle
4
NS
2531038-3
Panel
1
AR
2531038-4
Panel
1
AR
25313-001
Rail
2
NS
2531528-2
Cable Assy
1
NS
25320-000
Retainer
2
AR
2533000-3
Skin
1
NS
25333-002
Channel
1
NS
25333-003
Channel
2
NS
2534017-1
Trim Tab, RH Elevator T303
1
NS
2534042-4
Tube Torque
2
NS
2534076-200
Elevator RH C303
1
OH
2534080-2
Fairing, Elevator RH
1
AR
253486
Placard
1
NS
25382-007
Skin
1
NS
25382-007
Skin
1
NS
25382-007
Skin
2
NS
25384-1
Detent Assy
2
NS
2538998
Gasket
3
NS
25392-00
Spool
2
NS
25393-13
Lever (lower leaf)
3
NS
2540013-3
Link Assy
16
NS
254082-1
Rheostat
4
NS
2541046-2
Actuator
2
NS
2541093-2
Shim
4
NS
25412-002
Stringer
1
NS
25412-003
Stringer
1
NS
25412-004
Stringer
1
NS
25412-005
Stringer
1
NS
254160801000101
Canoe Clip
25
NS
25421-000
Bracket, Fairlead
1
NS
25481-023
Armrest
1
NS
25491-012
Carpet
1
NS
2550107-1
Bracket
2
NS
2550149-8
Support
2
NS
2552002-8
Doubler
1
NS
25531-01
Orifice Assy
1
NS
2555
Washer
18
NS
2555003-1
Baffle
1
NS
2555030-3
Baffle
1
NS
2555037-2
Baffle
2
NS
2555040-7
Baffle
1
NS
2557000-12
Skin
1
NS
2557053-5
Support
2
NS
2557072-1
Door Baggage
1
NS
2557072-3
Door Baggage
1
NS
2559
Packing
3
NS
25597-000
Jack Pad
4
NS
256-3VB
Screw
1
NS
25602-00
Seat
1
NS
25637-000
Diode
1
NS
25655-000
Gasket
1
NS
2567833-14-94
Wire
1
NS
2567833-14-940
Wire
1
NS
2570044-2
Switch
1
AR
25704-000
Bearing, Hinge
1
NS
25726-000
Strip
2
NS
25788-000
Panel
2
NS
257NF4119-1
Bracket
1
NS
25867-005
Doubler
4
NS
25867-006
Doubler
1
NS
2588086-15
Cover
1
NS
2588105-1
Doubler
1
NS
259-0892-000
Switch
3
NS
259-29
Key
3
NS
2594484
Valve Assy
2
AR
25960-022
Cable
1
NS
25CF3201
Rod End
5
NS
25CW759
Shim
2
NS
25CW769
Shim
1
NS
25EK37
Cover
4
NS
25EK387
Duct
1
NS
25FC-1821/1
Plate
1
NS
25FC-1821/3
Plastic Plate (metal)
1
NS
25FC2803A
Link Assy
1
NS
25FC2807
Door Stay
1
NS
25FC3556
Plastic Plate
2
NS
25FC3723
Plastic Plate
2
NS
25FC53/15
Rubber Tube
8
NS
25FC5371A
Cover Plate
1
NS
25FC5677
Bearing
6
NS
25FC5677A
Bearing
2
NS
25FC5745
Plate
1
NS
25FC5751
Plate
1
NS
25FC7527-9A
Aft Panel
1
NS
25FC9999-1A
Plate Assy
1
NS
25FC9999-3A
Nut Plate
1
NS
25FN4870
Track
1
NS
25FR-Z105-51
Bracket
2
NS
25FR-Z105-55
Doubler
2
NS
25FR39
Stringer Cap
1
NS
25J6K0
Resistor
3
NS
25L6GT
Seal
2
NS
25MM89A
Bracket
2
NS
25PF541
Washer
2
NS
25R10W
Resistor
1
NS
25T57-3-1
Brush
2
NS
25TR209AG
Trim Tab, Rudder
2
NS
25TR287
Con Rod Assy Rudder
2
AR
25UM157
Washer MLG
1
NS
25VF1685
Bracket
6
NS
25VF1685A
Bracket
3
NS
25W112001-093
Placard
1
NS
25W201029-005
Bushing
1
NS
25W317533-023
Lever Lock
1
NS
25W317533-031
Filler
1
NS
25W317800-107
Doubler
1
NS
25W317800-109
Filler
3
NS
25W358817-015
Placard
1
NS
25W711008-287
Tube
1
NS
25WF17-211
Stiffener
1
NS
25WG179
Bushing
6
NS
25WG4323AB
Trim Tab
1
AR
25WS205-69
Washer
6
NS
25WS2297
Bushing
1
NS
25WS3001-319A
Leading Edge LH
1
NS
25WS3123A
Tip
1
NS
26-04
Fairing
2
NS
26-04RFS
Fairing
2
NS
26-07RBC
Fairing
1
NS
26-13R
Trim
1
NS
26-14F
Trim
2
NS
26-23002-003
Bulkhead
1
NS
26-51009-1
Bracket
1
NS
26-51009-2
Bracket
1
NS
26-51014-1
Bracket
1
NS
26-51014-2
Bracket
1
NS
260
Stop
1
NS
260-403
Housing
1
AR
2600-10
Fastener
83
NS
2600-3
Fastener
30
NS
260016-33
Angle
1
NS
260020-207
Channel
1
NS
260020-218
Skin
1
NS
260090-17
Louver
2
AR
260091-115
Aft Cone
1
AR
2601030-7
Retainer
1
NS
2601030-9
Bracket
1
NS
2601298-1
Tube
1
NS
2605041-2
Placard
1
NS
26061-001
Rib
2
NS
26099-000
Channel
1
NS
261-501
Ratchet Assy
1
NS
26100-000
Sleeve
34
NS
2610158
Housing Piston
42
NS
2610185-5
Collar
33
NS
2610301
Rotor
4
AR
2610302
Stator
4
AR
2610331-501
Fitting
6
NS
2611041-6
Bulkhead
1
NS
26111-002
Plate
1
NS
26111-003
Plate
1
NS
2611103-4
Cover
1
NS
2611165-2
Shim
2
NS
2612058-1
Bulkhead
1
NS
2613403-43
Tube Assy Weld
1
AR
2615038-1
Support Moulding
1
NS
2617015-11
Hinge, Door
1
AR
261N04
Nut
9
NS
262-0335-00
Lamp
1
NS
262-2841-180
Lamp
2
NS
2620010-805
Tip
1
NS
2620020-7
Bracket
1
NS
2620021-1
Bracket
2
NS
2622000-119
LH Wing C208B
1
OH
2622017-1
Fitting
1
AR
2622017-3
Fitting
2
AR
2622074-58S1
Bond Assy
2
FN
2622173-6
Angle
1
NS
2622173-8
Angle
1
NS
2622187-1
Spoiler LH
1
OH
2622187-7
Hinge Half w/pins
3
NS
2622227-2
Bracket
1
NS
2622228-4
Bracket
1
NS
26223
Gasket
2
NS
2624000-27
Fence
1
NS
2624000-28
Fence
1
NS
2624000-57
Aileron LH
1
OH
2624000-58
Aileron RH
1
OH
2624012-2
Trim Tab, Aileron RH C208
1
AR
26248-006
Door
1
AR
2625000-11
Flap Skin Lwr Inbd
1
NS
2625000-61
Flap, LH C208
1
OG
2625001-15
Rib
1
NS
2625001-31
Rib
1
NS
2625005-12
Spar
1
NS
2625015-74-574
Rib
1
NS
2625015-76
Rib Assy,
1
NS
2625018-1-501
Bracket
1
AR
26255-000
Wire
1
NS
26275
Ring
2
NS
262N-06
Nylon Union
1
AR
262NO4
Union
1
NS
262P3/8
Fitting
3
NS
263018-R5
Bracket
2
NS
2631000-1
Vertical Fin C208
1
OH
2631000-10
Vertical Fin C208
1
OH
2631000-13
Vertical Fin C208
1
OH
2631000-14
Vertical Fin C208
1
OH
2631000-18
Vertical Fin C208
1
OH
2631000-19
Vertical Fin C208
1
OH
2631000-20
Vertical Fin C208
1
OH
2631000-24
Vertical Fin C208
1
OH
2631000-26
Vertical Fin C208
1
OH
2631000-28
Vertical Fin C208
1
OH
2631021-11
Spar Assembly
1
NS
2631021-5
Strap
2
NS
2631021-6
Strap
2
NS
2631022-3
Strap
1
NS
2631022-4
Strap
1
NS
2632000-1
Horizontal Stabilizer C208
1
OH
2632000-38
Horizontal Stabilizer C208
1
OH
2632000-47
Horizontal Stabilizer C208
1
OH
2632000-48
Horizontal Stabilizer C208
1
OH
2633000-28
Rudder Assy C208
1
OH
2633000-35
Rudder Assy C208
1
OH
2633000-36
Rudder Assy C208
1
OH
2633000-39
Rudder Assy C208
1
OH
2633000-40
Rudder Assy C208
1
OH
2633000-47
Stabilizer
1
OH
2633063-19
Rudder Sea Plane
1
OH
2634000-10
Trim Tab RH
1
AR
2634000-35
Skin
2
NS
2634000-39
Elevator L/H
1
OH
2634000-47
Elevator LH C208
1
OH
2634000-48
Elevator RH C208
1
OH
2634000-55
Skin Assy TE IB
2
NS
2634000-62
Trim Tab RH
1
OH
2634000-63
Trim Tab LH
1
OH
26355-001
Spar
1
NS
264073
Plug
58
NS
26413
Bowl
1
NS
2643
Plug, Black (Heyco POP-500) (alt 222861)
27
NS
26432
Nut
64
NS
2645194
Nut
5
NS
2646-00052
Gauge, Oil Pressure
1
NS
2646-00349
Ammeter
1
AR
26486-000
Firewall
1
NS
26497-016
Baffle
1
NS
264N-06
Nylon Union Tee
1
AR
264N-08
Nylon Tee
2
AR
265-160037-002
Aileron Rib
1
NS
265-180020-003
Rib
1
NS
265-180021-001
Flap Rib
1
NS
265-180047-002
Flap Rib
1
NS
265-180053-001
Flap Rib
1
NS
265-180054-2
Flap Rib
2
NS
265-180055-002
Flap Rib
1
NS
265-180062-002
Flap Rib
1
NS
265-180067-002
Flap Rib
1
NS
265-220041-041
Elevator Rib Assy
1
NS
265-313495-009
Bulkhead
2
NS
265-810130
Adaptor
1
NS
26504-000
Gasket
6
NS
2651-004
Plate
1
NS
2651049
Sill
2
NS
2652012-14
Cap Assy Nose
1
AR
2652012-18
Cap Assy Nose
1
AR
2653047
Auto Valve
1
NS
2653080-501
Gasket
2
NS
26568-01
Kit
1
NS
26568-1
Kit
1
NS
265NO4
Elbow
3
NS
2660001-110
Cable & Chain
1
NS
26620
Plate
3
NS
267
Bulb
3
NS
2674024-1
Support
1
NS
26763-004
Curtain
1
NS
26773-003
Strap
1
NS
26774-000
Plate
3
NS
26796
Ring
41
NS
268-P-3/8-3/8
Connector
1
NS
2680234MI
VALVE ASSY FUEL
1
AR
26817-000
Door
1
NS
26824-013
Tube
5
NS
268483
Bracket
1
NS
268N04X02
Nylon Fitting
6
NS
269-P-1/4-1/8
Connector
3
NS
2695003-1
Spline Adapter Kit
2
NS
26977-003
Shaft
1
NS
26995-004
Resistor
1
NS
269A5509-003
Retainer Grease
1
NS
269A6259
Link
2
NS
269N04X04
Elbow
3
NS
26A429-17
Cable
3
NS
26R16-1
Receptacle
50
NS
27-121
Shield
1
AR
27-210000-903
Skin
1
NS
27-21006-003
Support
1
NS
27-21006-004
Support
1
NS
27-21047-025
Bulkhead
1
NS
27-23003-23
Channel
1
NS
27-23009-033
Bulkhead
1
NS
27-23010-27
Bulkhead
2
NS
27-24096-005
Plate
1
NS
27-24160-043
Rod
1
NS
27-31008-003
Stringer
1
NS
27-31008-004
Angle
1
NS
27-310110-41
Cover Plate
1
NS
27-31068-031
Plate
1
NS
27-31134-001
Rib
1
NS
27-35002-907
Panel
1
NS
27-35003-004
Sill
1
NS
27-35007-007
Panel
1
NS
27-35011-023
Retainer
1
NS
27-35017-003
Doubler
1
NS
27-35017-004
Stiffener
1
NS
27-35018-003
Doubler
1
NS
27-35023-026
Rib
1
NS
27-35026-047
Rib
1
NS
27-35031-041
Bulkhead
1
NS
27-35069-003
Bracket
2
NS
27-35112-029
Angle
1
NS
27-35112-032
Angle
1
NS
27-35151-001
Angle
2
NS
27-35169-039
Skin
1
NS
27-35169-045
Skin
1
NS
27-35169-071
Skin
1
NS
27-36003-001
Flap Assy
1
NS
27-51030-014
Rib
1
NS
27-52000-059
Bracket
1
NS
27-52000-061
Bracket
1
NS
27-55001-001
Hinge Assy
2
NS
27-55001-245
Hinge Assy
2
NS
27-55001-246
Hinge Assy
1
NS
27-55001-29
Arm
1
NS
27-550011-001
Hinge Assy
2
NS
27-55033-801
Bracket Assy
1
NS
27-62028-001
Angle
2
NS
27-85026-005
Bracket
1
NS
27-90207-003
Holder
1
AR
270004-043
LE Skin
2
NS
270004-045
Skin
5
NS
270004-506
Aileron RH Aerostar
1
NS
270044
Articulated Piston Pump
2
AR
2701177-7
Bulkhead
1
NS
27013-000
Shield
2
NS
27014-000
Channel
1
NS
270339-0001
Nut
2
NS
27059-000
Channel
4
NS
27070-000
Tube
1
NS
27071-005
Slide
1
NS
270N08X06
Elbow
1
NS
271-1103
Resistor
2
NS
271-1104
Resistor
3
NS
271-P-1/4-1/8
Tee
3
NS
2710004
Clip
6
NS
2710010-1
Link
1
NS
271356
Shaft
1
NS
27191-000
Angle
1
NS
27200-005
Strip
1
NS
2720022
Bushing
8
NS
2720023
Bushing
6
NS
2720026
Washer
4
NS
2720028
Bolt
2
NS
27202-002
Template
10
NS
27202-003
Template
10
NS
27202-004
Template
10
NS
27206
Tube
1
NS
272103
Seal
2
NS
27212-000
Harness
2
NS
27214-000
Nut
1
NS
27223-002
Plate
10
NS
27223-003
Bracket
3
NS
27245-000
Washer
10
NS
27247-006
Skin
9
NS
27257-000
Placard
7
NS
27258-000
Placard
2
NS
272N04X02
Tee
7
NS
27458D
Baffle
1
NS
2750005
Connector
14
NS
2750011-3
Plate
7
NS
27634
Servo
1
AR
276353-0804
Washer
5
NS
276356-0078
Lockwasher
2
NS
276356-0078
Washer
5
NS
277-16
Felt
3
NS
278-350
Clamp Half
3
NS
278-381
Bulkhead
1
NS
27834-000
Placard
1
NS
27835-000
Placard
1
NS
2785-1
Spring Washer
98
NS
2793-15
Box
1
AR
2793-4
Filter-Radio Noise
1
AR
27969-000
Angle
1
NS
27S3-7
Stud
1
NS
27S5-1
Washer
100
NS
28-06LWS
Fairing
1
NS
28-06RWS
Fairing
1
NS
28-07LFS
Fairing
2
NS
28-11
Tip
1
NS
28-12677-1
Doubler, Fan Shroud
1
AR
28-16
Dorsal Fin Tip
2
NS
28-1C
Sleeve
22
NS
28-41
Seal
2
NS
28.23.04.014
Rail
1
NS
28041-3
Fairing
3
NS
2805-325-6263
Valve
1
NS
28113-000
Nut
1
NS
2817W16P001
Cover
1
NS
28202
Cht Adapter
3
NS
28216-002
Plate
1
AR
28241
Tip
1
AR
28274-006
Bracket
4
NS
28301-000
Disp. Face mask
2
NS
28371-0009
Connector
2
NS
2843-002
Channel Reinforcement
2
NS
284327
Connector (fitting)
6
NS
28466-002
Tip, Stabilator
4
AR
28467-002
Bracket
4
NS
28472-002
Bolt
2
NS
285
Lamp
6
NS
28511
Caps CIS White
23
NS
28520C
Baffle
1
NS
2853
Probe/Cable
1
NS
2855
CHT Adapter Probe
1
NS
286-P23-066
Grill
1
NS
28618-002
Channel
15
NS
28619-002
Bracket
9
NS
28621-002
Bracket
23
NS
28624-003
Bracket
1
NS
286S35-102-3
Collar
3
NS
2870
EGT Prob
3
AR
288194-3
Chain
2
NS
289-27
Manifold
3
AR
289-39
Seat
1
NS
289-623
Flapper, AM (1/32)
1
NS
289-705
Base Inhale/Exhale Valve
152
NS
2891T
Plate
1
AR
28946-001
LH Flap, Cirrus
1
NE
28946-002
RH Flap, Cirrus
1
NE
289498-6
Tube
3
NS
28957-01
Valve
1
NS
29-113
Clip
4
NS
29-7051-3
Assy
6
NS
29-95-2243
Clip
10
NS
290112-16
Bearing
1
NS
2906-3
Bracket
1
NS
2914
Lamp
2
NS
29142-002
Bracket
1
NS
292004-4
Plate
1
NS
29204-002
Line
1
NS
2925-321-2030
Grommet
375
NS
292532-9
Tube
1
NS
2930010-503
Clip
4
NS
2930018-7900
Clamp
17
NS
29326
Spring
6
NS
2935-0
Ring Base
100
NS
2935-04
Ring base
50
NS
293597
Bracket
1
NS
293878
Bearing Rod End
5
NS
294009-1
Cap (alt 757-803)
3
NS
294057-19
Tube
1
NS
294081
Washer
4
NS
29410-000
Lock Ring
3
NS
294552R
Bracket
2
NS
29499-000
Knob
1
NS
295018
Washer
100
NS
295102-1
Piston Assy
1
AR
295250-1
Grommet
108
NS
295250-5
Grommet
28
NS
295300
Fastener
6
NS
295409
Wedjit
15
AR
295409
Wedjit
10
NS
295718
Cover
3
NS
295846-1
Grommet
18
NS
295846-3
Grommet
2
NS
295864-1
Grommet
12
NS
296521
Nozzle
1
NS
296B336
Nameplate
1
NS
296C375
Nameplate
1
NS
297-140
Hot Pot
2
AR
297-20
Oil Seal
1
NS
298145
Bushing
3
NS
298147
Bushing
1
NS
29999-012
Bushing
1
NS
299C486P2
Clamp
3
NS
299C684P1
Pin
2
NS
29F641
Screen
33
NS
2A0084
Mount / Adaptor
1
NS
2A8-1
Oil Pressure Gage
1
NS
2C6758
Check Valve
7
NS
2E-1207
Spring
4
NS
2E1063-4
Clip
2
NS
2E1087-3
Clamp
2
NS
2E1103
Block
3
NS
2E1108
Spring
2
NS
2E1108
Spring
3
NS
2E1193
Firewall Doubler
1
NS
2E1260
Bushing
35
NS
2E1290
Strap
6
NS
2E1310
Teflon Spi
99
NS
2EJST38-S8
Terminal
31
NS
2EJST38-S9
Terminal
22
NS
2F56T17D195AW
Motor
1
AR
2H3-2
Vacuum Regulator
1
NS
2H30-32
Valve
1
AR
2N1011
Transistor
4
NS
2N3055
Transistor
15
NS
2N3442
Transistor
25
NS
2N4857A
Transistor
3
NS
2N5822
Transistor
10
NS
2N5823
Transistor
4
NS
2N6282
Transistor
4
NS
2N6576
Transistor
1
NS
2N6576
Transistor
1
NS
2TS1
Socket
8
NS
2W1AL72-44-25
Washers
8
NS
3-1079R
Muffler
1
AR
3-353491-10A
Battery Holder
1
SV
3-87020-2001
Bushing
2
NS
3-9184-9
Valve (391849)
2
AR
3-93184-5
Spacer
8
NS
3.4081.1
Trim Tab
1
NS
3/16ODX35W5052
Alum Tube
1
NS
30-0009-23
Light Base
3
NS
30-001-3
Clevis
3
NS
30-0199-3
Light Assy.
2
AR
30-0329D1
Retainer
1
NS
30-0437-1
Power Supply
1
AR
30-0504-1
Strobe Light
1
NS
30-1171-1
Mod Kit (30-0515)
4
NS
30-1298-7
Light Assy. (Alt 90-380022-1)
1
AR
30-1315
Spring
1
NS
30-3509
Plug
120
NS
30-52
Brake Assy
1
NS
30-65
Brake Assy-Dual
1
AR
30-7520-05210R3
Coupling
1
NS
300-431100-19
Retainer
1
NS
300-432227-3
Joint
20
NS
300-521424-11
Rod Assy
1
NS
300-524701-997
Pedal-Twin Commander
1
NS
300-551542-601
Flap Assy-Cooling
2
NS
300-551542-602
Flap Assy-Cooling
2
NS
300-551561-71
Plate, Insert
2
NS
300-551561-72
Plate, Insert
2
NS
300-551561-79
Stiffener
1
NS
300-7-2
Connector
1
NS
300-901-920
Plug
48
NS
3000005-7
Washer
1
NS
300006-501
Fitting
2
NS
300041-3
Shroud
1
NS
300049-007
Eye Bolt
1
NS
3000U
Icarus Serializer Mod
2
NS
3000U
Icarus Serializer
10
AR
30010-1026
Brushes
2
AR
300124-2
Seal
4
NS
3001300-12
Strip
1
NS
30019-000
Rib
1
NS
3002
Brake Piston
3
NS
300222-3
Seal
2
NS
300297-1
Ball Seat
1
NS
30036-001
Bracket
1
NS
3003T83P01
Lever
2
NS
3004220
Plate
3
NS
3004477A
Washer
12
NS
30050
Hose
3
NS
3005059
Stud
1
NS
3006963
Nut
2
NS
3006T54P01
Retainer
1
NS
30070
Clamp
1
NS
30080
Inst Pump Warning Placard
8
NS
3008787
Connector
1
NS
3008895
Bearing
3
NS
300T17P2
Washer
1
NS
301
Lamp
10
NS
301-035-190
Tire 6.50-8 6 Ply
1
NS
301-1016
Sleeve
4
NS
301-111-570
Tire 8.00-6 6 Ply
3
NS
301.25.4105
Clear Hinge
2
NS
3010036
Nozzle
1
NS
3010189
Bracket
1
NS
3010880
Gasket
8
NS
3011144
Seal
4
NS
3011155
Tube
9
NS
3011362
Hose
1
NS
3011473
Ring
3
NS
3012680
Nut
4
NS
3013182
Spacer
2
NS
3013634
Spring
1
NS
3013972
Cover
2
NS
3014-515
Spring
2
NS
30160-000
Plate
4
NS
3016607
Nut
4
NS
3016T48P02
Ring
1
NS
3016T48P03
Ring
4
NS
3017-1
Bulkhead
1
NS
30173-000
Bulkhead
1
NS
30175-000
Door
1
NS
30176-000
Arm
1
AR
3019056
Washer
1
NS
30194-002
Baffle
1
NS
30194-002
Baffle
1
NS
30194-003
Baffle
1
NS
30194-006
Bracket
8
NS
302
Lamp
7
NS
302-061-300
Tube(tire)
1
NS
302001-501
Rudder Grumman
1
AR
302001-501
Rudder Grumman
1
OH
3020052-24
Seal
1
NS
3020052-5
Seal
2
NS
302038-502
Block
1
NS
30204
Bearing
1
NS
3022230C
Cover
1
NS
3022374
Seal
1
NS
3022813/3022812
PT Disc2nd Stg match set
1
OH
30241
Dice
1
NS
30242-012
Diaphragm
1
NS
3024672
Gasket
2
NS
3028329
Gasket
14
NS
3029109
Cable
3
OH
3029566
Gasket
220
NS
302DD
Valve
1
NS
303
Lamp
13
NS
303-1304-1
Screen
1
NS
303-1401-2
Plate
1
NS
30300-1285
Brush
8
NS
30300-1286
Brush
4
NS
30300-1289
Brush
12
NS
3030038
Bracket
6
NS
30304-000
Bracket
1
NS
3030T25P01
Ring
2
NS
3031191
Gasket
4
NS
3031272
Gasket
22
NS
3032444
Kit Fuel
1
NS
30325-000
Trim Tab LH Stabilator PA23-250
1
AR
30325-001
Trim Tab RH Stabilator PA23-250
1
AR
3033355
Filter
1
NS
3034243-1
Gasket
2
NS
30352-2
Elevator RH
1
AR
3036
Ring
1
NS
3036376
Filter, Oil (alt 3029315)
1
NS
30365-000
Bulkhead
1
NS
30397-000
Bulkhead
1
NS
304
Lamp
5
NS
30410-006
Skin
2
NS
30413-000
Bulkhead
1
NS
30422-006
Channel
1
NS
30422-009
Channel
2
NS
30422-010
Channel
6
NS
30425-000
Bulkhead
2
NS
30428-000
Bulkhead
1
NS
30435-001
Bulkhead
1
NS
30435-002
Angle
3
AR
30436-000
Channel
1
NS
30436-001
Channel
1
NS
30442-2
Trim Tab RH
1
AR
30455-0713
Button
4
NS
30464-000
Rib
1
NS
30464-001
Bulkhead
1
NS
30475-001
Rib
1
NS
30479-000
Plate
2
NS
30489-006
Skin
1
NS
30489-012
Stringer
1
NS
30489-014
Skin
1
NS
30491-000
Nut
2
NS
304918
Horn
1
NS
30498-000
Bracket
1
NS
305
Bulb
1
AR
305
Lamp
5
NS
30500-019
Skin
2
NS
3050W11P001
Detent
1
NS
30515-000
Frame
1
NS
30525-000
Pin
1
NS
30535-000
Bracket
1
NS
3054841
Gasket
3
NS
30551-000
Spring
8
NS
30559-000
Placard
1
NS
30571-001
Doubler
2
NS
30576
Clamp
60
NS
30579-000
Tube Assy- Baggage Door
2
NS
306
Lamp
17
NS
3061004
Screw
2
NS
3063CC400
Clamp
1
NS
30646-007
Spar
5
NS
30655-000
Skin
1
NS
30665-000
Skin
1
NS
30680-000
Doubler
1
NS
307
Lamp
3
NS
3070743-1
Gasket
2
NS
3070745-1
Filter
2
NS
3070938-2
Filter
1
NS
3075
Arm
1
NS
30783-000
Bracket
1
NS
307AF
Lamp
17
NS
307SB
Lamp
5
NS
308
Lamp
27
NS
308-220011-011
Elevator Rib Assy
1
NS
308-220018-011
Elevator Rib Assy
1
NS
30806-002
Plate
1
NS
30816-000
Block
3
NS
3082-000005
Separator Assy
4
NS
3083-21
Skin Maule
1
NS
3083-3
Skin (Maule)
1
NS
30831-000
Block
2
NS
30839-015
Gasket
2
NS
30865-004
Line
2
NS
30877-000
Sill
2
NS
309
Lamp
6
NS
309-1507-000
Bearing
10
NS
309-22
Plate
2
NS
30947-000
Tee
1
NS
3096
Blower Motor Assy
1
AR
30A02-11
Peri Seal
1
NS
30B173-1
Switch & Wire Assy
1
NS
30E16-
Shaft
1
NS
31-01
Fairing
2
NS
31-08LBC
Fairing
1
AR
31-1200-1
Ring
1
NS
31-1601-1
Placard Grimes Cockpit
4
NS
31-177A
Adapter (Key Coupling)
2
NS
31-177B
Adapter
1
NS
31-18
Stud
11
NS
31-220
Adaptor RF
1
NS
31-5539-1
Gasket
2
NS
31-9-RFX
Fitting
3
NS
310
Lamp
8
NS
310-32
Seal
1
NS
3100-100-3700
Cone & Roller
1
NS
310000-501
Fairing
1
NS
310000-501
Fairing
1
NS
310003-005
Face Hinge Half
3
NS
31003-12
Skin
1
NS
310030-39
Frame
1
NS
310042-041
Web
1
NS
310056-003
Bulkhead
2
NS
3100614-01
Spacer
8
NS
3100641-01
Duplex Bearing, Lower
1
OH
310090-000
Frame
1
NS
3101
Oil Seal
1
NS
310108-503
Channel Assy.
1
AR
3101156-1
Nozzle
1
NS
310123-000
Former
1
NS
310123-9
Switch
1
AR
310125-007
Fairing Pnl Assy
1
NS
310129-003
Cover
1
NS
310129-004
Cover
1
NS
310140-026
Frame
1
NS
3101675-1
Shim
2
NS
3101675-2
Shim
2
NS
3101676-1
Shim
3
NS
3101676-3
Shim
1
NS
3101676-4
Shim
1
NS
3101676-5
Shim
1
NS
310173-30
Skin
1
NS
3101876-1
Shim
1
NS
3101876-4
Shim
2
NS
3102058-2
Shim
1
NS
310220-07
Fairing
1
AR
310220-08
Fairing
1
AR
310220-501
Fairing
1
NS
310220-502
Fairing
2
NS
310227-001
Skin
1
NS
310228-001
Angle
1
NS
31029-000
Bracket
1
NS
310308-001
Plate
1
NS
310325-503
Bulkhead
2
NS
310327-008
Bulkhead
3
NS
31036-001
Strip
3
NS
310369-15
Frame
1
NS
310370-15
Frame Segment
1
NS
310382-013
Doubler
1
NS
310382-022
Doubler
1
NS
310382-085
Doubler
1
NS
310382-11
Stiffener
1
NS
310390-60
Frame
1
NS
310396-17
Frame
1
NS
310401-016
Angle
1
NS
310401-17
Stiffener
1
NS
310402-052
Support
1
NS
310411-021
Stiffener
1
NS
310418-157
Skin
1
NS
310418-85
skin
1
AR
310612
Loop/ Clip (alt MS122904)
15
NS
31068-000
Bracket
1
NS
3106A-14S
Connector
1
NS
310727-1
Gusset
1
NS
3107335-01
Adapter
3
NS
31075-000
Tube
1
NS
3109-56-11
Fitting
1
NS
311
Brake Lining
3
NS
311-HO-124
Housing
11
NS
3110-112-5618
Bearing
1
NS
3110-529-8538
Ring
2
NS
31104
Buckle w/cargo net
1
AR
31121-001
Pin
1
NS
31141
Oil Seal
1
NS
31147
Oil Seal
2
NS
311837247B043
Escutcheon
7
NS
31188-000
Connector
2
NS
3119-000
Connector
2
NS
31196-000
Plate Assy
3
NS
311R
Lamp
5
NS
311SL452
Sleeve
1
NS
3120-662-1440
Sleeve
1
NS
3120-662-1442
Sleeve
2
NS
31207-003
Door
2
NS
31214-014
Spacer
3
NS
31218-000
Plate
1
NS
3122-1-A
Oil Pressure Light
5
AR
31220-003
Hinge
1
NS
31220-004
Pin
4
NS
31221-003
Hinge
2
NS
31221-004
Pin
1
NS
31224L
Pad
2
NS
31226-005
Tube
1
NS
31229-000
Pan
1
NS
31229-001
Pan
2
NS
31232
Buckle
2
NS
3125
Oil Seal
2
NS
31276-000
Plate
3
NS
31283-000
Hinge
5
NS
31284-000
Hinge
4
NS
31284-001
Hinge
1
NS
31286
Washer
14
NS
31291-001
Angle
1
NS
31294-000
Cowl Flap LH PA23-250
2
AR
31294-001
Cowl Flap RH PA23-250
2
AR
31296-000
Bracket
2
NS
313
Lamp
21
NS
3130-10
Ashtray
1
AR
31300-001
Bracket
1
NS
31304-000
Hinge Half
8
NS
313143-003
Bulkhead Segment
1
NS
313143-015
Angle
1
NS
313143-016
Angle
1
NS
313143-017
Angle
1
NS
313143-023
Angle
2
NS
313143-027
Angle
1
NS
313143-028
Angle
1
NS
313143-029
Angle
1
NS
313143-030
Angle
1
NS
313143-035
Angle, Bulkhead
1
NS
313143-037
Angle
1
NS
313143-038
Angle
1
NS
313143-039
Angle
1
NS
313143-040
Angle
1
NS
313143-043
Bulkhead
1
NS
313143-045
Bulkhead
1
NS
31322-005
Bungee Ring
2
NS
31344-000
Baffle
1
NS
31359-000
Baffle
1
NS
31360-000
Bracket
1
NS
31366-000
Lever
5
NS
31376-000
Plate
31
NS
31383-000
Knob
1
NS
31384-002
Cable
2
NS
31392-000
Strut
1
NS
31393-003
Plate
700
NS
3140
Oil Seal
1
NS
31400-000
Rod
2
NS
31429-000
Washer
5
NS
31436-000
Blocks
6
NS
314365
Gasket
191
NS
31443-006
Door Assy PA23-250
2
AR
31459-000
Hinge
12
NS
31460-000
Hinge
4
NS
31460-001
Hinge
2
AR
31460-001
Hinge
2
NS
31466-01
Hinge Half
1
NS
31498-000
Bracket
1
NS
315
Lamp
7
NS
31513-010
Hinge Half
3
NS
31514-000
Bolt
1
NS
31515-010
Hinge
2
NS
3153-00
Valve
2
NS
3154-06
Bracket
1
NS
31559-000
Gasket
6
NS
31565-000
Bracket
1
NS
316003-6
Block
1
NS
31626-000
Bracket
1
NS
31639-014
Stiffener
1
AR
31677-000
Bracket
1
NS
31688-000
Bracket
1
NS
317029
Spacer
1
NS
31704-000
Handle
2
NS
31710-002
Bushing
1
NS
31710-003
Bushing
3
NS
31750-001
Channel
1
NS
31756-000
Channel
1
NS
31759-001
Skin
3
AR
31760-001
Skin
1
AR
31760-001
Skin
1
NS
31763-000
Skin
3
AR
31764-000
Receptacle
2
NS
31766-002
Bushing
2
NS
31766-011
Gasket
6
NS
31773-003
Washer
1
NS
31788-002
Liner
1
NS
31805-006
Link
2
NS
31806-000
Link
2
AR
31806-000
Link
13
NS
31814-007
Ball
1
NS
31848-000
Nut
1
NS
31850
Valve
1
AR
31854
Poppet & Seat Assy
4
NS
31883-019
Lead
1
NS
31885
Terminal
2
NS
31895-005
Lead
1
NS
31900
Winterize Plate
1
NS
31938-000
Piston
2
NS
31955-000
Screw
1
NS
31993-003
Rod
3
NS
31997-000
Plate
1
NS
31C-10
Stud
4
NS
32-2594-0520
Bushing
4
NS
32-456-900
Shaft
1
NS
32-94512-305
Insert
3
NS
320008-17
Channel
1
NS
32003-000
Exhaust Stack Support
1
NS
32004-000
Bracket
2
NS
320040
Shaft
3
NS
320041-101
Skin
1
NS
320046
Sleeve
3
NS
320063
Pin
1
NS
320093
Stud
1
NS
320098
Stud
1
NS
320106
Spring
4
NS
320156
Shim
3
NS
320158
Bearing
3
NS
320172
Washer
13
NS
320201
Wheel Worm
9
NS
32022-002
Switch
1
NS
320239
Contact
10
NS
320261
Screw
4
NS
32027-000
Angle
10
NS
32030-002
Bulkhead
1
NS
320310
Contact
1
NS
320312
Tubing
1
NS
320329
Spacer
1
NS
320352
Shaft
6
NS
320361
Ring
2
NS
320366
Plate
3
NS
320368
Screw
19
NS
320378
Washer
30
NS
320379
Washer
2
NS
320380
Nut
3
NS
320395
ARM
1
NS
320397
Spring
2
NS
320402
Bushing
3
NS
320410
Bushing
2
NS
320411
Bushing
3
NS
320412
Block
3
NS
32042-000
Vane Assy
1
AR
3206
Washer
1
NS
3206-1
Vanity Lens
3
NS
320626
Shield
4
NS
32068-001
Rib
1
NS
32074-002
Rib
1
NS
32076-002
Strap
3
NS
32076-004
Strap
3
NS
32080-001
Rib
2
NS
32080-002
Rib
1
NS
32084-002
Skin
1
NS
32098-003
Skin
9
NS
320HTX6SS
Valve
1
AR
321112
Connector
6
AR
32115-002
Skin
4
NS
321154
Shaft
4
NS
321165
Plate
1
NS
321176
Terminal
9
SV
32120-002
Bracket
1
NS
32120-003
Bracket
1
NS
32156-000
Duct Assy
1
NS
321584
Electrical Terminal
25
NS
32165
Plate
1
NS
32175-000
Gasket
1
NS
321764
Spring
6
NS
3218-500
Kit-Connector
1
NS
321833
Plunger
28
NS
322109
Name Plate
4
NS
32214-000
Valve Assy
1
NS
32214-002
Valve
1
NS
32215-000
Air Box
1
AR
32221-002
Shroud
5
NS
32221-003
Shroud
9
NS
32229-000
Bracket
2
NS
32238-000
Panel
1
NS
32242-13-1
Ring
2
NS
3225
Washer
1
NS
32251-000
Angle
2
NS
322551
Plate
4
NS
3226
Pin
2
NS
32269
Scoop Assy
1
NS
32275
Heat Shroud Bkt.
1
AR
32282-002
Section Assy.
1
NS
323
Lamp
5
NS
323050
Sleeve
10
NS
323100-4
Bushing
2
NS
32337-000
Shield
3
NS
3234
Plate
35
NS
3234-000
Line
1
NS
32405-182
Wire Assy.
6
NS
32407-002
Frame Assy
1
NS
3241-3S
Spacer
1
NS
3244707-6
Limiter
1
OH
32452-005
Support
11
NS
32458-000
Channel
1
NS
32490-000
Doubler
8
NS
324C00007
Cover
4
NS
324C00018
Cover
2
NS
3253503-503
Plate
1
NS
32543
Closeout (old compus) (0813659-8)
3
AR
32553-004
Track, Window
6
NS
3257
Pin
1
NS
32574-000
Bulkhead
1
NS
32580-000
Reinforcement Assy
1
AR
32580-000
Reinforcement Assy
1
NS
32607-003
Frame
1
NS
32690-000
Bracket
6
NS
32733-001
Support
5
NS
32768-003
Exhaust Stack Support
1
NS
327B460P1
Bolt
2
NS
327B490P6
Bolt
2
NS
327B641P005
Clamp
3
NS
327B641P006
Clamp
2
NS
327R
Lamp (RED LENS)
10
NS
3283009-9
Bracket
1
NS
3283024-1
Bracket
1
NS
32843-000
Support Assy
2
NS
32843-001
Support Assy
4
NS
328996
Ring Terminal
1
NS
329103
Gasket
3
NS
32918-008
Bracket
3
NS
32918-009
Bracket
102
NS
32FE-524
Nut
9
NS
33-130000
Aileron Assy
1
OH
33-130000-44
Aileron RH Baron B55
2
OH
33-130000-44
Aileron RH Baron B55
1
OH
33-130000-44
Aileron RH Baron B55
1
SV
33-199-2
Body
1
NS
33-199-3
Yoke
1
NS
33-199-41
Body
1
AR
33-199-908
Strainer
2
NS
33-26030-0050
Gear
2
NS
33-29940-0040
Gear
1
NS
33-31372-305
Mount
2
AR
33-324032
Plate-Emergency LDG GR Instructions
1
NS
33-408-3
Rib
1
NS
33-410021-133
Stringer
1
NS
33-410030-14
Grill Cowl Opening
1
NS
33-410031-157
Stringer
3
NS
33-410031-202
Stringer
2
NS
33-410031-27
Skin
4
NS
33-410031-281
Cover
3
NS
33-410031-31
SKIN-BOTTOM-FUS TAIL
1
NS
33-410040-23
Web
1
NS
33-410152-77
Skin
1
NS
33-610000-605
Elevator RH Bonanza
1
OH
33-610000-606
Elevator LH Bonanza
1
OH
33-610000-609
Elevator, LH Bonanza
1
OH
33-610000-610
Elevator, RH Bonanza
1
OH
33-610000-611
Elevator, LH Bonanza
1
OH
33-610000-612
Elevator, RH Bonanza
1
OH
33-610000-699
Elevator LH Bonanza
2
NS
33-610010-1
Trim Tab LH Elevator A36/F33
3
NS
33-610010-13
Horn Tab Assy elevator
1
NS
33-610010-2
Trim Tab RH Elevator A36/F33
3
NS
33-620000-3
Rib
15
NS
33-620000-35
Doubler
1
NS
33-620000-45
Skin
1
NS
33-620000-47
Skin
1
NS
33-620000-5
Rib-Stab Assy Horizontal
1
NS
33-620000-59
Spar
1
NS
33-620000-607
Rib Assy Stab Assy Horiz
1
NS
33-620000-609
Skin
2
NS
33-620000-611
Horizontal Stabilizer LH A36/F33
1
OH
33-620000-612
Horizontal Stabilizer RH A36/F33
1
OH
33-620000-7
Rib
9
NS
33-630000-113
Rudder
1
OH
33-630000-115
Rudder A36 / F33
1
OH
33-630000-135U
Skin
1
NS
33-630000-137
Rudder A36 / F33
1
SV
33-630000-137
Rudder A36 / F33
1
NS
33-630000-139
Rudder A33
1
NS
33-630000-141
Rudder A36 / F33
1
OH
33-630000-161U
Skin
1
NS
33-630000-165U
Skin
1
NS
33-630000-169
Rudder
1
OH
33-630000-27
Rib
14
NS
33-630000-29
Horn
2
NS
33-630000-601
Rudder A33
1
OH
33-630000-603
Rudder
1
OH
33-630000-605
Rudder
1
OH
33-630000-65
Rib
36
NS
33-630000-69
Weld Assy.
2
NS
33-630000-7
Rib
22
NS
33-630000-83
Rudder A36 / F33
1
AR
33-630000-93
Rudder
1
OH
33-640000-29
Rib
7
NS
33-640000-33
Bracket
35
NS
33-640000-37U
Arm
22
NS
33-640000-43
Bracket
29
NS
33-640000-47U
Arm
4
NS
33-640000-601
Vert Stabilizer
1
NS
33-640000-611
Vertical Stabilizer
1
NS
33-640000-617
Vertical Stabilizer
1
NS
33-640000-65
Seal
10
NS
33-640000-671
Vertical Fin
1
OH
33-640000-7
Rib
13
NS
33-640000-87
Skin
2
NS
33-640000-97
Support
16
NS
33-940
Gasket
2
NS
33-950000-7
Exhaust Stack
1
NS
330
Lamp
47
NS
330052-13
Hinge
6
NS
330118-83-3435
Leaver
1
NS
33017-12
Retainer
10
NS
33017-14
Rod
7
NS
33017-147
Rod
1
NS
33017-3
Control Lever
1
NS
33017-7
Snap Ring
86
NS
33030-000
Screens (Air Intake)
1
NS
33031
In Line Fuel Filter
1
NS
330323-1
Clip
1
NS
33039-0100
Resistor
3
NS
33053-000
Shelf
1
AR
33053-011
Socket
1
NS
330995F-4-0120
Hose
1
NS
330997-4-0140
Hose
2
NS
3312-502
Kit
1
NS
33132-000
Roller
1
NS
331350
Connectors
6
NS
33158-000
Bracket
1
NS
33178-002
Shroud
3
NS
33189-000
Plate
5
AR
3319
Key And Lock Set
1
NS
33201-229
Plate Assy
1
AR
332369
Gasket
10
NS
332432
Plug, Oil
3
AR
33248-004
Panel Assy.
1
NS
33265-002
Plate Cover
3
NS
33274-000
Bracket
1
NS
33274-001
Bracket
3
NS
33274-B
Bracket
2
NS
33277-001
Tube Assy
1
NS
33287-000
Tube Assy
2
NS
33294-000
Bracket
48
NS
3330054-3
Bracket
1
AR
33318-012
Switch
1
NS
33318-023
Switch (alt 587-953)
1
NS
33319-000
Bracket
5
NS
33329-000
Cone
15
NS
33329-000
Drain Cone
4
AR
33330-000
Bracket
7
NS
3333073-1
Plate
1
NS
3333074-1-B
Plate
1
NS
33349-003
Cover
1
NS
334
Lamp
27
NS
334-2098-010
Fastener
2
NS
33416-000
Baffle
1
NS
334215
Skin LE
3
SV
33432-000
Cap-N.L.A.
1
NS
33434-000
Placard
4
NS
33447-003
NLA Tip
1
NS
335
Lamp
18
NS
33537-000
Bracket
2
NS
33540-000
Bracket
1
AR
336
Lamp
34
NS
33608-002
NLA Hinge
1
NS
33608-003
Hinge
1
NS
33682-004
Cover
2
NS
336C951P2
Cover
1
NS
337-524-9103
Filter
8
NS
33760-002
LHV
1
NS
33766-002
Grip
2
NS
33770-002
Rib
1
NS
33773-002
Spar
3
NS
33774-002
LHV
3
NS
33791-002
Bulkhead
1
NS
33844
Fuel Bladder Strap 421
1
NS
33855-002
Gauge
1
NS
33868R3
Ring
1
NS
33888-002
Tube
3
AR
33978-002
Decal (alt 456-432)
13
NS
34-0070371-01
Lamp (alt WA7079B24)
16
NS
34-0070391-01
Lamp (alt W678)
1
NS
34-828-2
Plate
1
NS
34-828-902
Leaver
1
NS
34-90041-023
Angle
1
NS
34-9156-007-S15
Rib
1
NS
34.11.10.000
Trim Tab
4
NS
34.1515
Fuse
9
NS
340078-007
Fairing
1
NS
34038-11
Cad Plated Flat Hook
7
NS
3407
Spacer
6
NS
3408-1
Washer
2
NS
3408-2
Washer
1
NS
34109
Nut
1
NS
34110-003
Washer
2
NS
341A-33-5104-20
Plate
1
AR
342-001
Fuse Holder
1
NS
342-18
Brake Lining Segment
6
NS
34200-1
Bearing
1
NS
34207
Gear
2
AR
342430A
Bracket
3
NS
3426
Bellcrank
1
AR
34282-002
Skin
1
NS
34282-003
Skin
1
NS
34282-004
Skin
1
NS
34282-005
Skin
1
NS
34282-006
Skin
1
NS
34282-012
Rib
5
NS
34300
Bearings
3
NS
34323
Amp Splice
26
NS
34327-000
Rib
6
NS
34478
Bearing
1
NS
345L100
Belt
1
NS
3462T21
Cable
1
NS
34810-A
Relay
1
NS
34850
Cap Valve Rocker Shaft
10
NS
34853
Terminal
4
NS
34888-000
Plate
1
NS
34893-002
Guide
8
NS
34KDD
Bearing
3
NS
35-001029-6
Skin
1
NS
35-001066-1
Bracket
1
NS
35-001074-63
Bracket
1
NS
35-010103-332
Hinge
1
NS
35-105005-15
Door Assy
1
NS
35-105005-8
Door Assy
1
NS
35-105111-3
Washer
2
NS
35-110009-67
Rib
17
NS
35-110015-141
N. Rib
7
NS
35-110015-148
Rib
2
AR
35-110015-46
LE Skin
1
NS
35-110039-1
Rib
7
NS
35-110061-77
Spar Cap
1
NS
35-11046-2
Rib
27
NS
35-115010-653
LE Skin
2
NS
35-115016
Rib
1
NS
35-115016-2
Rib
3
NS
35-115016-3
Rib
22
NS
35-115016-5
Rib
12
NS
35-115016-7
Rib
5
NS
35-115020-11
Stiffener
1
NS
35-115020-18
Stiffener
1
NS
35-115031-3
Rib
6
AR
35-115032-2
Rib
1
AR
35-115032-6
Rib
2
AR
35-115032-603
Rib
1
NS
35-115033-2
Rib
1
AR
35-115033-602
Rib
1
NS
35-115033-602
Rib
1
AR
35-115033-7
Rib
1
AR
35-115035
Rib
1
NS
35-115037-3
N. Rib
7
NS
35-115037-7
N. Rib
2
AR
35-115038-2
N. Rib
5
NS
35-115042-15
Angle
1
NS
35-115042-24
Rib
19
NS
35-115042-25
Rib
1
AR
35-115043-2
N. Rib
5
NS
35-115045-3
Rib
1
NS
35-115045-602
Rib
1
AR
35-115046-1
Rib
13
NS
35-115046-12
Rib
9
NS
35-115046-13
Rib
9
NS
35-115046-2
Rib
18
NS
35-115046-2
Rib
28
NS
35-115046-3
Rib
21
NS
35-115046-6
N. Rib
1
NS
35-115046-7
Rib
13
NS
35-115050-1
Stringer
1
AR
35-115050-18
Angle
1
NS
35-115050-18
Angle, Rear Spar
1
NS
35-115050-20
Angle
1
NS
35-115050-53
Web
1
NS
35-115050-94
Angle
1
NS
35-115050-98
Angle
1
NS
35-115051-616
Rib
1
NS
35-115051-65
Rib
3
NS
35-115058
Fitting, Wing Rear Spar
1
NS
35-115062
Bushing
4
NS
35-115079-2
Rib
10
NS
35-115110-2
Rib
10
NS
35-115121-10
Rib
1
NS
35-115122-9
Rib Angle
2
NS
35-115130-10
Angle
1
NS
35-115130-107
Rib
1
AR
35-115142-138
Stringer
1
NS
35-115142-18
Stringer
2
NS
35-115142-38
Stringer
2
NS
35-115142-60
Stringer
2
NS
35-115143-3
N. Rib
10
NS
35-115160-19
Reinforcement-INBD Aileron Hinge
1
AR
35-115168-2
N. Rib
8
NS
35-115196-3
Rib
5
NS
35-115197
Rib
1
NS
35-115197-2
Rib
2
NS
35-115197-3
Rib
1
NS
35-115198-3
N. Rib
12
NS
35-115199-10
Reinforcement
1
NS
35-115200-106
Skin Lower Wing
1
NS
35-115200-22
Seal
6
NS
35-115200-24
Seal
6
NS
35-115207
Gusset
1
NS
35-115210-10
Frame
1
AR
35-115210-11
Frame
1
NS
35-115210-48
SKIN-LH
1
NS
35-115211-3
Skin
1
NS
35-115238
Deflector
1
NS
35-115253
Aileron Bracket Assy.
1
AR
35-11527-13
Rib
1
AR
35-115272
Former
1
AR
35-115276
Clip
1
NS
35-115276-1
Clip
1
NS
35-115280
Closure Assy-Wing
3
NS
35-115280-1
Closure Assy-Wing
3
NS
35-115301-14
Bumper
16
NS
35-115301-601
Inbd Flap Track Assy
2
NS
35-115305
Rib
1
NS
35-115305SA3
Rib
1
NS
35-115382-1
Tip
1
NS
35-115431-101
Leading Edge
3
NS
35-115431-15
Rib
27
NS
35-115431-16
Rib
22
NS
35-115431-30
Zee-L E
3
NS
35-115431-9
Stringer
1
NS
35-115435-30
Rib
9
NS
35-115435-59
Rib
12
NS
35-115435-60
Rib
7
NS
35-115435-62
Rib
1
NS
35-115435-8
N. Rib
7
NS
35-135025-32
Hinge Bracket Assy
1
NS
35-135025-36
Bracket
1
NS
35-135025-48
Reinforcement
1
NS
35-135025-50
Renif Ail-L_E
12
NS
35-135025-52
Hinge
1
NS
35-135025-62
Doubler
13
NS
35-165050-218
Flap LH
1
OH
35-165050-219
Flap RH
1
OH
35-165050-230
Flap LH B200
10
NE
35-165050-231
Flap RH B200
1
OH
35-165050-243
Rib
43
NS
35-165050-243
Rib
107
NS
35-165050-258
Flap LH OutBd
1
OH
35-165050-259
Flap RH OutBd
1
OH
35-165050-262
Doubler
16
NS
35-165050-263
Doubler
48
NS
35-165050-266
Doubler
25
NS
35-165050-267
Doubler
27
NS
35-165050-28
Rib
10
NS
35-165050-288
LH Flap Assy
1
OH
35-165050-289
RH Flap Assy
1
OH
35-165050-29
Rib
5
NS
35-165050-605
Flap LH
2
OH
35-165050-606
RH Flap
2
OH
35-165050-606
RH Flap Assy
1
OH
35-165050-606
Flap RH
1
OH
35-165050-607
Flap LH
1
OH
35-165050-607
LH Flap
2
OH
35-165050-610
Flap LH
1
OH
35-165050-611
Flap RH
1
OH
35-165050-96
Flap LH
2
OH
35-165050-97
Flap RH
1
NS
35-170004-12
Reflector
1
NS
35-170005-604
Lamp
1
NS
35-2-3001
Brush
6
NS
35-2003GP4ST1
Placard
3
NS
35-204
Slide
1
NS
35-2079-17
Cover
1
AR
35-321117-12
Tube
1
NS
35-324006-259
Washer
9
NS
35-324101
Decal
3
NS
35-324102
Decal
3
NS
35-324102-8
Placard
1
NS
35-324109
Decal
1
NS
35-324128
Bracket
3
NS
35-324175
Placard - White
3
NS
35-324183
Stop Assy- Vibration Insulator
1
NS
35-324185
Placard
1
NS
35-324187
Placard
3
NS
35-324188
Placard
3
NS
35-324202
Placard
1
NS
35-324239
Placard
2
NS
35-324277
Decal
3
NS
35-324356
Placard
2
NS
35-324361
Decal
3
NS
35-324363
Center Placard
1
NS
35-324368-1
Placard
3
NS
35-324375-3
Bracket
3
NS
35-324376
Decal
3
NS
35-324443-6
Fitting Tee
1
NS
35-344012
Mast Assy.
1
NS
35-344164
Mast
1
NS
35-361008
Housing
1
NS
35-361109
Tube Assy
1
NS
35-361158
Placard
3
NS
35-364034
Placard
3
NS
35-364053-1
Switch
1
AR
35-364069
Lamp
2
NS
35-364078
Lens Insert
1
NS
35-364127
Actuator
2
NS
35-364151-11
Holder
1
NS
35-364151-57
Motor, Flap
1
AR
35-364160-3
Lighter, Cigar
1
NS
35-3642140B-C
Placard
1
NS
35-364247
Micro Switch
2
NS
35-369016
Placard
3
NS
35-369018-23
Weld Assy.
1
NS
35-369148
Placard
1
NS
35-378
Rotary Switch
3
NS
35-380001-3
Tail Cone
1
AR
35-380020-1
Ring
1
NS
35-380035-3
Filter
2
NS
35-380053-31
Stand by Switch
1
NS
35-380094
Landing Gear Motor (alt IS-14400, IS1400)
2
AR
35-380132-53
Circuit Breaker
1
NS
35-380132-65
Circuit Breaker
1
NS
35-380133-23
Panel
1
NS
35-400018-12
Upper Hinge
1
NS
35-400018-8
Hinge Assy
1
NS
35-400031-1
Spring
1
NS
35-400035
Striker
2
NS
35-400044
Cam
1
NS
35-4003
Fitting
1
NS
35-400320-66
Molding
1
NS
35-400388
Decal
3
NS
35-400405
Seal
4
NS
35-400414
Guide
1
NS
35-400427
Decal
1
NS
35-400434
Spring
1
NS
35-400456
Decal
1
NS
35-400472
Decal
1
NS
35-400473-5
Tail Cone
1
NS
35-400473-5
Tail Cone
3
AR
35-400520-50
Seal
1
NS
35-410000-48
Channel
1
NS
35-410000-49
Channel
1
NS
35-410001-3
Stringer
1
NS
35-410006-32
Skin
1
NS
35-410007-20
Stringer
1
NS
35-410007-26
Skin
1
NS
35-410011-14
Stringer
3
NS
35-410020-5
Door Assy FWD Fus Access
1
NS
35-410020-6
Panel
7
NS
35-410038-126
Bracket
7
NS
35-410038-142
Channel
1
NS
35-410038-154
Stringer
1
NS
35-410070-10
Hinge
1
NS
35-410070-77
Filler Strip
2
NS
35-410077-32
Skin
2
NS
35-410077-33
Skin
2
NS
35-410077-35
Skin
2
NS
35-410130-20
Reinforcement
3
NS
35-410145-2
Door
2
NS
35-410152
Vent - Cabin Exhaust
1
NS
35-410152-17
Skin
1
NS
35-410170-2
Former
1
NS
35-410175
Placard
2
NS
35-410180-8
Clip
1
NS
35-410180SA2
Bulkhead
1
NS
35-410210-656
Doubler
1
NS
35-410217-57
Bracket
1
NS
35-410217-58
Bracket
1
NS
35-410225-2
Former
10
NS
35-410273
Shear Link
8
NS
35-410286-1
Decal
2
NS
35-410291-16
Frame
1
AR
35-410291-183
Spacer
1
NS
35-410291-189
Seal
2
NS
35-410291-227
Stiffener
9
NS
35-410321-7
Handle
1
NS
35-410326
Placard-Instructions Storm Window
1
NS
35-410329B/C
Placard-Cabin Wind
2
NS
35-410331-652
Bulkhead
1
NS
35-410355
Placard
1
NS
35-410379-2
Frame
1
NS
35-410379-4
Stiffener
2
NS
35-410395
Decal
2
NS
35-410398-16
Bracket
1
NS
35-410408
Cross channel support
2
NS
35-410420-8
Angle
1
NS
35-410425
Bracket
1
NS
35-410436
Molding
2
NS
35-410444-17
Stringer
1
NS
35-410444-59
Reinforcement
1
NS
35-410446-135
Cover Assy Nose Section
1
NS
35-410446-145
Box-Air Intake Assy
1
NS
35-410446-149
Funnel
1
NS
35-410446-303
Angle-Nose Section
4
NS
35-410446-329
Seal, Half
9
NS
35-410446-333
Seal,, Center Baffle
8
NS
35-410446-79
Grill Assy
1
AR
35-410446-81
Pan Nose Wheel
1
NS
35-410447-15
Angle
9
NS
35-410448-81
Bracket
1
NS
35-410452-105
Skin
5
NS
35-410452-169
Skin
1
NS
35-410452-7
Skin
1
NS
35-410461-17
Bulkhead
1
NS
35-410461-31
Angle
1
NS
35-410465-1
Strike Plate Window
1
NS
35-410483-1
Longeron-Fuse Nose Assy
1
NS
35-413003-18
Skin
1
NS
35-413003-8
Skin
1
NS
35-415312
Handle Assy
1
NS
35-415334-
LH Keel
3
NS
35-415334-7
RH Keel
3
NS
35-415346
Bulkhead
1
NS
35-415348-17
Rib
3
NS
35-415350-28
Side Cover Assy-Nose Wheel
1
NS
35-415352
Bulkhead
1
NS
35-415373-16
Bulkhead
1
NS
35-415373-18
Bulkhead
1
NS
35-415373-20
Bulkhead
1
NS
35-415373-6
Bulkhead
1
NS
35-415373-660
Rib
4
NS
35-415373-665
Bulkhead
1
NS
35-415373-8
Rib
6
NS
35-415374-10
Channel, Blkd Assy
1
NS
35-415412-29
Angle
2
NS
35-420011-55
Skin
1
NS
35-440011-2
Stringer
1
NS
35-450467-3
Adapter
1
NS
35-470475-3
Springs
2
NS
35-5012A
Antenna
2
AR
35-5024
Cross Over
1
NS
35-5049-1P
Kit-Airspeed Ind.
7
NS
35-521158-1
Bellcrank
1
AR
35-521225
Motor
1
AR
35-524060
Casting
1
NS
35-524087-22
Arm Control
1
AR
35-524126-2
Bracket Pulley Support
1
NS
35-524136
Fitting
1
AR
35-524136-3
Support Rud Pedal Bellcrank
1
NS
35-524137
Bellcrank
1
AR
35-524138
Bellcrank
1
NS
35-524138-2
Bellcrank
1
NS
35-524143-2
Arm
1
NS
35-524170
Lever
7
NS
35-524214
Screw
5
NS
35-524238-12
Yoke, Clamp
1
NS
35-524238-4
Yoke, Clamp
1
NS
35-524372
Bushing
10
NS
35-525
Cover
2
NS
35-530064-49
Reflector
1
NS
35-530064-51
Reflector Assy, Glareshield
1
NS
35-530066-15
Clip
4
NS
35-534220-19
Tube
2
NS
35-534225
Tube Assy
2
NS
35-534295-13
Cover
1
NS
35-534296-5
Angle
2
NS
35-534296-7
Angle
3
NS
35-534313-7
Doubler
1
NS
35-534353
Placard
3
NS
35-534418
Block
1
NS
35-534475-15
Cover
1
NS
35-534475-7
Cover
1
NS
35-534475-9
Door
1
NS
35-537014-6
Tube
1
NS
35-550113
Decal
3
NS
35-55087
Screen
1
NS
35-590040
Adaptor
1
NS
35-590043
Pin
2
NS
35-590044-10
Hinge
1
NS
35-590089
Decal
3
NS
35-600002
Support Assy
2
AR
35-650005-2
Horizontal Stabilizer RH Bonanza
2
NS
35-650005-23
Tip
1
NS
35-650005-3
Skin LH
1
NS
35-650005-4
Skin
1
NS
35-650005-601
Horizontal Stabilizer LH Bonanza
1
OH
35-650005-602
Horizontal Stabilizer RH Bonanza
1
NS
35-650005-8
Stiffener
7
NS
35-650007-2
Stabilizer RH
1
OH
35-650009-37
Skin
2
NS
35-650009-40
Spar
5
NS
35-650009-44
Rib
2
NS
35-650009-54
Rib
20
NS
35-650009-8
Spar
5
NS
35-650010-22
Cover Access Door Stab
13
NS
35-650112
Stab Tip
1
NS
35-650122-2
Hinge Half
29
NS
35-650129
Rib
5
NS
35-650130
Rib
1
NS
35-650132
Rib
2
NS
35-650133
Rib
6
NS
35-650134
Rib
13
NS
35-650135-11
Doubler
30
NS
35-660002-15
Rib
4
NS
35-660009-18
Rib
4
NS
35-660009-46
Rib
3
NS
35-660009-50
Plate
35
NS
35-660033
Fairlead--Elev hinge
3
AR
35-660040-48
Balance Assy.
1
NS
35-660040-52
Trim Tab LH Ruddervator B35
1
OH
35-660040-53
Trim Tab RH Ruddervator B35
1
AR
35-660042-1
Washer- Elevator balance
3
NS
35-660043-1
Trim Tab Assy LH Elevator H35
1
OH
35-660043-2
Trim Tab Assy RH Elevator H35
1
OH
35-660043-2
Trim Tab Assy RH Elevator H35
2
NS
35-660043-3
Skin
10
NS
35-8009-1S
Kit Nose Gear
1
NS
35-810026-613
MLG Assy LH
1
AR
35-810026-614
MLG RH
1
AR
35-810075-7
Actuator Assy, Landing Gear (alt 35-810075-5)
1
OH
35-810087
Stop
27
NS
35-815006-24
Boot
2
NS
35-815006-8
Tube Assy
1
NS
35-815014
Pins
5
NS
35-815016
Hinge Assy
2
AR
35-815016-5
Hinge Assy.
1
AR
35-815050-701
Bushing
9
NS
35-815055-116
Hinge Assy MLG
1
NS
35-815055-214
Gear Door LH
1
AR
35-815055-215
OutBd Gear Door RH
1
AR
35-815075
Hinge Assy
1
AR
35-815088-18
Valve
1
NS
35-815125-31
Braze Assy - Rod
1
NS
35-815127-2
Rod
3
AR
35-815147
Face
1
NS
35-815155-610
Brace LH MLG
1
AR
35-815155-611
Brace RH MLG
1
AR
35-815174
Knee Assy
1
NS
35-815175
Knee Lower
1
NS
35-815254-9
Bushing MLG
2
NS
35-815264-2
Clamp
1
NS
35-815266-1
Hinge
1
AR
35-815266-2
Hinge
1
NS
35-815420-14
Rod
2
AR
35-820094-2
Arm
1
AR
35-820094-4
Bushing
3
NS
35-820095
Collar
1
NS
35-820130-2
Felt
1
NS
35-825051
Collar
1
NS
35-825072
Retract, Nose V-Brace
1
NS
35-825100-2
Pad
1
NS
35-825101
Shim
5
NS
35-825123-7
Bushing, Nose Gear
1
NS
35-825171
Boot, Uplock Rod NG
2
NS
35-825191-1
Rod
1
NS
35-910003-35
Hinge
1
NS
35-910003-41
Clamp, Exhaust
1
AR
35-910004-9
Washer
1
NS
35-910007-9
Drain Tube
2
NS
35-910028-21
Spinner
1
AR
35-910053-1
Cowl Flap A36
1
AR
35-910053-12
Cowl Flap A36
1
AR
35-910058
Bracket
2
NS
35-910066-151
Baffle
1
NS
35-910066-183
Baffle
1
NS
35-910066-45
Baffle
2
NS
35-910067-157
Support
1
NS
35-910067-21
Seal
1
NS
35-910067-251
Baffle
3
NS
35-910160-630
SEAL LH-COWL
1
NS
35-910160-96
Angle
12
NS
35-910215
Support
1
NS
35-910216-5
Support
3
NS
35-910242
Tube Assy
1
AR
35-910269
Baffle
1
NS
35-910278
Baffle
3
NS
35-910278
Baffle
4
AR
35-910278-1
Baffle
1
AR
35-910278-1
Baffle
1
NS
35-910278-3
Baffle
3
NS
35-910278-3
Baffle
1
AR
35-910288
Spring
1
NS
35-910295-19
Shroud
1
NS
35-910295-21
Shroud
1
NS
35-910321-59
Inner Skin
1
NS
35-910329-5
Baffle
1
AR
35-919025-19
Gasket
4
NS
35-919124-10
Hinge
2
NS
35-919124-8
Hinge
2
NS
35-921153-37
Fuel Line
1
NS
35-921153-41
Tube
1
NS
35-921154-59
Tube Assy
1
NS
35-921159-1
Bushing
7
NS
35-921223
Decal
3
NS
35-921225
Decal
3
NS
35-921229-1
Placard
8
NS
35-921237
Decal
3
NS
35-921502
Gasket
2
NS
35-921525
Cam Fuel Cell cap
3
NS
35-921532
Washer
1
NS
35-924070-600
Plate Assy
6
NS
35-924133
Decal
2
NS
35-924133
Decal
2
NS
35-924137
Shroud Fuel Selector
1
NS
35-924139-10
Placard-Fuel Selector
1
NS
35-924226
Tube Assy
1
NS
35-924227
Tubing
1
NS
35-924252
Placard
3
NS
35-924258-1
Decal
3
NS
35-924264-1
Decal
2
NS
35-939029
Placard
3
NS
35-939180-1
Oil Separator
1
NS
35-940001-7
Cable
1
NS
35-944035
Button
1
NS
35-950004-71
Stack
1
NS
35-950004-79
Exhaust
1
NS
35-950125
Link
4
NS
35-950132
Link-Exhaust Support
2
NS
350
Dry Air Pump Coupling Kit
3
NS
350000-009
Skin
1
NS
350000-011
Skin
1
NS
350000-012
Skin
1
NS
350000-015
Skin
1
NS
350000-043
Skin
1
NS
350024-2
Bulkhead
1
NS
350054-11
Skin
1
NS
350076
Intercostal
1
NS
350111-000
Channel
1
NS
350157-001
Stringer
1
NS
350160-003
Skin- Tailcone
1
NS
350162-003
Channel
1
NS
350162-009
Bulkhead
1
NS
350162-011
Plate
1
NS
350162-15
Plate
2
NS
350162-17
Channel
1
NS
35019
Gasket
1
NS
3502-14-46
Washer
1
NS
3502-18-34
Washer
3
NS
3503
Gasket
23
NS
35044
Valve (alt HE-702-A)
1
NS
35054-002
Plate
1
NS
350689-1
Socket
6
NS
35085P8
Stud
3
NS
350A21131720
Shim Peel
1
NS
35107
Brush
2
NS
3511-181-02831
Label
15
NS
35113-004
Wing LH PA28-151
1
OH
35113-005
Wing RH PA28-151
1
OH
35117-005
Skin
1
NS
35117-007
Skin
1
NS
35118-004
Skin, Wing
1
NS
35118-025
Skin
1
NS
35118-026
Skin
3
NS
35118-953
Skin Assy
1
NS
3513013
Arm Aileron
6
NS
35135-903
Bellcrank
1
AR
3515-36-03-0554B
Spring
1
NS
35175A
Brush
5
NS
35193-038
Cowl
1
AR
35195-5
Skin
1
NS
35199-000
Cowl
1
NS
352030
Retainer
2
NS
352030
Retainer
1
AR
352056
Gasket
3
NS
352057
Gasket
7
NS
352067
Gasket
1
NS
352068
Seal
5
NS
352068
Oil Seal
2
AR
352093
Bracket
20
NS
352113
Trim
2
NS
35212-000
Panel Switch Assy
1
NS
35220-000
Rib
2
NS
35273-003
Doubler
2
NS
353-000
Fuel Vent
1
AR
35301-000
Stack Assy
1
AR
35301-008
Stack
1
NS
35301090
Stack Assy. Left
1
NS
3530145-3
Bracket
1
NS
353151
Shaft
1
NS
35323-005
Dome (alt 587-354)
1
AR
3533006-410
Link
6
NS
3533014
Arm
1
AR
353325-11
Nipple
4
NS
35343
Gear, Oil Pump
1
NS
35344-6629
Relay
1
AR
353557-19
Duct Assy
2
AR
35364-014
Skin
1
NS
35389-000
Hinge Assy
1
NS
354
Lamp
6
NS
35402-000
Clamp
3
NS
354045
Piston
1
NS
35415-006
Cowl, Bottom Rh Assy
1
NS
35415-007
Doubler
3
NS
35420-004
Skin
1
NS
35421-009
Skin
1
NS
35422-000
Skin Assy RH
1
NS
35422-004
Skin
1
NS
3543171
Disc
2
NS
35432-000
Plate Bungee seal
1
AR
35432-000
Plate Bungee Seal
1
NS
35446
Insert
18
NS
35453-000
Plate, Winterization
6
AR
35454-000
Bracket
1
NS
35467-000
Seal
7
NS
35476-000
Rod, Aileron
1
NS
35477-000
Filter
2
NS
35490-002
Baffle
1
NS
3550004-501
Barrel Assy
8
NS
3550037-3
Bellcrank
30
NS
3550037-5
Bellcrank
30
NS
35515-002
Baffle
1
AR
35532-000
Manifold assy.
3
AR
35562
Washer
2
NS
35582-000
Ring
1
NS
35591-003
Bracket
2
NS
35591-004
Doubler
2
NS
35593-002
Rib
2
NS
35593-003
Rib
1
NS
35593-004
Rib
2
NS
35593-005
Rib
3
NS
356
Lamp
2
NS
35603-021
Skin
1
NS
35603-026
Skin
1
NS
35608-000
Ear Tip
1
NS
35614-010
Bellcrank
1
NS
35620-000
Rib
1
NS
35630-011
Wing LH PA28
1
OH
35630-012
Wing RH PA28
1
OH
35630-021
Wing RH PA28
1
OH
35630-022
Wing LH PA28
1
OH
35630-900
Wing LH
1
OH
35630-901
Wing RH
1
OH
35630-907
Leading Edge Assy RH
1
NS
35630-920
Wing LH PA28
1
OH
35630-921
Wing RH PA28
1
OH
35630-960
Wing LH PA28-161
1
OH
35630-961
Wing RH PA28-161
1
OH
35630-980
Wing LH
1
OH
35630-981
Wing RH
1
OH
35630-982
Wing LH
1
OH
35630-982
Wing RH
1
OH
35630-983
Wing RH
1
OH
35630-986
Wing LH
1
OH
35630-987
Wing LH
1
OH
35630-988
Wing RH
1
OH
35630-989
Wing RH
1
OH
35630-992
Wing LH
1
OH
35630-993
Wing RH
1
OH
35634-010
Skin
1
NS
35636-000
Hinge
7
NS
3563614-1
Bellcrank
1
NS
35640-000
Aileron LH PA28-181
1
OH
35640-001
Aileron RH PA28-181
1
OH
35640-020
Fillers
2
NS
35640-021
Fillers
2
NS
35640-024
Aileron LH PA28
1
OH
35640-025
Aileron RH PA28
1
OH
35640-21
Stiffener
9
NS
35646-002
Plate
2
NS
3564K73P006
Filter
16
NS
35656-002
Clamp
1
AR
35656-002
Link
1
NS
35667-002
NLA Doubler
1
NS
35667-02
Ring
6
NS
35669-028
Placard
1
NS
35669-035
Placard
2
NS
35669-037
Placard
1
NS
35669-103
Placard (alt 583-096)
1
NS
35669-163
Placard
1
NS
35669-194
Placard
22
NS
35669-41
Placard
1
NS
35669-42
Placard
1
NS
35680-022
Bracket
2
NS
35723-003
Angle
1
NS
35725-002
Pad
2
AR
35725-002
Pad
1
NS
35733-004
Strip
1
NS
35742-030
Top 1/2 Nose Cone
1
AR
3577
Gasket
1
NS
35789-002
Fuel Screen
5
NS
35797-001
Spacer
1
NS
358-1459
Placard
40
NS
358-61
Mask
1
NS
35820011-603
Rod
1
AR
35822-002
Holder
1
NS
35850-000
Guard
2
NS
35879-003
Rudder T Tail
2
OH
35889-184
Placard
1
NS
35894-003
Stabilator
1
OH
35923
Gasket
3
NS
35924
Tab Washer
24
NS
35932
Gasket
2
NS
35950-004
Wing LH
1
OH
35950-005
Wing RH
1
OH
35950-920
Wing LH
1
OH
35950-921
Wing RH
1
OH
35950-980
Wing LH
1
OH
35950-981
Wing RH
1
OH
35985
Gasket
4
NS
35994
Gear
1
NS
35KDD
Bearing
2
NS
35W317800-111
Access panel
1
NS
36-120012-6
Skin
4
NS
36-130011-1
Aileron
1
OH
36-130011-1
Aileron Assy
1
OH
36-3604029-1
Decal
1
NS
36-3604029-3
Decal
1
NS
36-380000-3
Sensor
1
AR
36-380000-3
Sensor
1
NS
36-380030-1
Cable
1
NS
36-400011-11
Stringer (alt 002-430038-89)
1
NS
36-400011-11
Stringer (alt 002-430038-89)
23
NS
36-400017-17
Skin-Fuselage Cabin Bottom
1
NS
36-4100017-61
Skin
1
NS
36-420010-25
Seal
1
NS
36-430011-351
Hinge
1
NS
36-430011-45
Seal Utility Door
1
NS
36-430011-51
Seal
1
NS
36-430014
Seal
1
NS
36-430016
Placard
1
NS
36-430056-8
Doubler
2
NS
36-4445
AMMETER
1
AR
36-530021-1
Seat Belt
1
NS
36-530076-1
Escutcheon
1
NS
36-530151-1
Placard
1
NS
36-530658-1
Washer
2
NS
36-560011-5
Channel
1
NS
36-587
Valve
2
NS
36-650121-2
Bracket
16
NS
36-809
Channel
37
NS
36-820025-3
Bracket
1
NS
36-910019-3
Weld Assem.
1
AR
36-910037-29
Baffle
1
NS
36-910037-7
Baffle
1
NS
36-910042-5
Clip
100
NS
36-920036-7
Placard
2
NS
360016-25
Stinger
1
AR
36009
Transistor
6
NS
3601767-0001
Bracket
5
NS
36044-STD
Ring
3
NS
36058
Ring (alt 638111)
7
NS
3609757-1
Cover
1
NS
361-75-612S
Clamp
2
NS
3613022-501
Hose
6
NS
3613023-501
Tube
1
NS
36151E
Clamp
2
NS
36151L
Hose Clamp
1
NS
3618-024
Plug
1
NS
362
Bearing
2
NS
3627
Gasket
39
NS
36272
Flag Terminal
1000
NS
363-805
Washer
5
NS
364414
Plate
1
NS
36519-002
Plate
2
NS
36521-002
Doubler
9
NS
36556-002
Plate
4
NS
36559-803
Cover
1
NS
36559-804
Cover
1
NS
36567-005
Cover Blk/Inst Pnl (PA28)
2
NS
36568-802
Cover
1
NS
36598-002
Latch
2
AR
366
Bearing
1
NS
366-2060-02
Connector
1
NS
36612-002
Louver
1
AR
366144
Shaft
31
NS
36625-003
Vent Assy (Weld)
1
AR
36706-002
Tip
1
AR
36707-003
Fairing
3
NS
36722-009
Seal-Door Snubber
1
NS
36739-050
Fiberglass assy.
1
NS
36739-50
Cover
2
NS
367452
Washer
8
NS
367752
Decal
1
NS
36776-002
Bracket, Switch, UP Limit
9
NS
36781-0000
Spring
1
NS
3680C
Valve Extension
5
NS
36821-002
Rod Assy
1
NS
36829-002
Switch
1
NS
36850-002
Spinner
5
AR
36935-004
Switch Assy
3
NS
36A33809
AC Generator Brushes
4
NS
36B507719GI
Drive Shaft
1
NS
37064-156
Wire
1
NS
3707606
Sleeve
2
NS
3709353
Lever Holder
1
NS
37095-13
Bearing
6
NS
37120-000
Baffle
1
NS
37123-000
Bracket
1
NS
3712765
Lite Pnl
1
NS
3713036
Filter
1
NS
37138-002
Dome (alt 37138-200)
4
AR
37138-003
Dome (alt 37138-201)
4
AR
37142-0A
Cap
1
NS
37156-056
Skin
2
NS
37207-023
Louver
1
NS
37245
Sheath Assy.
1
NS
37282-000
Skin
1
NS
37283-000
Aileron LH PA34
1
OH
37283-001
Aileron RH PA34
1
OH
37293-000
Push Rod (Aileron Bellcrank)
2
NS
373-200-010
Receptacle
2
NS
37305-000
Skin
1
NS
37305-001
Skin
1
NS
37309-002
Skin
19
NS
37325-007
Fairing
2
AR
37329-001
Fairing
2
NS
37343-010
Tube Assy
1
NS
37344-002
Block
8
NS
37424-000
Shaft Assy-Trim adjustment
1
NS
37431-000
Angle
1
NS
37436-000
Forging
1
AR
37443-000
Bulkhead Assy
1
NS
37471-004
Door
1
NS
37471-005
Skin
1
NS
37471-811
Hatch
1
NS
375-215-101
Circuit Breaker
1
NS
3751
Oil Seal
1
AR
3751
Oil Seal
11
NS
37511-005
Rod Assy-Cowl Flap
1
NS
37511-015
Trunnion Assy.
1
AR
37511-026
Spacer
2
NS
37511-035
CHANNEL COWL FLAP ACTUATION
1
AR
37511-040
Pin
1
NS
37519-001
Support
1
NS
37535
Tube
9
NS
37648-003
Wire
1
NS
37658-000
Bracket ( cowl support )
2
NS
37658-001
Bracket
1
NS
37693
Spring
1
NS
37696-000
Bracket
1
NS
37709-000
Switch (alt 454-640)
1
NS
37710-000
Bracket
1
NS
37721-000
Support
1
NS
377282S8B
Screw
4
NS
37732-000
Bracket
98
NS
37732-001
Bracket
1
NS
37737-900
Skin
6
NS
37756-007
Spacer
1
NS
37756-008
Spacer
1
NS
37766-003
Skin
1
NS
37773-000
Flap LH
1
OH
37773-001
Flap RH
1
OH
37773-006
Flap LH PA34
1
OH
37773-007
Flap RH
1
OH
37773-900
Flap LH
1
OH
37773-901
Flap RH
1
OH
37793-002
Plate Winterization
1
NS
37810-
Nut
1
NS
37833-002
Bracket
1
NS
378463S88
Terminal
1
NS
37871-004
Light Assy
7
NS
37872-003
Bracket
1
NS
37872-004
Bracket
2
NS
37872-005
Bracket
1
NS
37872-007
Bracket
1
NS
37873-002
Switch
1
NS
37878-003
Fairing
2
AR
37880-002
Bracket
1
AR
37880-003
Bracket
1
AR
37893-003
Fairing
1
NS
37893-004
Fairing
1
NS
37902-002
Adaptor
3
NS
37902-004
Bushing
10
NS
37902-005
Bushing
1
NS
37922-002
Tube (37922-002R)
2
RP
37925-006
Fairing
2
AR
37925-007
Fairing
1
AR
37925-007
Fairing
2
NS
37925-806
Fairing
2
NS
37925-807
Fairing
3
NS
37926-003
Cover
1
NS
37926-004
Cover (white)
2
NS
37928-004
Cover Assy
1
NS
379618S8
Nut Lock
5
NS
37976-002
Nameplate
8
NS
37978-002
Placard
2
NS
37A19773-367
Belt- Alternator Drive
1
NS
37A19773-376
Belt-Alternator
1
NS
37A19773-382
BELT V
1
NS
37B19774-325
Belt-Generator Drive (alt 60886)
1
NS
37B19774-341
Belt-Generator
1
NS
37B201074P101
T-Reducer
1
NS
37B201242P101
Clevis
1
NS
37B201934P101
Shim
2
NS
37B201988P103
Gaskets
5
NS
37C301448P105
Lever Actuator
1
NS
37C381003P101
Bolt
3
NS
37C381003P102
Bolt
13
NS
37D402261P113
Nut
6
NS
37KDD
Bearing
2
NS
38-0130107-00
SPACER PAD
2
NS
38-364057-25
Box
1
NS
38-606-07-91
Rivet-Steel Drive
3
NS
38004
Gasket
2
NS
38008-002
Bulkhead
1
NS
38023-002
Support
1
NS
38037-000
Cover
1
NS
38038
Cap Lock
1
NS
38044-002
Longeron Assy
1
NS
38094-002
Switch, Throttle Limit
1
NS
38105-5
Chain
4
NS
3811245
Skin
1
NS
38118-005
Cover Inspection
3
AR
38119-000
Skin
1
NS
38119-001
Skin
1
NS
38121-902
Wing LH
1
OH
38121-958
Skin Pan Wheel Well
1
NS
38167-001
Skin Wing
2
NS
38174-000
Clip
1
NS
38195-00120
Spring Washer
1
NS
382
Lamp
63
NS
38210-000
Rib
1
NS
38210-001
Rib
1
NS
38228-801
Skin
1
NS
38252-002
Bracket
2
NS
38252-003
Bracket
1
NS
38261-002
Plate
2
NS
38277-003
Box
1
AR
382R
Lamp Red
5
NS
38349-007
Fin Tip
5
AR
383830
Bleed
1
NS
38398-005
Weight
1
AR
38399-002
Trim Tab LH
1
OH
38399-003
Trim Tab RH
1
OH
38399-006
Trim Tab, LH PA28RT-201
1
OH
38399-007
Trim Tab, RH PA28RT-201
1
OH
38401-901
Wing RH
1
OH
38404-900
Wing LH
1
OH
384136
Retainer
1
NS
384141
Spring
2
NS
384425
Gasket
110
NS
384743
Gasket
4
NS
38483-002
Rib
1
NS
38483-004
Rib
1
NS
38488-002
Fuel Tank
3
NE
38488-812
Fuel Sender
1
AR
38488-813
Fuel Sender (Alt pn 486-467)
3
AR
38500-014
Wing LH PA32
1
OH
38500-015
Wing RH PA32
1
OH
38500-900
Wing LH PA32
1
OH
38500-901
Wing RH PA32
1
OH
38501-002
Stiffener
1
AR
38501-002
Stiffener
1
NS
38501-003
Stiffener
1
AR
38501-004
Stiffener
1
AR
38501-004
Stiffener
1
NS
38544-002
Plate
1
AR
38550-004
Wing LH PA32
1
OH
38550-005
Wing RH PA32
1
OH
38550-900
Wing LH PA32
1
OH
38550-901
Wing RH PA32
1
OH
38552-002
Vent Assy.
9
AR
38571-002
Doubler (part of 765-106)
4
NS
38581-006
Skin
1
NS
38592-006
Filler Neck
1
AR
386
Lamp
11
NS
38635-002
Bracket Assy-Nose Gear Cover
1
NS
38643-004
Wing LH PA28
1
OH
38643-005
Wing RH PA28
1
OH
38643-008
Wing LH PA28
1
OH
38643-009
Wing RH PA28
1
OH
38648-004
Skin
1
NS
38648-005
Skin
1
NS
38650-004
Aileron LH PA32
1
OH
38650-005
Aileron RH PA32
1
OH
38660-003
Fitting
2
AR
38783
Eyelet
5
NS
38789-800
Fuel Sender (alt 550-503)
10
AR
38789-800
Fuel Sender (alt 550-503)
10
AR
38789-801
Fuel Sender (alt 550-504)
10
AR
38789-801
Fuel Sender (alt 550-504)
10
AR
387R
Lamp (RED LENS)
9
NS
38829P4
Stud
3
NS
3883017
Indicator
1
NS
3883030
Transmitter Oil
1
AR
38928-003
Cam Top Flap Warning
1
NS
3898
Bushing
50
NS
38FF
Bearing
6
NS
38KDD
Bearing
4
NS
38KDD-FS50160B
Bearing
9
NS
38KDD3-S-5
Bearing
2
NS
39-19311-8
Bracket
20
NS
39-24211-502
Dorry Assy
3
NS
390-110110-0001
Access Door No.3
2
AR
390-110111-0005
Access Door No.4
2
AR
390-110112-0005
Access Door No.5
2
AR
390-110116-0005
Access Door No.9
4
AR
390-110118-0005
Access Door No.11
2
AR
390-110120-0005
Access Door No.13
4
AR
390-110121-0005
Access Door No.14, 15
4
AR
390-110125-0005
Access Door No.18
8
AR
390-110127-0005
Access Door
2
AR
390-110178-0001
Fitting
1
AR
390-110234-0005
Fitting
2
AR
390-110374-0001
Push Pull Fairing LH Aileron
1
AR
390-110374-0002
Fairing
1
AR
390-110420-0007
Cover, LH Inbd Flap Actuator
1
AR
390-110430-0006
Door RH
1
AR
390-130001-0015
Aileron LH
1
AR
390-130001-0016
Aileron RH
1
AR
390-130114-0003
Trim Tab LH
1
AR
390-130114-0004
Trim Tab RH
1
AR
390-130114-0005
Trim Tab, LH
1
AR
390-130114-0006
Trim Tab, RH
1
AR
390-160001-0013
Flap LH INBD
1
AR
390-160001-0014
Flap RH INBD
1
AR
390-160002-0015
Flap LH OUTBD
1
AR
390-160002-0016
Flap RH OUTBD
1
AR
390-36038-0001
Surge Suppressor Assy
2
AR
390-381005-0004
Trim Tab Actuator RH
1
AR
390-381007-0003
Actuator
2
AR
390-381008-0001
Actuator
2
AR
390-381009-0005
Actuator, LH Aileron Tab
1
AR
390-381009-0006
Actuator, RH Aileron Tab
1
AR
390-381011-0003
Sensor, Spoiler Position
2
AR
390-381016-0005
Push Rod
1
AR
390-381030-0001
Rod
1
AR
390-381037-0001
Spoiler LH INBD
1
AR
390-381037-0002
Spoiler RH INBD
1
AR
390-381038-0001
Spoiler LH CTR
1
AR
390-381038-0002
Spoiler RH CTR
1
AR
390-381039-0001
Spoiler LH OUTBD
1
AR
390-381039-0002
Spoiler RH OUTBD
1
AR
390-381120-0003
Rod
2
AR
390-381201-0003
Actuator, Uplock Release LH INBD
2
AR
390-381201-0005
Cylinder
2
AR
390-381202-0005
Actuator LH
1
AR
390-381202-0006
Actuator RH
1
AR
390-381402-0017
Actuator, Flap RH
2
AR
390-381402-0018
Actuator, Flap LH
2
AR
390-381403-0011
Actuator
2
AR
390-388100-0010
MLG Actuator
1
AR
390-388112-0007
Valve
1
AR
390-389009-0017
Fuel Probe LH
2
AR
390-389009-0019
Fuel Qt Xmtr LH wing
1
AR
390-389009-0025
Fuel Probe
2
AR
390-389016-0005
Pump
1
AR
390-389028-0005
Sensor
2
AR
390-500003-001
Servo Aileron
1
AR
390-521105-0008
Bracket
1
AR
390-521107-0002
Bracket
1
AR
390-521164-0001
Push Rod
1
AR
390-521168-0001
Bracket
2
AR
390-521224-0001
Bracket
2
AR
390-521225-0005
Bracket Assy
2
AR
390-521272-0001
Bracket
1
AR
390-530370-0001
Cover
1
NS
390-530370-001
Running board
1
AR
390-814100-0001
Gear Uplock Install LH
1
AR
390-814100-0002
Gear Uplock Install RH
1
AR
390-814200-0001
Gear Uplock Install LH
1
AR
390-814200-0002
Gear Uplock Install RH
1
AR
390-831011-0003
Sensor, Spoiler Pos
2
AR
390-920031-0001
Drain Assy LH
1
AR
390-920032-0003
Drain Assy RH
1
AR
390-920054-0001
Tube Assy Transfer
1
NS
390-971221-0002
Channel
1
NS
39091
Seal Felt
8
NS
39092-002
Hinge
3
NS
391-010-4001-10
Wing Fitting Assembly
1
NS
391-010-4001-12
Wing Fitting
1
NS
391-010-4001-13
Wing Fitting
1
NS
39106-0000
Lamp
2
NS
39155-3
Fuel Cap Assy
1
NS
391F
Fuel Sampler
2
AR
391S
Fuel Sampler
1
NS
39250
Bearing
4
NS
3926387-1
Spacer
1
NS
39322-002
Brace
8
NS
393691
Washer
1
NS
3940453-3
Bracket
1
NS
3940461-2
Bracket
1
NS
39412
Bearing
1
NS
394128
Gasket
1
NS
39433
Bearings
4
NS
395-23937
Clip
10
NS
395-5383
Button
12
NS
39507-002
Channel
1
NS
39528-4290
Cover
1
NS
39567-1
Bracket Cover
31
NS
39603-003
Spacer
1
NS
397-6
Cover
1
NS
39763-004
Angle
3
NS
39822-002
Gasket
9
NS
39822-003
Gasket
4
NS
39829-002
Gasket
2
NS
39839-0053
Positive Drive Belt
5
NS
398629
Gasket
4
NS
39903-1
PC Boards
29
NS
39923-1
PC Boards
29
NS
39934-1
Panel Front
17
NS
3994004
Bushing
6
NS
399847
Screw
4
NS
39994-005
Spacer
4
NS
39994-011
Bushing
5
NS
39A19
Strainer, Fuel
1
NS
3A1040-2
Cable
1
NS
3B-144
Nut
1
NS
3D0001-4-12D47
Gang Channel
15
NS
3D1748-2
Timing Switch
1
AR
3D2320-11
Valve Flow
1
AR
3E1271-2
Clip
2
NS
3E1389-8
Ammeter
1
NS
3E1418-3
Bracket
1
NS
3E1443-2
Brush
6
NS
3E1555-1
Timer
1
AR
3E1883-2
Clamp
1
NS
3E2011-1
Brush Module (alt 758-434)
1
NS
3E2011-3
Brush (alt 758-436)
1
NS
3E2011-6
Brush Module
3
NS
3E2044-1
Mod Brush Block Assy (alt 758-432)
2
AR
3E2050
Wire Harness
1
NS
3L4D
Liner
9
NS
3S90
Screw
10
NS
3XR34-12
Shaft
1
NS
3Z2610.1
Fuse
10
NS
4
Rubber Plug
2
NS
4-1387
Bulkhead
4
AR
4-1427
Baffle
17
NS
4-1427
Baffle
11
NS
4-1643
Dome
1
AR
4-1684-1
Skin
21
NS
4-1684-2
Skin
44
NS
4-2294
Fuse, Lighter
2
NS
4-766-3
Valve
1
NS
40-0100-7
Light Assy.
1
AR
40-0101-15-12
Beacon
3
AR
40-0101-7-12
Light Assy.
1
AR
40-0127-1C
Rotating Beacon
7
AR
40-0210-5
Light Assy.
1
AR
40-33
Lead Weight
1
AR
40-56B
Wheel Assy (contains 756-668 and 756-688)
1
NS
40-88B
Wheel Assy
1
AR
40-90
Wheel
1
AR
40-90A
Wheel
1
AR
40-98
Wheel
1
AR
400-002
Bolt
5
NS
400-018
Bolt (alt AN4-25A)
3
NS
400-055
Bolt, Steel (AN3-10)
2
NS
400-101
Bolt
6
NS
400-107
Bolt (AN4-12)
22
NS
400-177
Bolt
2
NS
400-306
Lamp
2
NS
400-383
Bolt (Alt AN10-35)
4
NS
400-438
Bolt
1
NS
400-457
Bolt
18
NS
400-460
Bolt
78
NS
400-475
Bolt
3
NS
400-667
Bolt
2
NS
400-678
Bolt
14
NS
400-679
Bolt
1
NS
400-684
Bolt (ALT PN AN23-25)
48
NS
400-689
BOLT, CLEVIS
1
NS
400-691
Bolt
4
NS
400-692
Bolt (ALT PN AN23-30)
11
NS
400-748
Bolt
2
NS
400-758
Bolt (Alt AN26-22)
1
NS
400-774
Bolt
1
NS
400-777
Bolt
2
NS
400-867
Bolt Clevis
3
NS
400-885
Bolt
5
NS
400-890
Bolt (alt AN23-40A)
9
NS
400-917
Bolt
4
NS
40000
Brace
1
NS
40000-902
Wing, Rockwell RH
1
OH
40008-000
Trim Tab,Rudder PA31
5
AR
4001-5
Fairing
2
NS
4001-6
Fairing
1
NS
4001-7
Fairing
2
NS
40011-3
Shim
2
NS
400140-0200
Washer
1
NS
4001728-1
Stylus
6
NS
4002-10
Fastener
4
NS
4002-12
Fastener
5
NS
4002-3
Fastener
23
NS
4002-4W
Stud
3
NS
4002-5
Fastener
2
NS
4002-6
Fastener
9
NS
4002-7
Fastener
26
NS
4002GS
Grommet
2
NS
4002N3
Grommet
8
NS
40030
Standby Vacuum Placard
2
NS
400301A2
Bearing
1
NS
40042-002
Hinge
1
NS
40046-016
Plate
4
NS
40046-026
Rudder PA31
1
OH
40046-030
Rudder PA31
1
OH
40046-032
Gusset
54
NS
40046-038
Rudder PA31
1
OH
40046-039
Rudder PA31
1
OH
40053-003
Rib
1
NS
400545-5
O-Ring
1
NS
40058-000
Rib (Piper)
46
NS
40058-000
Rib (Piper)
80
NS
4005T42P01
Cover
6
NS
400664-501
Box
1
NS
40068-005
Spar
10
NS
40071-000
Fairlead
18
NS
4007263-0522
Board
1
AR
4007535-0501
Adaptor Board
1
NS
40076-000
Spar
1
NS
40081-000
Ring
10
NS
40094-002
Rib
1
AR
40094-005
Rib
1
NS
40095-003
Rib
1
NS
40095-004
Rib
1
NS
401-054
Bolt
5
NS
401-261
Bolt (AN3H-12A)
1
NS
401-289
Bolt
1
NS
401-300
Bolt (alt AN4H-13A)
10
NS
401-310
Bolt
8
NS
401-316
Bolt (AN4H-15A)
1
NS
401-335
Bolt
2
NS
401-378
Bolt
1
AR
401-450
Bolt (alt AN6-70A)
1
NS
401-456
Bolt
1
NS
401-461
Bolt
2
NS
401-521
Bolt
10
NS
401-918
Bolt (AN74-A3)
1
NS
401-919
Bolt
3
NS
401-970
Bolt
2
NS
401-971
Bolt
6
NS
401-986
Bolt
6
NS
401-988
Bolt
4
NS
40102-003
Rib
1
NS
40102-005
Rib
1
NS
40112-000
Bracket
1
NS
40112-001
Bracket
1
NS
40113-000
Gusset
1
NS
40114-001
Gusset
1
AR
40116-000
Rib
1
NS
40117-000
Rib Assy
48
NS
40123-068
Cable
1
NS
40123-078
Cable
1
NS
40123-77
Cable
2
NS
4013016-551
Skin
1
AR
40131-000
Washer
4
NS
40133-001
Rib
1
NS
40140-010
Plate
1
NS
40140-011
Plate
6
NS
40140-012
Skin
1
NS
40140-024
Channel
26
NS
40140-027
Splice
5
NS
40147-003
Rib
1
NS
40147-008
Bulkhead
6
NS
4014T97G01
Retainer
1
NS
401506
Washer, Magneto
3
NS
40154-002
Bulkhead
6
NS
40155-016
Skin
1
NS
40155-019
Skin
1
NS
40155-028
Horizontal Stabilizer PA31
1
NS
40159-000
Rib
89
NS
40159-003
Rib
13
NS
40159-004
Rib
119
NS
40159-004
Rib
151
NS
40159-004
Rib
68
NS
4015T13P01
Bracket
1
NS
4015T73G01
Tube Assy
2
NS
40163-000
Bracket
1
NS
40170-010
Skin
2
NS
40170-011
Skin
2
NS
40170-013
Skin
1
NS
40173-000
Rib Assy
75
NS
40178-000
Trim Tab RH Aileron PA31T
1
OH
40178-000
Trim Tab RH Aileron PA31T
2
NS
4017T86P01
Nut, Slotted
4
NS
4017T87P01
Washer
1
NS
4018
Heater Spark Plug (alt 10D22)
2
NS
401804
Stud
1
NS
401804T012
Stud
5
NS
401814P003
Stud
1
NS
40183-000
Rib
165
NS
40185-006
Skin
2
NS
40185-007
Skin
37
NS
40185-010
Skin
1
NS
40185-013
Skin
1
NS
40185-021
Skin
1
NS
40185-030
Flap, LH PA31
1
OH
40185-031
Flap. RH PA31
1
OH
40185-042
Flap, LH PA31
1
OH
40185-043
Flap, RH PA31
1
OH
401885-P003
Stud
1
NS
40189-000
Bulkhead
1
NS
401893P012
Stud
2
NS
401895
Name Plate
9
NS
401968P007
Stud
1
NS
402-057
Bolt
1
AR
402-078
Bolt
91
NS
402-261
Bolt
4
NS
402-281
Bolt
1
NS
402-312
Bolt (AN4-14)
5
NS
402-313
Bolt
1
NS
402-315
Bolt
2
NS
402-316
Bolt
5
NS
402-317
Bolt
3
NS
402-321
Bolt
6
NS
402-324
Bolt (alt AN174-25A)
5
NS
402-329
Bolt
2
NS
402-339
Bolt
4
NS
402-343
Bolt (AN175-34)
1
NS
402-345
Bolt
8
NS
402-351
Bolt
9
NS
402-352
Bolt
2
NS
402-361
Bolt (AN176-33)
2
NS
402-366
Bolt
19
NS
402-370
Bolt
2
NS
402-406
Brush
8
NS
402-690
Bolt (alt NAS1105-7)
51
NS
402-742
Bolt (alt NAS145-22)
2
NS
402-757
Bolt
10
NS
402-774
Bolt
5
NS
402-800
Bolt
3
NS
402-830
Bolt
5
NS
402-879
Bolt
1
NS
402-881
Bolt
3
NS
402-892
Bolt
6
NS
402-940
Bolt
2
NS
40200-017
Channel
2
NS
40200-020
Aileron LH PA31T
1
OH
40200-039
Aileron RH PA31T
1
OH
40200-042
Aileron LH
1
OH
40200-043
Aileron RH PA31T
2
OH
40200-052
Aileron LH PA31T
1
AR
40200-053
Aileron RH PA31T
1
AR
40200-053
Aileron RH PA31T
1
OH
40206-000
Bracket
1
NS
402127P003
Stud
5
NS
402151P003
Stud
8
NS
40217-006
Hinge
2
NS
40219-000
Hinge
2
AR
40232-000
Hinge
2
AR
40237-000
Bracket
1
NS
4024
Gasket
2
NS
40242-003
Deflector
1
NS
40246
Elbow
1
NS
40247
Elbow
2
NS
4025-180004
Bearing
1
NS
40250-002
Bushing
1
NS
40252-000
Horn
4
AR
40256-000
Link
5
AR
402626
Plate
4
NS
40279-008
Link
2
AR
40279-009
Bolt
2
AR
40280-0328
Auto Pilot
1
AR
402805
Ring
1
NS
40283-000
Link
1
AR
40284-002
Link
1
NS
40286-000
Fitting
1
NS
40287-000
Trunnion
1
AR
40290-000
Trunnion
8
NS
40294-000
Trunnion
1
AR
40298-002
Arm, Rudder Pedal
2
NS
402EN506-8
Switch Down Stow LH INBD
2
AR
403-055
Bolt
10
NS
403-628
Bolt
40
NS
403-701
Bolt
3
NS
40302-003
Arm
1
NS
40314-007
Lever
1
NS
40343-000
Adapter
1
NS
40346
Gasket
2
NS
4035
Brush
6
NS
40357-000
Flap Track
3
NS
40362-002
Spar
1
NS
40362-006
Channel
1
NS
40362-008
Reinforcement
1
NS
40362-010
Plate
1
NS
40363-012
Tip
3
AR
40364-002
Tip
1
NS
40364-002
Tip
4
AR
40364-003
Tip
1
NS
40374-000
Weight
1
NS
40382
Gasket
20
NS
40398-000
Flap Track
4
NS
404-001035-2
Ring
2
NS
404-001111-13
Decal
1
NS
404-001158-11
Channel
1
NS
404-001158-17
Channel
1
NS
404-001158-37
Spacer
1
NS
404-001158-45
Spacer
1
NS
404-106
Nut
22
NS
404-107
Nut
6
NS
404-121
Nut
6
NS
404-123
Nut
12
NS
404-18.9500-23
Panel
1
NS
404-180237-6
Lug
1
NS
404-181760-604
Bulkhead
1
NS
404-184000-34
Skin
1
NS
404-184152-000
Angle
1
NS
404-185918
Support
3
NS
404-185939
Plate Phenolic
1
NS
404-187909
Bearing
15
NS
404-188022
Bracket Assy
1
NS
404-188024
Wedge
1
NS
404-188414
Bushing
10
NS
404-188443
Pin
1
NS
404-188557
Bracket Assy
1
NS
404-188618
Ring
1
NS
404-189066
Bellcrank
1
AR
404-189180-25
Fairing
1
AR
404-189181-21
Plate
1
NS
404-225
Nut
5
NS
404-229
Check Nut
1
AR
404-326
Nut
10
NS
404-392
Nut
6
NS
404-393
Nut
40
NS
404-398
Nut
2
NS
404-399
Nut
2
NS
404-459
Check Valve
2
AR
404-526
Nut
39
NS
404-529
Nut
74
NS
404-530
Nut
36
NS
404-531
Nut
1
NS
404-532
Nut
1
NS
404-558
Nut (alt MS21045-8)
26
NS
404-559
Nut
45
NS
404-593
Nut
5
AR
404-752
Nut
24
NS
404-823
Nut
4
NS
404-843
Nut
2
NS
404-847
Nut
8
NS
404-880
Nut
6
NS
404-887
Nut
2
NS
404-890
NUT
1
NS
404-900
Nut
2
NS
404-913
Nut
2
NS
404-989
Nut (alt MS21044-N5)
7
NS
40404-006
Rib
1
NS
40405-0000
Filter
1
NS
40405-018
Rib
1
NS
40405-019
Rib
1
NS
40405-021
Rib
1
NS
40418-004
Bracket
7
NS
40420-026
Spar
1
NS
40429-000
Bracket
1
AR
4042966-1
Collar
6
NS
40432-006
Angle
1
NS
40435-016
Rib
1
NS
40441-000
Channel
1
NS
40442-002
Channel
1
NS
40442-003
Channel
1
NS
40446-005
Rib
1
NS
40455-004
Rib
10
NS
40466-001
Bulkhead
1
NS
40467-000
Angle, Rib Attachment
200
NS
40467-000
Angle
252
NS
40467-001
Angle
2
NS
40471-006
Skin
1
NS
40475-006
Rib
1
NS
40475-007
Rib
1
NS
40478-00000
Transistor
1
NS
40479
Elbow
1
NS
40480-000
Rib
1
AR
40480-001
Rib
1
NS
40486-016
Rib
1
NS
40489-022
Rib
1
NS
40490-005
Rib
2
NS
40490-007
Rib
1
NS
40490-012
Rib
1
NS
40492-003
Rib
1
NS
40492-009
Rib
1
NS
405-475
Nut
1
NS
40500-000
Bulkhead
2
NS
4050009
Relay
1
AR
40502-002
Bracket
1
AR
40502-005
Rib
1
AR
40510-001
Rib
2
NS
40513-000
Bracket
6
NS
40513-001
Bracket
7
NS
4051AAA
Cock
1
NS
40530-004
Rib
1
AR
40530-005
Rib
1
AR
40530-011
Rib
1
NS
40531-07
Bracket
13
NS
4055-45
Fastener
1
NS
40550-001
Rib
1
AR
40555-000
Gasket
6
NS
40558-000
Cover
1
AR
40559-002
Washer
4
NS
40559-004
Washer
8
NS
40559-007
Washer
1
NS
40559-017
Washer
5
NS
40559-043
Washer
2
NS
40560-007
Bracket
1
NS
40570-000
Plate
2
AR
40585-003
Skin
15
NS
40585-012
Shin
1
NS
40585-022
Skin
1
NS
40592-011
Rib
2
NS
406-343
Nut
23
NS
406-366
Nut
2
NS
406-450
Nut
7
NS
406-451
Nut Barrel
28
NS
406-616
Nut
25
NS
406-638
Nut
2
NS
406-647
Nut
2
NS
406-652
Nut
44
NS
406-660
Nut
12
NS
406-662
Nut
5
NS
406-704
Hex Net
5
NS
406-723
Nut, Barrel
2
NS
406-843
Nut Anchor
19
NS
406-861
Rivnut
37
NS
406-883
Rivnut
78
NS
406-888
Rivnut
3
NS
406-903
Rivnut
4
NS
406-942
Channel Gang
4
NS
40600-4
Light Assy.
1
AR
406064
Plate Lock
3
NS
40610-001
Angle
1
NS
40624-000
Channel
2
NS
40633-000
Stiffener
1
NS
40635-001
Plate
1
AR
40648-005
Fuel Sender
1
NS
40652
Valve
1
NS
40652-000
Bracket
1
NS
40659-003
Skin
1
NS
40659-004
Skin
1
NS
40659-006
Skin
2
NS
40668
Ring
1
NS
40669-000
Ring
1
NS
40670-000
Ring
1
NS
40676-005
Shim
1
NS
40682-009
Spacer
12
NS
40682-010
Doubler
1
NS
40682-011
Strip
2
NS
40688-000
Doubler
1
NS
4068A
Brace
1
AR
407-041
Washer
8
NS
407-103
Washer
1
NS
407-120
Washer
53
NS
407-133
Lock Washer
30
NS
407-137
Washer
12
NS
407-138
Washer
13
NS
407-144
Washer
5
NS
407-564
Washer
2
NS
407-565
Washer
11
NS
407-566
Washer
12
NS
407-569
Washer
1
NS
407-676
Washer
6
NS
407-684
Washer
17
NS
4070-0096
Brace
8
NS
40701-000
Segment
4
NS
40701-004
Segment
8
NS
40704-001
Bracket
2
NS
40715-016
Channel
1
NS
40715-017
Channel
2
NS
40715-020
Channel
1
NS
40715-021
Channel
1
NS
40715-023
Channel
1
NS
40722-008
Skin
1
NS
40722-009
Skin
1
NS
40724-000
Bracket
1
NS
40724-001
Bracket
1
NS
40748-004
Bulkhead
1
NS
40758-001
Washer
3
NS
40766-022
Skin
1
NS
40766-025
Skin
1
NS
40768-013
Bulkhead
1
NS
40776-000
Bracket
1
AR
40793-001
NLA Plate
1
AR
408-825
Washer
6
NS
408-826
Washer
12
NS
408-837
Washer
6
NS
40842-005
Pedal Assy
1
NS
4085-2
Stud
2
NS
4085-4
Stud
18
NS
4085700-7
Valve
1
OH
4086
Pressure Solenoid
1
AR
40860-013
Stiffener
2
NS
40868-007
Channel
1
NS
40887-004
Skin
1
NS
40887-015
Skin
1
NS
40887-018
Skin
1
NS
40887-031
Skin
1
NS
40916-000
Bracket
10
NS
40959-006
Panel
1
NS
40971-000
Bulkhead
1
NS
40989
Gasket
1
NS
40991-000
Pulley
3
AR
40995-010
Bulkhead
11
NS
40996-001
Plate
1
NS
40A5800.025
Shim
19
NS
40B19939
COVER HEATER MUFFLER TAIL
4
NS
40B19943
PIPE-HEATER MUFF-TAIL
3
NS
40B374-6D
Bolt
7
NS
40S45-7B
Stud
3
NS
40S5-4
Fastener
3
NS
40S5-5
Stud
15
NS
41
Nylatch
2
NS
41-0697-5
Holder
1
NS
41-0704-1
Lens
2
NS
41-0951-1
Gear shaft
3
NS
41-0956-1
Gear
1
NS
41-0960-3
Spacer
5
NS
41-1365-5
Grimes adapter/cover
2
NS
41-1365-9
Adaptor
3
NS
410-039
Screw
11
NS
410-046
Bolt
13
NS
410-052
Bolt
56
NS
410-078
Screw
27
NS
410008-211
Door
3
NS
410008-3
Skin
1
NS
41001-004
Pulley (alt 481-799)
5
NS
41001-005
Pulley
5
NS
41001-010
Pulley
10
AR
41001-011
Pulley
2
NS
410019-001
Rib
1
NS
410019-1
Rod End
1
NS
410038-3
Bracket
1
NS
410038-7
Skin
1
NS
41027-000
Brace
1
AR
41027-001
Brace
1
AR
41029-1
Plate
1
NS
41031-002
NLA Wire - Tail Brace
5
NS
41031-003
Tail Brace Wire
2
NS
41065-000
Hinge
1
NS
41090-00
Beam
1
AR
41090-006
Angle
1
NS
41090-4
Beam
1
AR
41099-000
Bulkhead
1
NS
411-211
Screw (415-321, NAS221-11)
76
NS
411-528
Screw
2
NS
411-538
Screw
10
NS
41102-002
Bulkhead
6
NS
41104-007
Bulkhead
1
NS
4111-1
Lock, Rudder
2
AR
41110-000
Gusset
1
NS
41111-000
Crank, Stabilator
1
NS
41119-008
Beam
1
NS
4113270-1
Bracket, (alt 4118259-1)
5
AR
41139-000
Stop
1
NS
41143-002
Hinge
1
NS
41151-000
Spring
1
NS
4115B001TR019
Seal (TR019)
8
NS
4117012
Arm, DC3
1
AR
41178-000
Bulkhead
1
NS
41178-003
Bulkhead
1
NS
411810
Alternator (alt 69670-004)
1
AR
41189-002
Support
1
NS
412-676
Screw
30
NS
41216-000
Plate
1
NS
4122-0407
Rivet
50
NS
4122137-3
Rib
1
NS
4122137-5
Filler
1
NS
41233-003
Bulkhead
1
NS
41282-000
Retainer
2
NS
41282-001
Retainer
2
NS
41284-000
Window
1
NS
41291-000
Housing
8
NS
41291-000
Housing
2
AR
41335-004
Strip
1
NS
4135
Sleeve
20
NS
41363-002
Bracket
4
NS
41371-002
Shim
2
NS
41371-003
Shim
1
NS
41371-004
Shim
25
NS
4139081
Bracket
1
NS
414-10000-207
Stringer
1
NS
414-110000-189
Stringer
1
NS
414-110000-193
Stringer
1
NS
414-110000-195
Stringer
1
NS
414-110000-199
Stringer
1
NS
414-110000-203
Stringer
1
NS
414-110000-265
Skin
1
NS
414-110000-267
Skin
1
NS
414-110000-268
Skin
1
NS
414-18.0047
Placard
2
NS
414-180482-5
Horn
1
NS
414-180482-6
Horn
1
NS
414-180483-11
Fairing
1
NS
414-180483-12
Fairing
1
NS
414-180483-13
Strip
1
NS
414-180483-15
Fairing
1
NS
414-180483-9
Fairing
1
NS
414-180643-62
Retainer
1
NS
414-181100-3
Skin
1
NS
414-181100-4
Skin
1
NS
414-181200-50
Hinge
1
NS
414-181500-21
Rib
2
NS
414-183000-357
Skin
1
NS
414-183000-358
Panel
1
NS
414-183761-3
Panel
1
NS
414-183963-9
Gasket
1
NS
414-184130-601
Bulkhead
1
NS
414-185900-3
Assy.
1
NS
414-185905-15
Doubler
2
NS
414-185911-17
Assy.
1
NS
414-185911-73
Assy
1
NS
414-186000-3
Skin
1
AR
414-189161-19
Duct
5
NS
414-189200-37
Shroud
2
NS
414-361010-5
Gasket
1
NS
414-379
Screw
53
NS
414-42
Eye Bolt Rod End
2
NS
414-427
Screw
25
NS
414-763
Screw
1
NS
414-774
Screw
200
NS
414-775
Screw
17
NS
414-796
Screw (Alt MS24693-C60)
2
NS
414-910050-606
Skin
1
NS
4140-00-153
Pump Electric Fuel Auxiliary
1
AR
4140-00-39NV
Fuel Boost Pump
1
AR
41413-005
Bushing
2
NS
41413-006
Bushing
8
NS
41413-007
Bushing
1
NS
41413-037
Bushing
6
NS
41413-042
Bushing
2
NS
41413-046
Bushing
1
NS
41413-050
Bushing
4
NS
41451-001
Bracket
1
NS
41458-003
Angle
107
NS
41478-000
Cover
1
NS
414S6-6
Clamp
1
NS
415-146
Screw
100
NS
415-171
Screw
73
NS
415-232
Screw
23
NS
415-260
Screw
6
NS
415-303
Screw (MS27029-0838)
199
NS
415-309
Screw
125
NS
415-312
Screw (MS27039-0812)
9
NS
415-320
Screw
11
NS
415-321
Screw (alt NAS221-11, 411-211, MS27039-1-11)
50
NS
415-367
Screw
94
NS
415-372
Bolt
30
NS
415-376
Screw
10
NS
415-378
Screw
58
NS
415-379
Screw
44
NS
415-381
Screw
336
NS
415-421
Screw
10
NS
415-497
Screw
59
NS
415-510
Screw
160
NS
415-517
Screw
1
NS
415-520
Screw
12
NS
415-535
Screw
50
NS
415-538
Screw
26
NS
415-540
Screw
1
NS
415-542
Screw
3
NS
415-549
Screw
3
NS
415-552
Screw
115
NS
415-628
Screw
7
NS
415-773
Screw
96
NS
41539-001
Bracket
2
NS
41579-000
Duct
2
NS
41591-000
Bracket
2
NS
416-094
Screw
25
NS
416-098
Screw
45
NS
416-131
Screw
25
NS
416-25
Gas Tank Cap Assy
2
AR
416-327
Handle
6
NS
416-346
Screw (alt 416-348)
8
NS
416-346
Screw (alt 416-348)
13
AR
416-348
Screw (alt 416-346)
36
NS
416-369
Screw
3
NS
416-5
Handle
3
NS
416-50
Gas Tank Cap Assy
3
AR
416-765
Handle Kit
9
NS
416-991
Fuel Cap
1
NS
416-996
Screw (alt 411-533)
1
NS
41605-00
Baffle
1
NS
41605-011
Baffle
4
NS
41606-013
Baffle
1
NS
41607-013
Baffle (alt 41607-13)
2
AR
4161-5
Valve
1
NS
4161-5
Valve
1
AR
41610-008
Gear Door Hinge
5
NS
41610-009
Gear Door Hinge
5
NS
41611-002
Hinge
6
AR
41612-004
Angle
1
NS
41622-000
Elbow
13
NS
4163-20
Screen
4
NS
4163-40
Screen
4
NS
41630-13
Baffle
1
NS
41669-000
Bracket
1
AR
41672-000
Trim
1
NS
4169-143
Lamp Holder
4
NS
41690-000
Plunger
2
NS
41695-002
Guide
2
NS
417-783
Screw
1
NS
41738-002
Strip
1
NS
41738-005
Channel
1
NS
41789
Bracket
3
NS
418-918
Screw
12
NS
41802-001
Angle
105
NS
41804-000
Bracket
1
NS
41817-005
Rod
2
NS
41836-000
Cowl
1
AR
41836-000
Cowl
1
NS
41859-009
Rod
1
AR
41883-000
Spring
1
NS
419-594
Screw
3
NS
419-595
Screw
195
NS
419-600
Screw
1
NS
419-649
Screw
4
Ns
419-681
Screw
12
NS
419-693
Screw
4
NS
419-730
Screw
3
NS
419-875
Screw
175
NS
419-886
Screw (alt AN530-4-6, 419-577)
500
NS
419-923
Screw
51
NS
419-964
Screw
8
NS
419-973
Set Screw
3
NS
41927-000
Baffle
2
NS
41927-3
Baffle
2
AR
4194-1
Washer
2
NS
419518
Bracket
1
NS
41974-8
Baffle
2
AR
41979-000
Spring
2
NS
41987-83
Tube
2
NS
41D96
Mount
3
NS
41EN1-012
Wire Assy
1
NS
42
Block
5
NS
42-45
Brushes
2
NS
420-202
Rivet
8
NS
42000-001
Wing, Rockwell LH
1
OH
42000-002
Wing, Rockwell RH
1
OH
42000-01
Wing, Rockwell LH
1
OH
42000-02
Wing, Rockwell RH
1
OH
42000-1
Wing, Rockwell LH
1
OH
42000-2
Wing, Rockwell RH
1
NS
42000-2
Wing, Rockwell RH
1
OH
42000-901
Wing, Rockwell LH
1
OH
420000-27
Skin
1
NS
4200014-4
Rib
1
AR
4200014-5
Rib
1
AR
4200014-6
Rib
1
NS
4200014-7
Rib
1
AR
4200014-8
Rib
1
AR
42003-410
Aileron RH
1
OH
42003-502
Aileron RH
1
OH
42003-504
Aileron RH
1
OH
42003-509
Rudder
1
OH
42003-6
Aileron RH
1
OH
42003-8
Aileron RH
1
OH
42025-001
Bracket
3
NS
42027-002
Tip Assy
2
AR
42027-003
Tip Assy
3
AR
42027-004
Plexiglass
3
NS
42030
Air Filter
2
NS
420301
Baffle (420301N1)
1
NS
42036-000
Angle
1
NS
42037-001
Angle
1
NS
42048-002
Angle
4
NS
42048-003
Angle
6
NS
42059-007
Hinge
3
AR
42072-000
Spar
7
NS
421002
Fairing
3
AR
42128-000
Tube
1
NS
42129-002
Bushing
8
NS
42129-005
Bushing
2
NS
42129-009
Bushing
1
NS
421A
Door Cable
1
NS
422-590
Rivets
37
NS
422-896
Rivets
9
NS
422-987
Rivets
20
NS
422-994
Rivets
9
NS
4220021-4
Rib
1
AR
4220021-5
Rib
1
AR
4220021-6
Rib
1
AR
4220021-7
Rib
1
AR
42202-001
Rib
1
NS
42215-005
Skin Wing
1
NS
42217-7
Leading Edge
1
NS
42217-8
Leading Edge
1
NS
42222-002
Skin
1
NS
42223-007
Skin
1
NS
42223-008
Skin
1
NS
42223-401
Skin
1
NS
42223-402
Skin
1
NS
42224-002
Skin
1
NS
42224-003
Fillet
1
NS
42224-200
Fairing
1
NS
42226-000
Plate
1
NS
42231-000
Bracket Assy Elev OutBd Hinge
24
NS
42231-004
Bracket
1
NS
42232-005
Spar LH
1
NS
42245-003
Washer
1
NS
42251-1
Hinge
4
NS
42258-000
Gusset
2
NS
42262
Cap
1
NS
42274-501
Fillet Assy
1
AR
42274-502
Fitting RH MLG
1
AR
42297-001
Angle
1
NS
42303-000
Plate
1
AR
42308-000
Skin
1
NS
42317-000
Plate
1
AR
42330-3254
Actuator
1
AR
42362
Lead
1
NS
42368-022
Extrusion
1
NS
42373-011
Hinge Half
3
NS
42373-015
Hinge Half
3
NS
42391-003
Floor Board
1
NS
42391-004
Floor Board
1
NS
42393-000
Floor Board
2
NS
42395-000
Floor Board
1
NS
42395-001
Floor Board
1
NS
42396-000
Floor Board
1
NS
42396-001
Floor Board
1
NS
42397-501
Hinge
4
NS
424-051
Pin, Cotter
1
NS
424-061
Cotter Pin
4
NS
424-095
Pin
30
NS
424-097
Cotter Pin
4
NS
424-145
Pin
1
NS
424-148
Pin
2
NS
424-162
Pin
1
NS
424-163
Axle Pin
48
NS
424-174
Pin
108
NS
424-176
Pin
60
NS
424-177
Pin
23
NS
424-178
Pin
6
NS
424-182
Pin
1
NS
424-184
Pin
15
NS
424-185
Pin
300
NS
424-507
Pin Pulley Guard
48
NS
424-512
Pin Pulley Guard
73
NS
424-527
Pin
2
NS
424-533
Pin-Pulley Guard
1
NS
4240-00-300-8413
Clamp
5
NS
4240-2
Valve
2
NS
4240008-6
Doubler
1
NS
42414-000
Gasket
37
NS
42417-000
Rib
2
NS
42426-000
Fairing
1
NS
42426-001
Fairing
1
NS
42455-010
Fairing
3
AR
42460-000
Bulkhead
1
NS
42470-000
Gasket
1
NS
42480-000
Trim Tab Elevator PA31
3
OH
42480-004
Trim Tab Elevator PA31
5
AR
42525
Lead Wire
5
NS
42533-000
Latch Assy
1
NS
42536-002
Collar
1
NS
42537-000
Cover
1
NS
42561-000
Cover
2
NS
42571-004
Bushing
2
NS
42576-000
Bracket
1
NS
425GAB200
Clamp
1
NS
426-0-2125`
Clamp
106
NS
42669-000
Ring
1
NS
42675-000
Ring
2
NS
426D3-3
Rivet
8
NS
42702-003
Cable
1
NS
42702-004
Cable
9
NS
4271
Magneto
1
NS
42724-000
Light
1
NS
42740-000
Indicator
2
NS
42749-000
Bracket
2
NS
42847-000
Bulkhead
1
NS
42887-000
Bracket Assy
1
NS
42891-000
Spring
6
NS
42911-000
Fairlead
2
NS
42913-000
Plate
1
NS
42924-000
Retainer
2
NS
42964-2000
Actuator
1
AR
42964-2900
Actuator
1
AR
42964-3000
Actuator
1
AR
42964-3900
Actuator
1
AR
42964-4000
Actuator
1
AR
42964-4900
Actuator
1
AR
42972-000
Spar
20
NS
42972-000
Spar
20
NS
42973-000
Louver
1
NS
429840
Plug
1
NS
42A173
Clamp
2
NS
42A173-1
Clamp
2
NS
42FCW820
Nut
52
NS
42FLW524
Nut
15
NS
42ND08-048
Nut
4
NS
42NKE054
Nut
3
NS
42S243
Snap Ring
12
NS
43
Lamp
120
NS
43-564
Needle
1
NS
43-786
Bolt
5
NS
430000-006
Elevator RH M20
1
OH
430000-011
Skin
2
NS
430000-012
Skin
2
NS
430002-027
Skin
1
NS
430002-27
Spar Web
1
NS
430008-000
Channel
1
NS
430013-7
Channel
1
AR
430026-508
Elevator RH M20
1
OH
43021-000
Plate
1
NS
43022-000
Plate
1
NS
43062-000
Plate
1
NS
431013-3-791
Cap
6
AR
43110-005
Plate-Door Support Trim
1
NS
431958-
Inspection Kit TFE 731
1
NS
43204-000
Arm
1
NS
43206-001
Angle
1
AR
43206-002
Angle
1
AR
432123
Plate
3
NS
4321A
Screw
15
NS
43251-000
Hanger
6
NS
43256-002
Bushing
3
NS
43256-006
Insert
2
NS
43256-007
Bushing
2
NS
43267-000
Plate
5
NS
43279-000
Plate
1
NS
43284-000
Plate
1
NS
43292-2-114
Structure
1
NS
43300-002
Shim
1
NS
43300-004
Shim
4
NS
433053
Bearing Rod
1
NS
43321-000
Strip
6
NS
4333053-3
Link
2
AR
4333053-3
Link
5
NS
43332-000
Weights
8
NS
43362-000
Placard
4
NS
43375-004
Strap
1
NS
43384-000
Plate
1
NS
433888-000
Ring
1
AR
43393-000
Strap
4
NS
434-126
Grommet
7
NS
434-133
Grommet
1
NS
434-134
Grommet
8
NS
434-136
Grommet
8
NS
434-139
Grommet
4
NS
43404-000
Filter
2
NS
43413-000
Doubler
1
NS
434135
Skin
1
NS
4344-00-72
Controller
1
SV
435-210-101
Circuit Breaker
1
AR
435-210-104
Circuit Breaker
1
NS
43546-000
Handle
1
NS
43554-000
Extension (alt 43558-000)
2
NS
435561
Oil Filter Base
1
NS
43561-000
Pitot Cover
8
NS
4356AA300
Coupling
1
NS
43583-000
Harness
6
NS
43615-1004
Actuator
1
AR
43615-3004
Actuator
1
AR
43618-000
Map Clip
4
NS
43630-00
Duct
1
NS
43646-005
Bulkhead
1
NS
43647-000
Bulkhead
1
NS
43650-1
Port
1
AR
437-180433
Bracket
1
NS
43741-1
Tip
5
AR
43744-000
Channel
3
NS
43748-000
Tip (undrilled)
1
NS
43752-3-7059
Window
1
NS
43757-170
Elevator
1
OH
43757-173
Elevator RH PA31
1
OH
43757-180
Elevator LH PA31
1
OH
43757-182
Elevator LH PA31
1
OH
43757-184
Elevator LH PA31
1
OH
43757-186
Elevator LH PA31
1
OH
43758-000
Relay
1
NS
43764-001
Track
1
NS
43764-005
Flap Track
3
NS
43772-000
Rib
3
AR
43785-000
Rail
1
NS
43795-000
Cable
2
NS
43809-000
Placard
1
NS
43809-009
Placard
2
NS
43811-003
Angle
1
NS
43811-004
Angle
1
NS
43811-005
Channel
1
NS
43812-000
Plate
1
NS
438152
Ring
4
NS
43825-003
Angle
2
NS
43825-004
Angle
88
NS
43825-005
Channel
1
NS
43833-000
Plate
1
NS
43850-000
Spring
1
NS
43861-000
Bracket
2
NS
438844
Washer
1
NS
43898-008
Panel
1
AR
43898-008
Panel
1
NS
43898-009
Panel
1
NS
439-717
Equal T Female
2
NS
43910-2100
Course Indicator
1
SV
43933-004
CAP (alt 100602-002)
1
AR
43933-7
Bulkhead
1
NS
43940-008
Spinner
4
AR
43940-009
Spinner
1
AR
43974-006
Box Assy
1
NS
43993-000
Cover
1
NS
43996-000
Cover
1
NS
43B444
Spacer
16
NS
44-220
O-Ring
17
NS
44-40354A
Bracket
1
AR
44-P-1-4
Tubing 1/4 OD
9
NS
44002-503
Horizontal Stabilizer Rockwell 112/114
1
OH
44003-501
Vertical Fin Upper Rockwell 112/114
1
OH
44006-501
Rudder Rockwell 112/114
1
OH
44006-503
Rudder Rockwell 112/114
2
OH
44017-502
Elevator RH Rockwell 112/114
2
OH
44017-504
Elevator RH Rockwell 112/114
2
OH
44020-001
Trim Tab, LH Elevator TC 112/114
1
OH
44020-002
Trim Tab RH Elevator TC 112/114
1
OH
44020-1
Trim Tab, LH Elevator TC 112/114
3
OH
44020-2
Trim Tab, RH Elevator TC 112/114
2
OH
44089-002
Door Support
42
NS
44109-002
Plate
1
NS
44120
Valve Solenoid
1
AR
441341-L11
Gauge
1
AR
44148-000
Radome
1
NS
44155-002
Shim
3
NS
44170-000
Harness Assy
1
NS
44180-000
Filter
1
NS
44182-000
Pedal
1
AR
44182-001
NLA Pedal
1
AR
44184-000
Support
11
NS
44188-000
Block
4
NS
442-3
Insert Assy (alt 74-523)
24
NS
44215-005
Skin
1
NS
44215-006
Skin
1
NS
44228-003
Spar
2
NS
4423011
Fitting Assy, Rudder Torque Tube
3
NS
44233-11
Cap
1
AR
44240-1
Angle
1
NS
44275-008
Strip
5
NS
44283-5
Bracket
1
AR
44293-000
Rib
1
NS
442CW-12
PUMP-DRY AIR
2
AR
44356-003
Cable
1
NS
44373-000
Bulkhead
1
NS
44415-2060
Servo Mount
1
AR
44415-2101
Servo Mount
1
AR
44415-3060
Servo Mount
1
AR
44415-4060
Servo Mount
1
AR
44415-4060
Servo Mount
1
AR
44430-2825
Auto Pilot
1
AR
44430-3025
Auto Pilot
1
AR
44436-000
Baffle
2
NS
44437-002
Bulkhead
2
NS
444611-F2
Cover
1
AR
444619
Guage (use 2646-00089)
1
OH
44483-003
Angle
1
NS
44489-000
Plate
1
NS
44511-000
Strip
1
NS
44512-000
Clip
2
NS
44523-003
Cable Assy
5
NS
44528-006
Hinge Half Cargo Door
1
NS
44574-005
Window
1
NS
44581-000
Cargo Door
1
AR
44587-002
Tip Assy
1
NS
44587-003
Tip Assy
1
AR
44587-023
Tip Assy
1
NS
44594-000
Plate
1
NS
44596-000
Plate
1
NS
446477
Tube
2
NS
44677-001
Spar Assy
1
NS
44677-011
Reinforcement
2
NS
44677-014
Angle
1
NS
44681-002
Sill
1
NS
44686-000
Bracket
1
NS
44691-000
Angle
1
AR
44693-000
Angle
1
NS
44711-000
Angle
1
NS
44793-004
Plate
1
NS
4480-181SH
Clamp
1
AR
44851-000
Bracket
1
AR
44851-001
Bracket
1
AR
448729
Bracket
1
NS
44878-003
Channel
1
NS
448780
P&W Spacer
1
NS
448791
Screw
1
NS
44892-000
Support
1
NS
44939-00
Angle
1
NS
44943-003
Tip
1
NS
44943-003
Tip
4
AR
44946-005
Channel
1
NS
4495-70128B
Hinge
1
NS
44955-005
Bracket
3
NS
44974-000
Plate
129
NS
44976-002
Placard
1
NS
44982-000
Tube
1
NS
449965-409-2251
Belt Black (449965-419-2251)
1
RP
45-115044-602
Rib
1
NS
45-115060
Rib
1
AR
45-115072
Former
1
AR
45-115083-25
Rib
2
NS
45-12218-10
Support Angle
1
NS
45-12255-1
Pin
1
NS
45-135030-9
Aileron, LH Baron
1
OH
45-135031-45
Bushing
4
NS
45-135031-95
Rib AilINBD Hinge Assy
8
NS
45-135032
Trim Tab LH Aileron 58P
1
NS
45-135035
Hinge
24
NS
45-135039
Arm
13
NS
45-29180-00030
Screw
22
NS
45-361235
Ground Assy Static
1
NS
45-364062-2
Guard
1
NS
45-410444-11
Bulkhead
1
AR
45-415371-19
Windshield Bulkhead
1
NS
45-521212
Actuator LH
1
AR
45-521212-1
Actuator RH
1
AR
45-521212-4
Piston Assy
1
AR
45-521212-604
Actuator LH
3
AR
45-521212-607
Actuator RH
2
AR
45-524042-9
Bracket
1
AR
45-524566-9
Screw, Trim Tab Assy
4
NS
45-524644-3
Bracket
1
NS
45-526005-3
Sprocket
3
NS
45-526006-3
Bushing
2
NS
45-54080-A2JL-240
Line
10
NS
45-610005-119
Trim Tab LH Elevator B95
1
NS
45-610005-122
Trim Tab LH Elevator 95-B55
1
NS
45-610005-123
Trim Tab, RH Elevator 95-B55
1
NS
45-610005-44
Rib
14
NS
45-610005-45
Rib, Tab Assy Elevator
17
NS
45-620010-14
Spar
1
NS
45-620018-1
Rib
6
NS
45-620020
Cover, Stab Assy
1
NS
45-630005-120
Rib
1
NS
45-630005-184
Spar Rudder
20
NS
45-630005-205U
Skin, Rudder
14
NS
45-630005-601
Rudder
1
OH
45-650017-4
Fillet
1
NS
45-650017-7
Seal
2
NS
45-815003-1
Rod Assy,
2
NS
45-815003-3
Rod Assy,
1
NS
45-815005-2
Hinge
1
AR
45-815011-6
Knee
3
NS
45-815013
Bushing MLG Torque Knee
4
NS
45-815014
Pin
1
NS
45-815015-6
Knee Assy - Link
1
NS
45-815065-1
Door
3
NS
45-815065-2
Door
2
NS
45-815217-2
Control Assy
1
NS
45-815225
Pin Lock
1
NS
45-815237
Pin, Main Gear Torque
4
NS
45-825011
Bushing
2
NS
45-910314
Plate
5
NS
45-910315-1
Clip
5
NS
450-0
Valve
1
NS
450-392
Regulator
1
AR
450005
Oil Seal
2
NS
450008
Oil Seal
1
NS
450061-001
Skin
1
NS
450070
Oil Seal
1
NS
450163
Oil Seal
1
NS
450208
Oil Seal
2
NS
450208
Oil Seal
2
AR
450261
Adaptor
1
NS
4503028-515
Cable
1
NS
450355
Oil Seal
1
AR
450588
Seal
4
NS
45068-000
Channel
3
NS
450895
Oil Seal
3
NS
4509
Lamp
3
NS
451-771
Connection
1
NS
451-855
Adapter
3
NS
451-857
Adaptor
1
AR
451-863
Adapter
2
NS
451-907
Adapter
4
NS
4510004-502
Assy
2
AR
45111-019
Bulkhead
1
NS
45123-010
Bulkhead
1
NS
45135-010
Bulkhead
1
NS
45165-016
Plate
1
NS
451948
Washer
1
NS
451952
Elbow
1
NS
452
Brake Lining
20
NS
452-011
Barrel (alt 489-910)
1
NS
452-093
Bail
1
NS
452-331
Bearing
14
NS
452-335
Rod End (alt F34-14M)
2
NS
452-336
Rod End (LH Thread)
5
NS
452-342
Bearing
2
NS
452-355
Bearing
2
NS
452-359
Bushing
28
NS
452-360
Bearing (alt SBG4)
4
NS
452-366
Bushing
20
NS
452-372
Bearing
5
NS
452-376
Bearing
1
NS
452-377
Rod End
2
NS
452-384
Bearing
2
NS
452-385
Bushing
8
NS
452-387
Bearing
1
NS
452-412
Bearing rod end
10
NS
452-413
Bearing
5
NS
452-418
Bearing
4
NS
452-431
Bearing
1
NS
452-445
Bearing
132
NS
452-446
Bearing
2
NS
452-447
Bushing
2
NS
452-448
Bearing
2
NS
452-448
BEARING
2
NS
452-449
Bearing
2
NS
452-450
Bushing
2
NS
452-455
Bushing
2
NS
452-474
Bearing
6
NS
452-477
Bearing
41
NS
452-5050
ELT Mount
1
NS
452-531
Bearing
3
NS
452-540
Bushing
77
NS
452-557
Bearing
1
NS
452-567
BEARING
2
NS
452-579
Bearing
2
NS
452-608
Bearing
1
NS
452-623
Bushing
3
NS
452-625
Bushing
12
NS
452-626
BEARING
1
NS
452-652
Bearing
1
NS
452-678
Bearing
7
NS
452-729
Bearing Rod End
2
NS
452-766
Bearing
25
NS
452-772
Bearing
1
NS
452-800
Bushing
29
NS
452-800
BEARING
8
NS
452-801
Bearing
6
NS
452-807
Bearing
1
NS
452-832
BUSHING
2
NS
452-852
BEARING
1
NS
452-860
Bearing
2
NS
452-912
Block Door Holder
1
NS
452-947
Block (alt 79072-000)
19
NS
452056
Washer
1
NS
4522
Fuse Holder
1
NS
4522
GE Lamp
1
NS
452449
Bushing
2
NS
4526508-22
Fuel Tank
1
AR
45296-005
Bulkhead
2
NS
453-126
Bow Wing Tip
20
NS
453-141
Ashtray
1
NS
453-171
Boot
1
NS
453-198
Bolt
4
NS
453-199
Bolt
6
NS
453-424
Bracket
1
NS
453-426
Bracket
2
AR
453-471
Bracket
2
NS
453-603
Bushing
4
NS
453-628
Bushing
52
NS
453-640
NLA Bumper Rubber
2
NS
453-644
Bumper
4
NS
453-665
Button
18
NS
453-691
Button
53
NS
453-709
Button
10
NS
453-710
Probe
1
NS
453-714
Bushing
3
NS
453-721
Bushing, Flanged (alt 751-369)
34
NS
453-721
BUSHING
3
NS
453-732
Bushing
85
NS
453-733
Bushing
1
NS
453-735
Bushing
2
NS
453-741
Bumper
2
NS
453-741
Bumper
1
AR
453-744
Bushing
3
NS
453-768
Bushing
3
NS
453-775
Bushing, Flanged
5
NS
453-778
Bushing, Flanged
4
NS
453-785
Bushing
1
NS
453-787
Bushing
19
NS
453-794
Bushing (alt NAS77-5-019)
12
NS
453-802
Button
7
NS
453-803
Bushing
2
NS
453-808
Bushing
13
NS
453-818
Bushing, Flanged
4
NS
453-824
Bushing, Flanged
18
NS
453-834
Bushing
27
NS
453-841
Button
10
NS
453-856
Bumper
2
NS
453-862
Bushing, Flanged
3
NS
453-878
Bushing
1
NS
453-880
Bushing
2
NS
453-884
Bushing
2
NS
453-887
Bumper
14
NS
453-888
Bushing
6
NS
453-903
Bushing, Flanged
8
NS
453-909
Bushing
10
NS
453-914
Bushing
12
NS
453-918
Bushing
9
NS
453-919
Bushing
9
NS
453-922
Bushing
4
NS
453-934
Bushing
1
NS
453-996
Bushing
8
NS
45303-1
Beam Upper
1
AR
45303-2
Side Brace Upper
1
AR
45306-000
Beam
1
AR
45306-008
Angle
1
NS
45306-1
Beam Lwr LH
1
AR
4532
Fuse Block
3
NS
45324-002
Rib
1
NS
45324-004
Rib
1
NS
453284
Nut
3
NS
4533020-503
Bellcrank Rudder
2
NS
4533073
Arm
1
NS
4533075-501
Bellcrank
1
NS
453512-005
Bushing
2
NS
45361-000
Bulkhead
1
NS
45381-001
Bracket
1
AR
45381-002
Track Assy
1
NS
45381-010
Track Assy
24
NS
45382-001
Bracket
1
AR
45385-000
Bulkhead
1
NS
45385-001
Bulkhead
1
AR
454-039
Cap Assy Fuel Cell
3
NS
454-064
Capacitor
1
NS
454-139
Catch
2
NS
454-254
Cable (alt 24894-008)
1
NS
454-615
Chime
1
NS
454-636
Circuit Breaker
1
AR
454-658
Circuit Breaker
2
NS
454-676
Circuit Breaker (alt 454-693)
2
NS
454-695
Fuse
1
NS
454-743
Circuit Breaker
2
NS
454-806
Clamp
2
NS
454-828
Clamp
3
NS
454-833
Clamp
1
NS
454-868
Clamp
7
NS
454-873
Clip
4
NS
454-895
Clamp
11
NS
454-925
Clamp
1
NS
454-930
Clamp
1
NS
454-983
Clamp
4
NS
454-994
Clamp
3
NS
45412-010
Skin
1
NS
45413-000
Frame
2
NS
45421-010
Skin
1
NS
4543001-501
Bracket, Brake
4
NS
4543003-501
Bellcrank Assy
8
NS
45433-003
Beam
1
AR
45441-000
Sector Assy
1
AR
454429
Bracket
1
NS
4544430
Cylinder Assy
1
AR
45449-002
Rib
1
NS
45449-012
Rib
2
NS
45458-002
Rib
1
NS
454635
Breaker
1
NS
45491P50
Collar
4
NS
45497-019
Rib
2
NS
455-001
Clip
12
NS
455-04
Bushing
10
NS
455-079
Clamp
4
NS
455-083
Clamp
6
NS
455-115
Collar
3
NS
455-124
Valve
1
NS
455-126
Core
134
NS
455-149
Elbow
3
AR
455-165
Oil Cooler
1
NS
455-938
Cylinder Alt # 10-22
5
AR
455-944
Cylinder Alt # 17000
10
AR
455-966
Cylinder Alt # 95061
4
AR
455-968
Cylinder Alt # 10-30
3
AR
45501-027
Bulkhead
1
NS
45583-016
Bulkhead
1
NS
456-004
Data Lamp
4
NS
456-445
Placard
1
NS
456-526
Placard
2
Ns
456-527
Placard
1
NS
456-530
Lift Detector
1
AR
456-621
Placard
1
NS
456-681
Placard
58
NS
456-682
Placard
100
NS
456-683
Placard (alt 3)
260
NS
456-712
Disconnect
1
NS
4563008-1
Support Bracket
1
NS
45647-030
Skin
1
NS
45654-000
Skin
1
NS
45657-0001
Plug
1
NS
45657-0002
Button
3
NS
45661-000
Skin
1
NS
45661-003
Skin
1
NS
45663-001
Skin
1
NS
45694-000
Rib
1
AR
45696-015
Stringer
1
NS
457-595
Duct
1
NS
45751-000
Trim Tab LH Elevator PA31
5
NS
4577
Gasket
1
NS
45794-007
Hinge
2
NS
45794-007
Hinge
6
AR
458-198
O-Ring
4
NS
458-894
Elbow
3
NS
458-898
Elbow (ALT MS20822-8D, AN822-8D)
2
NS
458-904
Fitting
1
NS
458-931
Elbow (alt 558-880)
1
NS
458-932
Elbow
3
NS
458-949
Elbow
1
NS
458-976
Elbow
1
NS
45807-007
Reinforcement Plate
49
NS
459-930
Eye Turnbuckle
1
NS
459-957
Clevis End
1
NS
459-983
Torque Tube
3
NS
45933-005
Rib
16
NS
45937
Shaft
6
NS
45945-004
Bracket
2
NS
45949-006
Hinge
1
NS
45951-004
Spar Assy
3
NS
45951-005
Doubler Spar Assy Elev
11
NS
45951-008
Clip
2
NS
45956-004
Spar
1
AR
4596-1
Light
1
NS
45960-002
Plate Spacer Stabil
68
NS
45A10596-003
Fairing
1
NS
45A10915-002
Leading Edge
2
NS
45A16001-032
Flap Assy RH
1
OH
45A22002-001
Elevator, LH Beechjet 400
1
OH
45A22002-002
Elevator RH Beechjet 400
1
OH
45A22002-021
Elevator, LH Beechjet 400
1
OH
45A22002-022
Elevator, RH Beechjet 400
1
OH
45A22002-1
Elevator Assy
1
AR
45A22002-621
Elevator, LH Beechjet 400
1
OH
45A22002-622
Elevator, RH Beechjet 400
1
OH
45A22002-641
Elevator, LH Beechjet 400
1
OH
45A22002-642
Elevator RH Beechjet 400
1
OH
45A23307-001
Cover
1
NS
45A24001-211
Rudder Beechjet 400
1
OH
45A24100-011
Trim Tab,Rudder Beechjet 400
1
OH
45A28
Washer
9
NS
45A30097-3
Washer
4
NS
45A30146-003
Plate
1
NS
45A30310-003
Skin
1
NS
45A30473-5
Bracket
1
NS
45A30832-005
Panel Assy
1
NS
45A31041-006
Fence
1
NS
45A34885-005
Skin
1
NS
45A34885-006
Skin
1
NS
45A35037-011
Skin
1
NS
45A35085-004
Channel
10
NS
45A430310-003
Doubler
1
NS
45A65240-051
Shield
3
NS
45A94102-143
Placard
1
NS
45A94261-035
Decal
2
NS
45A96140-025
Stiffener
3
NS
45A96566-005
Stiffener (Panel Assy)
23
NS
45AS66010-017
Leading Edge
10
NS
45AS66010-018
Leading Edge
2
NS
45AS66010-018
Leading Edge
1
NS
46-F10
Venturi
1
NS
460-039
Fastener
16
NS
460-050
GENERATOR (Alt MS25038-2)
2
AR
460-585
Fitting
1
NS
460-594
Filter Cornel
3
NS
460-623
Filter Assy
1
AR
460-652
Fitting
1
NS
460-681
Fitting
1
NS
460-685
Fitting
2
NS
460-755
Air Filter
1
AR
460-817
Baffle
1
AR
460-888
Filter
1
NS
460041-501
Seal Rudder
1
NS
460043-507
Rudder M20
1
OH
46031-000
Plate
1
NS
46088-000
Can
1
NS
46099-019
Tube
1
NS
461-020
O-Ring
1
NS
461-131
Clevis End
2
NS
461-135
Turnbuckle
2
NS
461-391
Frame
4
NS
461-622
Fuse (alt AGC10)
5
NS
461-660
HOLDER, FUSE
1
NS
461-900
Gasket
4
NS
461-931
Gasket
5
NS
461-937
SPRING
4
NS
461-938
SPRING, ASSEMBLY
2
NS
4616012-8
Placard
1
NS
46176-004
Strip
2
NS
462-002
Gasket
8
NS
462-012
Gasket
13
NS
462-014
Gasket
5
NS
462-018
Gasket
12
NS
462-021
Gasket
11
NS
462-024
Gasket
9
NS
462-034
Gasket (alt 484-797)
4
NS
462-035
Gasket (alt 484-831)
4
NS
462-049
Gasket Fuel
25
NS
462-050
O-Ring
6
NS
462-054
Gasket
1
NS
462-056
Gasket
7
NS
462-060
O-Ring
20
NS
462-061
Gasket
1
NS
46218-000
Fairing
2
AR
46256
Gasket
2
NS
463-368
Retainer
3
NS
463-380
Grip
2
NS
463-391
Grommet
1
NS
463-395
Grommet
8
NS
463-399
Grommet
9
NS
463-400
Grommet
12
NS
463-415
Grommet
1
NS
463-416
Grommet
3
NS
463-421
Grommet
1
NS
463-422
Grommet
2138
NS
46315-000
Bracket
2
NS
46319-003
Gauge (alt 548-024)
1
NS
46323-004
Pipe
1
NS
46336-1
Cowl Flap LH
1
AR
46336-2
Cowl Flap RH
1
AR
46336-501
Cowl Flap LH
1
AR
46350-000
Spinner
1
AR
46357-001
Bracket
1
AR
46384-003
Tip
2
AR
46384-004
Tip
2
NS
46384-2
Tip
1
AR
46384-2
Tip
1
NS
464-018
Handle
6
NS
464-023
Handle
1
AR
464-029
Handle
8
AR
464-103
Handle
2
AR
464-129
Handle Quadrant
6
NS
464-356
Heater Element
2
NS
464-357
Heater Element
4
NS
4643006
Support
1
NS
46492-002
Rib
1
NS
465-256
Holder
1
NS
465-258
Holder
2
NS
46500-010
Skin
1
NS
46500-012
Skin
1
NS
46500-033
Skin
1
NS
46500-038
Horizontal Stabilizer LH PA31T
1
OH
46510-002
Rib
1
NS
4657
Screw
27
NS
46582-004
Bulkhead
20
NS
46583-003
Hinge
1
NS
46653-000
Hinge
1
NS
467-066
Isolator
1
AR
467-654
Washer
1
NS
46783-000
Roller
2
NS
46795
Nut
3
NS
468-008
Jack
4
NS
46802-005
Channel
1
NS
468225
Kit
3
NS
46868-000
End
3
NS
469-279
Amp Gauge
1
NS
46933-000
LINK-N.G. IDLER C-3285
9
AR
46A155
Block
1
NS
46F4151
Cap
19
NS
47-500-005-5
Weld Assy
1
NS
47-674-009-3
Flange, Oil
1
NS
47-722-269-29
Cable
1
NS
47-722-273-25
Cable
1
NS
470-729
Door Lock Set
1
NS
470027
Washer
2
NS
47033-6
Rivet
40
NS
470886-9021
Controller
1
OH
471-000
Knob
5
NS
471-049
Knob
1